In this review, we test out our first Delta 8 THC tincture. Here we test out Delta Alternatives Hemp Extract Tincture made by Rogue River Labs. This hemp extract tincture is infused with peppermint extract, giving a slight mint flavor, and is an alternative way to consume D8 THC. Read further in our experience with Delta Alternatives.
Pros:
Cons:
Slight effects
Not the best aftertaste
Recommendations: Provide a broader variety of terpenes-infused flavors.
Delta Alternatives Hemp Extract Tincture – Inexpensive 1000MG Delta 8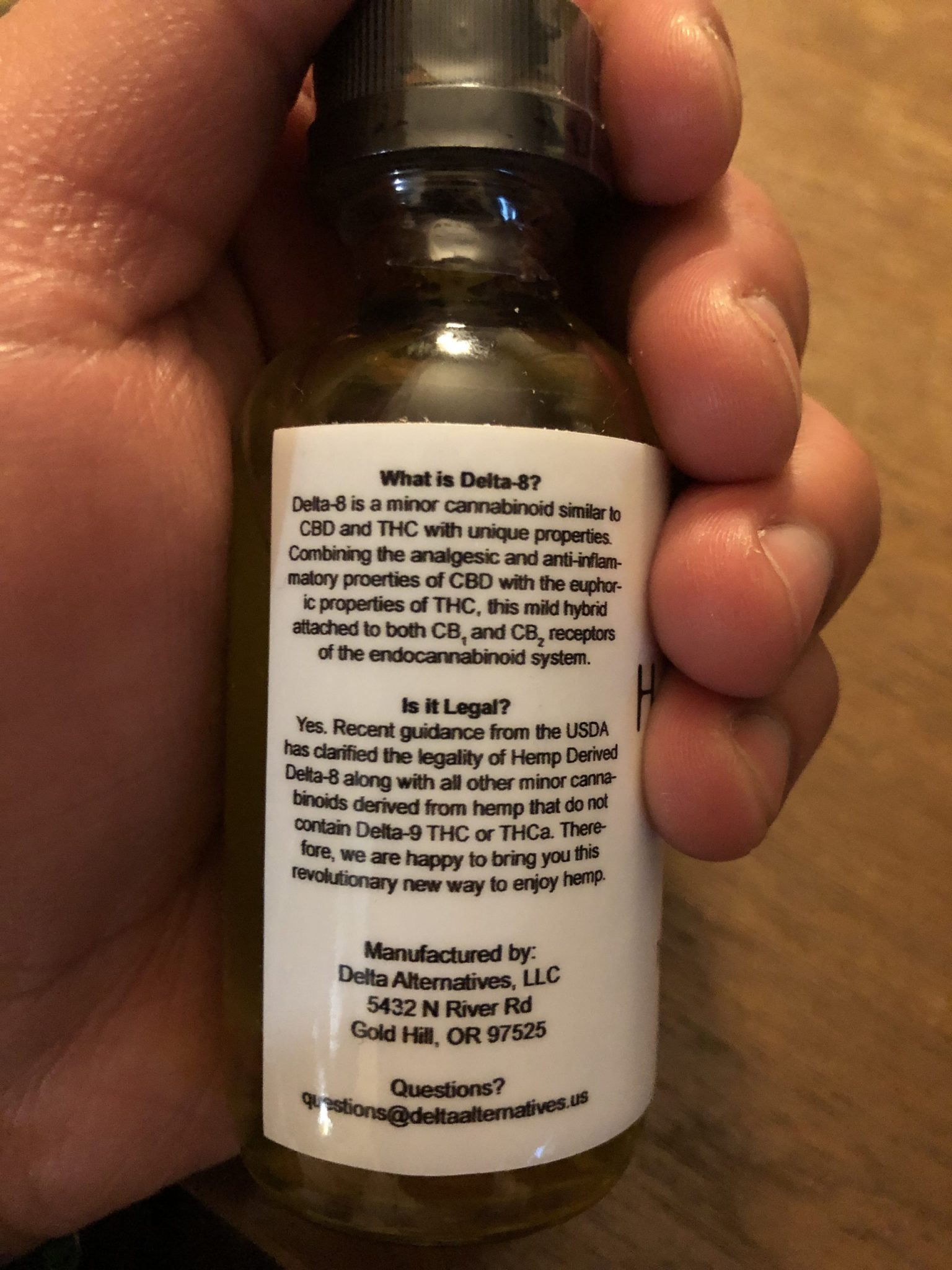 Having tried a variety of CBD tinctures, I was happy to test out Delta 8 tinctures for the first time. Providing a variety of health benefits, this is a great product for those who want the long-term benefits of D8. After testing, Delta Alternatives tincture doesn't necessarily give any instant or strong effects like Delta 8 cartridges. But this tincture is a different alternative to consuming D8.
Peppermint Hemp Tincture is okay, not the most satisfying taste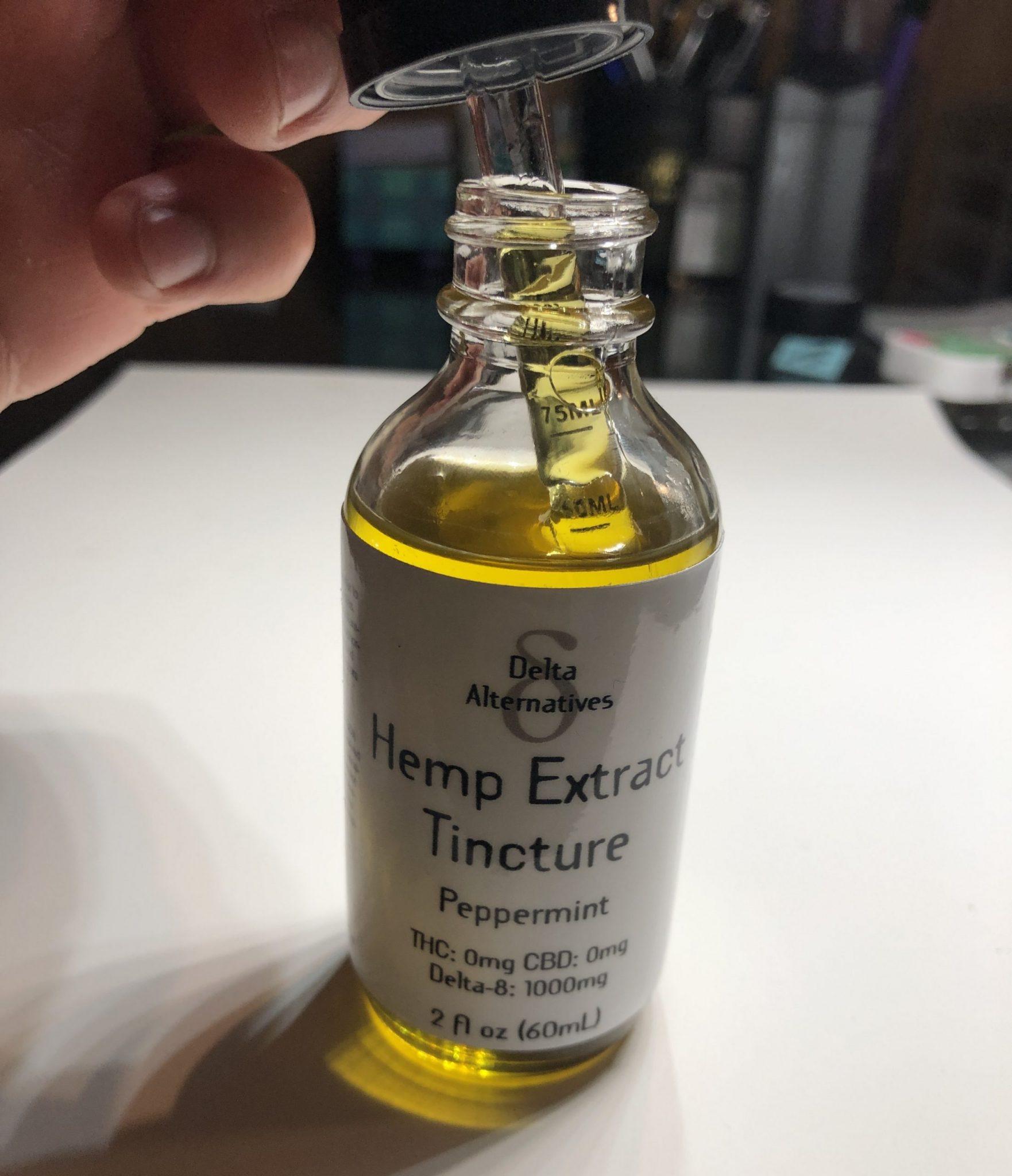 Tasting the tincture right away gives a mild peppermint flavor. Not a strong flavor, but a soft and fair one. But the aftertaste isn't very pleasant, especially if you were to take more than one dose in a sitting. Delta alternative tinctures are made with not only hemp extract but olive oil as well. This specific tincture, of course, has peppermint extract as well, but you can actually taste the olive oil after a while of consuming this tincture. Not that it's a bad taste, just not as satisfying.
Not the most potent Delta 8 THC
First off, everyone's experience may be different, and everyone's tolerance is different from one another. With that being said, Delta Alternatives D8 tincture has barely detectable effects, if any. Personally, I didn't even feel much effects, even after taking up to 3 doses (3ML) in one sitting.
Moreover, this tincture may be good for you in the long run. Or better yet, this tincture may be great to supplement your high, if you're smoking a D8 cartridge or any sort of THC product. If you're looking for something with stronger effects, tinctures may not the right product for you. Delta alternatives do provide Delta 8 cartridges that provide stronger effects, Rogue River Labs cartridges. But again, this is just an alternative to those who prefer edibles over vaping cartridges.
Overall, Delta Alternatives hemp tincture is an alternative way for the consumption of D8
To sum up, Delta Alternatives Hemp Extract Tincture delivers a basic experience, one worth the try if curious. For its price of $20, it isn't bad at all. Especially with many CBD tinctures that go up to triple the price. But tinctures, in general, may not be for everyone. Some people may say they won't feel any effects with tinctures. Others may not enjoy the oily taste, or maybe you'll end up enjoying the peppermint flavor.
It all leads to one's preference, desires, and what you are looking for. Delta Alternatives also provide MCT Oil, where they have a Strawberry terpene tasting tincture. That one I may enjoy more, but this tincture was just okay for me. Again, better for those looking to reap the therapeutic benefits rather than the high of Delta 8 THC. You can learn more about these Delta alternatives tinctures on their website here.
Readers, what is your experience on Delta 8 THC? Have any experience with D8 tinctures or cartridges? Post your experience below in the comments or on our forum!