REVIEW OVERVIEW

SUMMARY

Rogue River Labs delivers fair D8 strength and some nice effects. These cartridges may be the most inexpensive D8 cartridges on the market. But the taste these cartridges deliver isn't the most enjoyable, it gives a flower-dense flavor.
Rogue River Labs, created and/or affiliated by Delta Alternatives, provides a variety of Delta 8 THC products, cartridges, and flavors/strains. In this review, we test out their Delta 8 cartridges and their D8 dripper. Furthermore, here we review their BDT (botanically derived terpenes) cartridges. Read more on our experience with Rogue River Labs and how we value them.
Pros:
Inexpensive
CCELL hardware
Effective and efficient hits
Cons:
Harsh hits, infused with BDT
Not very tasteful
Recommendations: Provide more terpenes inside the cartridge.
Rogue River Labs D8 cartridge gives decent effects and fair strength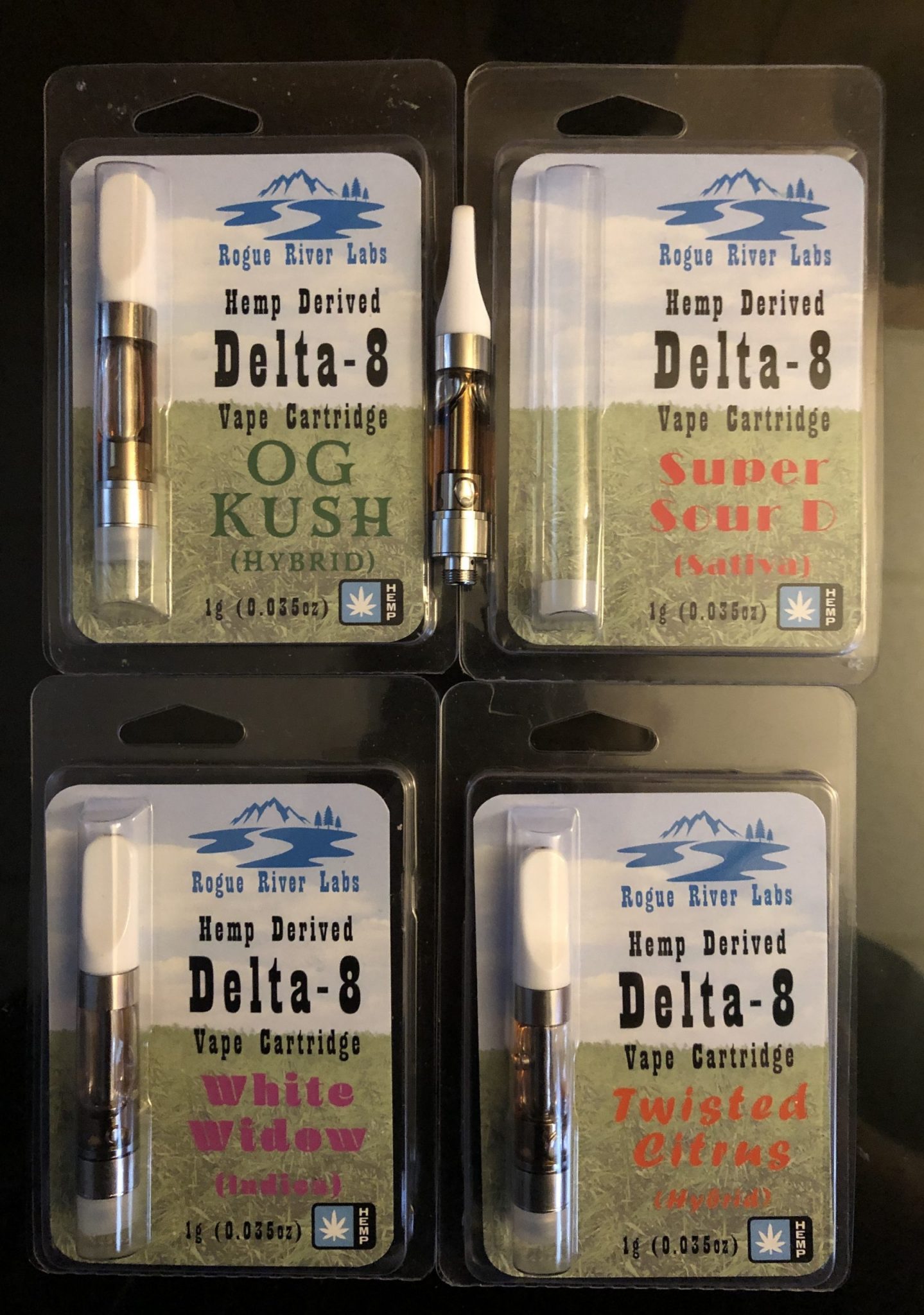 After testing out all the different cartridges and strains provided, Rogue River Labs delivers some nice, light, and elevating effects. In comparison with other D8 carts and brands, the strength of these cartridges is good. With Delta 8 THC, for the most part, it will give milder effects than Delta 9 THC. It definitely won't give you similar effects compared to a dispensary grade THC cartridge. But these carts will give you some light, mellow effects after multiple hits. All of the cartridges felt relevantly similar in strength, except for the Delta 8 dripper. The distillate dripper does feel more potent but also more tasteless.
All strains give a flower taste, may also deliver harsh hits
Between all of the products I've tried from Rogue River Labs, they may give some nice effects but can also taste pretty harsh. Especially after multiple hits and sessions, or just long rips, but you will get a few harsh hits here and there. Delta 8 THC is known for this, but we'll talk more on this subject later on.
As for the taste of these cartridges, they all give somewhat of a dense flower taste. Not the most tasteful delta 8, these cartridges give more of a flowery taste regardless of which strain. At least with their BDT cartridges, all these cartridges do taste more natural and far from sweet. Some strains may be slightly sweet, but they still leave that flowery aftertaste.
Rogue River Labs Delta 8 THC infused with BDT (Botanically Derived Terpenes)
As mentioned earlier, the cartridges we have are infused with BDT, and of course D8 distillate. Rogue River Labs also provides a different line of cartridges, infused with CDT (cannabis-derived terpenes) for a slightly higher price. But these BDT D8 cartridges do deliver a bit harsher hits. 
White Widow (Indica) cartridge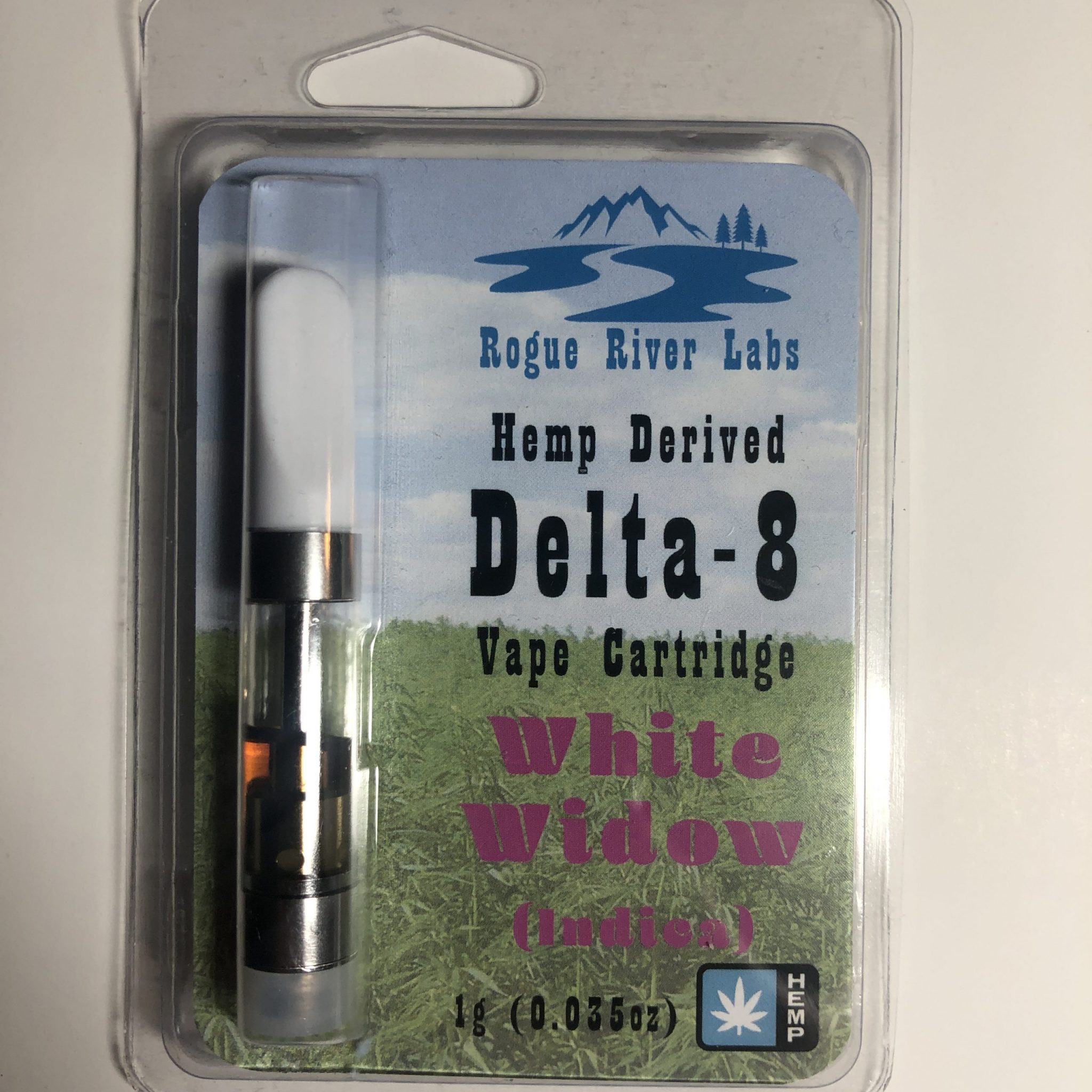 White Widow might have to be my personal favorite tasting out of them all. Delivering a slightly sweet taste, this strain doesn't give as much of a flower flavor. This strain may hit a bit smoother, but can still be harsh after consistent or long hits. Disregarding harsh hits, White Widow still gives a good experience and some fair, mild effects. 
Twisted Citrus (Hybrid) cartridge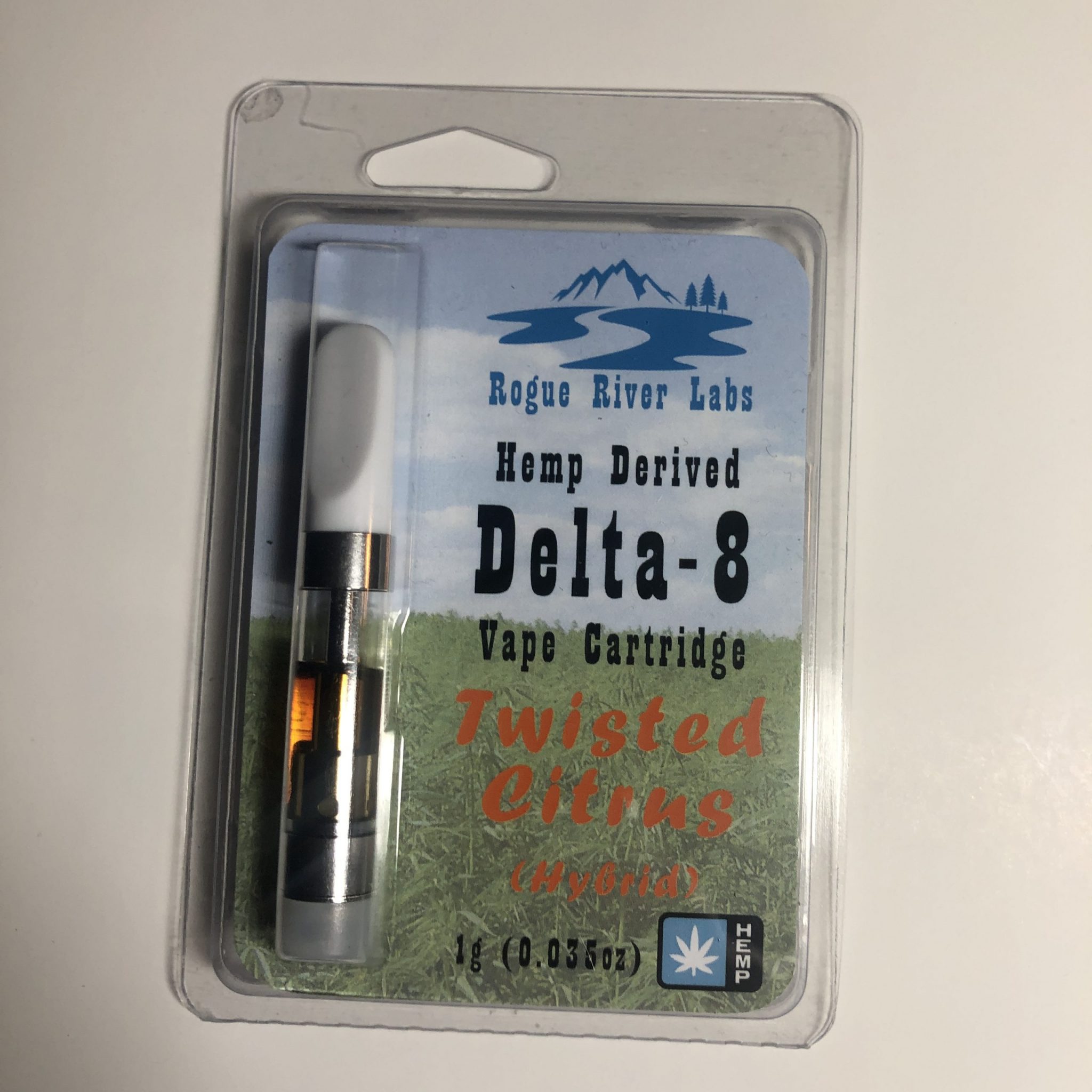 Probably one of the most flavorful strains, Twisted Citrus gives a decent, zesty flavor. Not as strong in terpenes, but out of all the strains here, it almost gives the most flavor. Just like the other cartridges, it can be harsh after a few hits and delivers fair effects as well. Because it still leaves a flowery flavor, the after-taste wasn't as good, but the flavor is still fair.
OG Kush (Hybrid) cartridge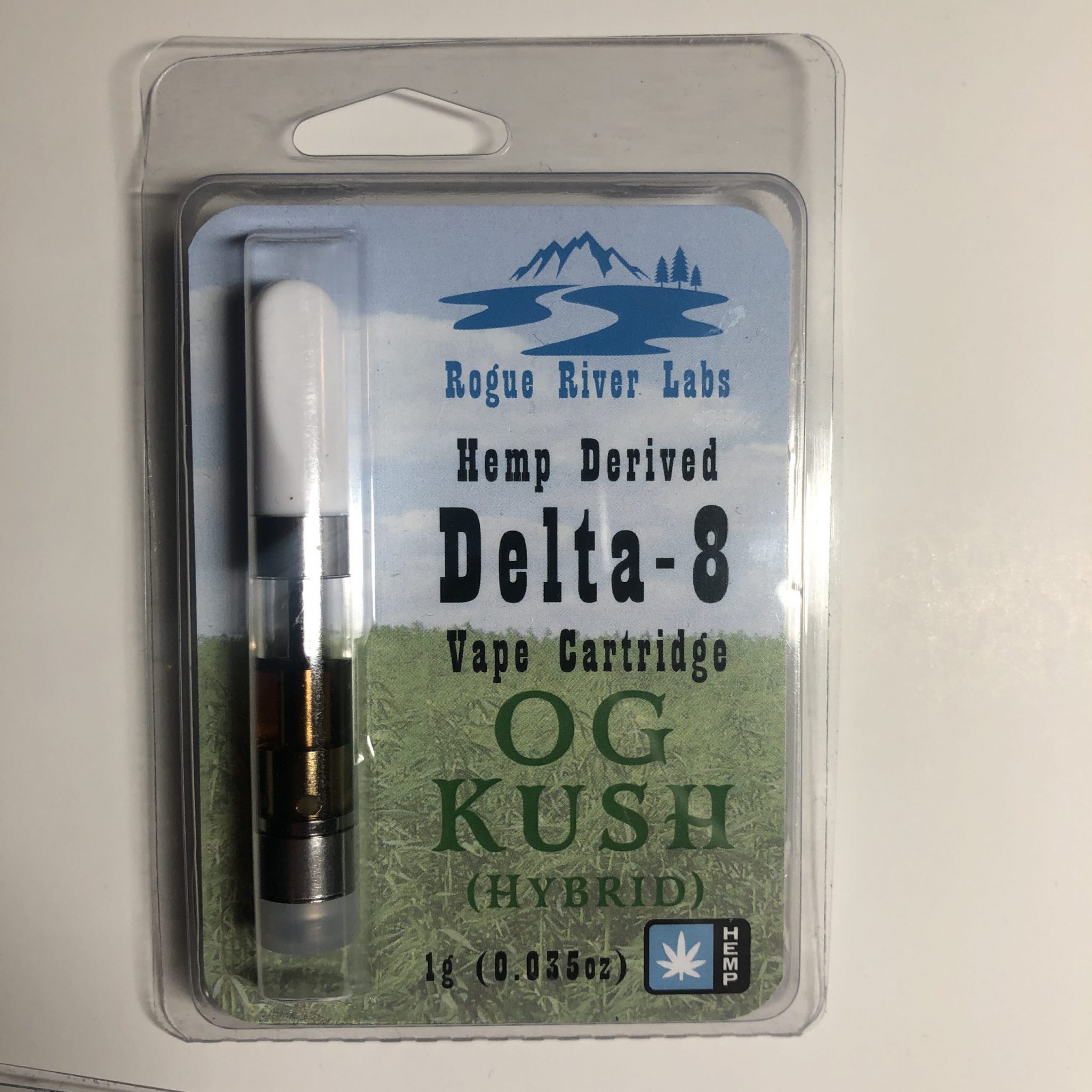 OG Kush delivers a fair, flower-tasting flavor. Although all strains leave a weed-like flavor, this particular strain leaves the strongest weed flavor. Great flavor for those who enjoy the taste of bud or piney strains. But some might prefer a sweeter flavor over the flower taste. 
Super Sour D (Sativa) cartridge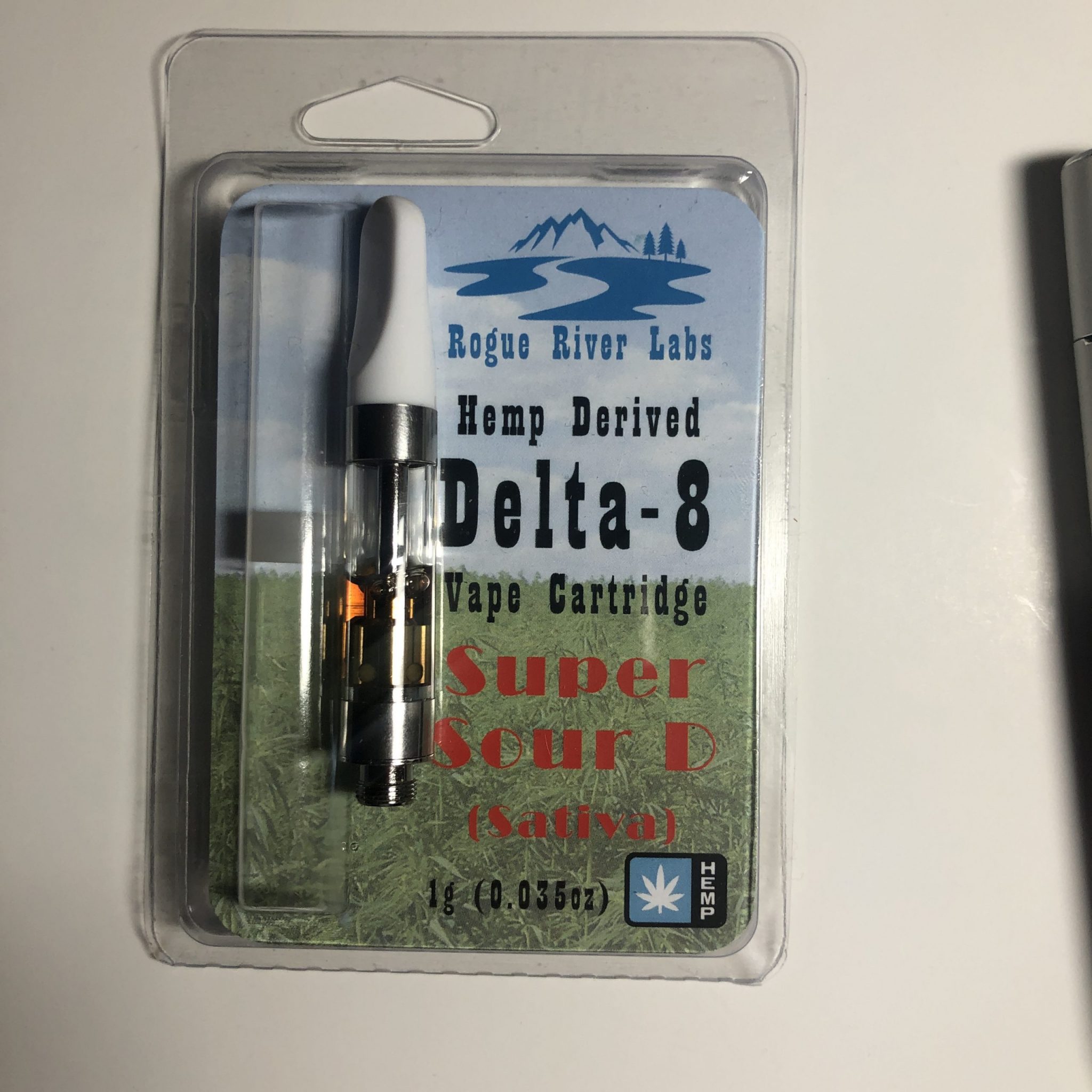 Super Sour D gives one of the simplest taste out of these cartridges. Not the worst tasting cartridge, but simply a bland flavor. Not very flowery tasting, and definitely not sweet. I would recommend a little more terpene taste to this strain. Still pretty effective and efficient, but Super Sour D was one of the least favorite tasting cartridges I like.
Sour Diesel Distillate Dripper- Flavorless taste, good strength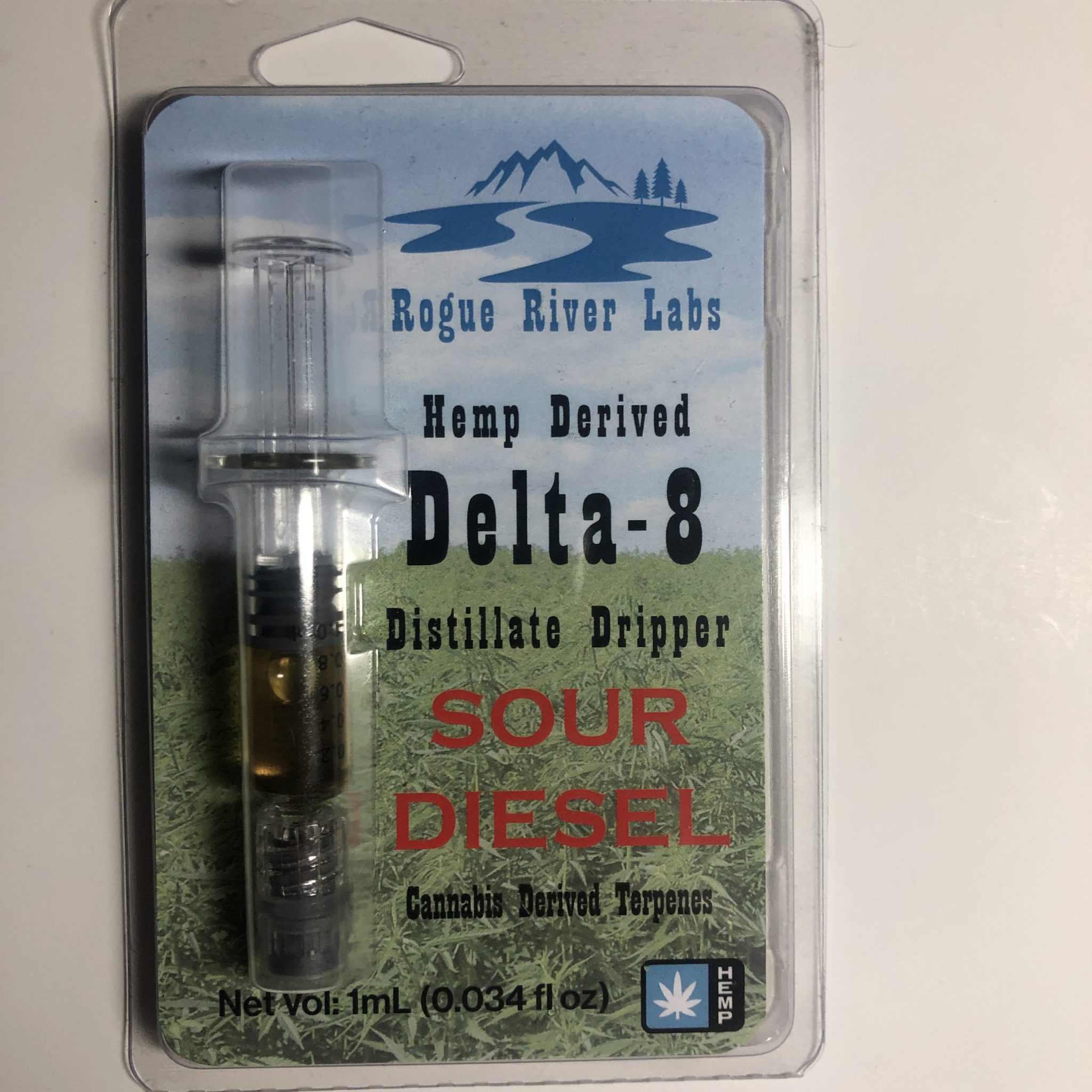 Being the strongest out of all the cartridges, Rogue River Labs D8 distillate drippers give some really nice effects and strength. It could be depending on how you hit it, but I felt as if it gives more effects than the cartridges themselves. Another thing is, these syringe drippers are infused with CBT (cannabis-derived terpenes).
I should say, the taste on this dripper is very plain and bland. More so than Super Sour D, but Sour Diesel gives almost no flavor if hitting directly off a rig or some sort. If mixed with other dabs, or perhaps a joint/blunt, it is pretty nice. But by itself, it's just flavorless, following some fair effects for Delta 8.
For its price, good dollar value
The price for these cartridges only goes for $14.99, which is pretty cheap for a full gram of Delta 8. The full gram D8 distillate dripper is $10. In comparison to any other brands, the price range for a half to full gram cartridge can go anywhere from $20-$45. You might even find some good half grams for around $25, but Rogue River Labs might be one of the most inexpensive I've seen so far. If you are price-conscious and looking for some D8, this may be for you, or if you want to try it and not waste much money.
Concluding Rogue River Labs review
To sum up, Rogue River labs Delta 8 provides a good variety and inexpensive products. Their full gram BDT cartridge is at a pretty good price, and their distillate dripper is at a lower price. They do deliver some fair effects for Delta 8 and can be pretty efficient. But the main thing with these cartridges is the taste, some might enjoy the weed/flower-like taste. Personally, I wasn't a huge fan the taste, and also these cartridges may deliver some harsh hits. But disregarding that, the price for them isn't bad at all. You can learn more and purchase their products on Rogue River Labs website, here.
Do you have any experience with this brand, Rogue River Labs? Have you tried Delta 8 THC products? Let us know in the comments or on our forum.