REVIEW OVERVIEW

SUMMARY
We are back with another TRE House review! I reviewed their cookie, and now they sent me some prerolls to try out. I gave their Delta-9 cookie a perfect score, so they've got a big reputation to live up to! TRE House sent over some Rainbow Runtz and Acapulco Gold rolled in Kief. The prerolls are of the Delta-8 variety and each roll was packed with a ½ gram of the green stuff in each of the five rolls the pack comes with. I gave each strain a proper try, and I definitely have some good things to say (and some not-so-good things):
You can check out our TRE House pre-rolls video review here.
Pros:
Smooth smoke
Enjoyable effects
Packed with euphoria
Convenient packaging
Super affordable
Cons:
Not enough info about strains on packaging
Fast burn
Recommendations: Some additional info on the packaging would be great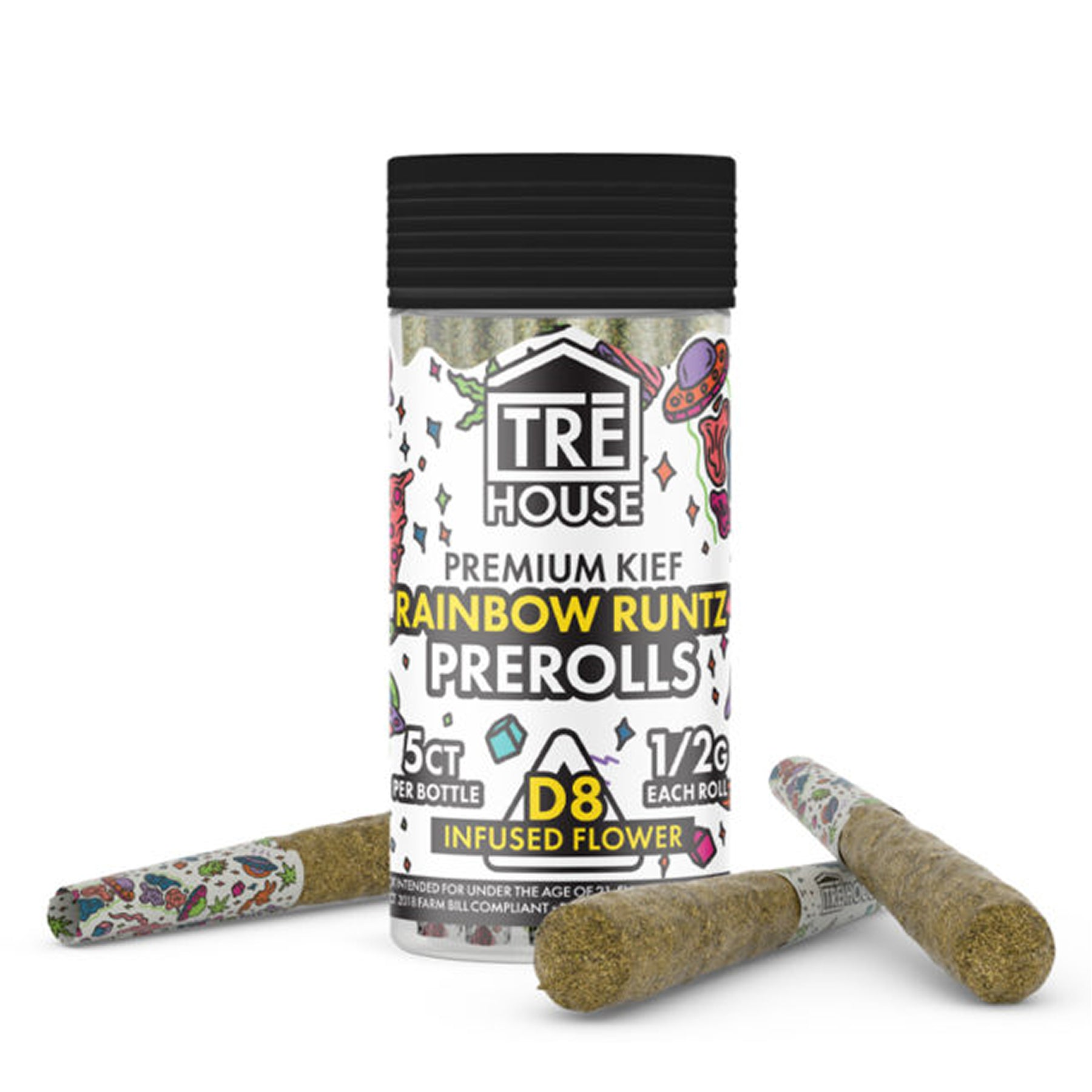 Packaging is fun and nostalgic but lacks some information
TRE House excels in packaging. Their illustrations on the prerolls look like the doodles any bored middle school kid would draw in their notebook and it triggers a fun sense of nostalgia when looking at the containers. The packaging has most of the information you need, besides info on the strain. It doesn't tell you if it's a Hybrid, Sativa, or Indica. Nor, does the package tell you the breakdown of percentages.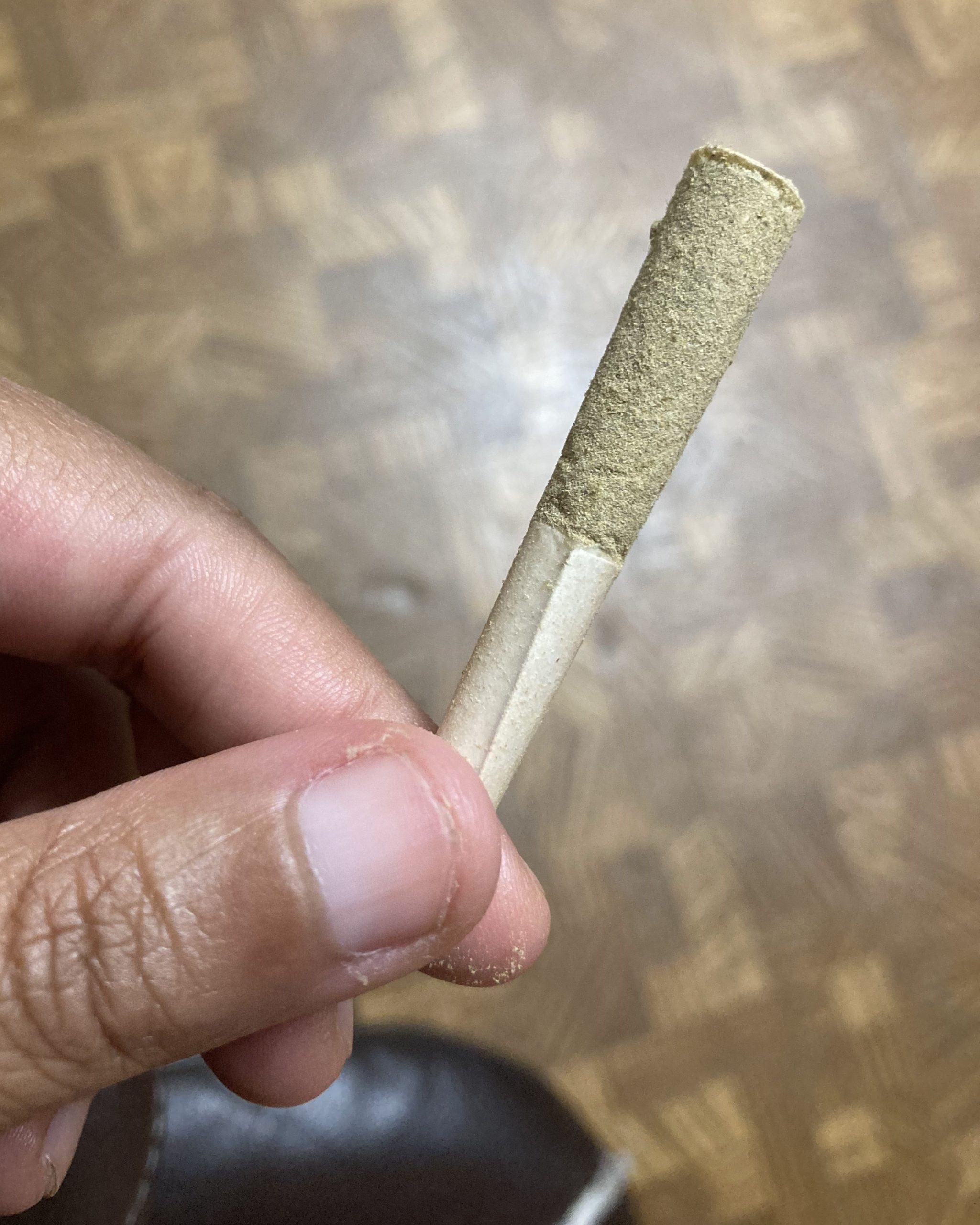 Both strains are euphoric, but the joints burn fast
When I opened up Rainbow Runtz I wasn't met with a super loud/skunky smell. It had a faint aroma that was really sweet and fruity. Each preroll is covered with a lot of kief, but it doesn't weigh down the preroll or make it harder to smoke as I've seen with other prerolls. 
The preroll itself has a fruity taste and is very smooth. The joint burns evenly, but it does burn a bit fast, so don't expect a slow session. I definitely got sufficiently blasted and felt a nice airy high that was heavy in euphoria and energy. Basically, I didn't feel like I'd be a couch potato after smoking this one. 
As far as Acapulco Gold, it was the opposite of Rainbow Runtz. The smell of these prerolls was a lot louder than the Rainbow Runtz. It's a lot skunkier and had a woody fragrance that hits you in the face when you open the bottle. By the smell alone I knew that this would be a heavier high. The smoke for these prerolls was a lot thicker and it took me only 2-3 hits before I started feeling pretty heavy-eyed. This strain is definitely headier than the Rainbow Runtz, so opt for this one if that's what you're looking for.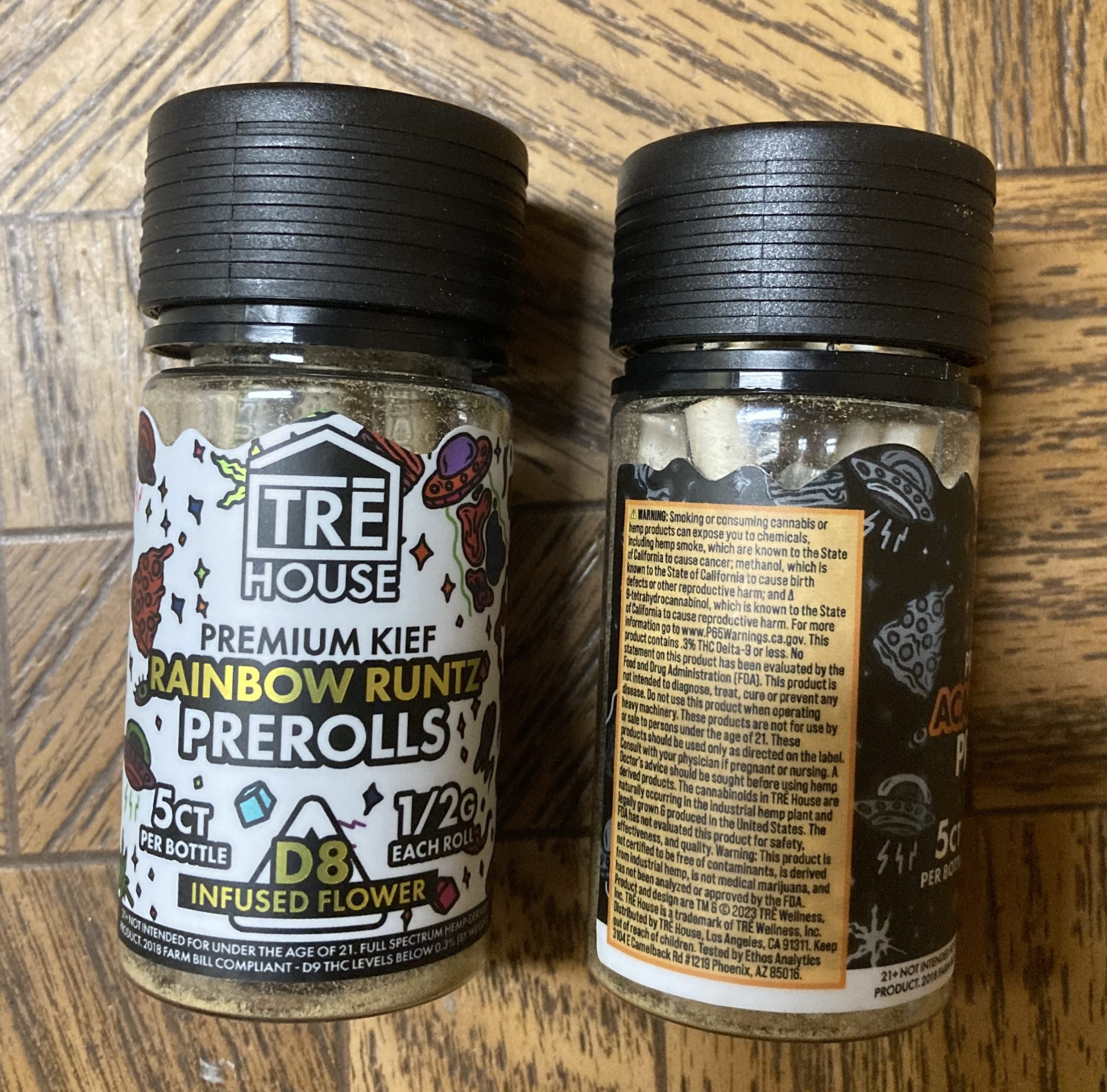 Affordable and you can save more with their sitewide sale
TRE House is also having a Sitewide Sale so that you can snag some money off your order. You can get up to 25% off buying up to three items. The prerolls are already affordable at $24.99 for five prerolls. I'd say it's a great value. 
You can find out more about TRE House products here.
Have you tried the TRE House Delta-8 Pre-Rolls? Let us know in the comments or on our forum.