REVIEW OVERVIEW

SUMMARY
Today we will try out Rove Brand, which is one of the most popular brands in the cannabis industry with its products available in both California and Nevada. Previously, I have enjoyed most of their black box distillate cartridges in addition to their live and cured resin cartridges of their Featured Farms collaborations. I also enjoy their Rove Rewards program, where points can be redeemed with various merchandise and apparel. Recently, Rove has also made the move towards concentrates, specifically live resin diamonds. As of this review, Rove live resin diamonds are only available in California. For this review, I will try their new live resin diamonds.
Pros:
Exceptional quality
Extremely strong potency
Delicious flavor
Less pricey than other diamonds
Cons:
Recommendations: None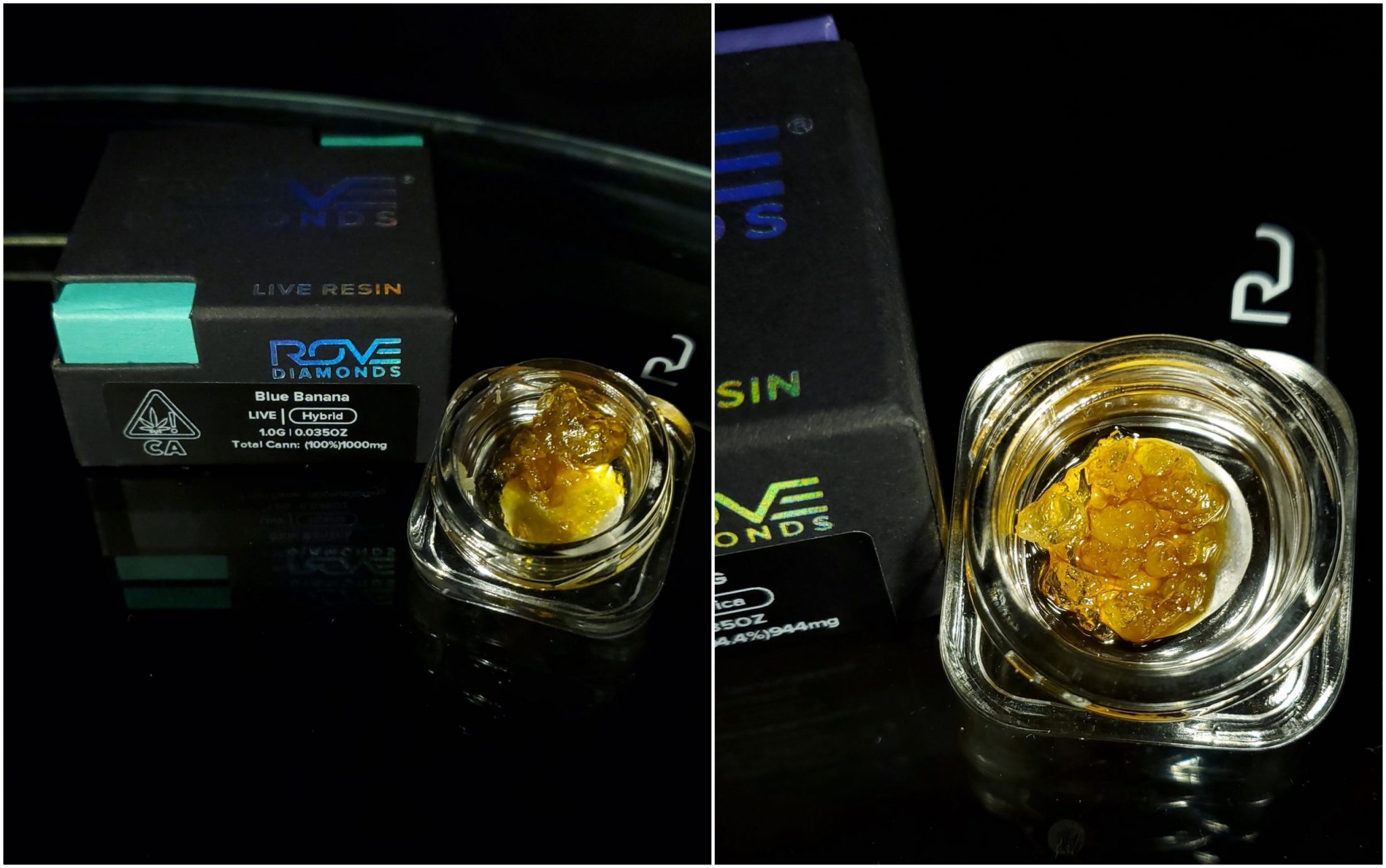 The look and consistency of both Rove diamonds are similar to Connected Cannabis Co.
This month, I picked up Blue Banana and Gucci OG live resin diamonds from Rove Brand. The packaging for Rove diamonds is similar to their black boxes for their distillate cartridges. The corners of each box are color-labeled by the type of strain, whether it's Sativa, Hybrid, or Indica. For instance, hybrid strains are labeled with cyan on the box, Indica strains are labeled with purple, and Sativa strains are labeled with orange. The diamonds in both jars are covered in a thick maple syrup-like HTE sauce, slightly more amber in color, similar to the diamonds from Connected Cannabis Co.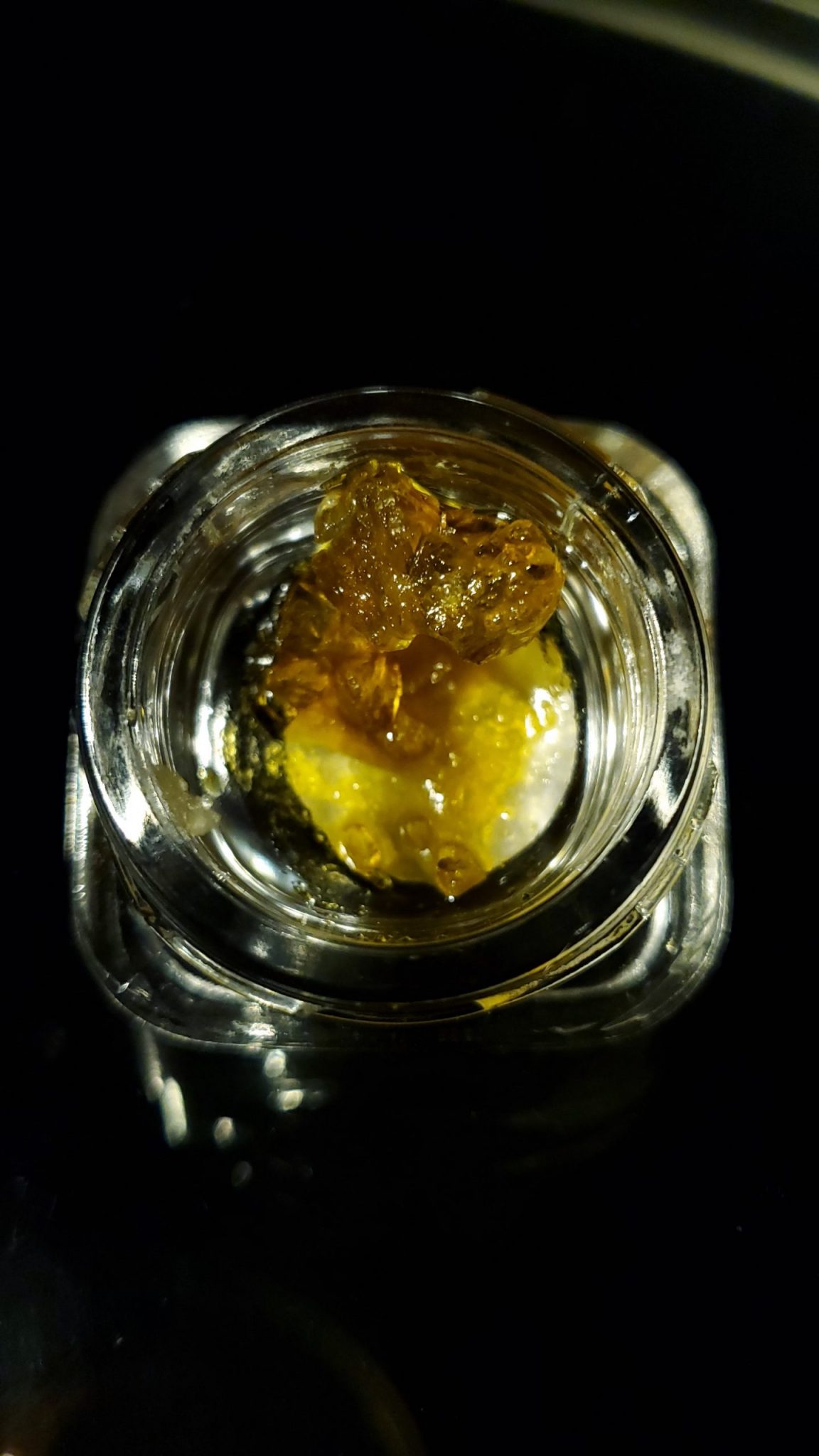 The size and appearance of Blue Banana diamonds is similar to Cannatique
Although not much is known about Blue Banana, it is believed to be a hybrid cross between Blue Dream and Banana OG. When opening the jar for Blue Banana, the size of the diamonds was similar or slightly larger than Cannatique diamonds. In fact, some of the diamonds were closer to the size of the Cali Stripe diamonds, which still have the largest diamonds I've seen in any jar. The aroma and flavor of Blue Banana are sweet, minty, and floral with notes of berries, banana, and pine. The euphoric effects of Blue Banana felt slightly Indica dominant as it was uplifting yet relaxing. Due to their extremely strong potency and effects, these diamonds felt perfect for evenings and weekends. The total THC % of Blue Banana is 91.0% and the total cannabinoid % is 100%.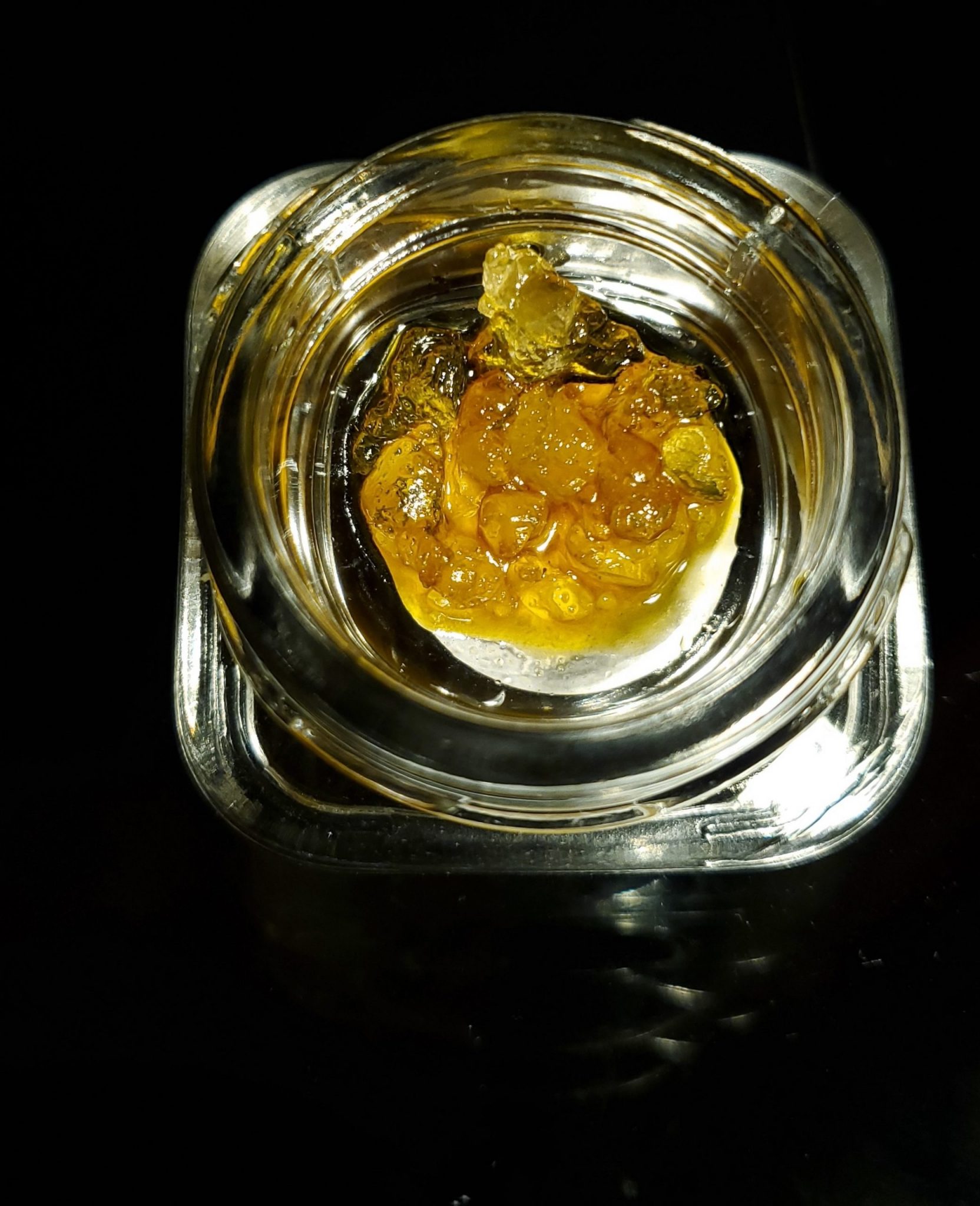 The size and appearance of Gucci OG diamonds is similar to Cosmic Brands
I also picked up Gucci OG diamonds, which consisted of relatively smaller diamonds, similar to those in the diamond sauce from Cosmic Brands. Gucci OG is one of the various phenotypes of OG Kush. The aroma and flavor of Gucci OG are sweet, minty, and earthy with hints of lemon, pine, and berries. The Indica dominant effects of Gucci OG initially felt somewhat energetic but felt calmer and more relaxed as time progressed. Due to its high potency and its heavier Indica effects, these diamonds felt better suited for a nightcap session. Gucci OG is known to treat symptoms of chronic pain, depression, stress, fatigue, mood swings, muscle spasms, and insomnia. The total THC % of Gucci OG is 83.7% and the total cannabinoid % is 94.4%.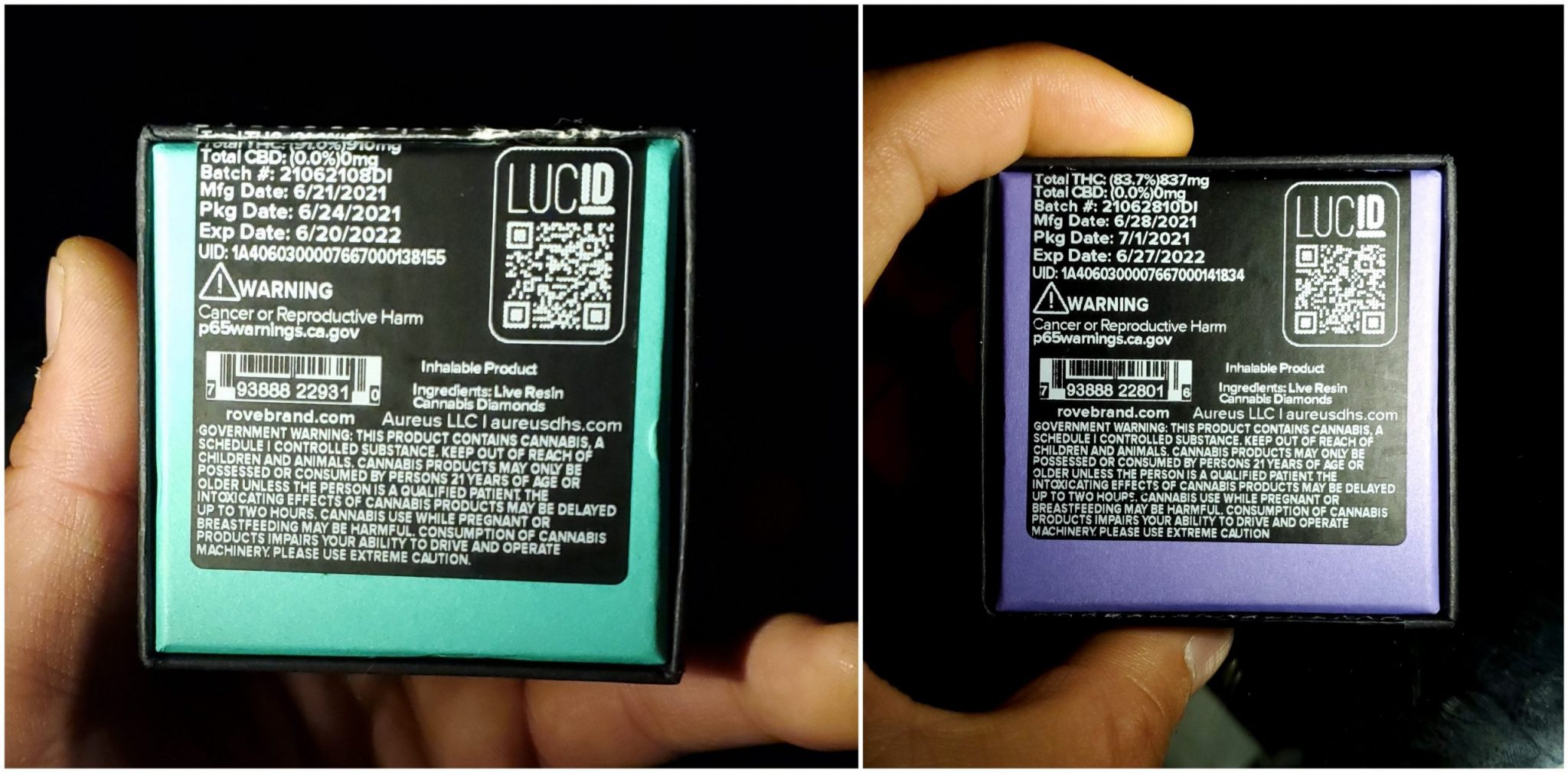 Blue Banana is recommended for its flavor while Gucci OG is recommended for its medicinal properties
The retail price for Rove live diamonds is usually around $40-46 for a gram, pre-tax. While I enjoyed the potency of both diamonds, I preferred the flavor of Blue Banana slightly more than Gucci OG. However, the medicinal properties of Gucci OG felt more effective for any sleep issues. Overall, these were easily the best-tasting diamonds I've had in a while, maybe since the diamonds from Connected Cannabis Co. These diamonds are also lower-priced than other diamonds, but similar in price to Maven Extracts, Jetty Extracts, and Guild Extracts.
View this post on Instagram
Rove live resin diamonds would easily land a spot on the "best of" list of concentrates
Winding up, Rove live diamonds are definitely worth a recommendation for their exceptional quality, extremely strong potency, and delicious flavor at a decent price. While I would recommend Blue Banana for its mouth-watering flavor, I would recommend Gucci OG for its potent medicinal effects. Currently, Rove Brand offers black box distillate cartridges and live resin diamonds. Rove Brand also offers flower eighths, cartridges, and pre-rolls from Featured Farms in select dispensaries in California and Nevada. You can find all Rove products with their store locator.
Have you tried Rove live resin diamonds? Let us know in the comments or on our forum.