REVIEW OVERVIEW

SUMMARY

Urb Delta 8 dabs deliver a great and unique experience. Very flavorful strains and a potent high, these Delta 8 dabs are worth the try and experience.
Previously on DabConnection, we tried the Urb Finest Flowers cartridge. In this review, we try the Urb delta 8 dabs. Urb Finest Flowers, which is the house brand of Lifted Made, provides a variety of products and strains for their dabs. Testing out all three of their different strains, each delivers a unique taste and experience. Furthermore, each flavor gives a fascinating taste and a potent high.
Pros:
Great tasting strains
High potency
Smooth and mellow effects
Cons:
Oil like, thin consistency
Recommendations:  Mainly just to have different forms of extraction methods. The current oil/shatter like consistency makes it a bit sticky and messy. Otherwise, nothing, these D8 dabs are great.
Extraction Quality: Urb Delta 8 dabs deliver potent oil quality, thin shatter consistency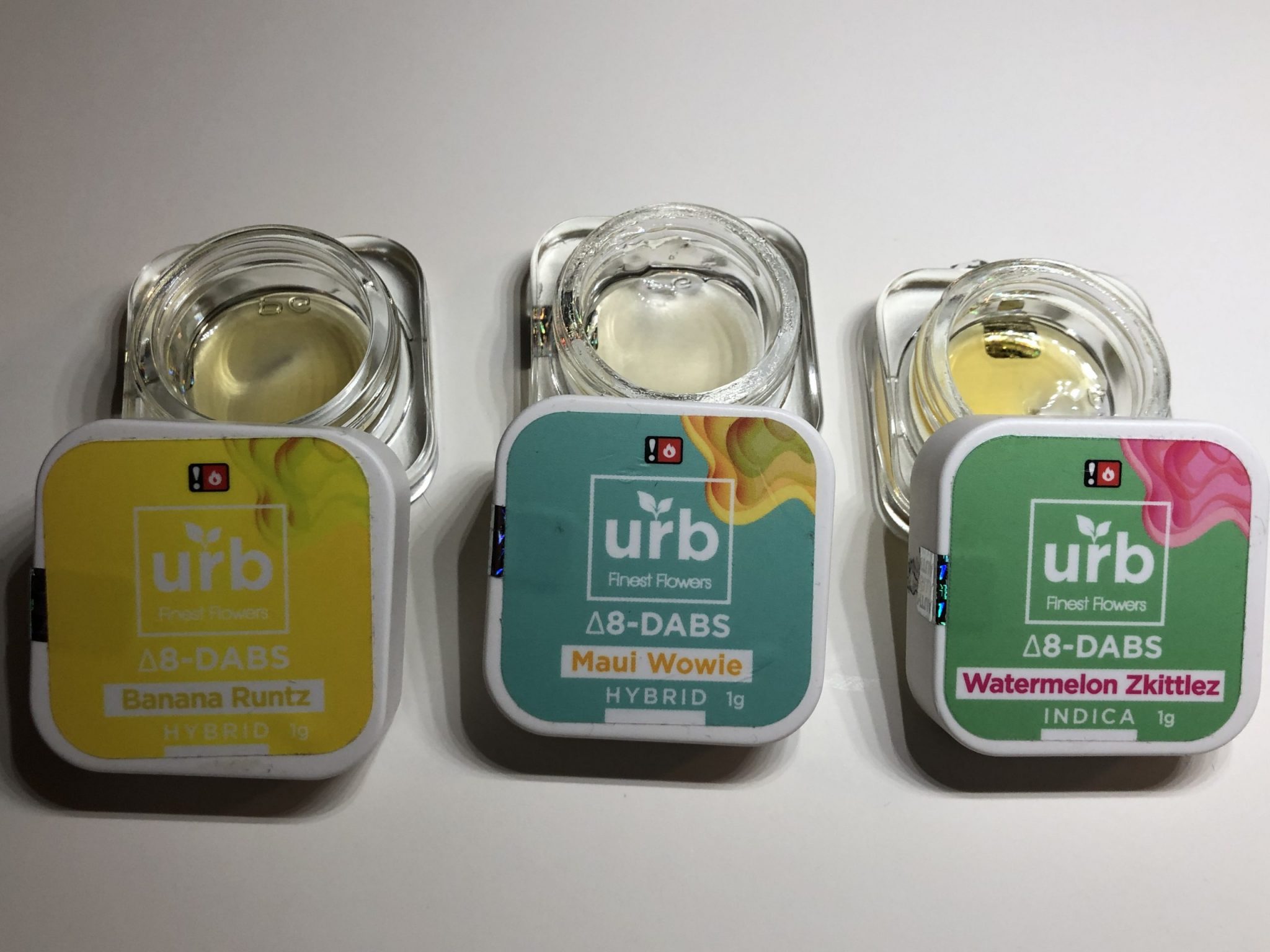 Providing a good presentation with their glass containers, I was excited about trying these D8 dabs. When opening each container, I noticed right away how thin the oil actually is. Without judging the quality or potency, I knew these dabs would be a struggle packing into a dab pen. And they were, it would get too messy and would be a struggle at times. After testing with various devices, I noticed that it smokes best with a rig or nectar collector.
Furthermore, apart from that, these dabs give a great taste and high level of potency. Especially for Delta 8, having reviewed many D8 cartridges before, D8 dabs give much nicer effects to any cart I've tried. Feeling almost identical to a regular high, but not as lasting, the potency of Urb delta 8 dabs really surprised me and every other pothead that tried these with me.
Surprisingly great strength and effects for Delta 8
After testing each strain, the potency and effects they deliver turned out to be better than expected. After just one or two hits, you will start feeling effects like a normal dab. Especially if taken with a dab rig or in mid-high temperatures. The effects of Delta 8 THC is known to not be as potent of a high. But, with Urb Delta 8 dabs, they do give a good high.
Authentic lab results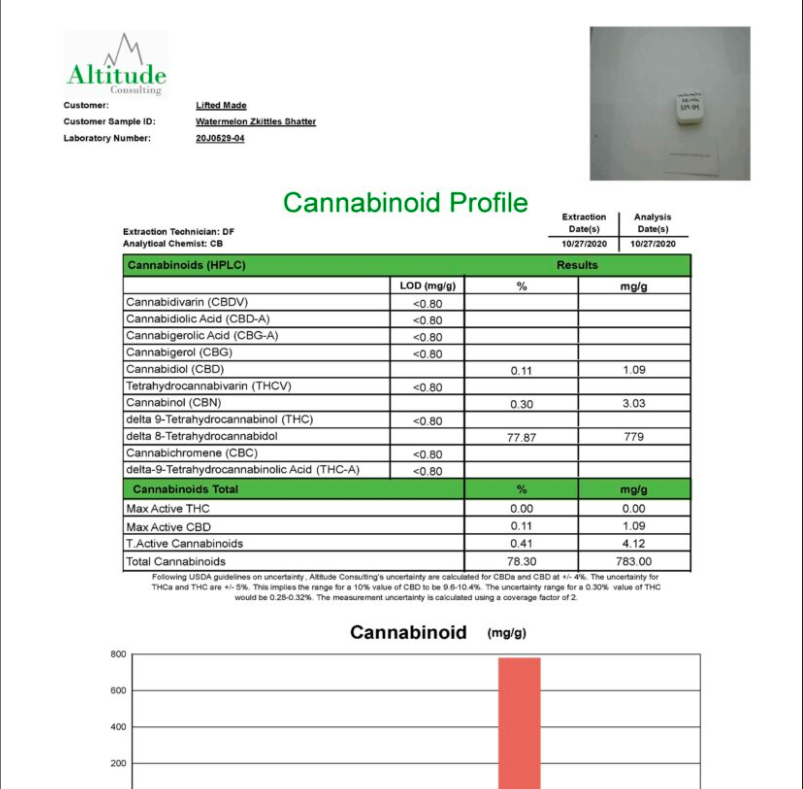 Urb Finest Flowers provide lab results for each and every one of their products. They also provide lab results for all three of their strains. You can find the page of their lab results here.
Urb Delta 8 Maui Wowie- smells neutral, but tastes much better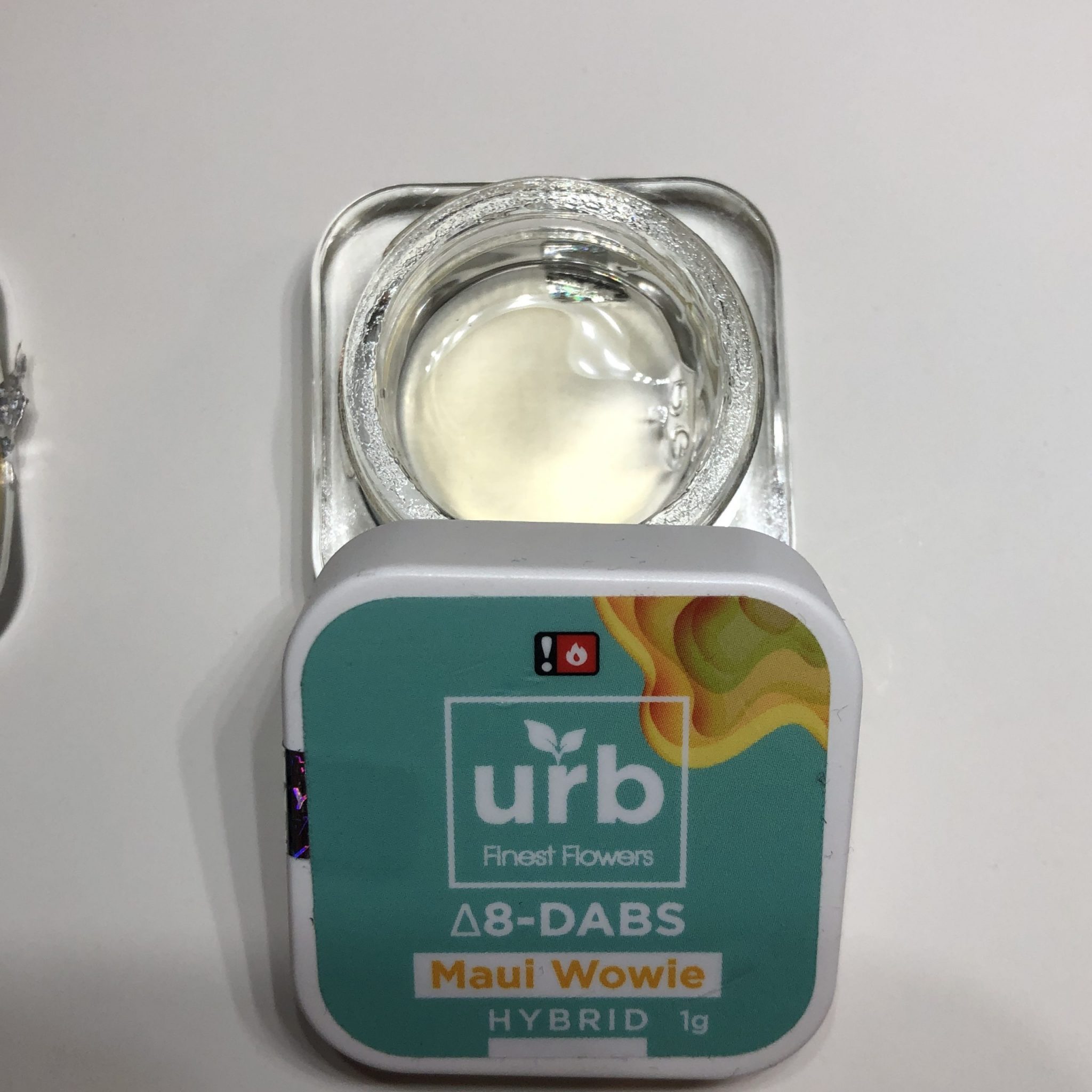 Opening Maui Wowie, I wasn't able to smell much from this particular strain. The rest of the dabs gave a nice, sweet smell to it. So I was wondering if this strain might be a more flowery taste. I was wrong, Maui Wowie gives a great, sweet taste. Can't really say what kind of sweet flavor it is, but it is pleasurable and very tasteful. Enjoyable to smoke, these deliver very nice effects.
Urb Delta 8 Banana Runtz- Smooth, sweet, and fairly light taste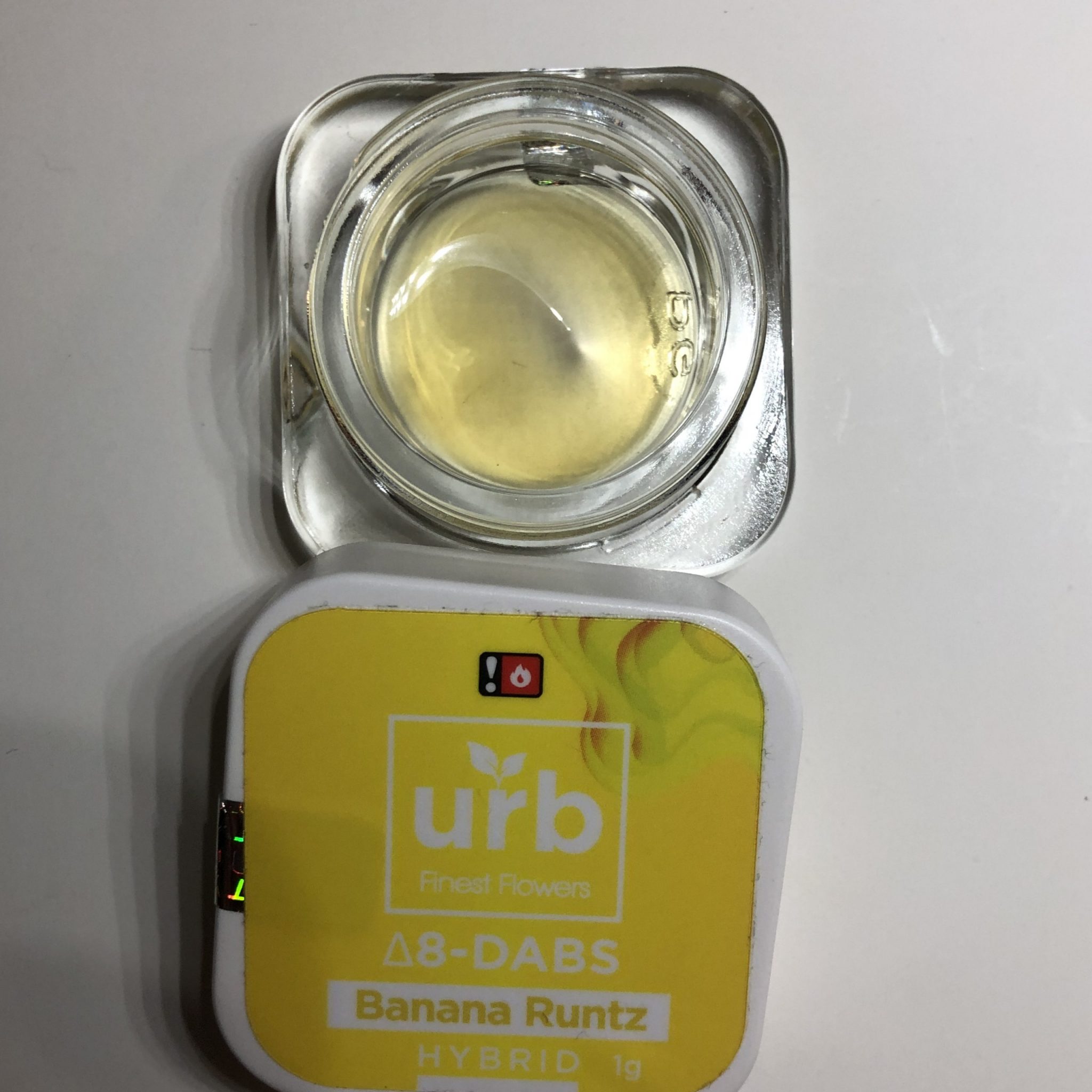 As for this strain, it tasted exactly like how you'd expect it to be. Giving a smooth, light, and tasteful banana flavor, Banana Runtz gives a very satisfying experience as well. Personally, this strain actually reminds me of a Laffy Taffy banana flavor candy, or just any sort of banana flavor hard candy. Providing the same effects and level of potency as the others, I recommend this most to those who enjoy a good, fruity banana flavor.
Urb D8 Watermelon Zkittlez- my personal favorite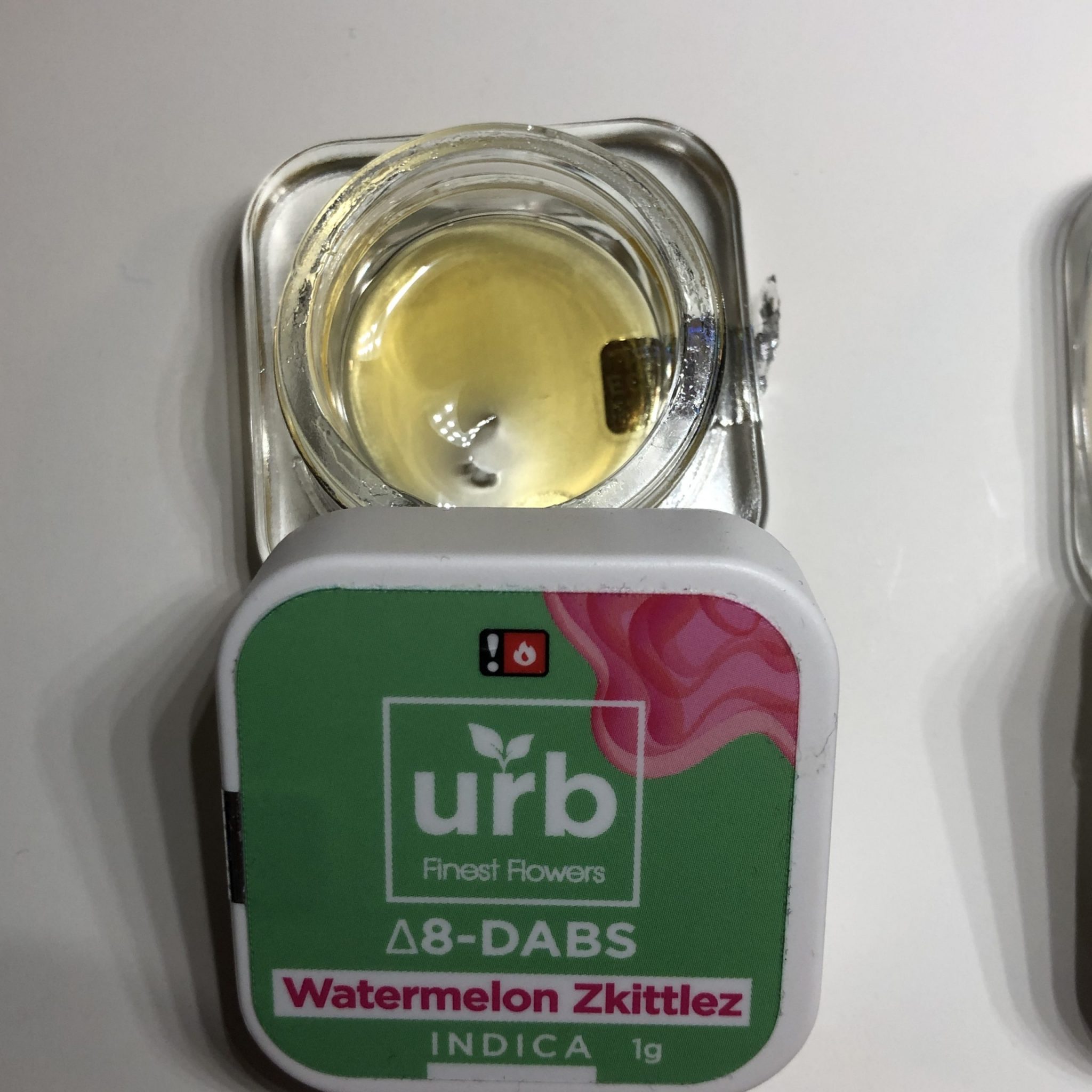 Being my favorite strain, Watermelon Zkittles gives a fascinating taste. Great tasting terpenes, this train gives a great flavor, tasting like watermelon candy or some sort. Even just smelling it, this strain is the best smelling and tasting one, not just coming from me. If had to choose, I would go with this strain any day, but they all give great effects and potency.
Great strength, not the smoothest, but depends how you smoke it
If you were to smoke these dabs on a rig, nectar collector (which is preferred) or something at a high temperature, it may be harsh. It will definitely get you coughing, even if you're an experienced smoker. With a wax pen, it might not be as bad. But, if you're familiar with how harsh D8 distillate is on carts, than you may be familiar with the harsh hits. These dabs aren't as bad as most D8 carts, but like I said, may still be slightly harsh for some. Especially for beginners and first timers.
Comparing Urb delta 8 dabs and Hometown Hero concentrate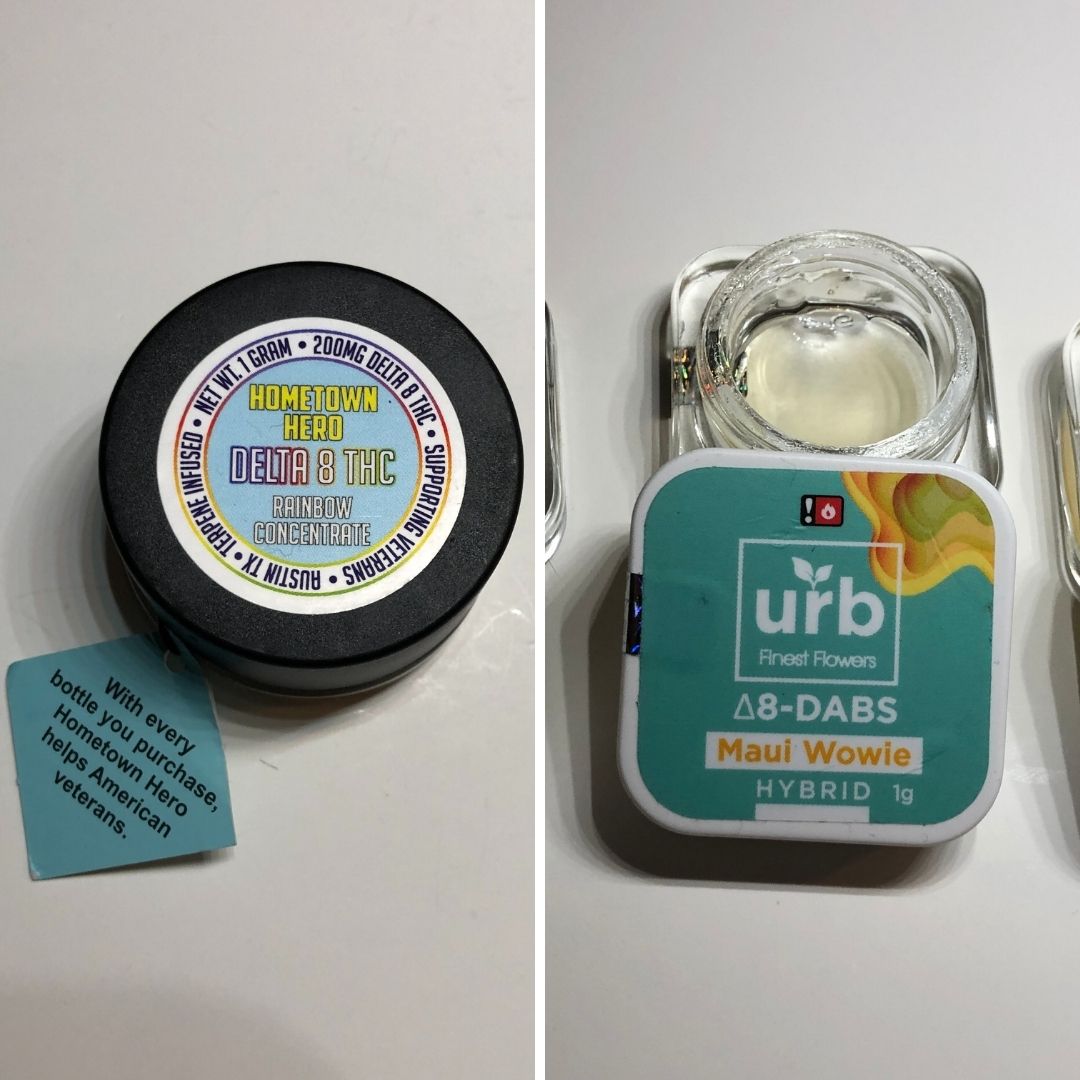 Between the two, I prefer the consistency level on Hometown Hero D8 Concentrate. The biggest thing with Urb delta 8 dabs is they have a more variety of strains and flavors to choose from. The price is almost the same, but the flavors and strength Urb provides are great. Only thing is that it may get sticky and messy at times, because of how thin the oil is. But either way, they're both potent and provide great taste. If these dabs are a thicker consistency with the same strength and taste, I would prefer them.
To sum up, Urb Delta 8 dabs delivers great-tasting strains, overall a great  and well worthy experience
In conclusion, Urb delta 8 dabs are definitely worth the experience. Especially with the 3 flavors they provide, each of their strains tastes great and feels potent. Hopeful in the future, they make their oil density thicker or perhaps create a different line of extracts. Extraction methods that make it a thicker consistency, so it can be easier to pack onto your device or battery/dab pen. Regardless, these D8 dabs are ones worth the try. You can learn more and purchase Urb D8 dabs on Lifted made.
Have you tried Urb delta 8 dabs? What's your experience with D8? Let us know in the comments below or on our forum.