REVIEW OVERVIEW

SUMMARY

Trifecta Relax cartridge delivers a smooth experience. Tasteful and soothing hits, but the oil quality isn't very potent.
Here we have the Trifecta Relax Cartridge made by Bay Stay Hemp company. These full gram cartridges contain Delta 8 THC, CBD, hemp-derived terpenes, and other cannabinoids. Furthermore, these carts deliver a smooth and mellow experience, not as intense of a high, but more relaxing and slight effects.
Pros:
Very smooth and light hits
CCELL hardware, effective cartridge
Flavorful taste
Not harsh
Cons:
Not very potent, won't give you strong effects
Currently, only one strain found for these cartridges
Recommendation: Have higher levels of Delta 8 THC, and provide more strains.
Trifecta Relax cartridge delivers smooth and tasteful hits, light effects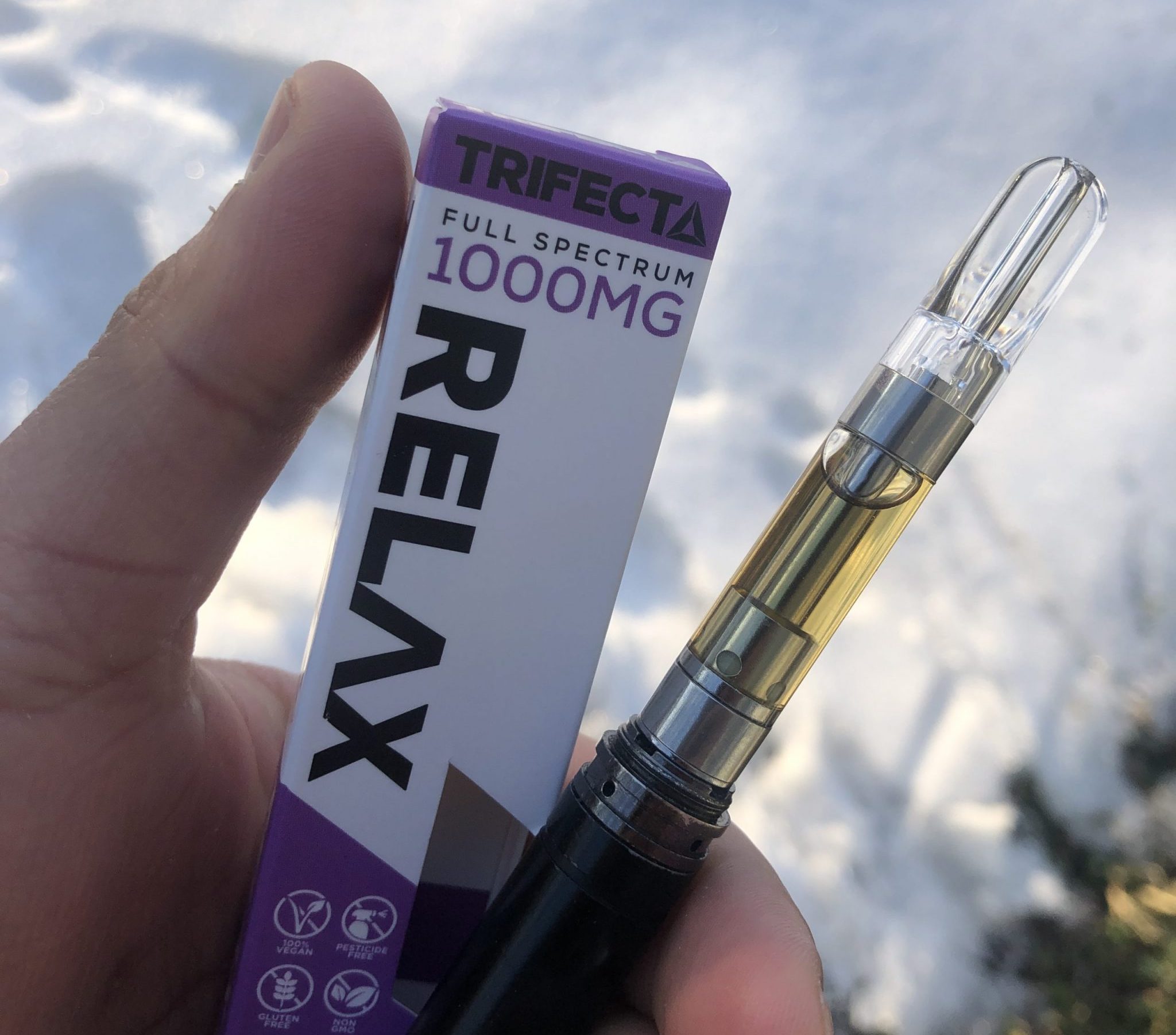 Seeing that this cartridge is infused with CBD, I assumed that it would hit a little lighter than cartridges filled with straight delta 8 distillate. And it sure did, Trifecta Relax cartridge delivers very soothing and mellow hits. A nice and light high, this cartridge is great if you enjoy CBD and want something only a little stronger than that. 
Don't get me wrong, you might feel some slight effects, but only after several hits. These cartridges are good if you just want a smooth experience with a light high. If you think Delta 8 gives a strong high, these carts give a much lighter high.
Delta 8 THC infused with CBD, cannabinoids, and hemp-derived terpenes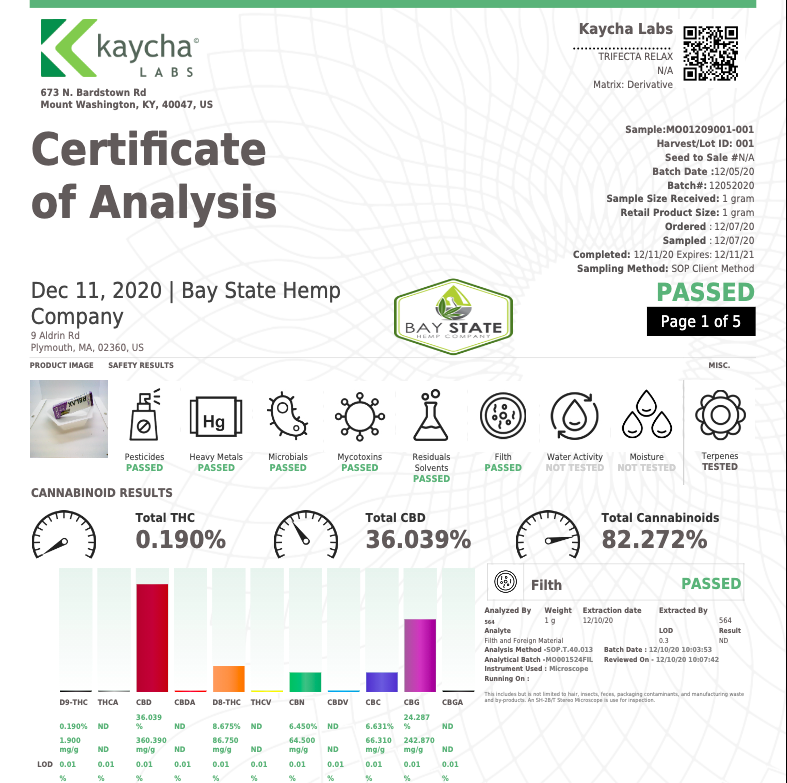 As shown above, Trifecta Relax cartridge contains not only D8 THC and CBD but also a full spectrum of cannabinoids. Like cannabigerol (CBG), cannabichromene (CBC), and cannabinol (CBN). This great blend delivers a much more relaxing high than a typical Delta 8 cartridge.
Along with this, the rest of the cartridge contains Linalool and Limonene hemp derived terpenes. This is what gives it its flavorful taste. Smooth and tasteful hits, these cartridges aren't really as harsh as most D8 carts and distillate. 
Oil Quality- Thin distillate and light strength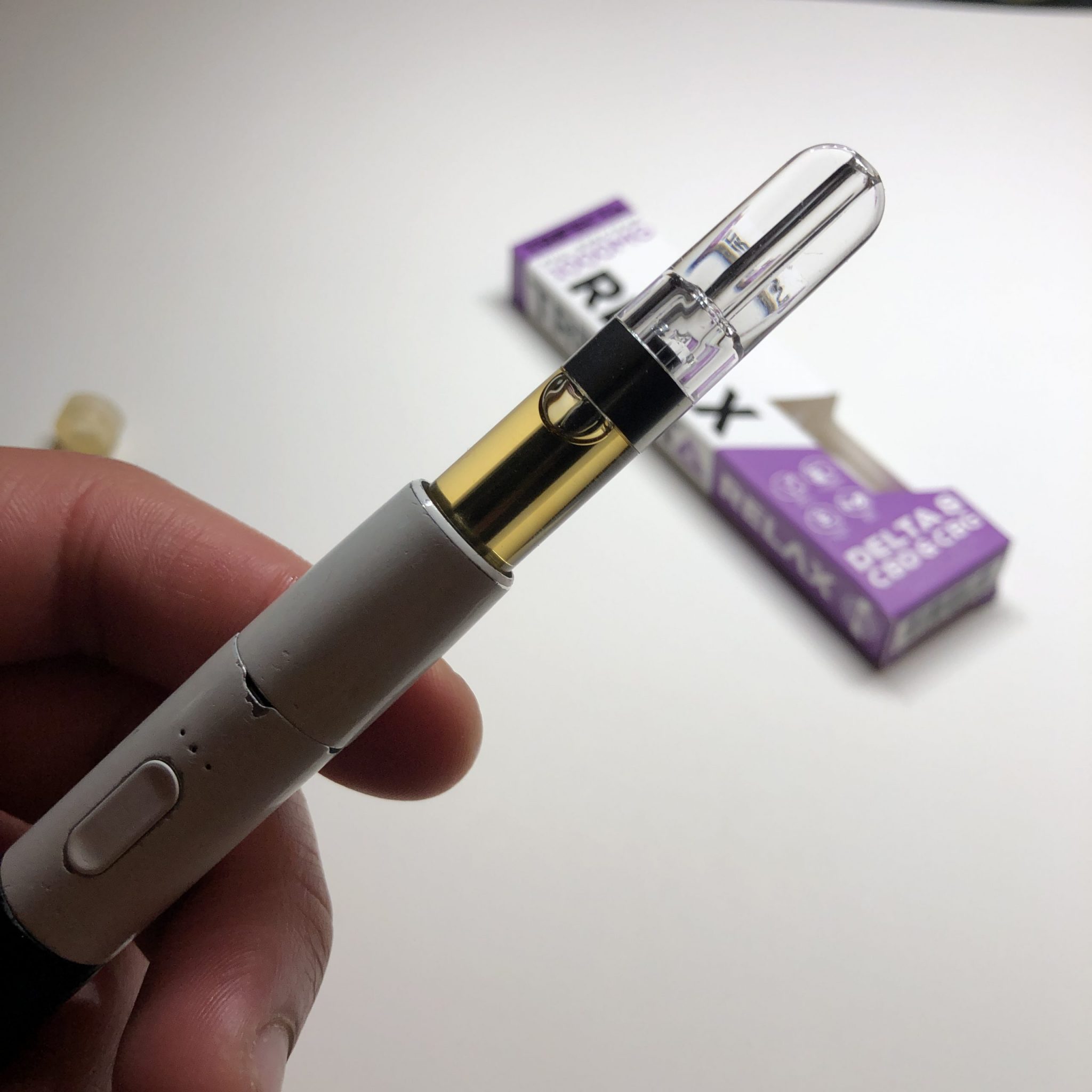 Because the Trifecta Relax cartridge is infused with a variety of cannabinoids and terpenes, these cartridges have a much lower percentage of D8. Within their lab results, Trifecta cartridges only contain 8.5% Delta 8. This is much lower than most D8 cartridges I've tried, which contain up to 80-90% D8. 
Furthermore, this cartridge won't really give you a strong high at all. It's more for someone who wants a lighter and smoother experience. As mentioned earlier, you may feel some slight effects, but you won't get stoned off it. Regardless, this cartridge is still enjoyable to vape.
Trifecta Relax cartridge use CCELL hardware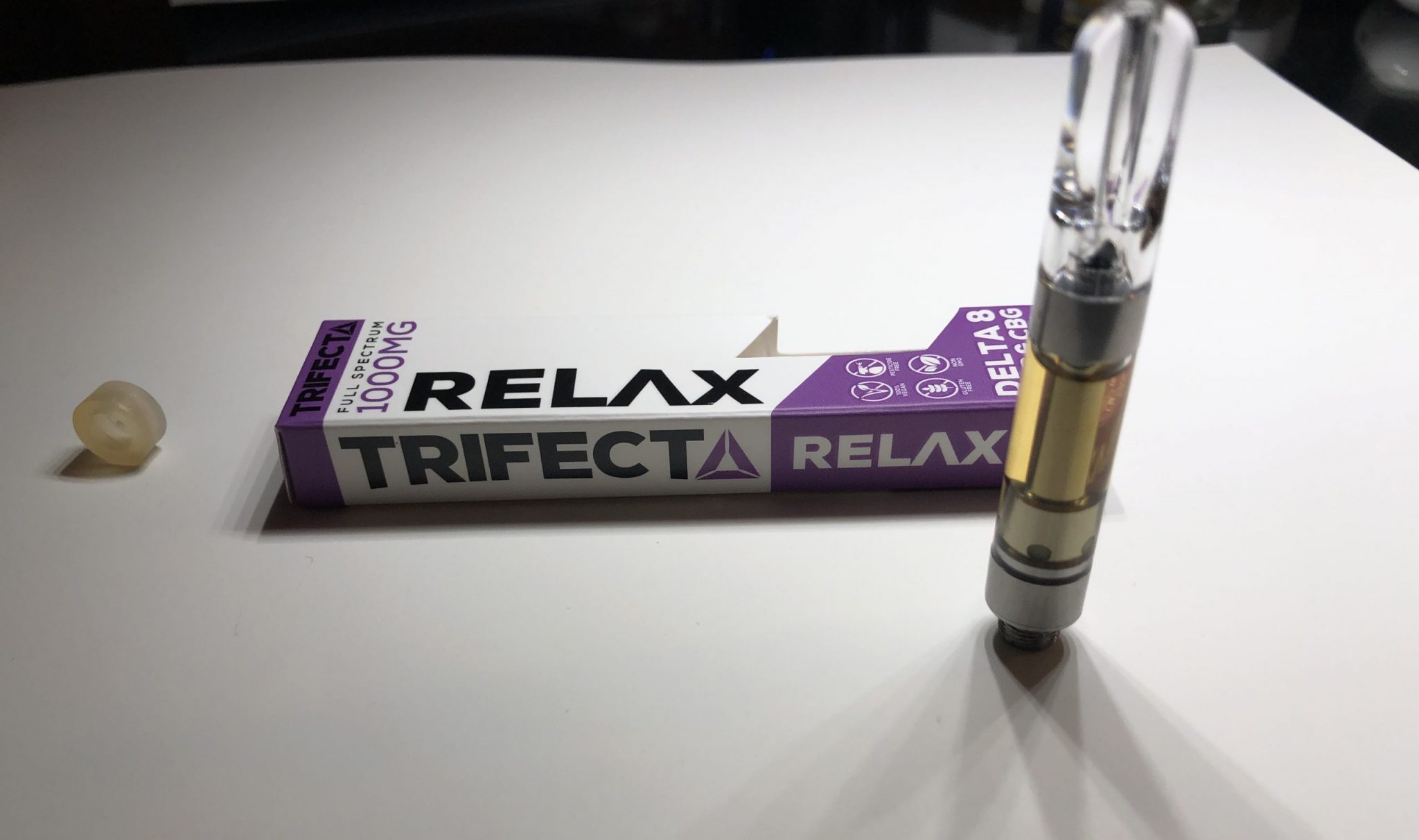 Trifecta delta 8 cartridges use authentic CCELL hardware for their cartridges. As with every CCELL cartridge, they deliver effective hits and nice clouds with the right battery and volts. I would say these cartridges are efficient, but because of how thin the oil quality is and how light it is, it is easy to smoke and finish. I finished nearly half of the cartridge in just a day, but I kept hitting it consistently.
Smooth and tasteful hits, more of a lime taste
As mentioned earlier, the terpenes infused with this cartridge is Linalool and Limonene. This blend of terpenes delivers a nice, lemony flavor. Not that strong of a taste, and doesn't taste harsh at all. Not as sweet or dense of a flavor, but a smooth, light mix.
Value: Fair price, worth the experience, if into CBD and Delta 8 THC
The price for these cartridges goes for $35, which isn't so bad depending on what you're looking for. If you want a pure Delta 8 THC cartridge or something that will give you strong effects, then I'd recommend you view our best Delta 8 list. Simply because at this price, you have many options and even cheaper ones to pick from.
But if you're looking for a cartridge that gives lighter effects than Delta 8, let alone Delta 9 or high-quality THC, then this is a good product for you. Because of how light the high actually is, it's perfect if you want to feel a slight buzz. Or maybe you want to take a tolerance break and don't want to full stop. Regardless, these cartridges do deliver a unique and interesting experience.
Overall, the Trifecta Relax cartridge delivers a unique and relaxing experience
Closing up the Trifecta review, these cartridges really do deliver an interesting experience. A great blend of terpenes, they deliver very smooth and tasteful hits. Again, not the strongest high you will get. But you may feel some slight, mellow effects. If you're more into CBD, at this price you will enjoy these cartridges. You can learn more and purchase Trifecta Relax cartridges here.