REVIEW OVERVIEW

SUMMARY

Hometown Hero concentrate is high-quality D8 dabs that deliver nice effects and a very good taste. Smooth and potent, this oil quality gives an overall great experience.
In this review, we'll look at something a little different. Having tried the Hometown Hero Delta Red cartridge, here we look at Hometown Hero concentrate. With Rainbow concentrate being the only Delta 8 THC flavor, as of now, this strain delivers a great taste and high potency. For it being one of the first times trying D8 dabs, I really enjoyed the experience it delivers.
Pros:
Great taste
Good quality Delta 8, potent in strength
Smooth hits
Cons:
The only strain available from this company
Recommendations: Have a variety of strains, otherwise nothing at all, this concentrate is very good.
Hometown Hero Concentrate – Thick consistency, very tasteful D8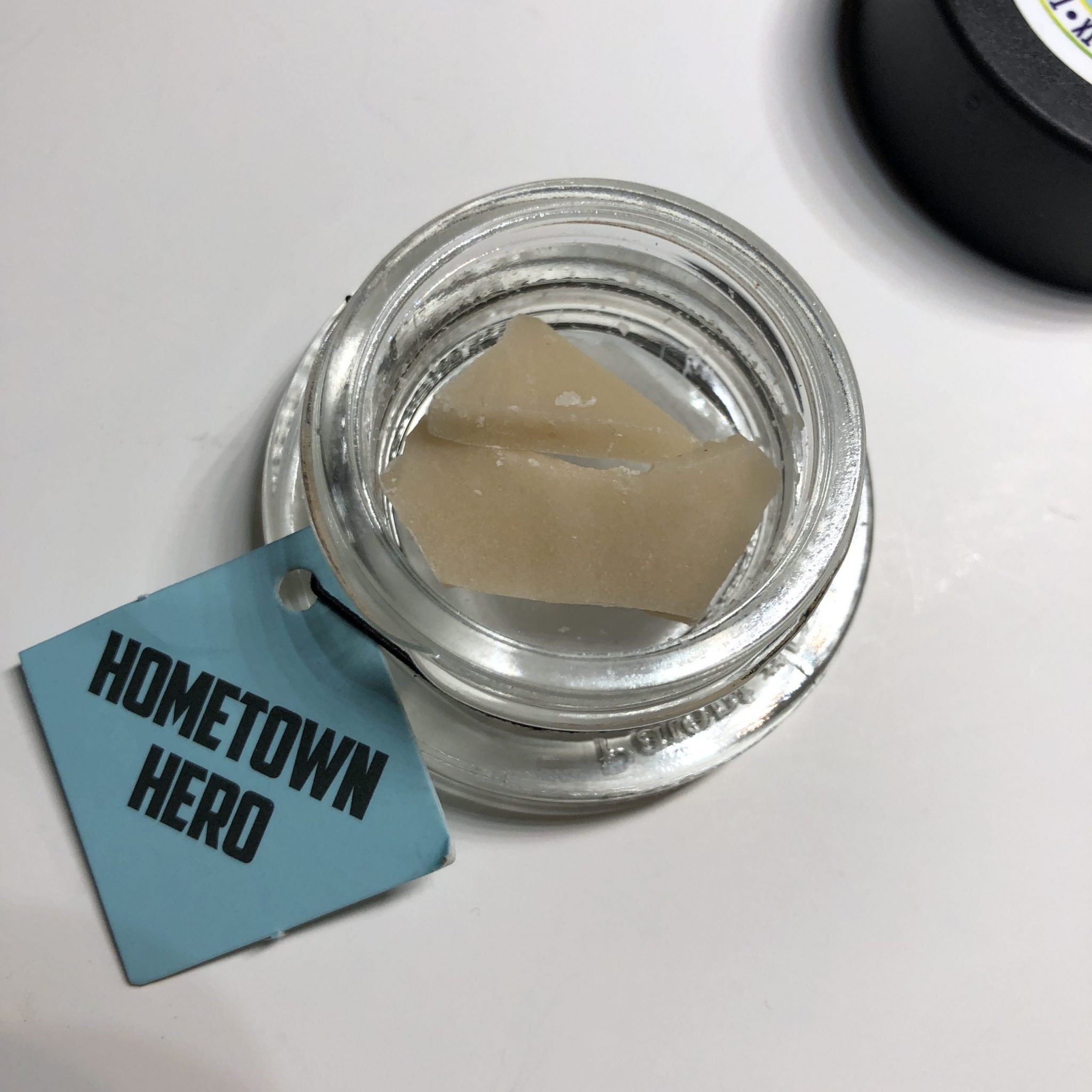 What I enjoy about these dabs is their level of thickness and consistency. Similar to a crumble like substance, this concentrate is firm and holds its place. As you can see above, the extraction type they use makes it is a much thicker consistency level than a lot of other D8 dabs in the market.
As for the potency and taste, Hometown Hero concentrate provides great strength and an amazing taste. Very relaxing and mellow effects, the strength is definitely up there and can get you coughing. Along with that, these concentrates give a very fascinating taste. Smooth, sweet, and flavorful, it definitely gave me a good experience.
Hometown Hero Rainbow concentrate delivers great effects
With these being one of the first times ever trying D8 concentrate, I wasn't sure what to expect from the high. But with just a few hits off a dab pen, I started feeling some nice effects. Even with one hit off a rig, I started feeling effects right away. Not as lasting as dispensary grade wax, but very great for Delta 8 THC. I should mention that for me, the high would usually creep in slowly.
Although the strength is high for D8, the high isn't very lasting. This may be good if you just want a short and quick high. In my experience, I didn't really feel as tired afterward nor did I get munchies as I would with regular THC. But the high is surprisingly nice.
Comparing Hometown Hero concentrate with Urb Finest Flowers dabs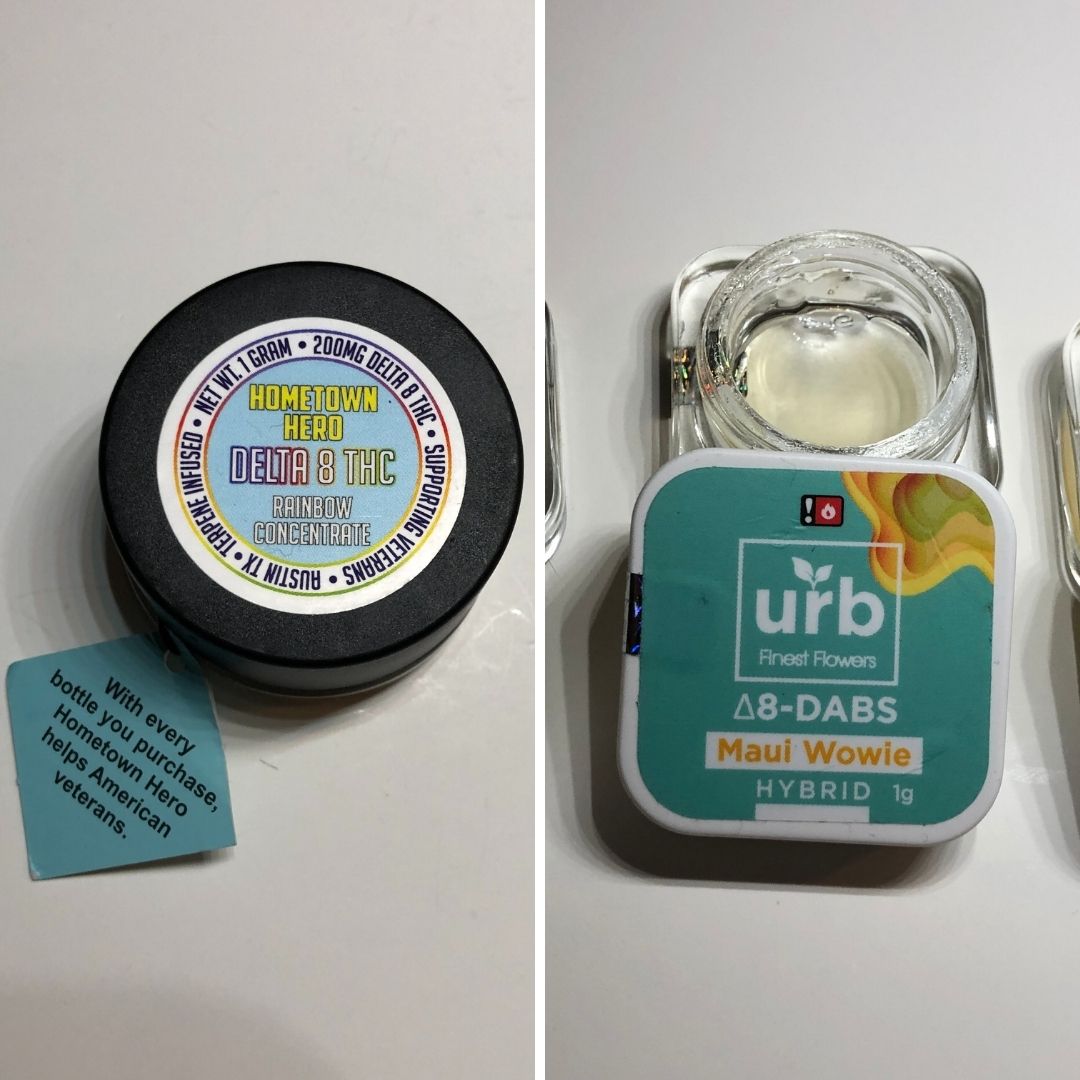 Both delivering great quality Delta 8, but I would prefer Hometown Hero rainbow concentrate. Mainly because of its consistency, this makes it a lot simpler to pack. Urb Finest Flowers dabs do get very sticky and can get messy easily. Especially if you were to pack it in a dab pen. But other than that, both deliver great strength and taste as well. If anything, Urb provides a more variety of tasteful strains. But the level of consistency may be inconvenient at times.
Value: Worth the experience if curious about D8 dabs
If you've never tried D8 THC dabs or D8 in general, I would highly recommend Hometown Hero concentrate. Regardless if it's your first time trying D8, or if you're experienced with Delta 8, you will enjoy the experience this concentrate gives. If you're familiar with Delta8 cartridges and enjoy them then you'll love this concentrate. You can learn more about Hometown Hero D8 concentrate here.
What's your experience with Delta 8 THC? Have any questions or comments about D8 concentrate? Post in the comments below or in our forum.