REVIEW OVERVIEW

SUMMARY

Rythm Energize disposables deliver smooth tasting and clean hits. They use good hardware and deliver pretty nice effects, but they aren't the most potent.
Rythm Energize disposables turn out to deliver clean-tasting, smooth hits. Rythm can be found in a variety of states that sell both medicinal and recreational weed. Furthermore, this company carries a wide variety of THC products. From concentrates and flowers to cartridges and vape pens. Here, we take a closer look at their Energize disposables.
Pros:
Great flavor
Mellow, euphoric effects
Smooth hits
Cons:
Recommendations: Increase their strength and THC levels.
Rythm Energize disposables give smooth, clean, and tasteful hits
Although very smooth and flavorful, this particular disposable I have aren't the strongest. Either way, they still deliver a nice experience.
Taking a closer look, I noticed that this disposable lands in the low 70% THC range. Not knowing what to expect, Rythm Energize gives a very clean tasting and smooth hitting experience. Very nice and tasteful, and I just love how smooth these are. Maybe because these disposables aren't very potent and don't get you coughing as much. Although not the strongest, these still deliver nice and mellow effects.
Good oil quality and fair strength, but not as potent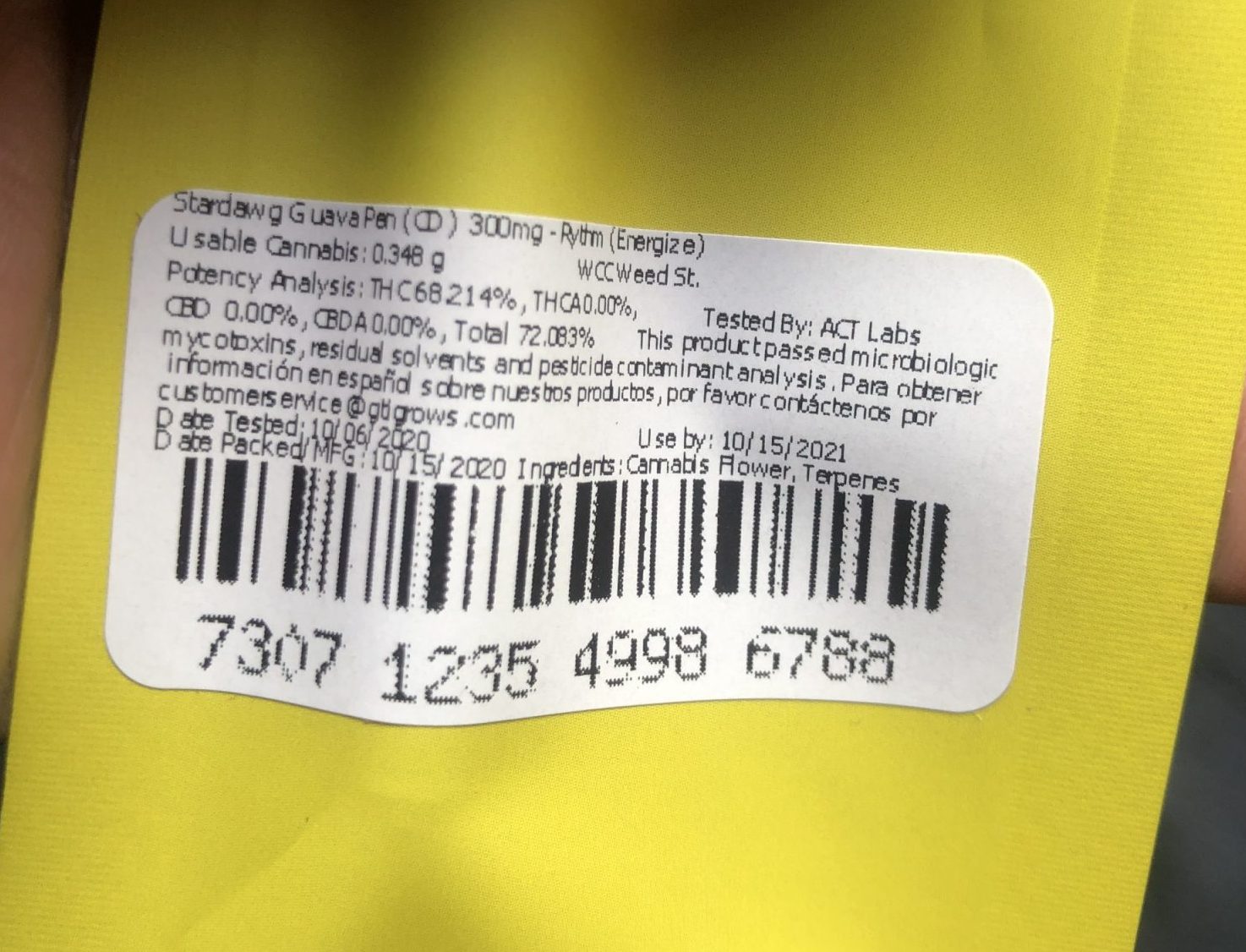 This particular disposable comes in at 72% THC, which isn't very bad. These do give nice and lasting effects, but as the percentage indicates, the strength isn't as potent as other cartridges/disposables. The potency is still decent, as I mentioned it gives a nice high. It's up there, but not on top, for instance like the Kanji disposable from Nevada. The Kanji hits much stronger and way more potent.
As for oil quality, it is nice and thick. More of a darker color, but still very thick and clean. There may be a big air bubble, mine did have a big one when I first unpackaged it. This is normal, (at least in IL) for most cartridges to do this. When filling oil in the cartridge, the wick starts absorbing the oil. Although a lot of dispensaries, specifically CCELL do this, I've realized they do this a lot here in Illinois. Having tried dispensary cartridges from Cali and Nevada, they'll fill their cartridges very full leaving a very small air bubble. Nothing like in IL, just something to mention.
The oil consistency is great on these disposables. Nice and thick, the bubble doesn't move one bit. The color is a darker oil color, but very clean tasting.
Rythm Energize: Stardawg Guava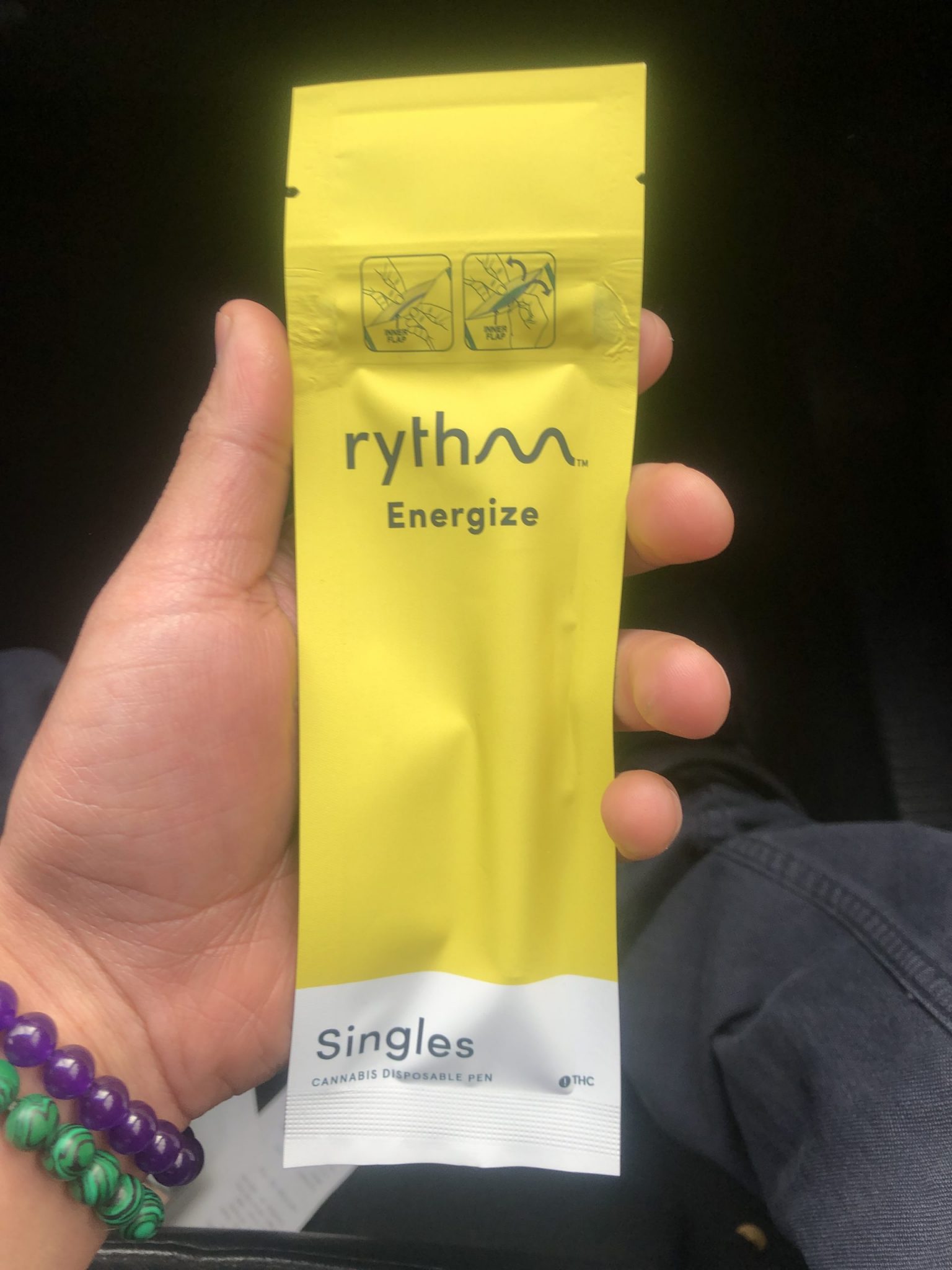 At first, this particular strain gives a slightly earthy and flower taste to it. But following that, comes a slightly sweet, berry-like taste. The flavor is somewhat light, I wouldn't have guessed the strain. Not that sweet of a taste, but definitely smooth.
As for the effects it delivers, it does give a nice, mellow high. Uplifting actually, not the strongest high but fairly lasting. As this strain is called energize, it's Sativa dominant, so it gives more of a mind high than a body one.
CCELL hardware delivers great performance. Small, convenient, and efficient but the oil might not last long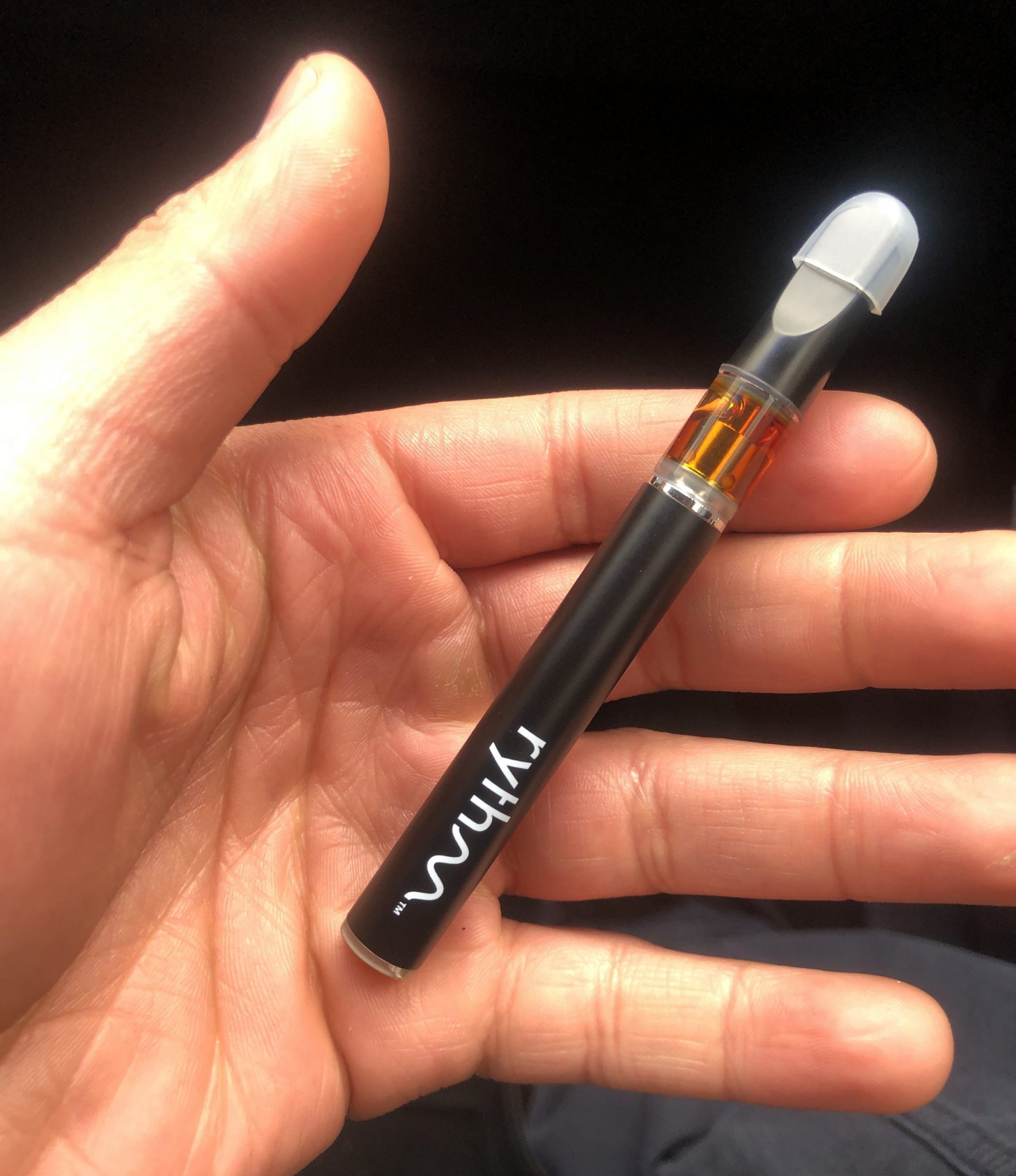 Something I enjoy a lot about these disposables is the hardware they use. CCELL always hit efficiently and effectively, in my experience, you get great smoke out of them. The only thing is this disposable won't last you very long, just because they're only 300MG (.3G). As much as I enjoyed these, when I tried to conserve this it barely lasted me a week. If I wanted to, I can finish this disposable from start within just a few days. But if you're a beginner or light smoker, this may be good for your preference.
Rythm Energize disposables vs Verano Travelers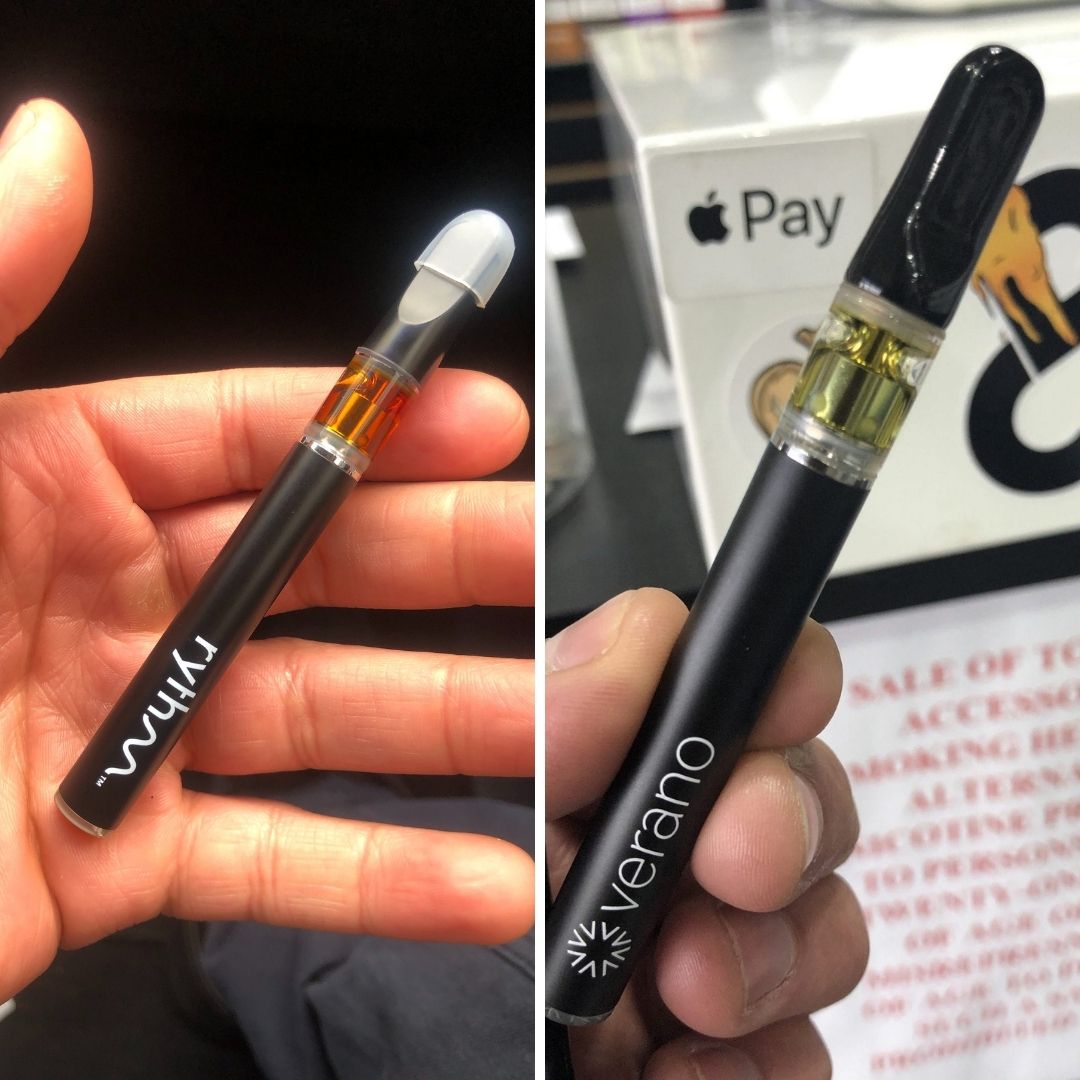 In comparison, I prefer Verano Travelers disposable for a few reasons. Both disposables are 300MG, deliver good hits, great flavorful, and use CCELL hardware. But as for potency, the Verano travelers do feel stronger and gives a better high, in my experience.
Rythm vs Nature Grace's Joos disposable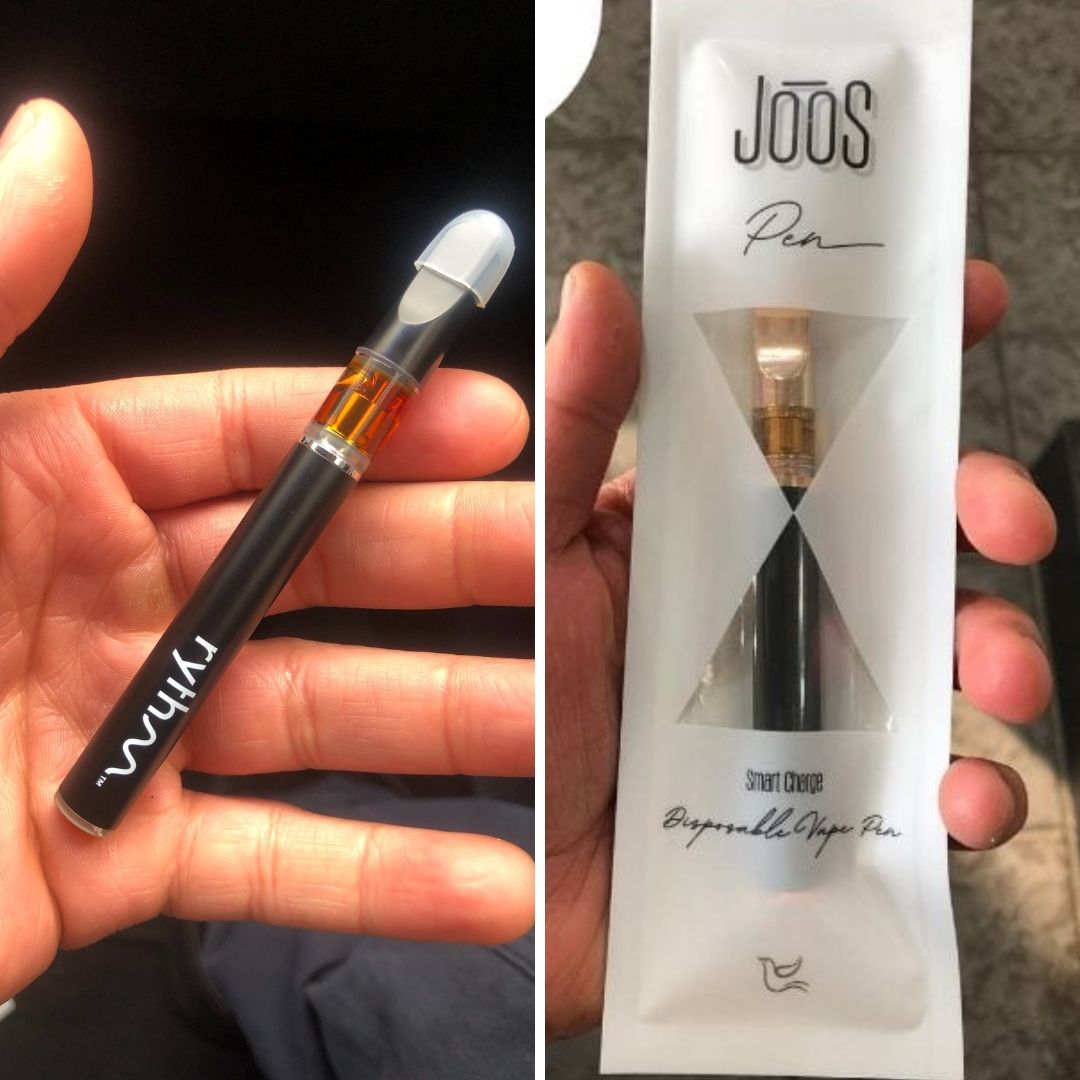 Same with above, both 300ML disposables and both deliver really good hits and taste. Natures Grace JOOS is rechargeable, so that's a plus but again, they're only 300ML. Those usually don't die on me before I get a chance to finish them. Either way, I do prefer the JOOS disposables mainly because of the flavor those strains provided. Mystery Cookie and Bubble Gum are a lot more tasteful and enjoyable than Stardawg Guava.
For its value, worth the try. Purchased at Windy City Cannabis
This disposable was purchased in the Windy City Cannabis dispensary.
The price of these disposables is 35$. But as always, this price is before tax. The Windy City Cannabis is a dispensary, located in Chicago, IL. that sells for both Medicinal and Recreational. After tax, it was around $45-47, which actually isn't a bad price for IL. But with the dispensaries out in Cali and Nevada, you can find half gram cartridges for that price, if not less.
Overall, Rythm Energize delivers a nice experience, but not the most potent
To sum up, Rythm disposables are good convenient disposables. Great if you're a beginner, lightweight, or just don't smoke as often. But if you're a heavy stoner or connoisseur, these disposables may not give you the strongest effects. The taste is great and smooth, but also if you smoke these consistently, you can finish the oil easily. Regardless, they still are good to try and have the experience yourself.
You can find more on them and where to find their products here. What are your thoughts on the Rythm Energize disposables? Post a comment below or post in our forum!