Potters Cartridge Review : Updated Formula, Updated Cart, Much Stronger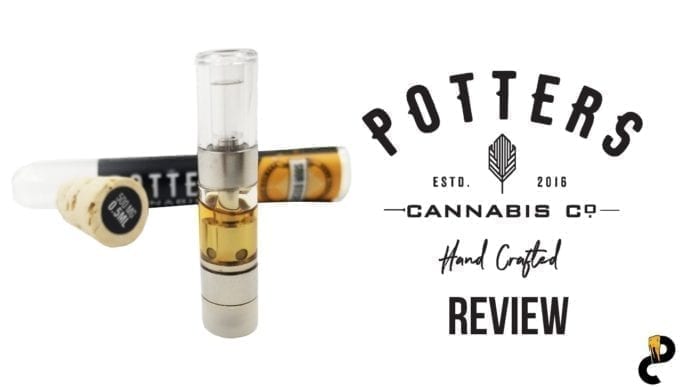 REVIEW OVERVIEW

Design and Build Quality

9

SUMMARY

Our local cannabis delivery service recently added Potter cartridges so we decided to try it out so that we could write a review on it. We are glad we did because we were not pleased with the cannabis extract oil or the ccell cartridge. Don't buy into the Hype with a prefilled cartridge just because they use ccell doesn't make their THC oil good.
I first saw Potters cartridges on Weedmaps. The delivery service I frequently order from had added this new CCell prefilled vape cartridge on their menu. It was the glass mouthpiece that caught my attention that ended up being plastic. Already, before I even vape the Potters cartridge, the review was off to a bad start. The packaging itself was some of the best I've seen from prefilled vape pen carts. I was surprised to see that the actual product I received was different than the image on Weedmaps for this company. I decided not to complain to my delivery driver because I thought perhaps after this Potters cartridge review it would turn out to be a nice product.
Potter's updated their cartridges by May of 2018. We got a new version of their cartridge in the end of June 2018. This new version is much better. Although our initial review was not good, Potter's has improved things substantially, and is now one of the better carts out there. It also is a bonus that Potter's is one of the few companies that tested clean on our list of THC oil pen pesticides tests.
UPDATE 06/08/2018: Potters Cannabis Co has recently changed their formula and many of the new cartridges out there are made of this new, stronger formula. We will be updating the review soon to reflect the change. Potters also tests clean for pesticides which can be seen on our vape pen pesticide tests page.
UPDATE 07/02/2018: Post updated as we have now extensively tested the new formula. The cartridge is on the latest CCell hardware. THC strength is now at 80%.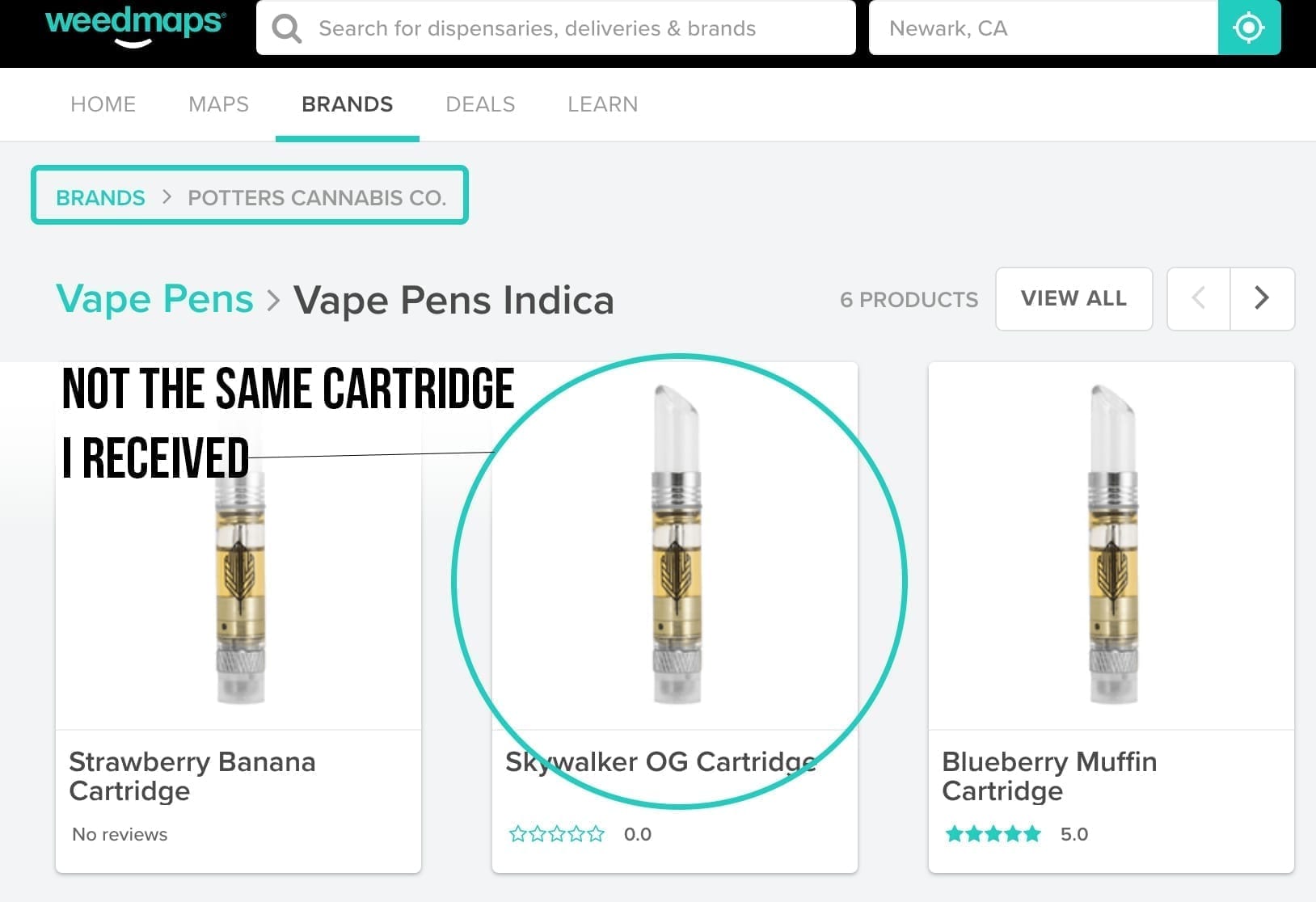 Potter's cartridges now do come in latest style CCell cartridges with 5 holes. See below.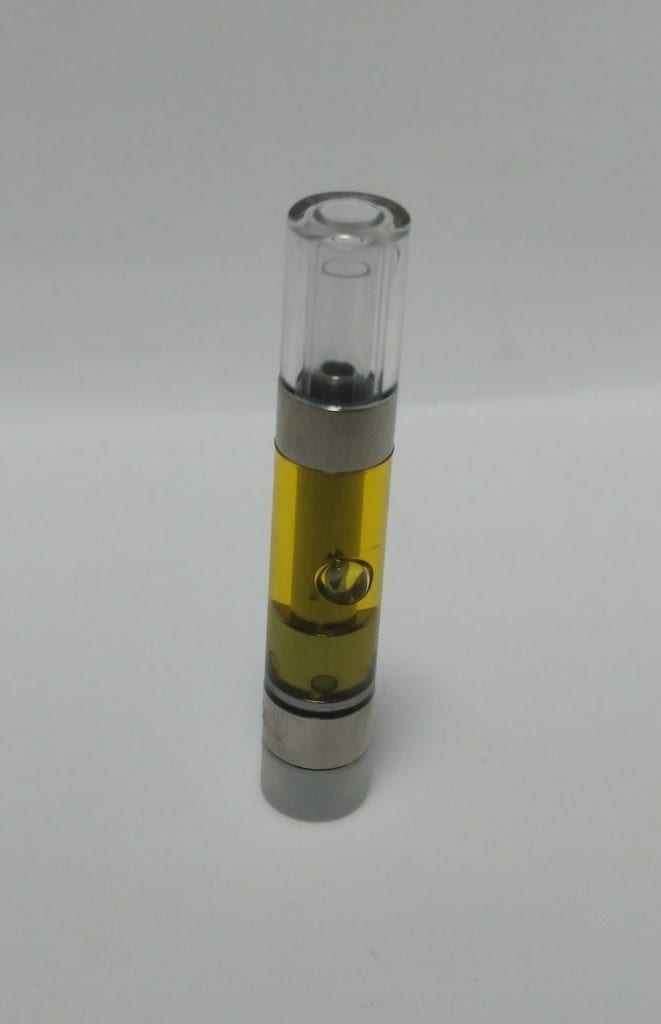 Potters cartridge THC oil taste has greatly improved
The initial Potters cartridge review didn't result in a high score for taste because it had a medicine taste to it when vaped. I didn't like the first cartridge Sour Diesel strain from Potters Cannabis Co. and it reminded me of another product I've had that was also ethanol extracted. The new cartridge was Jack Herer, but it is more than just the strain that was changed from the previous cartridge. The terpenes added to its cannabis extract oil have been changed. The entire formula is different.
On Potter's new cartridge, taste was completely changed. They have terpenes in it but not too much, as THC is still at 80%. The hardware change definitely is helping the taste too. The new CCELLs taste great, and that is exactly what Potter's is using. I am not sure that they are using ethanol extracted cannabis anymore either,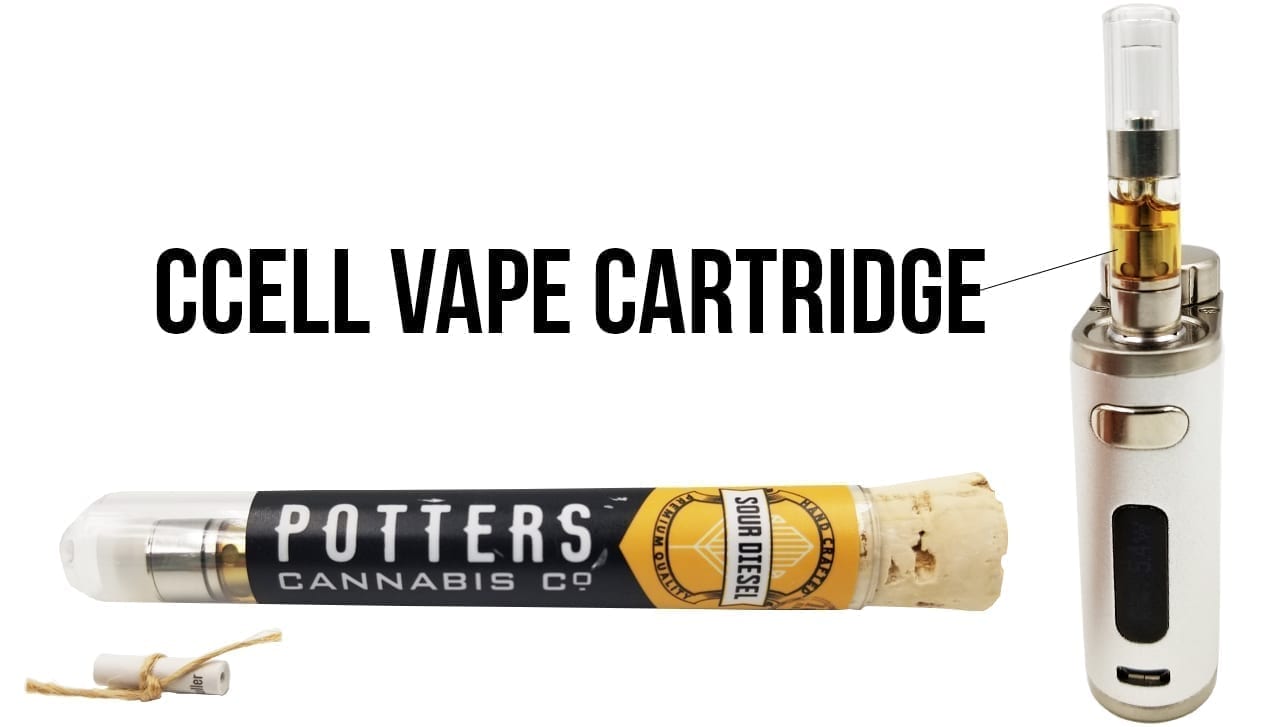 Medium High Price Range, But Worth It For Clean Oil
The new THC oil inside of these prefilled cartridges is a lot better than the previous version. Potter's went from being one of the worst carts to one of the best carts with their recent up date. A half gram cost $30 USD from my local cannabis delivery service, which is reasonable given the quality and that it tests clean for pesticides. I have noticed a trend on some vapes, the flashier the packaging most of the time the product turns out to be less impressive. That was the case with the old Potter's cart, but the new one lives up to the flashy packaging. Also, every prefilled cartridge I tried that came in a plastic tube turned out to be no good.
Potters cartridge review reveals high strength THC.
I couldn't find any lab test for the total amount of THC in these prefilled cartridges. Nor was there any information on the nice packaging.  The new packaging displays this information on the bottom as shown below.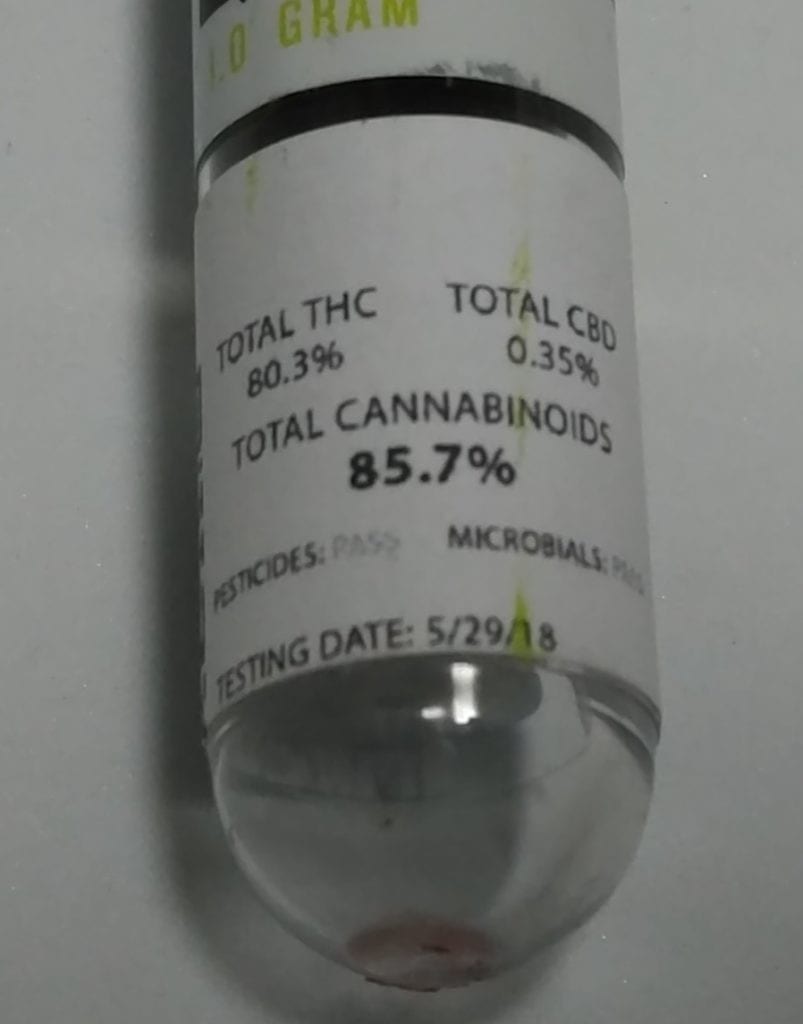 The THC oil is definitely stronger now on the updated cartridge. It is on par with Brass Knuckles vape cartridges and Heavy Hitters carts, but still not as strong as Stiiizy pods. I would bet this oil in a Stiiizy style pod would be stronger than Stiiizy's own oil though. This prefilled vape cartridge is stronger than others I have reviewed such as the Pax Era pods, Alpine Vapor, and Gold Drop cartridges that all cost the same or more as Potters Cannabis Co. cartridges.
Potters cannabis cartridge uses CCell vaping technology that is very efficient
I have noticed a trend from prefilled cartridge companies switching to CCell cartridges. This has been seen with Kurvana vape cartridges and Americanna cartridges too. As I stated above Weedmaps shows a different image for Potters cartridges, I didn't know I was going to get the new CCell cartridge. The CCell cartridge makes it easy to vape huge clouds with a box mod. I didn't have to turn the volts up to experience it. The newer version of the Potter's cartridge also has the latest CCell cartridge.
Number of hits vary on the size of your hits.
This CCell cartridge allows for big hits without much effort. It's easy to take some huge clouds at a higher voltage but it won't be as smooth as taking huge clouds from a Stiiizy pod. Flavor is, of course, sacrificed with high temps. On lower temps the flavor is great! The CCell cartridge can be good if it has some good cannabis extract oil inside of it, which this new version definitely does.
Value is good on Potters vape cart with new formula.
This cart presents a lot better value with the new fomula. Flavor is better and strength is on par with Brass Knuckles vape, Justdab, and Heavy Hitters. The packaging is nice and the most important part is pesticides. Potter's has tested clean for pesticides. Cannot say that for everyone else.
Tried New Formula, And It Was Great
In conclusion, this CCell cartridge vape pen did not impress on flavor on the first version. After getting the new cartridge everything was greatly improved. What initially was dissapointing now turned out to be one of the better cartridges out there. I do think that this same oil from the new blend put into a pod-style vaporizer would hit extremely hard as well. I will be looking to see if there is a Potter's distilalte syringe in the future. The fact that they come up clean and now deliver a strong oil on the latest CCell, makes the Potter's Cannabis Co. vape cartridge a great choice.