REVIEW OVERVIEW

SUMMARY
Today I will be reviewing 2 types of live resin cartridges: PALLY's Delta 8 THC & CBD.
PALLY is a company that sells the highest quality product at the highest standards. Their broad spectrum THC-free hemp oil is processed at a world-class laboratory in Oregon. They only use pure uncut oil and cannabis-derived terpenes. PALLY never uses any solvents, cutting agents, or MCT oil in their concentrates.
For those of you who don't know what Delta 8 is, D8 is an isomer of CBD and another cannabinoid used in hemp and hemp extracts. While Delta 8 and Delta 9 THC have similar names, they are distinctly different in compounds & characteristics. There are clear-cut reasons why D8 THC was made fully federally legal by H.R. 2: The agricultural improvement act of 2018,while D9 THC was limited to a maximum content of 0.3%.
Pros:
Good quality oil
Great taste
Fairly smooth
Safe packaging
Cons:
Recommendations: The potency of the product could be stronger.
Amazing Flavors
For this review, I tried a Delta 8 THC Sour Space Candy Live resin cartridge and a CBD Cherry Abacus Live resin cartridge. After trying both strains I can say that the flavors were amazing. They are really tasty cartridges. The hits were smooth and clean, and after several puffs they weren't hard on the throat and the flavor remained the same.
Sour Space Candy Delta 8
The first cartridge I opened was Sour Space Candy Delta 8 THC. When I opened the box the first thing I noticed was that the container was child-proof and it worked great. The box listed all the information about the cartridge and oil. There is also a barcode to scan for lab results.
The ingredients in this cartridge are Delta 8 distillate, Hemp flavor, and live resin terpenes.
52.8% Delta 8 THC
13.2% CBD
1.26% CBN
0.73% CBG
3.92% CBC
0.0% Delta 9 THC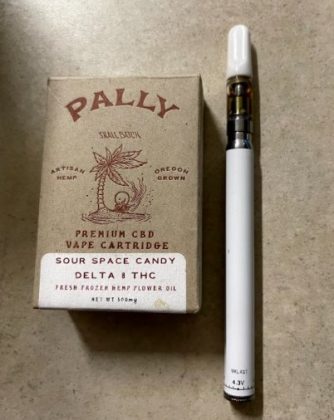 Standard high-quality CCELL hardware
The hardware used is the most trusted vape cartridge brand. CCELL made from stainless steel, glass, and ceramic. Compatible with all standard 510-thread batteries.
As soon as I opened the package, I could smell how strong the cartridge was, it smelled gassy and piney at first with a sour skunky aroma.
I put the cartridge on my battery and adjusted it to 3.8 for my first hits and settled at 4.1 because the oil was really thick and hit better at the higher temp. The oil quality was good. The color was dark amber with a thick syrupy consistency. The hits were smooth and a total explosion of flavor! I have a high tolerance so one thing I look for is the THC levels, but I look for the flavors too!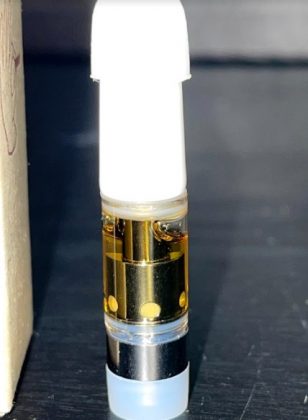 Very clean flavor
In the beginning, you could taste a fresh piney skunky lemon flavor with a gassy diesel sour aftertaste. One thing I noticed is the difference in the flavor between this cartridge and the one I got from Float is that the PALLY delivers a fresher "greener" flavor with no chemical aftertaste at all. They don't put additives or fillers and no botanical terpenes. That's why the flavor is so clean and hit after hit, it's still smooth on my throat.
Low Potency
The Potency wasn't too high at 52.8% D8-THC and 13.2% CBD. The CBD makes the D8 effects less effective. The cartridge is perfect for people that tend to get paranoid or have anxiety with they use D9THC. The high was really mild and mellow. It didn't affect me in a body high type. After a full day of using this vape cartridge, I noticed the oil barely went down. That's a plus because I've had other cartridges like the coral reefer from Surterra Wellness that lasted barely a day.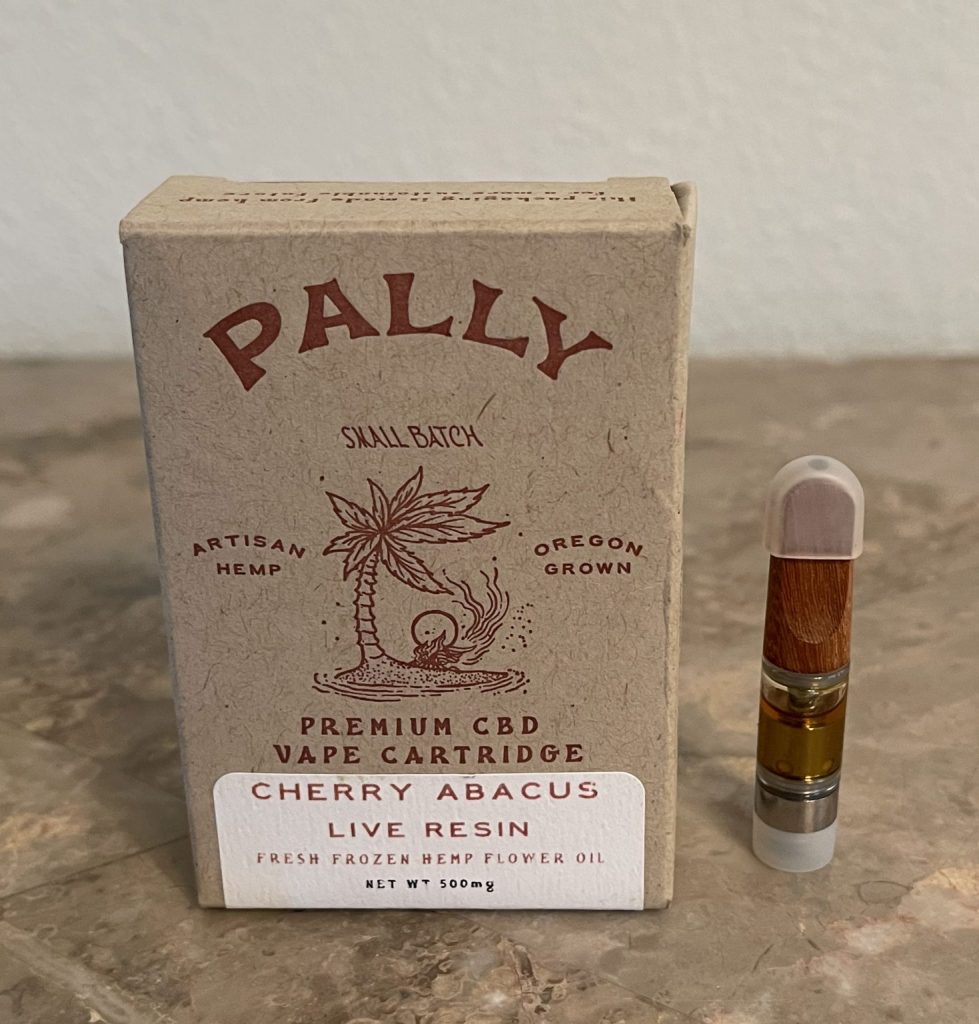 CBD Cherry Abacus Live resin
I opened the CBD cherry Abacus cartridge around 7 pm when I decided to call it a day. CBD usually gets me tired and If I use it during the day I'll get grumpy if I get tired. This cartridge's smell wasn't as strong as the Sour Space Candy one, but it did have a mild sweet fruity smell. The oil consistency was thick and syrupy with a dark amber color.
Ingredients: hemp flower live resin extract.
22.73% CBDa
32.24% CBD
3.80% CBN
0.64% CBG
3.98% CBC
0.15% Delta9 THC
Clean and smooth puffs
After loading the cartridge on my battery and finding the perfect temperature (4.1v)  I took several puffs. They were clean and smooth, they weren't harsh on my throat. The flavor was sweet and silky like cherry and strawberry with a piney and sweet aftertaste. There was a lot more cannabis smell and taste compare to distillate carts with non-cannabis-derived terpenes, so those used to more fruit-derived & synthetic terpenes may want to be aware.
As for the effects, I didn't feel much, sometimes if I get anxiety or insomnia, CBD will help me relax. Some people have reported CBD helped them with pain & others used it for relaxation with a clear focused mental state. In my personal opinion, this affects people differently.
Effects: Mellow, Happy, Creative, Hungry, Relaxed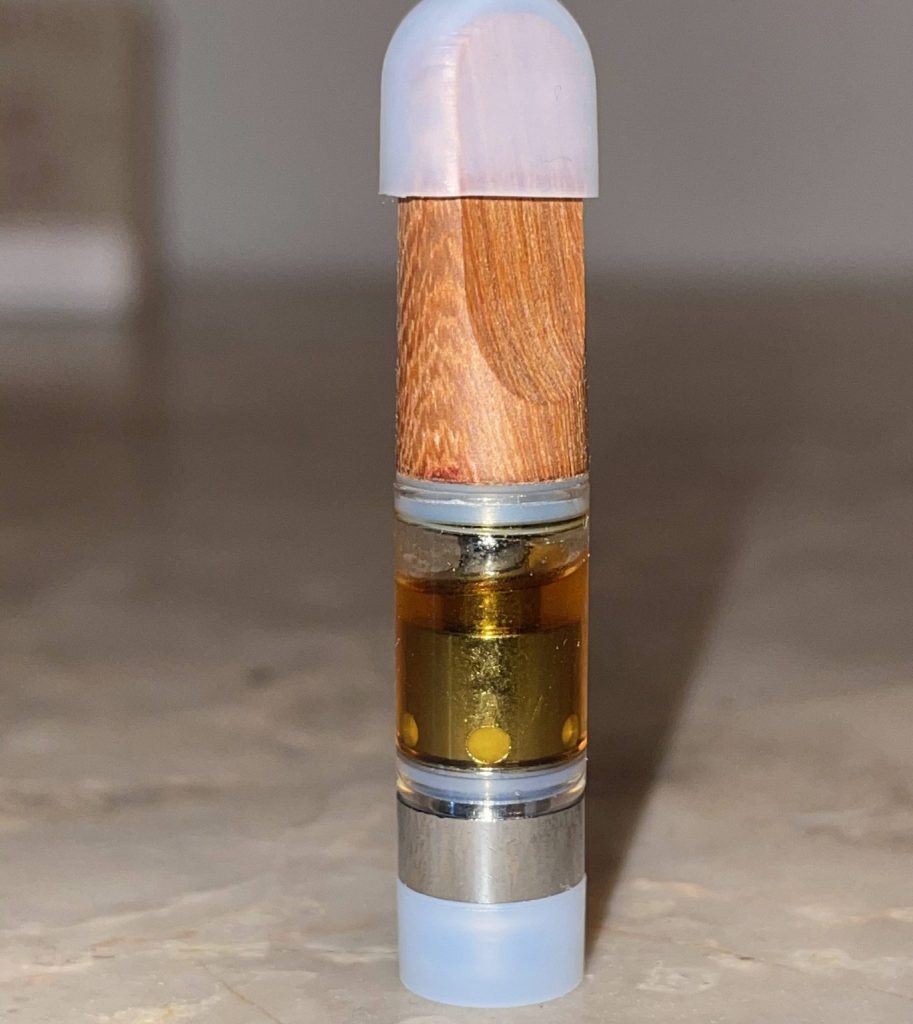 Concluding our review
I am really impressed with the oil quality and flavor. The package is made from hemp, is childproof, and contains all the information about the oil. Even though their Delta 8 Sour Space Candy cartridge wasn't as potent as "Delta 8 Hemp" cartridges that stand at 90% D8THC. The oil was really tasty and smooth giving clean hits every time. Therefore both cartridges had amazing taste and I enjoyed vaping both.
As for the Delta 8 Sour Space Candy, I recommend this cartridge if you want a mild high and want to use it any time of the day. It isn't super strong so you can go and have a full day and still get a mild buzz/high from it.
As for the Cherry Abacus, the flavor was amazing, if you are someone that uses CBD on a daily basis this is definitely a good flavor and great oil quality. HD Streamz for PC
Overall I was happy with both of PALLY's live resin cartridges. In other words, if you ask me if I would buy their products again the answer is yes.
You can find out more about PALLY products here. Have you tried some of them? Let us know what you think in the comments or on our forum.