REVIEW OVERVIEW

SUMMARY
Today I will be checking out 2 types of edibles made by PALLY. Delta 8 THC infused gummies and CBG infused gummies.
Pros:
Great flavor
Vegan
Gluten-free
All Natural
Cons:
Price
Packaging isn't child-proof
Recommendations: Consider lowering the price or add more gummies. Improve packaging to make it child-proof.
PALLY uses pure uncut oil and cannabis-derived terpenes
PALLY is a company that sells the highest quality product at the highest standards. Their broad spectrum THC-free hemp oil is processed at a world-class laboratory in Oregon. They only use pure uncut oil and cannabis-derived terpenes. PALLY never uses any solvents, cutting agents, or MCT oil in their concentrates.
For those of you who don't know what Delta 8 is, D8 is an isomer of CBD and another cannabinoid used in hemp and hemp extracts. While Delta 8 and Delta 9 THC have similar names they are distinctly different, the compounds & characteristics. There are clear-cut reasons why D8 THC was made fully federally legal by H.R. 2: The agricultural improvement act of 2018 where D9 THC was limited to a maximum content of 0.3%.
I decided on taking both gummies together because the CBG are THC free so I wouldn't get too high or fall asleep. The package was nice and the Label contained all the ingredients. You could also scan the package with a phone to get the lab results. One thing I did notice was that the package wasn't child-proof so be careful storing them if you have children.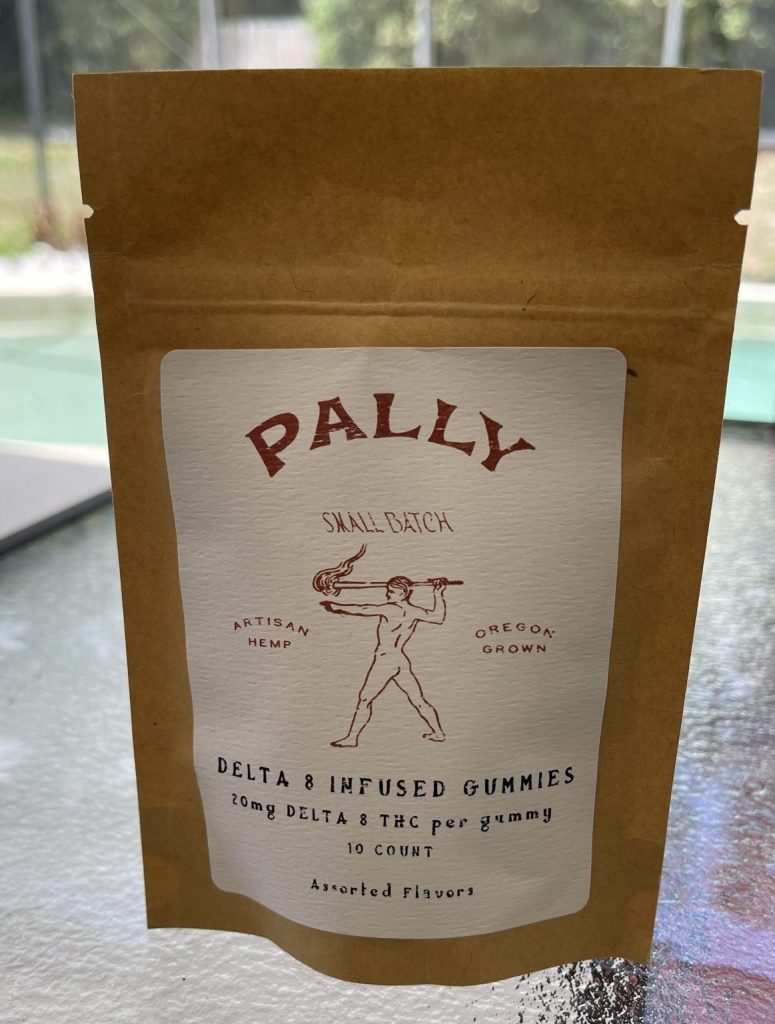 Gummies are really sweet and juicy
The gummies were colorful wedges with a light sugar coating, each color had a distinctive flavor. I was going to take 3 and 3 but I ended up taking 5 of each strain. They were really sweet, juicy and you could taste the real fruit flavor in them. They weren't just good they tasted delicious.
I've had several brands of Delta 8 gummies before like D8 Blue Raspberry gummies by Better Delights. Or Pharma CBD D8 gummies that are watermelon flavor and they both tasty, however, not as good as the PALLY gummies. Some Delta8 gummies just taste like regular gummies but with a faint earthy cannabis aftertaste. So when I tried PALLY I was surprised at how tasty they are.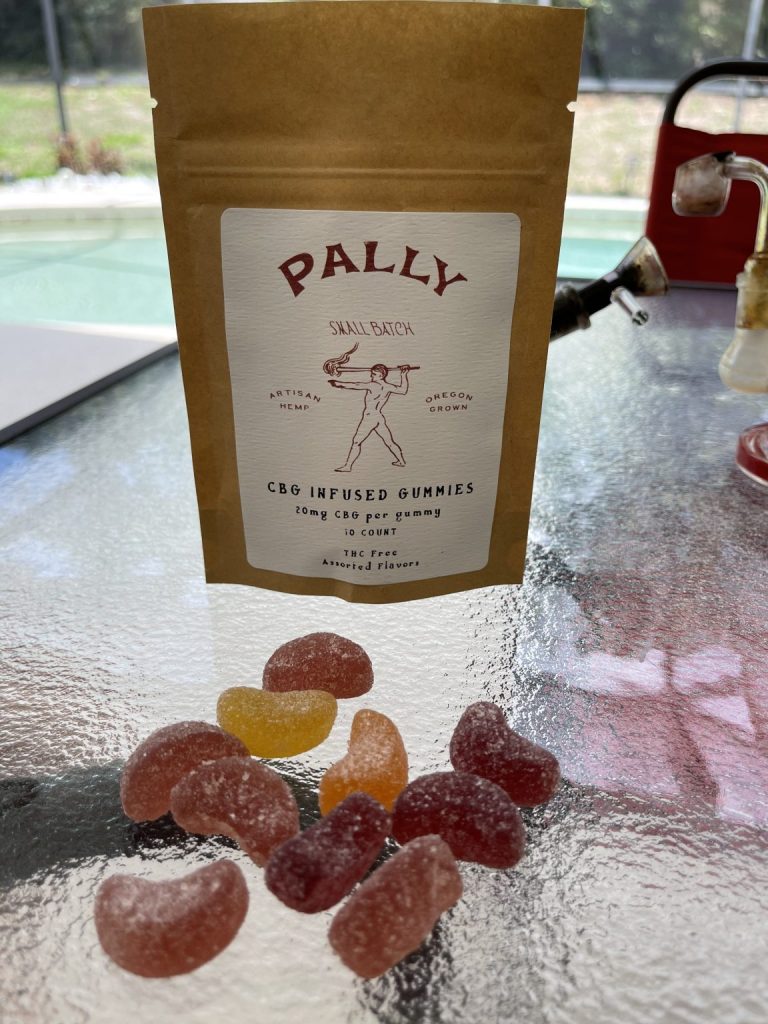 Effects are calming and relaxing
About 40-45 mins after I ate the gummies I started to feel a mild high from the Delta 8. It wasn't like I was high or super stoned, but I definitely felt calming effects and really relaxed. I could say I was a bit stoned without being impaired, super tired, or anxious. ( Some people report paranoia or anxiety attacks when they use delta 9 THC.)
The day was nice and I felt relaxed but still able to do chores. It wasn't like when you eat a Delta 9 THC edible and your day is over and you're high for hours. With this Delta 8, 100mg got me mellow enough to feel them but I remained in total control, 2 hours into them, and the effects started to wear off. 3 hours and I was able to drive. I did get the munchies and decided on taking a nap after eating.
As for the CBG I decided to take 2 more gummies the next day in the morning, 1 at night, and the last 2 on the 3rd morning. I like the fact that CBG is an anti-inflammatory and can help with my lower back pain. The days I ate the CBG gummies I didn't need to take any Tylenol.
Effects: 
Mellow
Happy
Creative
Hungry
Relaxed
The Delta 8 THC levels are 20mg per gummy.
The CBG levels are 20mg per gummy.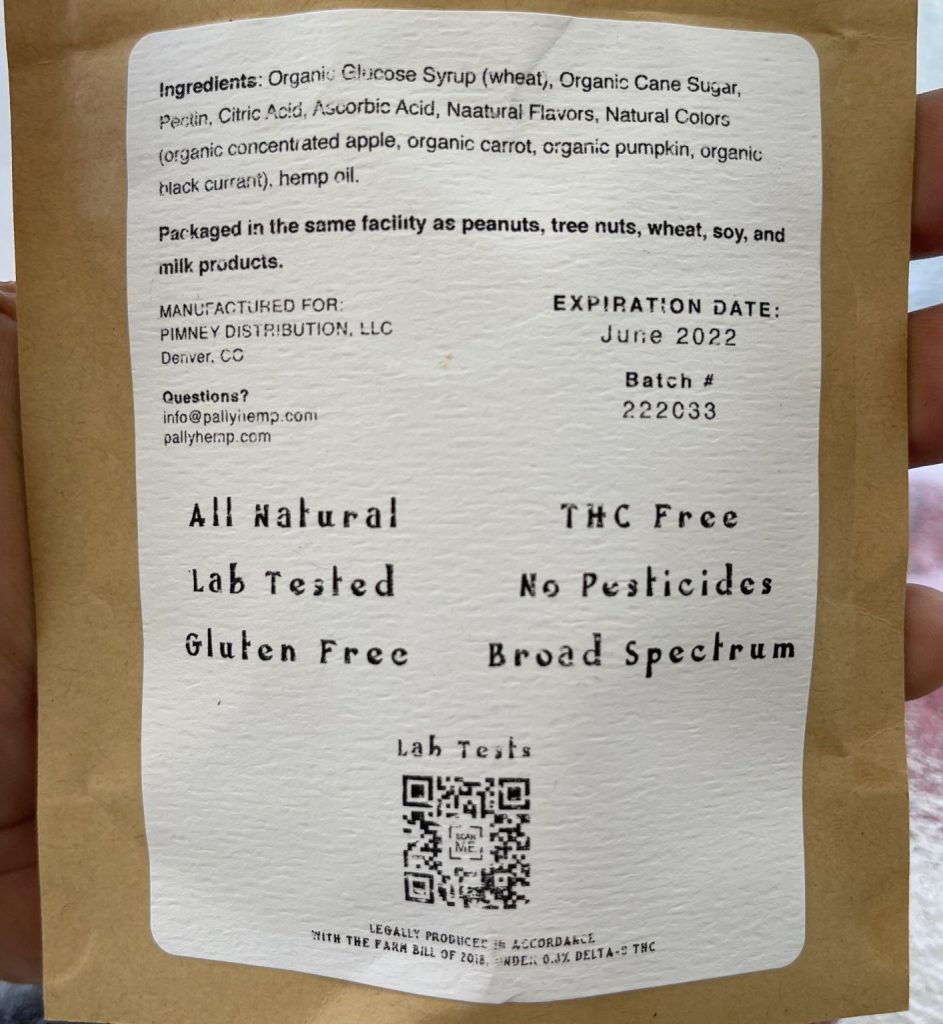 Concluding our PALLY gummies review
When it comes to flavor both PALLY gummies tasted awesome! They use the best products and that's why I think they're so tasty. As for price at $19.99 for 10 gummies is $2.00 each if you compare it with the pharma CBD D8 that sells 2 for $5 so $2.50 apiece the price is average to other brands. As for the CBG I wish they were cheaper ($19.99 for 10)  I do think CBG is a great product and I would buy it as anti-inflammatory medicine if needed. The Delta 8 gummies worked good too.
I would recommend them for people that like to get just a little bit high or beginners. Some people get panic attacks or paranoid when high so it's better for them to use D8 products because they will still get mellow and high without the paranoia. I liked these gummies and I will buy them again as well.
You can get free samples of the 10 Count gummies from PALLY here.
Dear readers, have you tried PALLY gummies? Did you like them? Let us know what you think in the comments or on our forum.