REVIEW OVERVIEW

SUMMARY

The ENVY cartridge worked well but we would like to see them come out with a higher THC content, stronger version.
Here we review the ENVY cartridge. ENVY is a Nevada based brand of Silver State Trading, maker of THC vape cartridges and I picked this one up in Ely, NV. Overall, this is a decent quality cartridge and I can see them coming out with stronger versions in the future. The strain used for this review is Chemdawg 91, a sativa.
Pros:
Good hardware
Efficient
Stronger than some carts
Cons:
Ceramic top would be better
There are same price carts that are stronger
Recommendations: We would like to see a higher THC version come out that is a tad stronger. For sure they will and we will definitely try ENVY again.
Licensing Information: Silver State Trading Medical#93052076991207348450 Recreation# 72255924921531241817
See our video review of the ENVY cartridge below and keep reading on for the more in depth review.
The ENVY cartridge uses good hardware and has good strength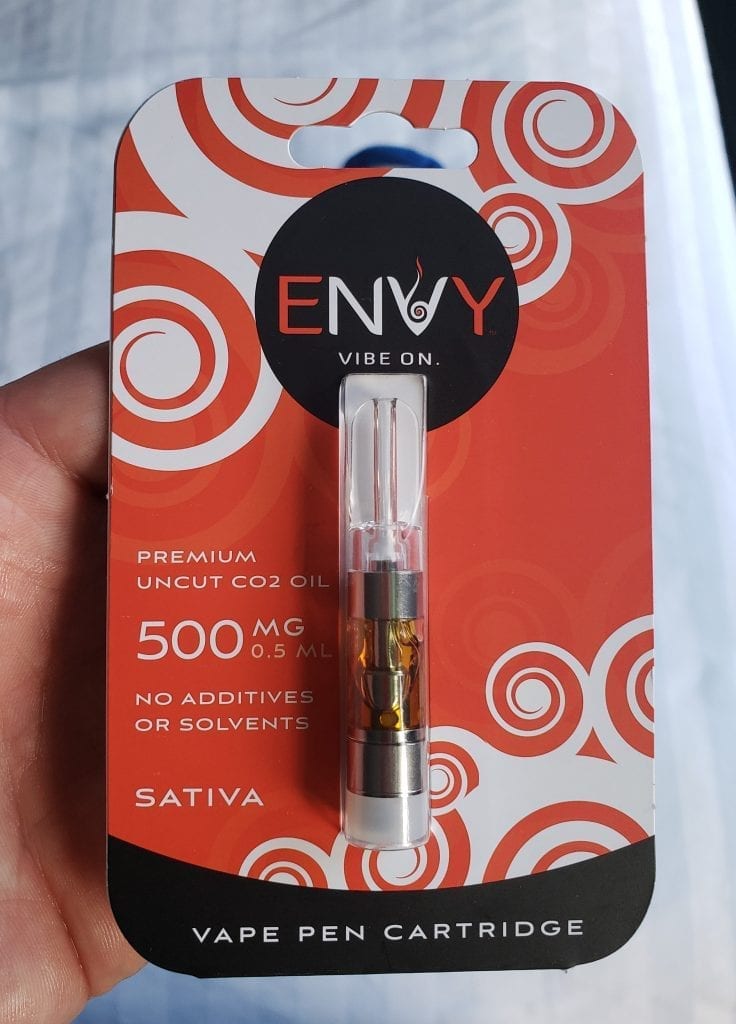 The current carts are still good, but it could be made stronger than it is. This is a newer brand and I think we'll see stronger stuff coming out soon. They are definitely on the right track and it seems made very well. Since it's from Nevada, pesticides and residual solvents aren't an issue due to strict testing requirements.
The ENVY uses standard CCELL hardware with the plastic top
ENVY cartridges use the M6T which is CCELL's plastic top vape cartridge design. It hits well and nothing to complain about on airflow. Two things I do not like about this style cart is that you cannot refill it and should there be a hardware failure, they are very difficult to open and get the oil out.
Although failure rates are low, I once had a Select Elite cart fail using the same hardware and it took pliers and a knife to get it open. As opposed to the TH2 hardware that is used on Jetty Extracts and Roots, where you can just screw it open if there is any issue and dump it out.
Oil quality is good on the ENVY cartridges, similar to Select Elite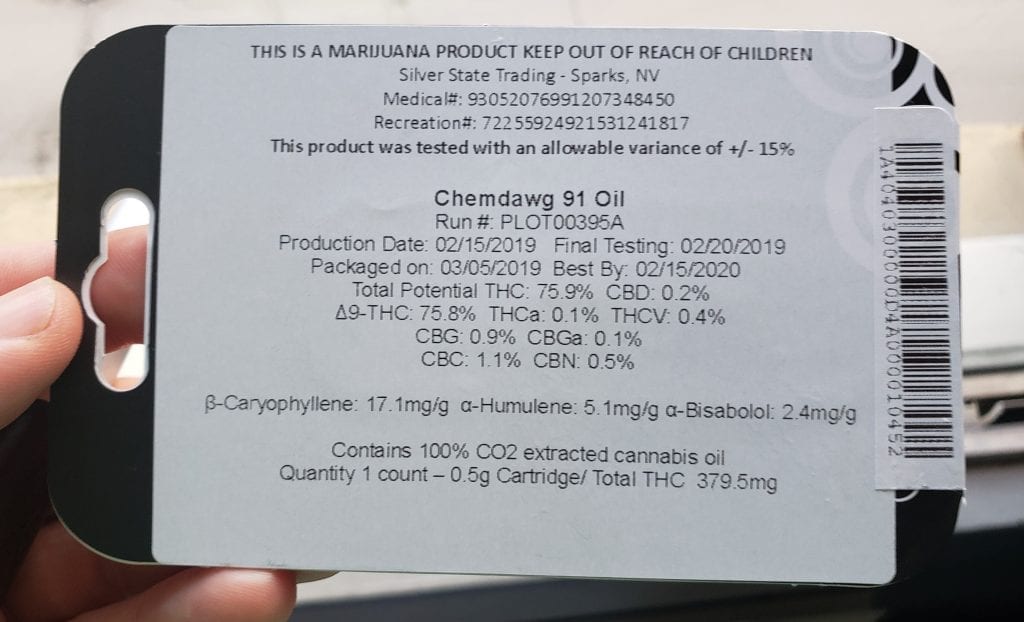 The oil in these ENVY cartridges looks very similar to that found in Select Elite carts. The ENVY carts are technically CO2 oil though while the Select Elite carts are distillate. If you took all the labels off, the ENVY cartridge could pass for a Select Elite.
ENVY carts are stronger than many others, but still not as strong as Roots
The ENVY cartridge outperforms most of the weaker carts I have tried. They are ahead of Brass Knuckles and Polaris on strength, but behind Roots, Airo Pro, Select Elite and a few others. I would put them as definitely better than average on strength. Not bad at all, but not super amazing on strength on either. The Chemdawg 91 cartridge came in at 75.9% THC and it was the highest THC of the brand we could find at the store in Ely.
They are on the right track though and I think we will see stronger versions come out from them later. Since they are a newer brand, they still are probably working these things out.
Taste is like other CO2 carts
The taste on these tastes like a standard CO2 cart. The only company able to get CO2 completely tasting awesome so far has been W Vapes. These carts don't do so well on taste, but it is better tasting than the Kynd cartridge.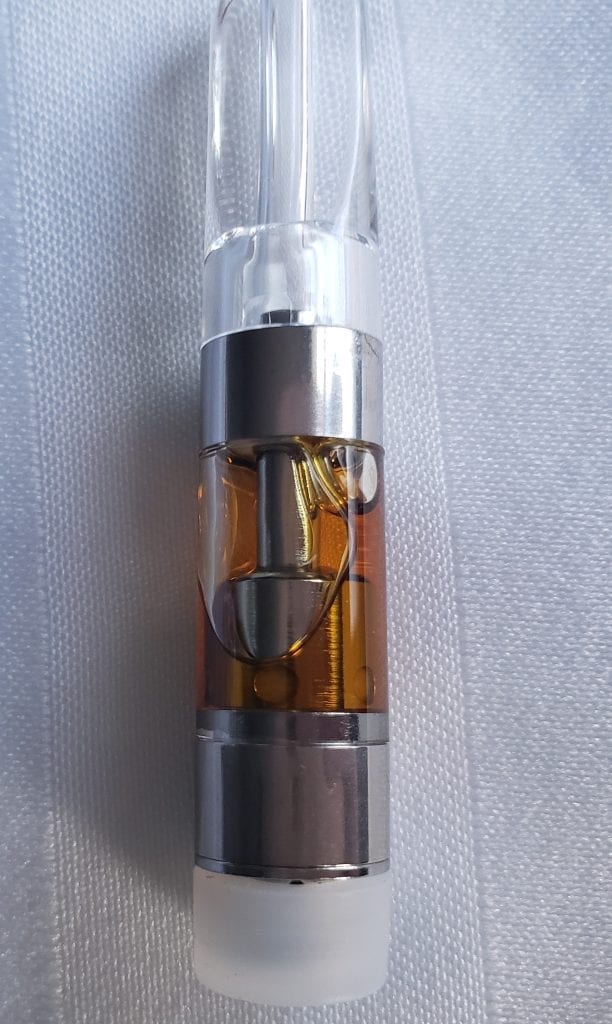 Efficiency is top notch
Even though we prefer the screw top CCELL, the M6T cart that ENVY uses is as efficient as you can get. Down to the last drop the oil gets efficiently used.
Good number of puffs on the ENVY cart
The oil on the ENVY cart lasts a good amount of time. No issues with the oil vaping away super fast. It's not the slowest vaping oil, but definitely in the top 1/4 of slower vaping oil, which is a good thing.
ENVY cartridges are standard cost
ENVY carts are $45 a piece for a half gram. This might seem expensive in some states, but compared to other Nevada cartridges this is the standard price. Select Elite carts are often $52, but most other carts are at that $45 price point before tax. ENVY gives a decent value as its a pretty good cart, but until they get the strength up it's not as good of a value as a Roots cartridge.
Concluding our ENVY cartridge review
Overall, the ENVY cartridge is definitely above average. Hardware is good, taste is standard for a CO2 cart, and strength is definitely better than average. We hope to see an even stronger version coming out soon and I will be giving ENVY carts a try again. You can find more info about ENVY cartridges on their website.
Have you tried ENVY cartridges? Leave your review below! Comment or question? Post below or in our forum!