REVIEW OVERVIEW

SUMMARY

The CCELL Luster is a strong hitting pod system. It uses the same base pod as the other CCELL devices, but the device is overall more sleek.
The Luster is a vape pod device made by CCELL. Here we review it and compare it to some of the devices out there for hitting THC oil. Overall, the CCELL Luster proved to be extremely powerful and discreet. It's a close match to the CCELL Uno, but with a sleeker design.
Pros:
Smooth hits
BPA free pod
Sleek design
Long-lasting battery
Cons:
Not as efficient as cartridges
Recommendations: Glass pods would be nice if possible.
Check out our video review below, then keep reading on for the more in-depth review.
CCELL Luster has an awesome design
Sleek, smooth, with a nice finish, everything about the design of CCELL Luster is awesome. It fits nicely on your hand and it's just amazing that such a small device can deliver so much power. The sleek, shiny finish also makes it look like a more expensive device than the Uno.
Build quality is excellent, as expected from CCELL
CCELL's base pod used in the Luster is BPA free. Therefore, no BPAs are getting into your oil. Unfortunately, this is something that is not addressed in other pods and not even tested for. So we don't actually know many other pods have BPA's or not. For pod build quality this has become one of our top considerations.
The general build of the Luster is excellent as well. The cap of the pod is held firmly by a snapping mechanism.
The atomizers for the CCELL Luster deliver awesome strength
The atomizer inside the CCELL Luster is actually the same type of atomizer used on the CCELL Uno, CCELL VOLA, and CCELL Dart. The main difference is the way its packaged and the packaging is similar to the CCELL Uno. The CCELL Uno has the same type of mouthpiece but the other CCELL pod systems have a different mouthpiece with the same pod underneath.
The Luster hits incredibly strong. I would say that it's almost a 2:1 ratio versus hitting off a regular CCELL cartridge which is, by the way, one of the strongest cartridges that you can hit.
Taste is stellar on the CCELL Luster, you're hitting off a base ceramic core
Recently, I tested out some of the QCELL quartz cartridges and I expected those to possibly taste better than ceramic because when you look at dab pens, the Linx Blaze, the quartz usually tastes better.
However, when it comes to cartridges and pods, I found that the ceramic so far delivers better taste. It might change in the future but for now, the best delivering on taste for THC oil devices comes from CCELL cartridges, pods, and the SPRK cartridge. Nothing to complain about on taste here, truly top-notch.
Efficiency could use a few improvements but the inefficiencies affect all brands and types of pods
The efficiency issues that I have for pod systems are pretty much universal. It's just not limited to CCELL's pod, I find the same problem on the G Pen Gio pod, as well as on a Stiiizy. Basically, a small amount of oil gets leftover on pods partly because of its plastic and partly just because of the way they're shaped, whereas a glass cartridge would be more efficient.
However, comparing pods to pods, the CCELL pods are on par with the efficiency of other pods and are still good for pods. Here, I'm judging it based on all oil devices including cartridges, but pod to pod it's on par with everything else.
Battery life is awesome, no additional charge on a half gram
Maybe it was good luck, but I did not have to charge the CCELL Luster at all during the use of a half gram pod that I filled on it. Awesome battery life as expected from CCELL. The battery has a capacity of 350mAh, more than enough for the type of this pod plus the pod hits so hard that you don't need to hit it a lot of times.
As mentioned before, you just got to hit it probably 2 times to get a normally 4 hits from a cartridge. Overal, excellent on battery life.
Value is great but will depend on the oil companies
CCELL products oil manufacturers are often slightly more expensive than some of the other options. However, the lack of failures that CCELL products have, combined with the extra hit strength makes CCELL an excellent value.
Going cheaper on vape hardware makes performance suffer
We see manufacturers all the time using cheaper hardware and it doesn't help the cartridge at all. Recently, we saw this with the APEX RemPen where they try to go with some other type of hardware and it didn't work out that well.
CCELL really sets the standard for hardware and if more whole manufacturers use CCELL, I will have s lot more cartridges that I'd be using regularly. The other brands just don'thave comparable performance at least at this point in time. Therefore, CCELL really represents the ultimate value which is your going to get the best possible hits.
Concluding our CCELL Luster review…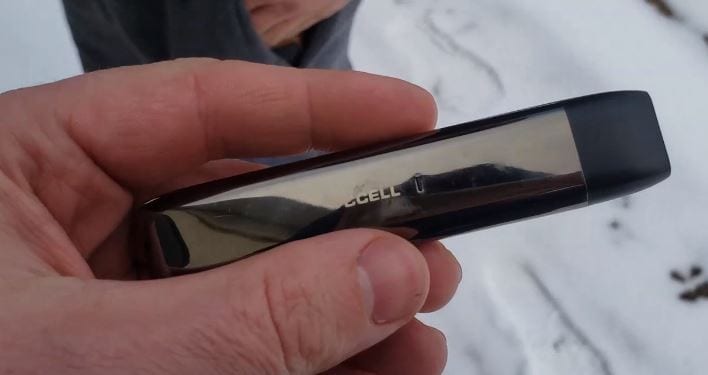 Overall, CCELL Luster is an awesome product. The only issues I have are with efficiency and this is industry-wide when it comes to pods. On top of that, the efficiency issue is not that big, its a small amount of oil.
Considering the hard hits that you get out of it though, efficiency on these pods is much better than the other pod system. This thing rips apart on strength products like Stiiizy, which are made by ALD eCigarette. Once again, CCELL shows that it is the top product when it comes to hitting straight THC oil.
You can learn more about the CCELL Luster here. What are your thoughts on the CCELL Luster? Comments or questions? Post your review below and comment below or in our forum!