REVIEW OVERVIEW

SUMMARY
The Bullet Concentrates cartridges are available in Colorado, Nevada and Washington. They have decent strength that lasted long, but the taste was a bit lacking. Here we'll go through the THC distillate vape cart in detail and see why it's still a good value. The strain used in this review is Blue Dream.
Pros:
Long-lasting oil
Tests clean
Real CCELL
Long-lasting effects
Cons:
Taste not the greatest
Uses plastic body cart
Recommendations: Improve taste, add a bit of kick to the strength and upgrade to glass cartridges.
Check out our video review below and keep reading on for the more in-depth review.
Bullet vape cartridges perform well, but there's room to improve
The Bullet cartridge is not bad by any means, it's definitely above average. However, there are things about it that can be changed to make it a better cartridge and closer to the best in the shop carts.
We got our Bullet Concentrates cartridge at Tsaa Nesunkwa in Ely, NV, which has a surprisingly awesome selection, particularly cartridges, with very fair prices, even though it's location is remote.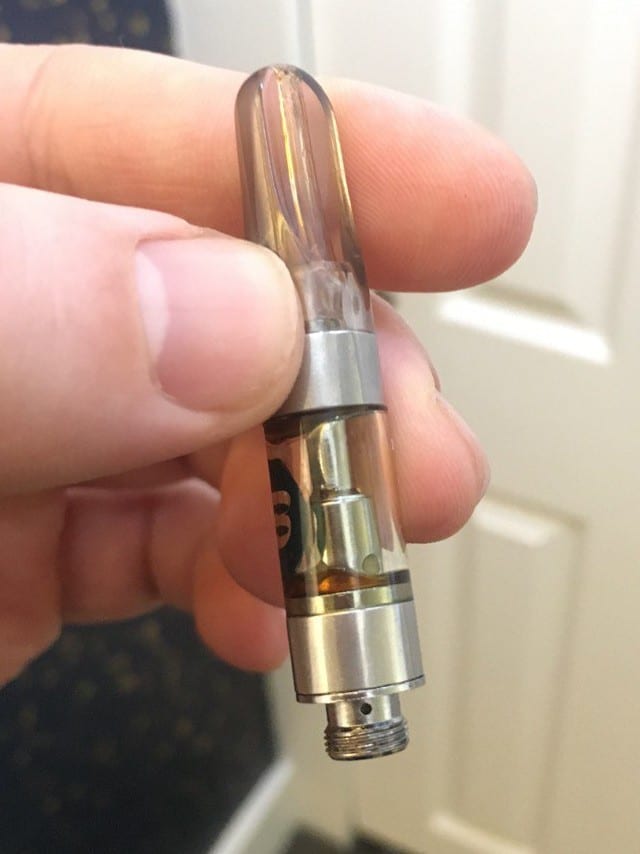 Oil stays consistent with Bullet throughout the cart
Throughout the cartridge, oil quality stayed consistent. It was brown colored from the start, but it did not get darker after sitting for a bit or alter in any way. The oil is distillate and it seems they are using good processes. Nevada is very strict on pesticides and the like, so Bullet carts are clean.
It's CO2 extracted distillate, which so far seemed different than the ethanol extracted distillate we see on a lot of other carts.
Strength is there but a bit of a creeper, not a super kick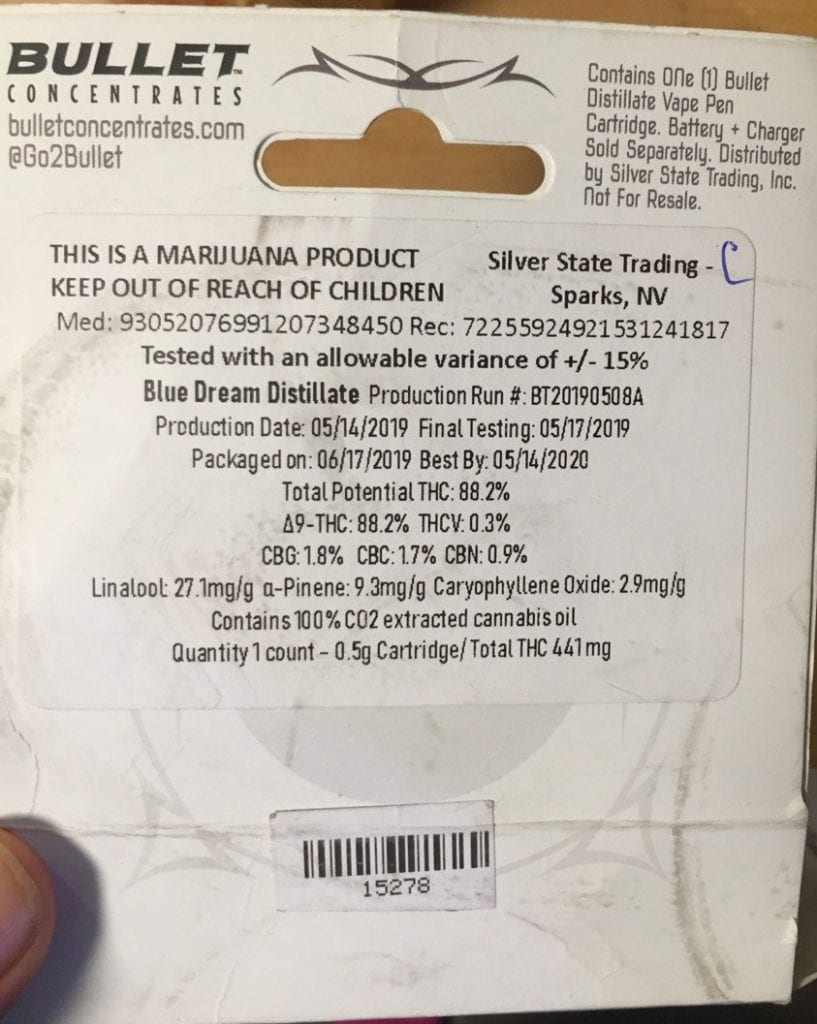 Don't expect the Bullet THC cart to hit you full force right away. The hits creep on you so wait a bit after you have it hit to feel the effects.
That being said strength is not "blow you away strength" like we find on Roots, Cannavative or Moxie Pods.  However, Bullet is way ahead of many other carts and definitely above average on strength compared to all carts we have tried.
They use real CCELL carts
Only complaint here is I would prefer the glass TH2 carts and consider that a higher quality build. That being said, efficiency is as good as it gets with CCELL. They design their ceramic core atomizers to hit just right and they do.
Efficiency is top notch with the M6T
Efficiency is excellent on Bullet THC cartridges. Since they are using CCELL, almost all the oil gets used and since each hit is hard, the oil is used efficiently. Having a glass body would help slightly, but still efficiency is ahead of many other brands like RAD.
The model of hardware Bullet uses is the M6T, which is also used on the popular Select Elite cartridges.
Taste is more like a CO2 cart than standard distillate
Some CO2 carts have a sweet flavor to them, but their is still that distinct CO2 like taste. The Bullet cartridge tasted OK. It's better than the early CO2 carts from 4-5 years ago, but not as good tasting as some of the other distillates or live resin carts.
It's not that Bullet is bad on taste, just not as good as some of the other options.
Lots of puffs: oil is thick, slow vaping
You get tons of hits out of a Bullet cart and for someone that does not want overpowering strength, this makes it a nice long-lasting item.
This cart lasts a lot longer than most. The oil vapes so slow because it's very thick. This also improves the value a lot even though it is not the absolute strongest.
Bullet is a good value considering how long the oil lasts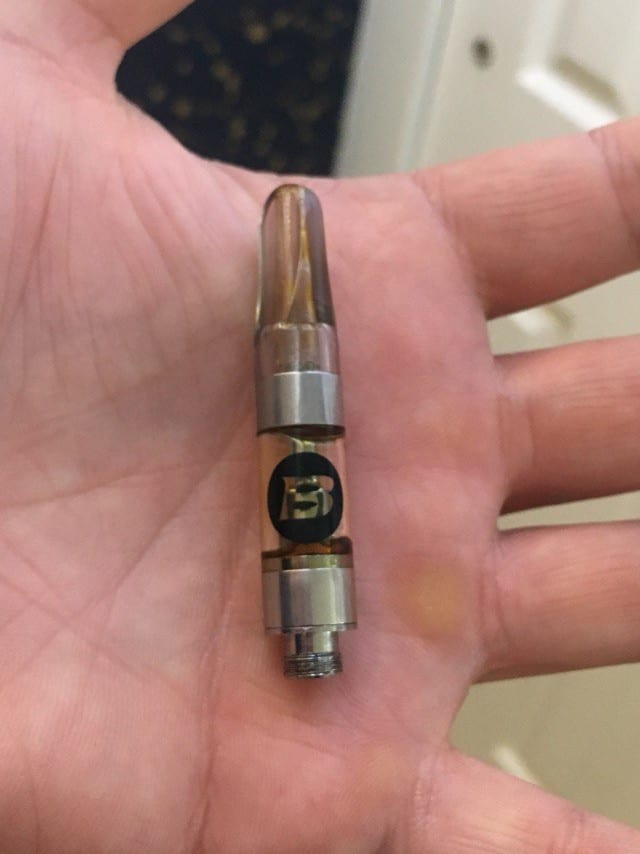 As mentioned above, the slow vaping oil is what makes the Bullet Concentrates cart a good deal. Strength alone and taste probably are not enough, but considering how it outlasted most other carts I have used when put on a timeline, the value is there.
Concluding our Bullet Concentrates cartridge review…
It's no secret for those who have tried Nevada THC cartridges, there are some very strong brands available. Some people might be looking for something not as death-strong like Bullet and for them it would be a great value, also considering how slow the oil vapes.
However, for most of our readers looking for the absolute strongest carts, stronger options are available for the same price at most dispensaries carrying Bullet carts, making Bullet not an exceptional pick, but still good.
You can learn more about Bullet Concentrates on their website.