REVIEW OVERVIEW

SUMMARY
Today we will take a look at Ayr Wellness Vape Cart. I think these carts are okay for someone that is on a tighter budget.  I mostly buy Cannabis products based on price and what's on sale, so this was right up my alley.  The flavor is the biggest problem for me here.  It's kind of sweet, but mostly just gross.  
You check out our Ayr Wellness Vape Cart video review here. 
Pros:
The gold standard for High-quality vape carts CCELL hardware
Decent price
The inconspicuous aroma makes this a great "on the go" option.
Cons:
I really don't like the flavor
Recommendations: The taste needs some improvement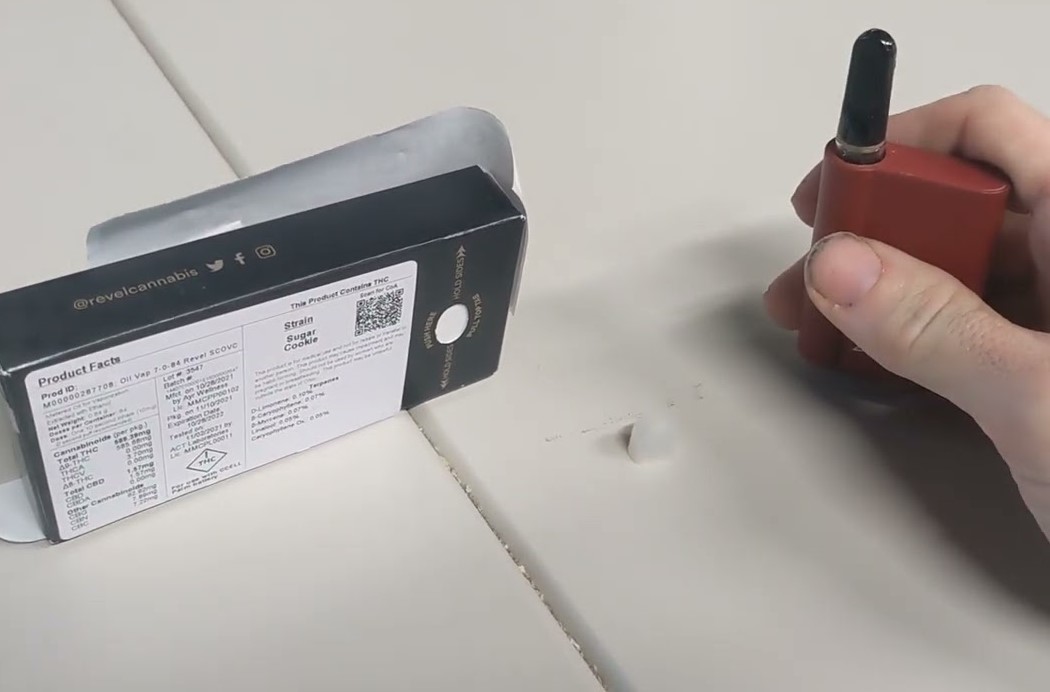 Interesting Ingredients: Distillate + Botanical Terpenes
I can't find where I saw it now, but I'm pretty sure that this Ayr Wellness cart contains distillate cannabinoids and botanical terpenes.  This is generally less preferred to Cannabis-derived terpenes or single-strain full spectrum options like rosin.  On the bright side, this cart has lasted me a while, but it's because I just don't like how it tastes.  I do like that there are more options in the medical cannabis market here.
Who would enjoy this?
These distillate vape pens are great for anyone looking for a convenient, easy-to-use, inconspicuous medical Cannabis vape here in Ohio, and not so concerned with the flavor.  Maybe I just got a bad one, or that strain isn't up to my alley.
EDITOR'S NOTE: We frequently note the taste quality difference in botanical vs. cannabis-derived terpenes, and discuss it some more in our terpenes glossary entry.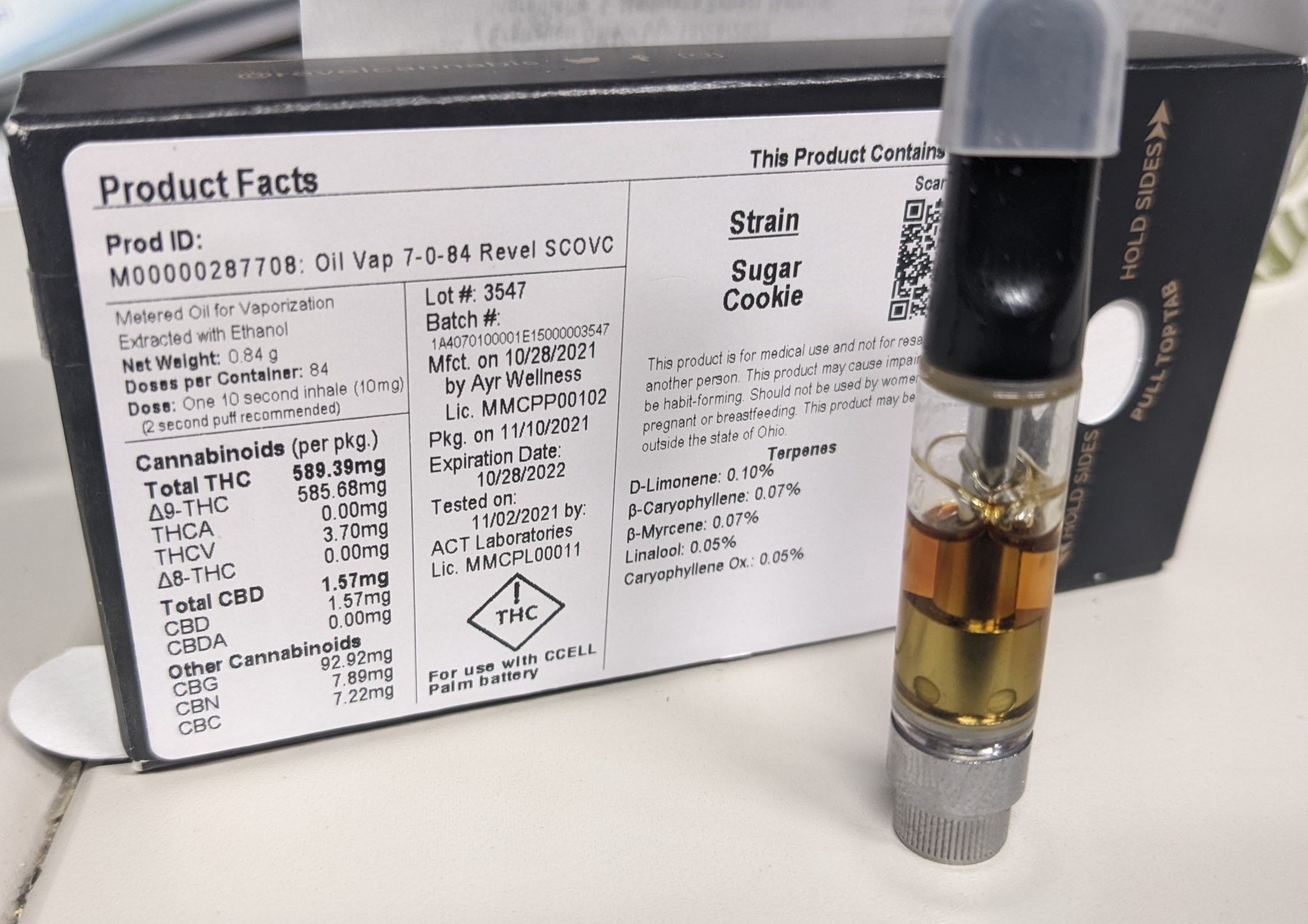 Decent effects!
Despite not liking the flavor, I haven't been disappointed with the effects.  The main terpenes listed on the package are Limonene, Caryophyllene, Myrcene, and Linalool.  I recognized Limonene is the terpene responsible for the citrus flavor and aroma for Limonene.   Caryophyllene is the compound found in black pepper, basil, and oregano, with a funky warmth similar to cinnamon and cloves.  Linalool is the terpene found in Lavender.
The total terpene content is low, so the flavor is more subtle with this cart than other cannabis vapes; hence the flavor is a little underwhelming in my opinion.  However, this would be a great option for times that you need to be discrete, and not leave a room smelling like a skunk just died in it, just from your live resin or live rosin SHO vape cart.  
High-quality cartridge hardware, specifically designed for Cannabis oils
The vape pen hardware is made by Jupiter CCELL, and they are the gold standard.  These CCELL cartridges contain a CCELL Ceramic Core and are made from non-toxic, inert, lead-free materials, including durable, borosilicate glass.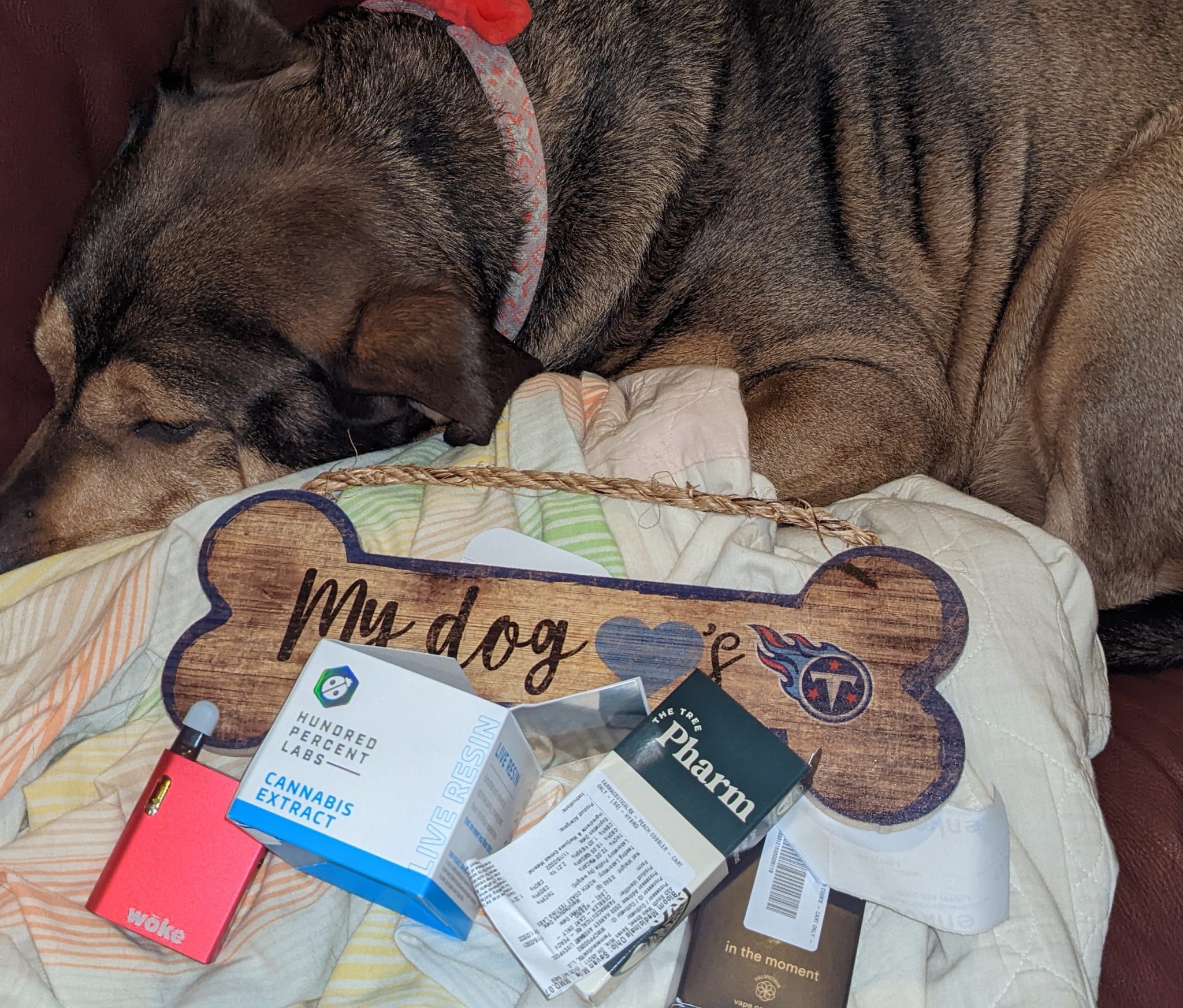 Similar Cannabis products for comparison:
I have had a few different brands of medical Cannabis vape carts so far, here in Ohio.  It can be difficult for a brand to stand out.  I cannot tell a difference between the distillate carts that use Cannabis-derived terpenes, and the ones that use botanical terpenes.  I do see that it's a positive thing for them to use Cannabis-derived terpenes, though.  I'm honestly not sure if this cart counts as broad-spectrum or full-spectrum, but if you feel like you don't get the desired effects from any Broad Spectrum carts, then I know that the Firelands Scientific live hash rosin carts, Grow Ohio, or Klutch CO2 oil Luster Pods or Buckeye Relief Airopro Airo Pods Live resin series or Standard Wellness live resin sauce carts would probably be your best bet because those are full spectrum.  The Airo Pods are my favorite Cannabis vape option so far.
Concluding this review
The flavor is subtle but not pleasant in my opinion, but the effects seem decent.  This cart is acceptable as far as in inconspicuous, daytime vape option. You can find out more about Ayr Wellness products here. 
Have you tried Ayr Wellness products? Let us know in the comments or on our forum.