REVIEW OVERVIEW

SUMMARY

SHO carts by Fireland Scientific are awesome, but they could be priced better.
I'm checking out a Firelands Scientific Live Rosin Solventless Hash Oil Cart, and I'm pretty excited!  I've tried a few of the Firelands Scientific distillate vape carts, and also a few of their Live Rosin concentrates.  However, this was the first live rosin cart that I've bought, but if my experience with the concentrate was any indicator, I knew that this would be a real treat. 
First off, I will briefly explain what "solventless hash oil" or "rosin" means.  Rosin is a full spectrum Cannabis concentrate, that is made by using heat and pressure to press the terpene and cannabinoid-rich trichomes into a potent, tasty concentrate.   Here is a Weedmaps article about Rosin, too.   
More specifically, with the Live Rosin concentrate, they first make full melt hash from fresh, frozen Cannabis plant material.  Firelands Scientific uses ice water to make the hash, and then they dry the hash and press it into the live rosin concentrate.  From there, they somehow put that concentrate into a vape cartridge.
Pros:
Full Spectrum, the strain-specific, solventless concentrate is one of the most desired concentrates.
High-quality AVD brand cart hardware
Very efficient, with recommended lower voltage, this cart seems to last a long time.
State maximum allowed THC percentage (70%) and natural terpenes in the live rosin cart give it amazing flavor and effects
Cons:
High price
Only available in half gram
No terpene information is given
Recommendations:  I would really like to see the price come down on these SHO carts because they are by far the most expensive vape carts that I have seen so far.  Also, I would really like to see the terpene content on the label.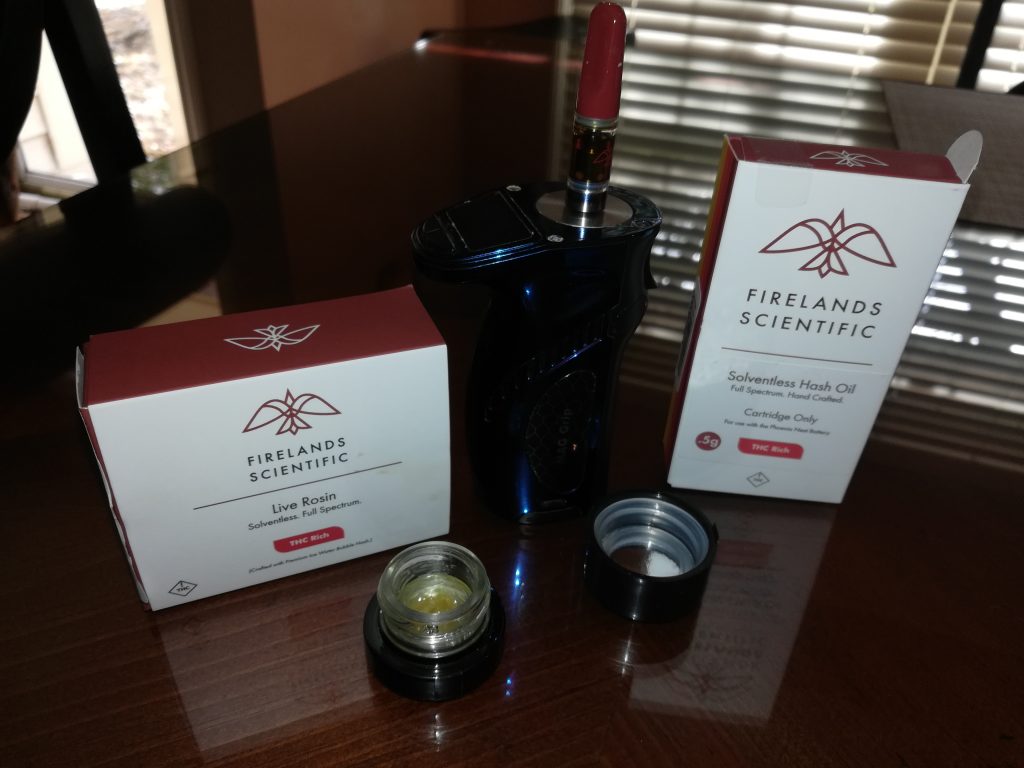 Are the Fireland Scientific SHO carts worth the high price?
These SHO carts cost more than the similar distillate carts and even live resin carts.  The big question is are they worth it?  This cart does seem to be lasting longer than similar distillate carts, but I don't know if that's just from using the recommended lower voltage.  I feel like I'm getting the desired effects from taking fewer hits. I also love the sweet, grassy flavor from this cart.
Great Sativa effects
Often I am unable to notice the effects of a particular cart or strain.  I can't usually tell a big difference between an Indica, Sativa, and hybrid strain.  I don't get the stimulating effects that people describe from sativas, but I actually do feel the creative, uplifting effects from just a few hits off of this cart!  It makes me clear-headed, alert, and in a generally good mood.  This seems like a great strain for anxiety and depression.  I also just got my medical card a few months ago, so I'm still pretty new to legitimate cannabis products, and after dreaming for so long about getting to go to dispensaries, I'm still pretty excited just to be able to do so now.  This could be causing me to rate the items more generously than someone with more experience, but I'm trying to be objective.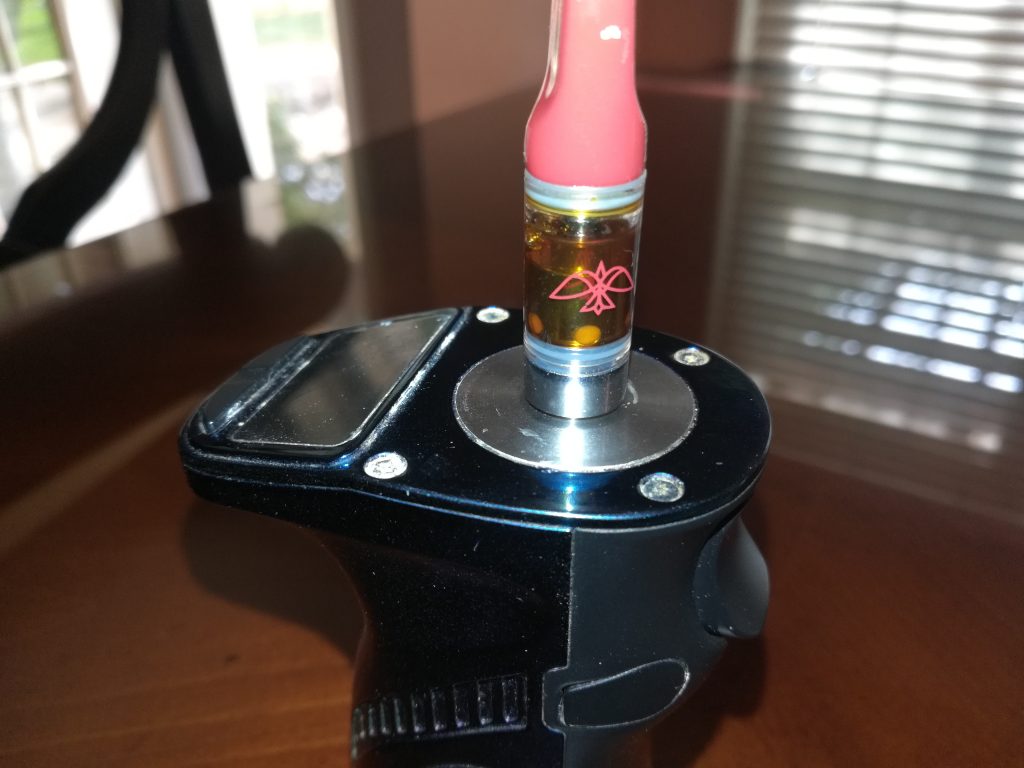 AMAZING flavor!
I really enjoy the flavor of this cart.  The strain that I chose is Tiger Champagne. Its a Sativa cross of Strawberry Banana and Sour Apple IBL, which is a cross of Sour Diesel and Cinderella 99.  I have had the Firelands Scientific Live Rosin concentrates before, and the flavor I get from this Tiger Champagne reminds me of the Tally Mon live rosin, and a little bit of the Strawberry Nana Stash live rosin that I have tried.  The THC percentage is just under the state's 70% maximum, and is 69.32% THC, for a total of 346.58 mg, and 3.48 mg of CBD, which is only about 0.7%.  I wish they gave the terpene content too, but hopefully, they will start doing that in the future.  I have read that the most common terpenes in this strain are Myrcene, Caryophyllene, and Limonene, but it would be nice to see the specific results for the cart that I have.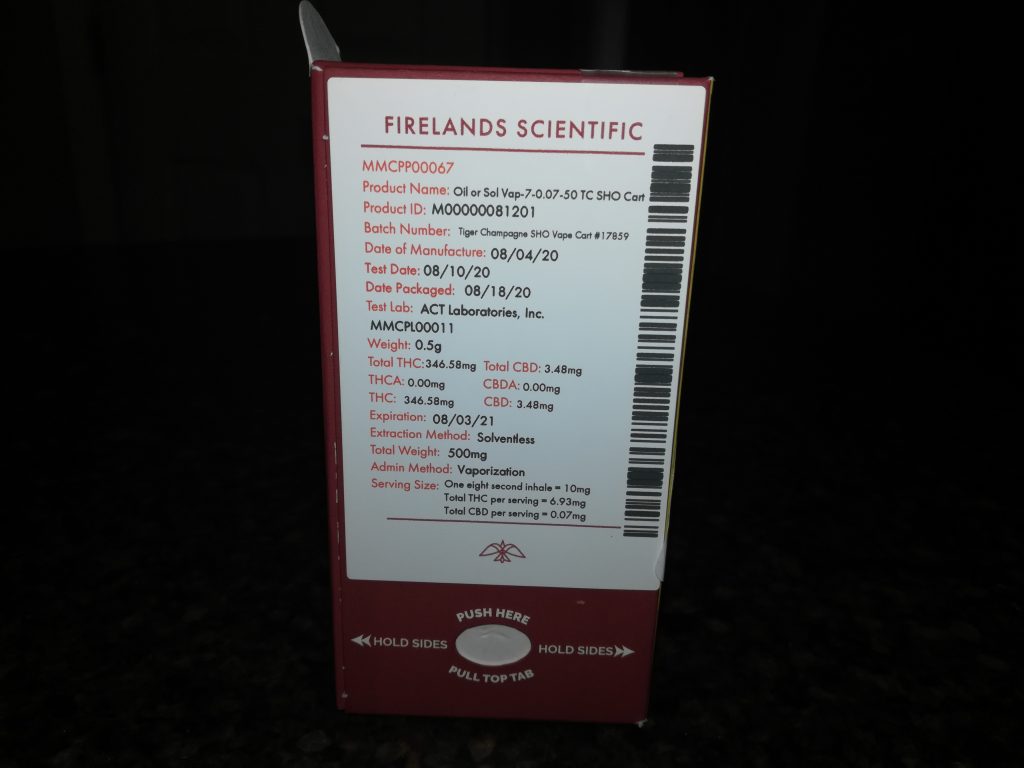 High-quality cartridge hardware, specifically designed for Cannabis oils
The cart hardware is made by AVD, and they are a reputable cart brand, like Jupiter CCELL.  These AVD cartridges contain an AVD proprietary ceramic core, and are made from non-toxic, inert, lead-free materials, including durable, borosilicate glass.
Similar Cannabis products for comparison
This is the first live rosin cartridge that I have tried, so the only other cart that I could maybe compare this would be the Airopro live resin carts.  Those are the only live resin carts that I have tried so far, so they also have stellar flavor.  The biggest reason I had not already tried one of these SHO carts was the high price.  In the past, I had always chosen their live rosin concentrate, because it was so much more affordable than the live rosin carts.  I am thrilled that I got to try this one, but I'm not sure if I will buy another one.  The price is so much higher than the similar concentrate or distillate carts, that this rosin cart will have to last me a long time for it to be worth the money.  If you feel like you don't get the desired effects from the Broad Spectrum carts, then the Grow Ohio CO2 oil Luster Pods would probably be your best bet, because those are full-spectrum too, and they are much more affordable.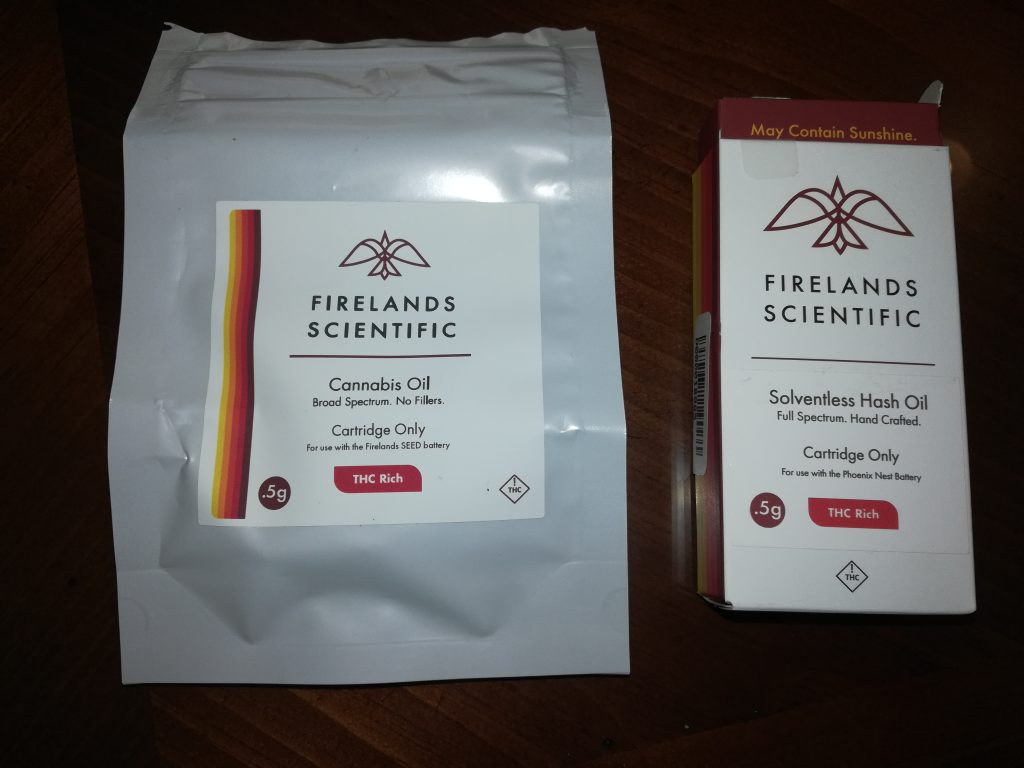 Conclusion
All in all, I am happy with my purchase of the Firelands Scientific Live Rosin SHO cart.  From what I have read, they put a lot of work into developing these concentrates and vape carts.  The final products showed the hard work and dedication that went into them.  There are only a couple of companies that make rosin at all, here in Ohio. I hope that more companies start to offer it in the future.  I would recommend this Tiger Champagne SHO cart to anyone who is specifically looking for a full spectrum cart. It definitely seems like a better day time strain and is a sativa.
As far as the strains of Firelands live rosin concentrate that I like the best so far, I would have to say Grandpa's Breathstar, then Tally Mon, then I'm not sure if this Tiger Champagne or Salty Watermelon or Strawberry Nana Stash would be my third place, but I really enjoyed them all!  The uplifting sativa effects from this Tiger Champagne SHO cart are very enjoyable, and I think that using the lower voltage, like is recommended, has been helping to make the cart last a long time.  
What are your thoughts on Firelands Scientific Live Rosin? Is the price of 75$ worth it? Did you try it? Comment below or in our forum!