REVIEW OVERVIEW

SUMMARY

Atlas Extracts cartridges are filled with a CO2 oil distillate which supplies great flavor but falls flat on strength and lacks proper testing. Combined with lackluster packaging it makes for an unenticing buy unless one's only measure is taste.
Atlas Extracts began in 2017 and produces a small range of CO2 oil vape cartridges. Their extracts make use of full plant extraction techniques which provide a full and natural flavor without the need to add back in extracted terpenes. Their extracts are marketed both for recreational and medical use and are available in California. If you are looking for the best THC carts in Cali, see our best list for CA.
Pros:
Cons:
Low strength
Test results cannot be easily verified
No test results available for pesticides and residual solvents
Recommendations: Both the inclusion of in depth lab results and an improvement in potency would greatly improve this cartridge.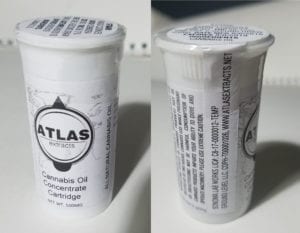 Mixed feelings on the Atlas Extracts cartridge
Atlas Extracts make use of CCELL tech that allows them to deliver thick and consistent hits on their cartridge. The oil itself, however, is lax in its potency and even with thick hits it takes several for them to take effect. The technical performance of the cartridge is definitely what one expects from CCELL. The oil is simply weak, not hitting hard even with thick deep hits. My feelings were also negatively impacted by the very unimpressive packaging. That said, upon research, I found that they did recently change the exterior packaging.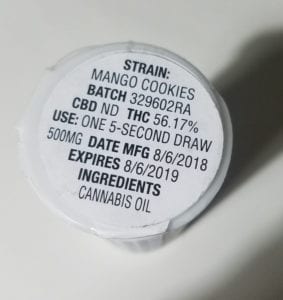 Standard hardware, performs well
The 510 threaded CCELL cartridge has become something of a standard which other carts are judged by and, as expected, here they perform well. The hits provided are thick and consistent, the cartridge efficiently vaporizes the oil and leaves only a tiny drop behind at the end. The mouthpiece is a simple round plastic design which does have a tendency to get very visible dirty over time. There's little to complain about here but it does also mean that this cartridge fails to stand out in any way on this front.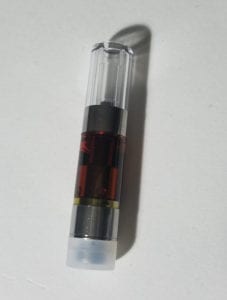 Atlas Extracts vape cart lacks potency
The oil in the Atlas cart was of questionable quality. While it certainly does deliver in flavor, with a very pleasant tropical fruity and lightly piney taste, the potency was unimpressive. It is easy to puff on all day long without becoming a complete space cadet but it also means that the cart is empty in no time. It lasted me only a few days of moderate use. While the good flavor is more than appreciated it would be better if it were paired with a higher strength oil.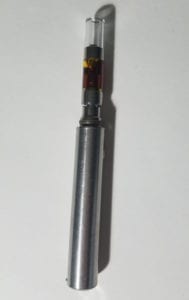 Testing unavailable for Atlas Extracts
While there is some very basic testing information visible on the label there is no source available to verify this testing. There is also no information whatsoever on pesticide or solvent testing. This doesn't help the perceived quality of the oil, already lax due to the potency. Not only is the strength of the oil in question but it's also uncertain if there are unwelcome toxins in the juice. More thorough information in the packaging would help greatly.
Great Number of Hits But Low Strength
The number of hits this cartridge delivers is impressive. Its low potency means it still ends up drained faster than others. The oil is incredibly viscous and dark. It doesn't drain fast even with deep hits, but not so viscous it gets caught up in the canister and needs coaxing with a lighter. Overall it ends up on the upper end for number of hits but its weakness means that's less of a benefit than it should be.
Atlas carts have great flavor
The taste of the Atlas cart was fantastic, at the very least. It's easy to point this out as the one place where Atlas has excelled in their cartridge. Its strong tropical and herbal flavor makes for wonderfully enjoyable vaping experience. Low concentration means that it allows sipping on this cart at your own whim without worry that you get lost in the twilight zone. For those looking more for something tasty to sip on and not for a heavy high this is one place where the cartridge may be a good pick.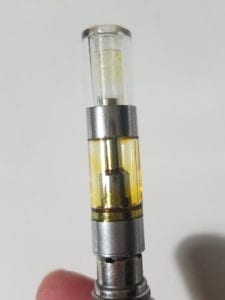 Good price on flavor, not on potency
At the price point, available around $30-40, I can't say I would recommend Atlas as a bargain unless the person were only looking for flavor. This is, however, complicated by the lack of testing. While a lack of testing is still very commonplace among cartridges many people are uncomfortable with not knowing what their cart contains. As they should, Atlas would inspire much more confidence in their customers if they were to make their testing readily publicly available at least online.
Many places to improve Atlas Extracts vape cartridges
Atlas Extracts has a long way to go from my point of view. Changing their exterior packaging is a step in the right direction in one way. It still doesn't handle the lack of comprehensive testing however. Even the newer packaging is also less impressive than some, such as the Cobra Extracts ELEV8 cart. The lacking potency leaves an obvious place for them to improve the actual contents of their cartridge. If they can up the potency while maintaining their current flavor they could definitely become a major contender.
In closing on this Atlas Extracts review…
I wouldn't recommend the Atlas Extracts carts to anyone unless all they're looking for is flavor. For those who have a particularly low tolerance this may be a good pick but for most the low strength will mean the oil drains in a flash. The flavor, however, is fantastic. At least until you get to the last quarter or so and it starts tasting burned. Atlas doesn't do anything special on maintaining its flavor, though it's never particularly strongly burnt. You can find the Atlas Extracts cartridges at Mountain High Recreation. You can read more about Atlas Extracts on their website here.