REVIEW OVERVIEW

SUMMARY
Today we will take a look at Ohio Clean Leaf, a brand that specializes in medical cannabis products. To be more precise we will try their Twistspenser Concentrate.
I would recommend anyone who likes Cannabis concentrates to try this Sauce and distillate Twistspenser.  It is convenient to use, and the terpene and cannabinoid content is listed, and the numbers are impressive!  The description on the package says "Terpene-rich cannabis extract intended for vaporization."  The top terpenes listed are b-Caryophyllene: 24.3 mg/g, d-Limonene: 21.0 mg/g, Linalool: 15.5 mg/g, and a-Humulene: 7.68 mg/g and I really enjoy the flavor and effects.  
You can check out our video review of the Twistspenser here.
Pros:
Convenient dispenser
Ohio Clean Leaf is a highly regarded cultivator
The terpene content is listed
State maximum allowed THC percentage (70%)
The THC has been decarboxylated, so you could use this as an edible
Decent price
Cons:
Some of the oil leaked out around the included blunt-tip syringe
Recommendations: Better quality of the tip syringe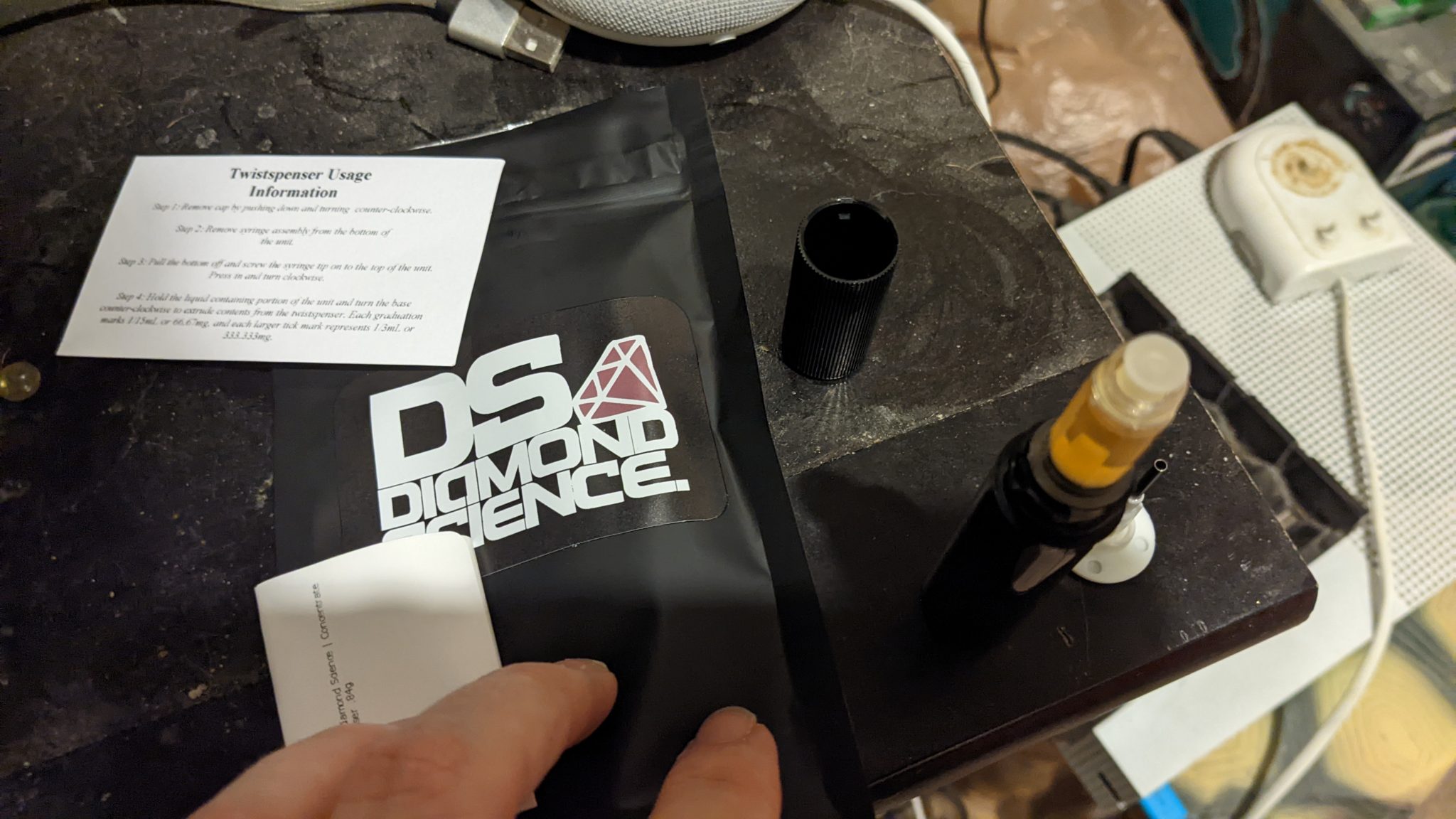 OCL Diamond Science Sauce and Distillate Twistspenser – Lemon Royal strain (Hybrid)
I chose this strain because they only had two options, and I have read good things about this strain of flower.  I noticed these on the menu and had wanted to try them for a while.  In the past, I have tried a few oil syringes and RSO and FECO, and I do like them, but they are a bit messy.  I think the threaded mechanism on this device does make it easier to dispense a small amount of the oil.  It's much easier than the RSO that I had, where you had to warm up the oil just to be able to dispense it at all.
I have really been enjoying the flavor of this strain too.  I am not the biggest fan of lemon flavor in concentrates, at least not a lot of it.  For example, I had some Cresco MAC1 live sauce and some Pineapple Express live budder, and I didn't enjoy the strong lemon flavor.  I was worried that would be the case with this Lemon Royal too, but I haven't found that to be true.  It seems like the Linalool and other terpenes help to compliment the lemon.
The Entourage Effect
I think the Entourage Effect is a factor here since the terpene content is so high.  I know that when I first got my medical card here, I was not happy about the 70% maximum THC limit for concentrates and vapes, but since I learned about the Entourage Effect, I definitely appreciate our options more.  Also, I have learned that even in states that have no rules about THC limits, things like live resin and live rosin carts and concentrates usually have about the same THC percentage as we have here and that the more important aspect is the combination of all of the cannabinoids and terpenes. 
I'm not sure if this counts as "Full Spectrum" or not, but I noticed that under ingredients, it says "Single Pass Distillate, Subcritical Sauce, In-House Cannabis Terpenes, CBC, CBG, CBN, NO BOTANICAL TERPENES OR CBD ADDED", so that's interesting.  I haven't tried any "Subcritical Sauce" before, so that's a new one for me.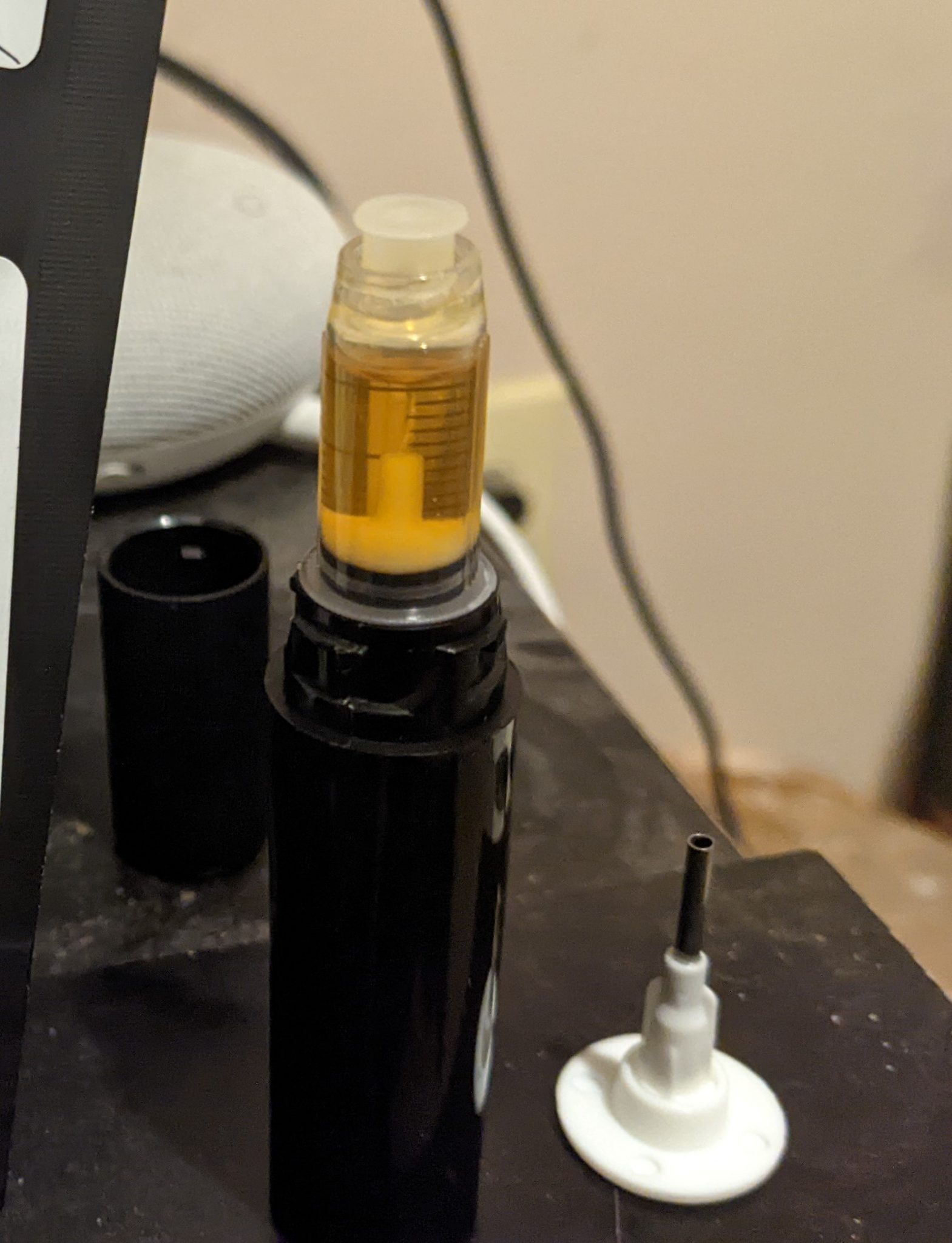 Who would enjoy this?
I think anyone who enjoys cannabis would love this sauce and distillate dispenser.  The flavor is great, and so are the effects!  I really like how easy it is to dispense a dab too.  I think this one is a "good any time" strain and should help people with pain and anxiety.  So far, this is the only strain of OCL that I've tried, but I've heard that their flower is amazing.  I have been more into concentrates and vape carts for about the last year now, but I have been meaning to try some Ohio Clean Leaf flower, so I might do that soon.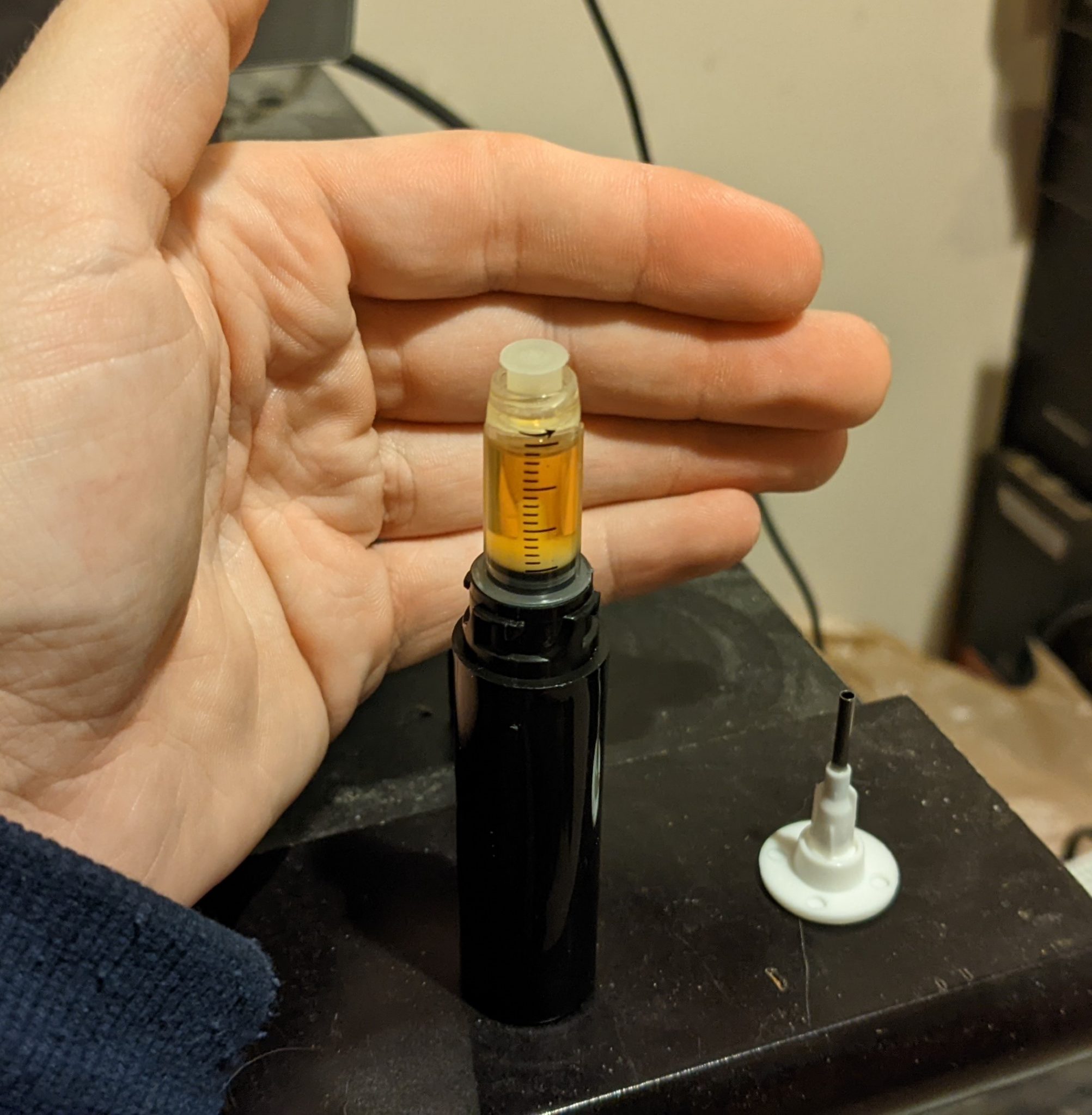 Amazing flavor and effects!
I really like the flavor of this concentrate!  I'm not very good at describing flavors and scents, but this definitely has a nice, sweet undertone, and of course that gas.   Since the terpene content is listed, I can see that the main terpenes are Limonene with its citrus flavor and smell, and  Caryophyllene is the compound found in black pepper, basil, and oregano, with a funky warmth similar to cinnamon and cloves.  I also know that Linalool is the terpene found in lavender.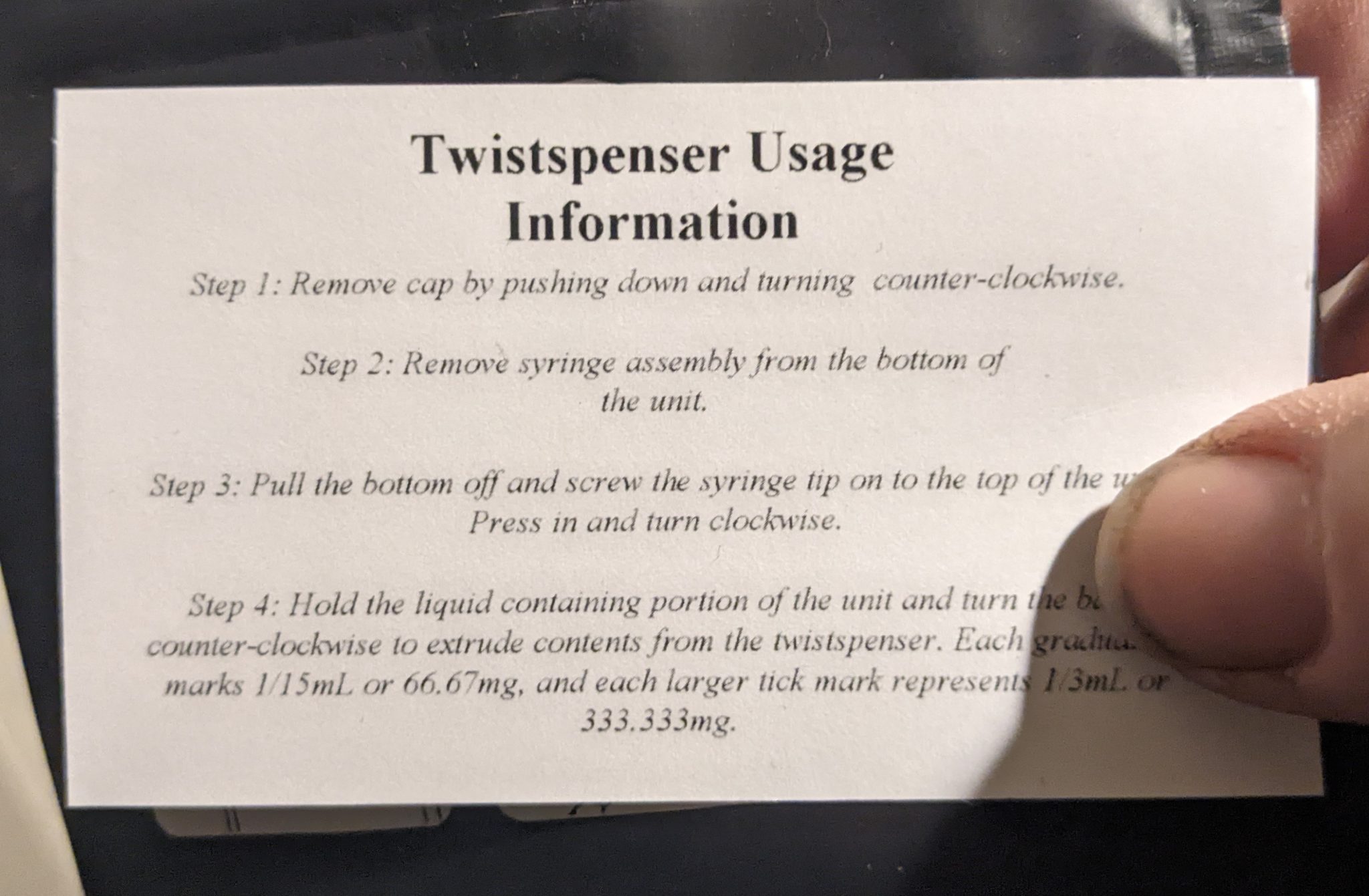 Similar Cannabis products for comparison:
There are so many brands of concentrates out there!  As far as specifically a dispenser that has a sauce mixed with distillate, I'm not sure if there are other options.  I've been getting the Cresco 1.7 gram live concentrates lately, and really enjoying those.  I've been meaning to try these Ancient Roots live rosin Dablicator dispensers too, but I haven't seen them in stock at the dispensaries around me lately.  I have really been enjoying these sales at the dispensaries lately too.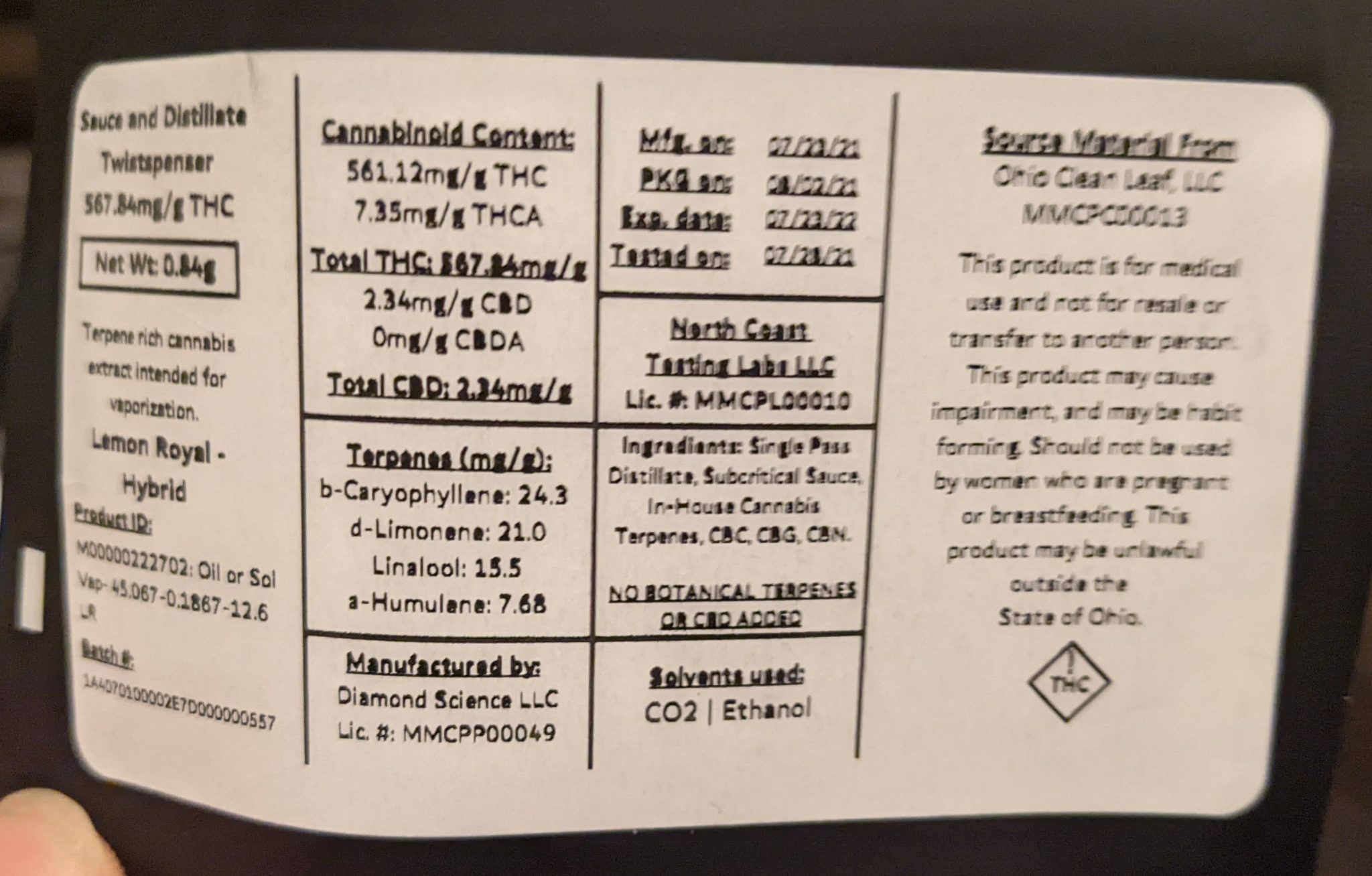 Concluding this review
I really enjoyed this Ohio Clean Leaf Diamond Science sauce and distillate Twistspenser concentrate.  The dispenser is much easier to use than a standard syringe, and I have been enjoying the flavor and effects.  You could probably even put the concentrate into a vape cart if you wanted to do so.  It's pretty cool! You can find out more about Ohio Clean Leag products here. 
Have you tried Ohio Clean Leaf Diamond Science sauce and distillate? Let us know in the comments or on our forum.