REVIEW OVERVIEW

SUMMARY

Kurvana ASCND cartridges deliver some of the highest quality oil in California. They refine their concentrates to a point of super high-potency using flowers from a single source in each batch. Our only suggestions are to switch the outer plastic tube out to a glass one and lower the price.
With a sub-par product in their early beginnings, Kurvana now seeks redemption in a brand new cartridge. A new cartridge needs a new name and they call it the Kurvana ASCND. That's short for ASCEND, a name which implies a trip to the top side of the clouds. Kurvana ASCND cartridges own the popular spotlight but are they as good as the hype suggests? Find out in DabConnection's full review and see why it made our list for the best THC vape cartridges in CA.
Pros:
Super High-Potency
Pure, High-Quality Concentrate
Delicious True To Strain Flavor
Efficient CTEC Coil Heating System
Informative, Tamper-Proof Packaging
Cons:
High Price Tag
Plastic Mouthpiece & Tube
Recommendations: Kurvana ASCND comes close to perfection in a cartridge. One concern is the 510 threads, which did not smoothly fit our Vessel Battery. This could be a manufacturing defect. Kurvana uses a plastic tube and mouthpiece, which could warp if left in the heat.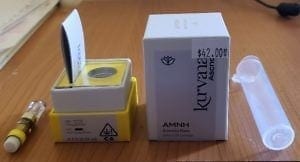 Kurvana ASCND puts near-perfection into a cartridge
We already know that other Kurvana ASCND cartridges fit on the Vessel Battery, so we're assuming this one has a threading defect. Our complaint about the plastic is valid but kind of nitpicking. Most people know not to leave their cartridge in a place hot enough to melt hard plastic anyway. It's never good for the oil. This cartridge turned out better than the original, non-ASCND Kurvana cartridges we previously reviewed. See our video review below and keep reading on for the more in depth review.
Kurvana ASCND carts provide true flavor with their CTEC coil and perhaps the highest potency around. The number of puffs is right in line with any authentic CCELL cartridge, and the product is clean of pesticides. Cost does ascend along with this high-quality cartridge, the only real drawback we can find.
The Amnesia Haze cartridge leaves a splendid aftertaste of citrus, earth, and lemon
Kurvana claims the Amnesia Haze ASCND cartridge finishes with a taste of walnut. Lemon, citrus, and tones of earth come through most prominently with a well-balanced mix. You can definitely taste the walnut once those main flavors begin to fade. The purity of the Kurvana ASCND cartridge's concentrate doesn't affect the taste.
Kurvana ASCND carts lay claim to some of the most potent oils in the industry
All ASCND oils come from a single origin and are high cannabinoid extracts. In order to achieve the purest oils, Kurvana puts each batch through a 50-step extraction process. As a result of this purification process, Kurvana ASCND concentrates are incredibly potent. ASCND cartridges can reach up to 95% cannabinoids due to their proprietary process while keeping a true taste.
Lab testing occurs in-house and by 3rd party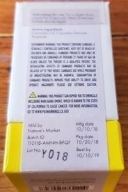 Kurvana sets the standard for quality assurance in California derived concentrates. They are in compliance with Prop 64 regulations and provide batches for testing by a 3rd party. But here is where things get interesting. Kurvana also tests each and every batch of their own oil in-house.
As a company that strives to deliver only the purest of concentrates, it's Kurvana's own processes that demand the in-house testing. Now here's where things get even better. Most labs test oil down to the parts per million, or perhaps per billion. Kurvana's own laboratory tests each batch to the parts per trillion to ensure oil purity.
ASCND carts have a unique see-through mouthpiece but use plastic material
Kurvana goes with a clear solid plastic mouthpiece with the reed-shaped design. You can see right through it, watching the vapor trail through the thin straw-like center.  Plastic, however, isn't my favorite choice in material. It might be a picky point, but I prefer a glass tube. Using plastic for the mouthpiece isn't as big a deal, as long as it's thick and sturdy. Metal, ceramic and wooden mouthpieces have a more comfortable feel though.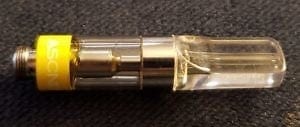 Kurvana ASCND Amnesia Haze sits at 90.65% THC & 0.46% CBD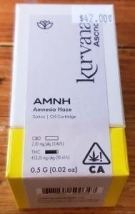 With effects that set in so strong, it's no surprise the THC level is that high. We can't say Kurvana doesn't warn us! Each cartridge of ASCND Amnesia Haze comes with a small percentage of CBD and nothing else. These levels of THC are a result of the highest quality flower as well as the Kurvana purification process.
Going the extra mile comes with a higher cost
When you consider all the effort Kurvana puts into the creation of each ASCND cartridge, it's not surprising that the cost is high. This Kurvana ASCND Amnesia Haze cartridge is from Mankind dispensary in San Diego. A price tag of $42.00 for a .5-gram cartridge would normally turn my head away. With the Kurvana ASCND name on the box, things are a bit different.
No matter how close to perfect a cartridge is, $42.00 is a lot to spend for .5-grams. And a licensed dispensary will still add on more in taxes! Kurvana does so much to ensure the ASCND is pure, high-quality oil. From the selection of the crop to the final packaging (and everything in between), customers get a fantastic product. Sometimes extra is what it takes to get satisfaction.
You can see the Kurvana CTEC ceramic coil in the cartridge disassembly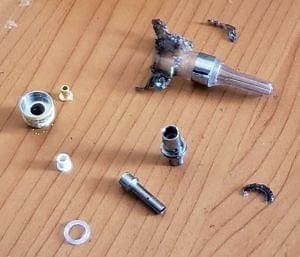 Starting at the base, the Kurvana ASCND cartridge uses 510 threads that should fit your standard battery. Our cartridge has trouble fitting the Vessel, but it fits other batteries just fine. The contact point spins and comes out with a pry from a tiny flathead screwdriver. This reveals a small white plug that comes out with a tug of the finger.
You can see I had to burn the plastic trying to reach the inner metal draw tube. Once you break through the outer plastic tube, it's easy to free up the metal draw tube. Using the inside edges on a pair of pliers and applying pressure to the drawtube where the break is will cause it to separate. This reveals the CTEC ceramic core that turns the oil into vapor.
You can see all the different components of the Kurvana ASCND cartridge in the image as well as in the video. Notice that unlike a standard CCELL cartridge, Kurvana's proprietary CTEC system doesn't use a cloth wrapper. Instead of placing a ceramic core inside a cloth, a ceramic coil rings the inside of the metal housing. The oil absorbs directly into the ceramic coil and is ready for vaporizing.
Below see our video breaking down the Kurvana ASCND vape cartridge.
Number of puffs is the same or better than most CCELL cartridges

We don't have any drawbacks or anything spectacular to report about the number of puffs. Out of four cartridges from Mankind, Kurvana ASCND seems to vape at the same rate. At least for the most part. It vapes almost identical to the Platinum Vape Northern Lights and the Select Elite Mendo Breath. Jetty Extracts actually seems to vape faster than Kurvana ASCND cartridges.
An atmospheric conclusion
Journeys to the edge of space now come in a Kurvana ASCND cartridge. Though the cost seems fit for a NASA budget, quality experience is assured. The only improvements we can suggest are to the capsule itself. Glass in place of a plastic barrier would make a stronger cartridge, but that's a minor issue. Superb taste, crazy potency, as well as an efficient design put Kurvana ASCND at the top of the chart.
Learn more about Kurvana ASCND cartridges by visiting their company website here. If you have a question or comment about ASCND carts, feel free to drop us a line on our Forums. We always love to hear from you.