REVIEW OVERVIEW

SUMMARY
Today I will look at Jeeter Juice, which is the distillate cartridge line of Jeeter, most famous for their infused pre-rolled joints. Jeeter's line of infused pre-roll joints is distributed by Dreamfields Farms at many California dispensaries. I've been seeing a lot of these Jeeter Juice cartridges at many of the shops in LA.  I will discuss the pros and cons of this cartridge.
Pros:
Uses C-Cell M6T
The oil lasts an average length
Cons:
Below average strength
Artificial taste
Perfume-like aftertaste
Uses botanical terpenes
Recommendations: This cartridge leaves a lot of room for improvement starting from the airflow problems with the hardware to the overly artificial taste. The strength of this distillate can be improved as well. The use of botanical terpenes is my strongest issue with this cartridge.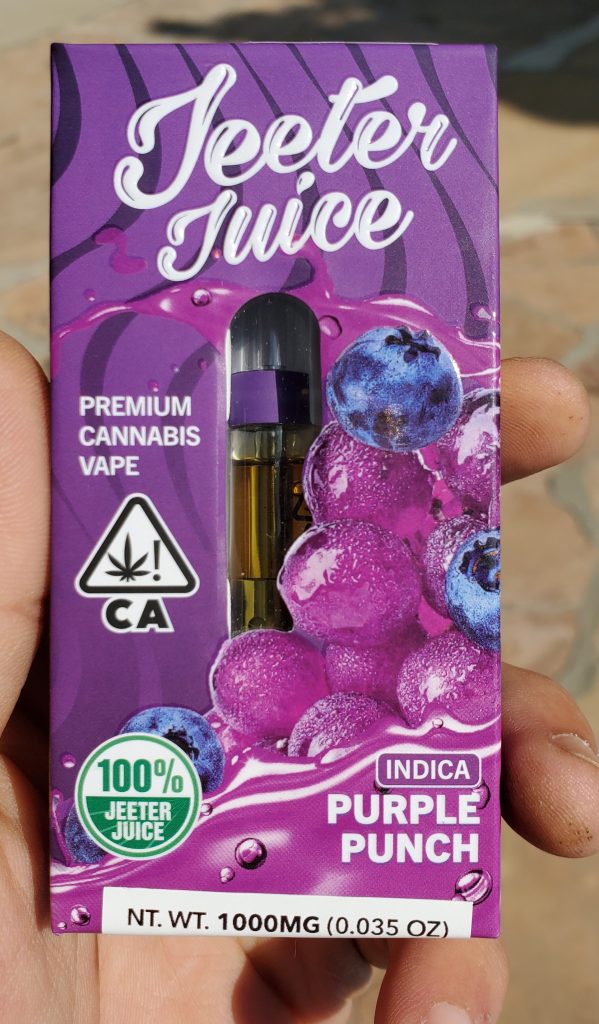 The packaging for Jeeter Juice looks cheap, similar to street brands
The packaging looks very cheap, almost like a glossier, more polished version of the black market Dank Vapes or Cereal Carts with its "nutrition facts," which is why I wanted to try this since they were sold in so many dispensaries in LA. As per their website at Dreamfields Farms, these are distillate oil cartridges infused with botanical terpenes.
The distillate for Jeeter Juice looks okay with no discoloration
For this review, I picked up their Purple Punch, which is a cross between Larry OG and Granddaddy Purple, a strain that is best used for nighttime. When you first look at this Jeeter Juice Purple Punch cartridge, its oil quality looks lighter in color with very little noticeable discoloration. For the most part, it looks like standard distillate oil like other recent distillate cartridges.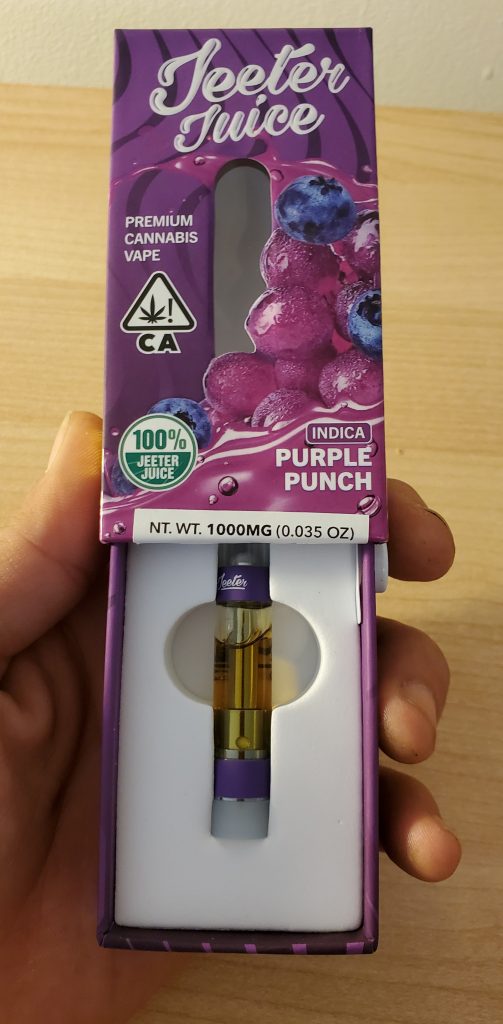 Jeeter Juice uses C-Cell M6T hardware, airflow often clogs
The hardware and efficiency of this Jeeter Juice cartridge was another issue that I had with this cartridge. Each cartridge has the Jeeter logo and is color-labeled. This makes it easy to tell which strain of Jeeter Juice cartridge it is. Its build quality and design is similar to the Dr. Zodiak Jupiter C-Cell cartridges, though it shares other qualities as well. This Jeeter Juice cartridge, which uses the M6T model of C-Cell cartridges, had some problems with airflow that clogged early and often during the use of this cartridge, similar to a Dr. Zodiak cartridge. It seems to last the average number of puffs for a full gram distillate cartridge much like a real Dr. Zodiak cartridge from last year.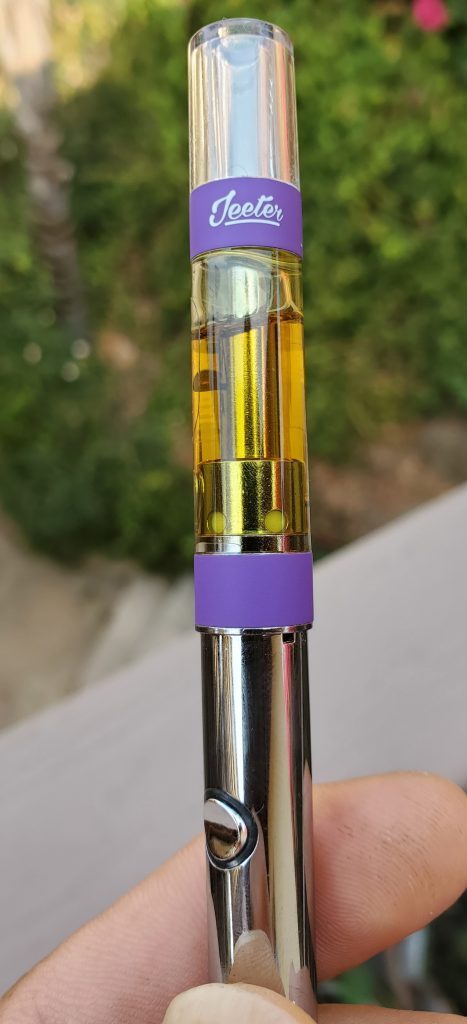 The taste is overly artificial with a perfume-like aftertaste
Its taste is also one of the main weaknesses. It has an artificial taste very much similar to Welsh's grape juice, but with a harsh perfume-like aftertaste. That might be caused by mixing botanical terpenes with distillate oil in this cartridge. I would recommend most other distillate cartridges over this one, including Absolute Extracts, Heavy Hitters, Kurvana, and Plug Play. Its artificial fruitiness reminds me of some of the Dr. Zodiak cartridges, the Breath Mint Rad Vapes cartridge, and some of the older West Coast Cure cartridges that I've had. 
The effects of this cartridge were minimal and didn't last long
The effects were not as strong for his one, which has 80.07% THC and 0.36% CBD. They are initially relaxing, uplifting, and euphoric, but the effects don't last long enough as you have to have the full intended effect. Needless to say, this wasn't strong enough to have a full night's sleep with this Purple Punch cartridge. During the use of this cartridge, this distillate had little to no medical benefits for my nerve pain and initially gave me a slight headache. Again, I would recommend most other distillate cartridges like Heavy Hitters, Kurvana, and Plug Play over this for much better effects, much better taste, and higher potency.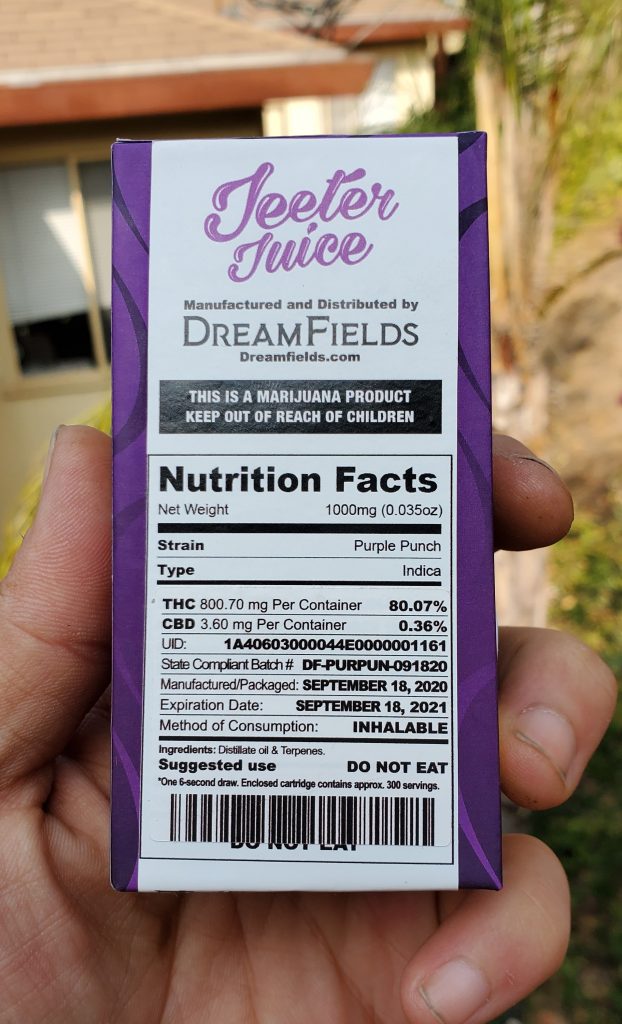 There are other better distillate choices than Jeeter Juice
Jeeter Juice carts are also available at most dispensaries in Southern California. I cannot recommend these distillate cartridges that are infused with botanical terpene blends. Although this cartridge is possibly not as bad as other similarly looking street brands, there are plenty of other better choices for distillate cartridges including Absolute Extracts, Heavy Hitters, Legion of Bloom, Kurvana, and Plug Play.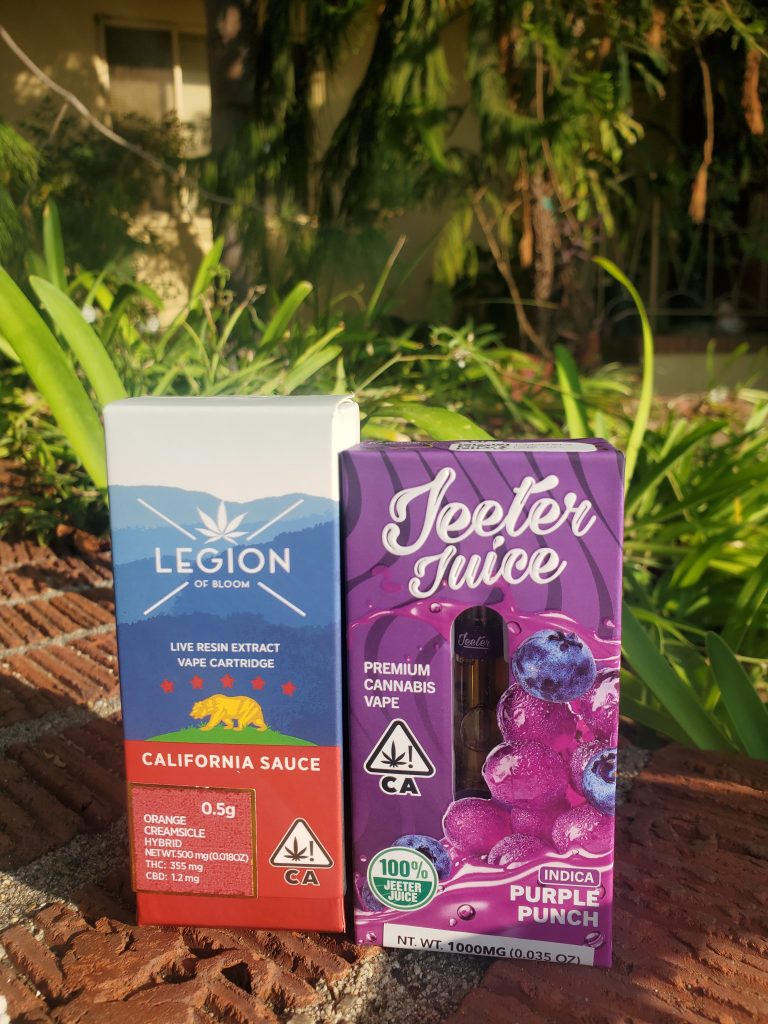 Concluding this review…
Overall, I can't recommend this cartridge, which had a much more unpleasant aftertaste than Heavy Hitters Lava Cake distillate that I've tried here in the past. Its below-average quality, its artificial taste, and lack of strength are similar to some of the cartridges from Dr. Zodiak, the Breath Mint Rad Vapes cartridge, and the previous generation of West Coast Cure before their new CurePods that I've tried in the past. The main draw of this cartridge is that this does not seem as bad as other similarly looking street brands and the price is cheaper than most distillate cartridges. Again, I would highly recommend most other distillate options in both the recreational and medical market over this one, including many distillate options such as Absolute Extracts, Heavy Hitters, Legion of Bloom, Kurvana, and Plug Play.
Readers, you have the floor as always here in the comments and in our forum.