REVIEW OVERVIEW

SUMMARY

The Jackpot cartridge has great oil but could go much further with better hardware. The Ccell clone just does not allow the oil to perform to its maximum.
Jackpot cartridges use THC distillate and a CCELL style clone. Overall this cartridges are pretty good and you can tell that the oil is good quality, it's thick, it moves slow, it tastes good and the effects are pretty good. The downside of this cartridge is that the CCELL clone just does not give the same kick in the hits as we would get from a real CCELL cartridge or a SPRK cartridge.
Pros:
Good Oil
Vapes Slowly
Good Taste
Cons:
CCELL clone does not perform as good as the real thing
Recommendations: Swap the hardware on this thing and you may have a much better cartridge.
Licensing Information: 03595374519108477279
The only thing keeping this cartridge from being an excellent cartridge is the hardware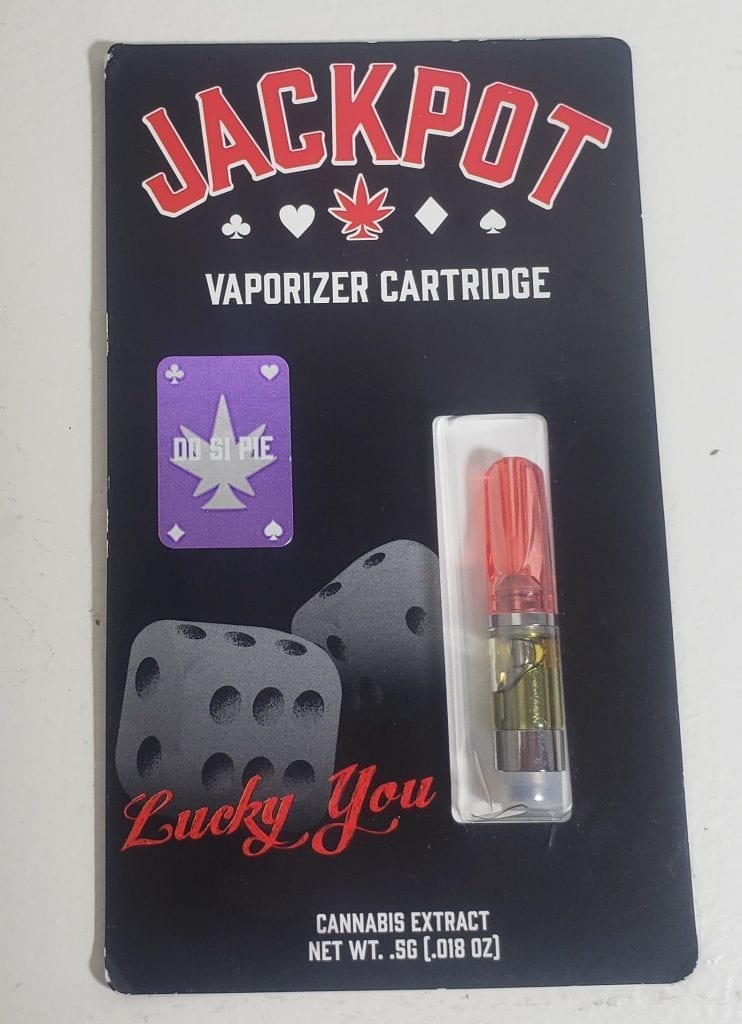 Jackpot cartridges are overall decent. I've been using this interchangeably with other carts such as the Roots cartridge and the Cannavative cartridge I recently got. Both the Cannavative and the Roots cartridge use authentic CCELL hardware while this uses the clone. I bet if it was using the real thing, this cartridge would probably be really close to a Roots or Cannavative cartridge.
The strain used in this review is Do Si Pie. Jackpot carts are made by Greenpoint NV. They also make Golden Private Stash, which we will have a review up on soon. The Private Stash carts use CCELL and I found those to be stronger than the Jackpots. In fact, I would say Private Stash is one of the best in NV.
Design and Build seems kind of unique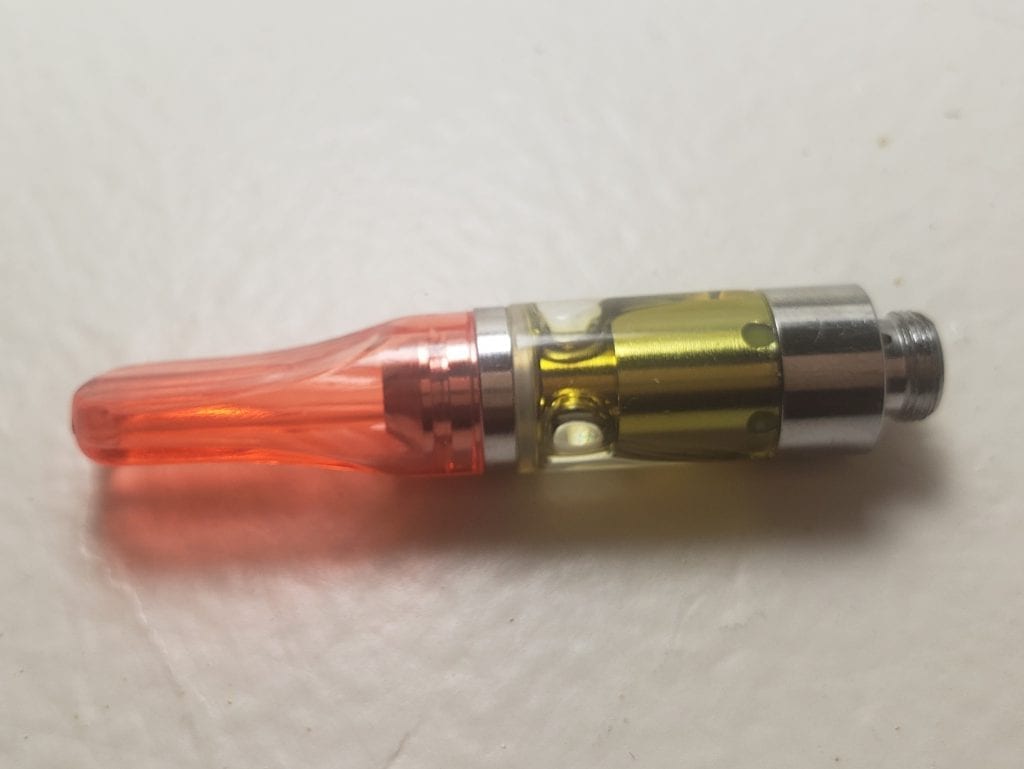 I have not seen this exact cartridge type before. The cartridge they use is a CCELL clone with a plastic top, I've not seen it in this exact color scheme before. Theres no marking on the bottom of the cartridge so you can't really tell anything about what kind of brand it is. It is some type of clone and i'm sure they did this to save some money, but it really does affect the performance of the cartridge overall.
Oil quality is excellent, you can tell by the thick slow moving distillate
When you look at the THC distillate oil on the Jackpot cartridge you can tell it's of high quality.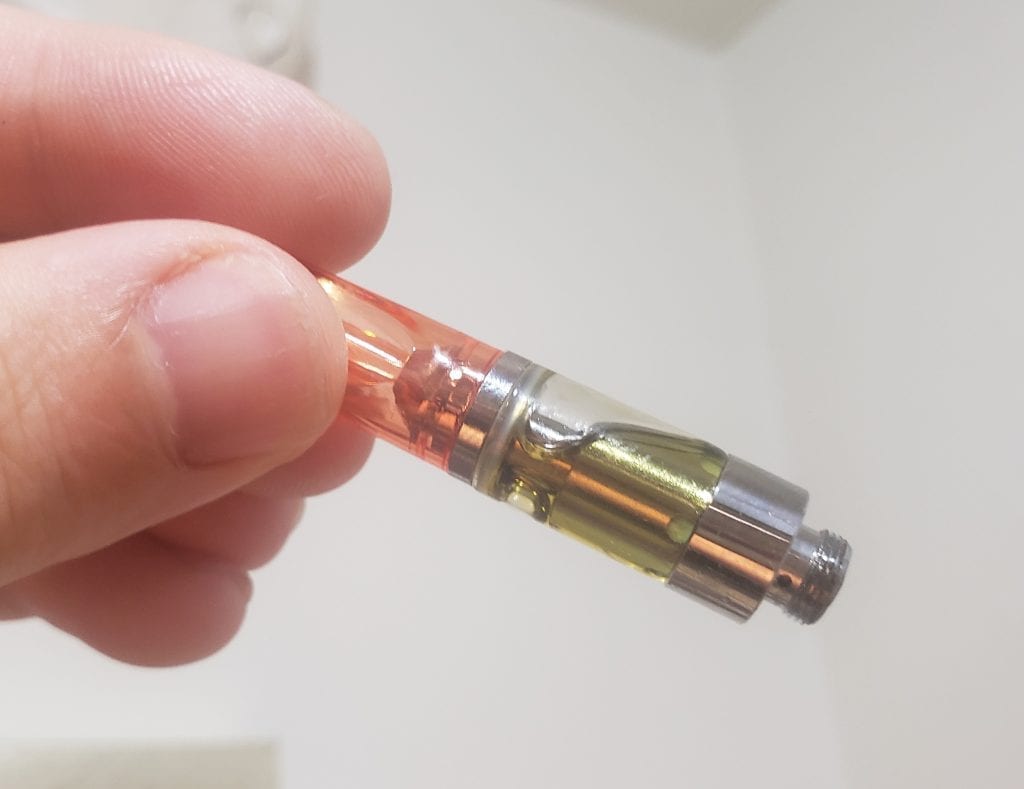 It looks clear and consistent throughout all the oil, it moves very slow, and when you're vaping it you can tell its not just running away super quickly. However, oil quality is not the only thing that makes the cartridge but it is definitely one of the fundamentals to make it good.
Strength is above average on Jackpot carts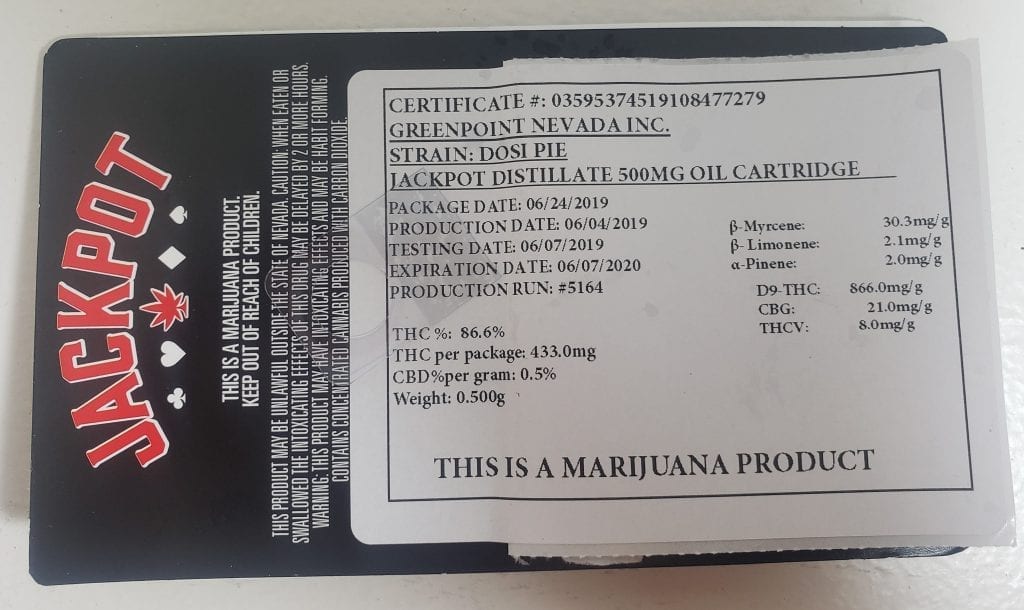 Jackpot cartridges are slightly above average strength but not super strong.  I can't say that the Jackpot cartridge is coming close to the strengths of Roots, Airo Pro, or Select Elite but it only seems that the only difference here is the hardware, change this hardware and we're probably on par with most of those brands or at least getting close to it. The THC percentage on this is 86.6% which is really high and is a good THC percentage. However, the current cartridge i'm rotating with this one is a Cannavative cartridge at 80% and it's stronger mainly just because the hardware is better.
Taste is good, no metallic of off tastes
Taste is pretty standard for distillate and I would say it's good. This cartridge had pretty much the standard distillate taste did not seem like any flavor was added like on the Airo Pro carts. However, I like the standard distillate taste and I think it's pretty good, it's nothing super memorable on taste but overall, it is a good taste.
Efficiency is actually better than original CCELLs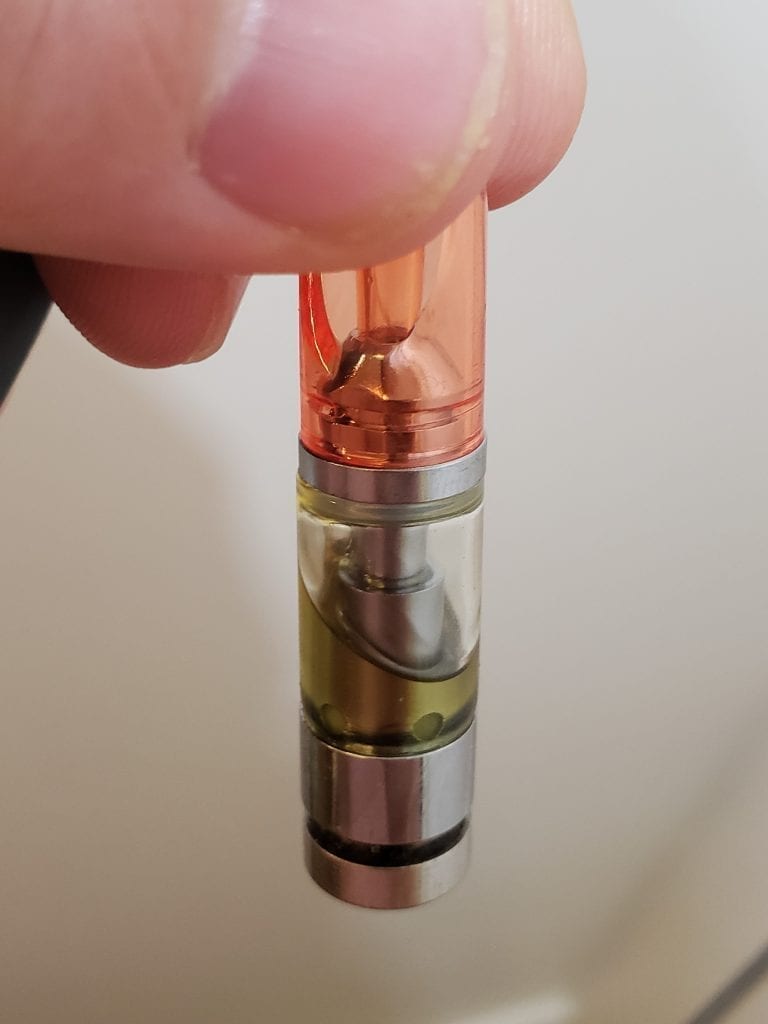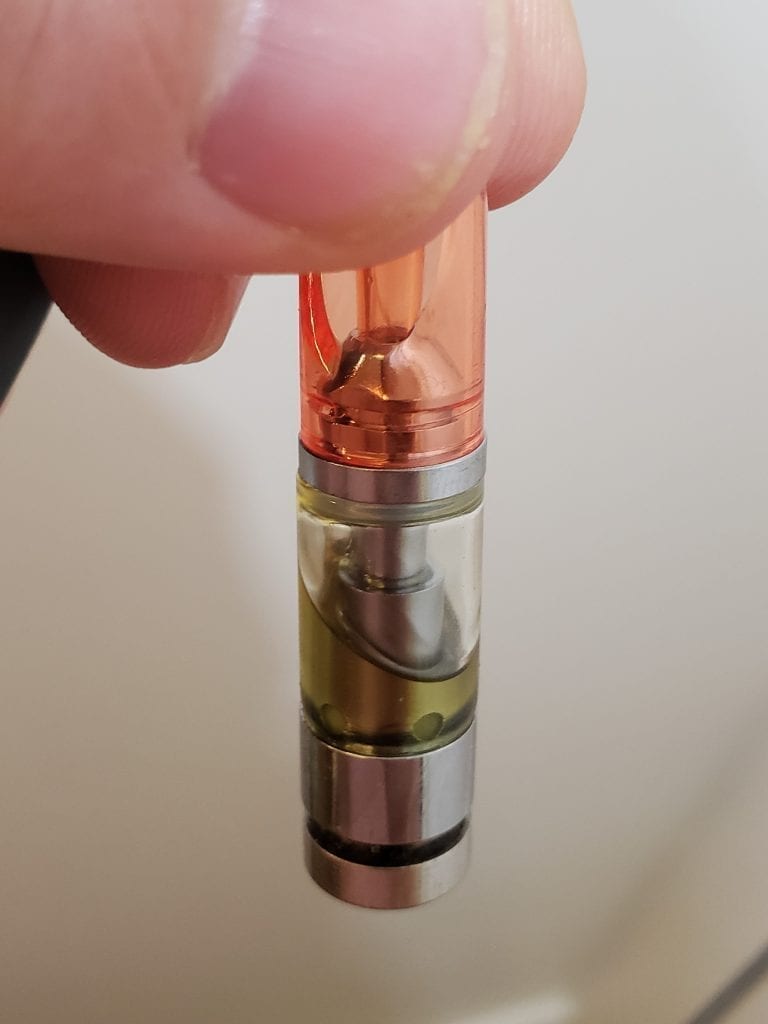 I would say the one thing this cartridge has going for it is the efficiency. The whole placement is probably the lowest I've ever seen and I would put efficiency on this cartridge on par with the SPRK cartridge which is amazing considering that the SPRK cartridge is the most efficient cartridge that we have tested.
Now, a few knocks on efficiency for the fact that this cartridges does not hit as hard so every time you get a pullout on this cartridge, you're not getting as affected as a pull and therefore that does hurt efficiency a little bit. However, the whole placements are just really good.
Number of Puffs is good
Number of puffs is really good. The Jackpot cartridge oil burns slow and the vape cartridge although it does not give the hardest hits and not seem to waste either. So, overall the number of puffs is good.
Value would be better with improved hardware
It's an okay value. But not that great when there's better options available. The Jackpot cartridge was the same price as pretty much all the other cartridges in the dispensary besides Binske which was more expensive. They basically go for $45 which is the standard amount of price for a half gram. Thats not a terrible price and it definitely is in the top half of cartridges.
However, when you can get better brands for the same price it does hurt the value a little bit. At this same dispensary they did not have Roots but they did have Cannavative and I would take a Cannavative cartridge over a Jackpot cartridge especially when I'm spending the same amount of money.
Golden Private Stash, which is made by the same company, is often available in the same shops as Jackpot. I would put Private Stash up there with the best even though we don't have the review up yet. Truly a great oil, great effects, and they use real CCELL hardware.
Concluding our Jackpot cartridge review
Overall, the Jackpot cartridge has a lot of potential. Even as is, it's still a pretty good cartridge but it could be a great cartridge if they upgrade the hardware. They oil really seems on point and they have high THC percentages. The price is on par with other cartridges.
We just need that simple cartridge upgrade and it'll be much better. Greenpoint NV is already using CCELLs on the Private Stash carts, they should be using them on Jackpot carts too.
You can find Jackpot cartridges near you here. and learn more about Jackpot Nevada on their website.