Another day, another counterfeit cartridge brand on the black market. This time it's fake West Coast Cure cartridges hitting the market.
UPDATE 7/5/2020: The easiest way to tell if a WCC cart is fake is if it's not a pod. The only real WCC vape products currently out are vape pods.
See our video below on fake WCC cartridges, then keep reading on for more information.
West Coast Cure is a brand we mentioned having top of the line wax in our San Jose dispensary coverage. We also included an image of West Coast Cure packaging in our post on a Sacramento dispensary, which can now serve as a handy comparison for general style (WCC has changed their packaging a couple times since that 2017 post).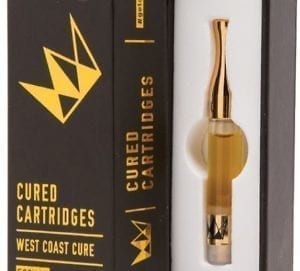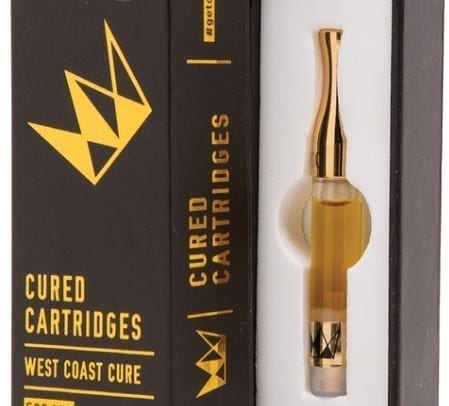 Fake West Coast Cure packaging has hit DHGate and Alibaba
They're quite plentiful at DHGate: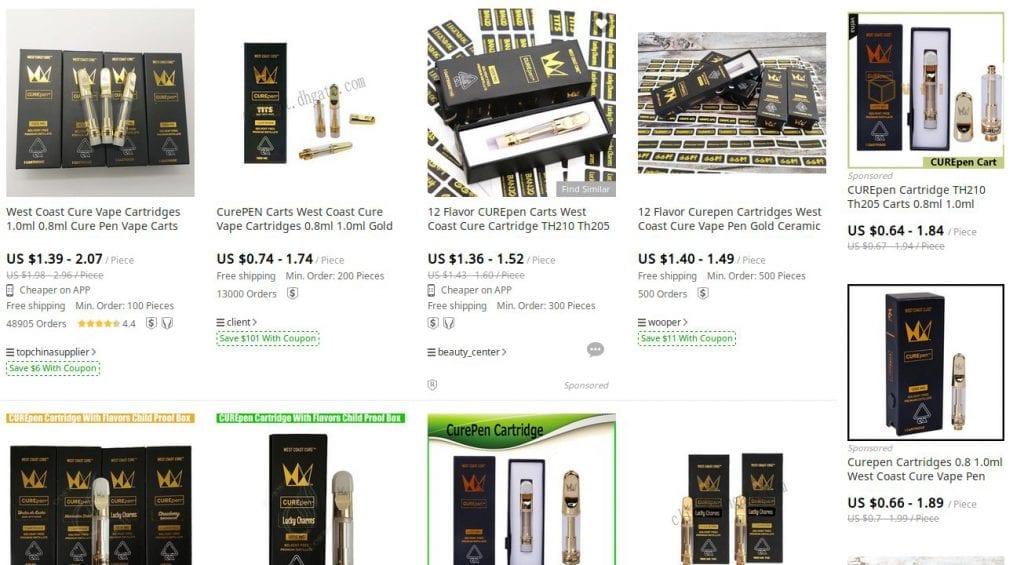 Several more are floating around Alibaba: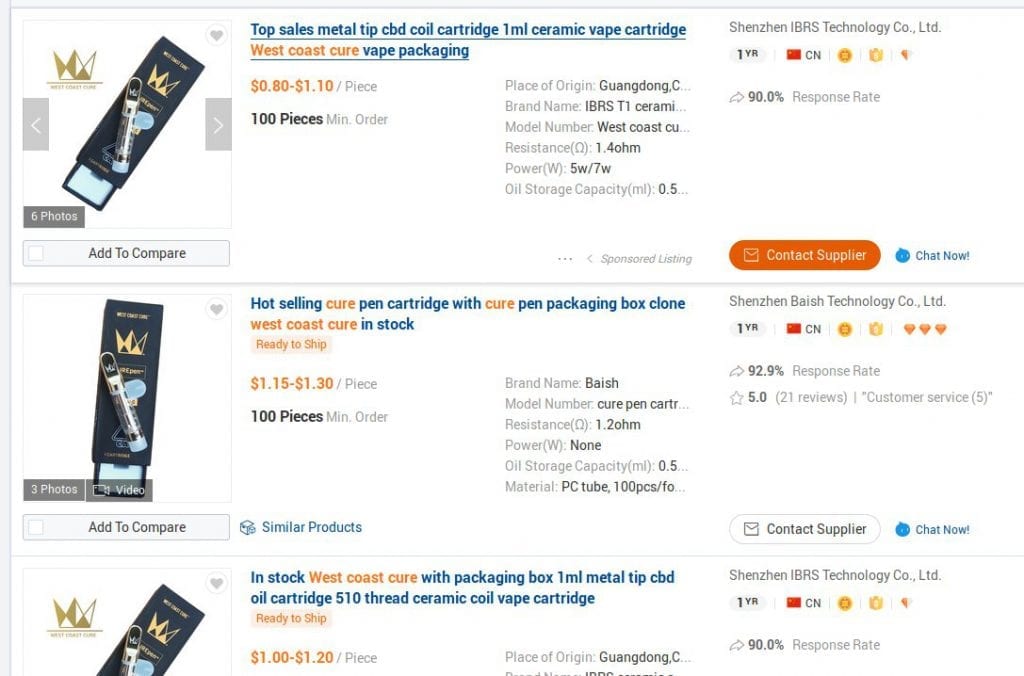 One video clip at Alibaba was even nice enough to tip us off to the fact that the cartridge tip copies the logo as well.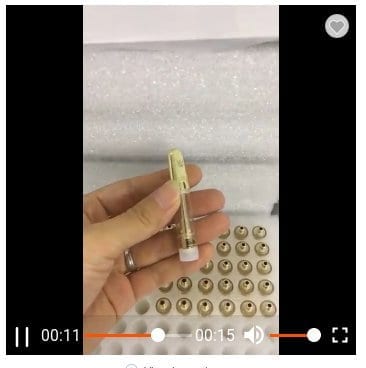 The background noise in that video (link maybe still up?) sounded like a factory, with machinery in the background. Maybe even filmed at the plant that makes these?
We even managed to track down a rare eBay sighting: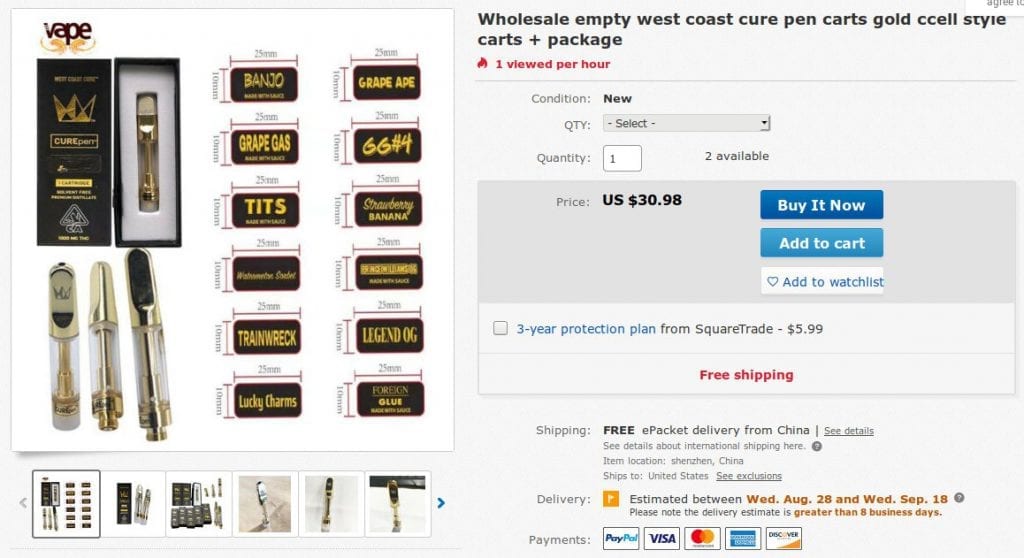 This image provides us with a handy reference for "strains" that we may see on the street…
Banjo
Grape Gas
Tits
Trainwreck
Lucky Charms
Grape Ape
GG#4
Strawberry Banana
Legend OG
Foreign Glue
Here's one telling detail we've spotted to help identify counterfeit West Coast Cure carts: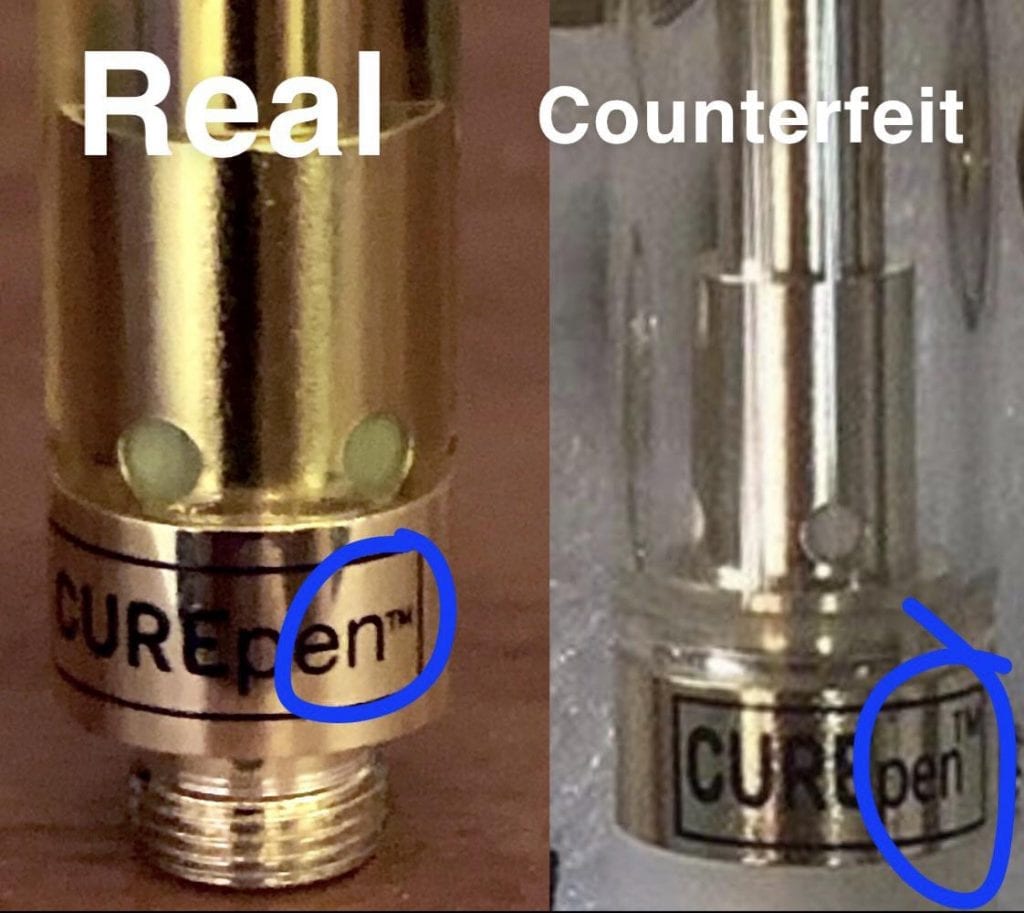 UPDATE: Another counterfeit tell!
A reader points out that one difference between real and fake West Coast Cure is the lack of finger holes on the white plastic insert: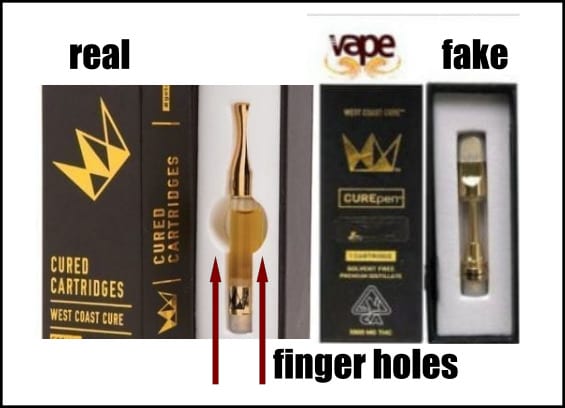 Additional clues: Some counterfeits appear to have a longer mouth piece. The "TM" at the end of the logo rides higher on counterfeits than on the real carts, and if the word "pen" is as bold as the word "cure," that's a dead giveaway of a fake as well. Thanks to sharp-eyed reader That Guy for the observations!
A reader had a bad experience with a WCC knock-off
At another site, a reader reported that they got what was purported to be a WCC trueOG sauce pen off of WeedMaps, even with a verified seller. But the cart was bunk, and maybe speculated to be synthetic cannabis. The user reported getting profoundly sick.
If you think that's bad, we found this Reddit post which, as we read it, has a user obtaining a WCC cart which was filled with BLUE liquid. He reports that the liquid turned out to be Dawn dish soap. Remember the old days when punks would bag up oregano and sell it to kids as weed? We're almost back to those days.
WCC has indicated that they are changing packaging once again, so when updated packaging comes out we will add it to this post. That will make identifying fakes even easier.
Quality on fake cartridges is a mystery
As always, we should point out that consumer safety suffers when counterfeit cartridges hit the market. Yes, it is possible that home brewers can extract their own cannabis concentrate, even that they get clean product from a reputable source. Or, from the above two horror stories, you can see what else can happen. At the least, you're likely not getting the high you're paying for. At worst, you're in danger of inhaling pesticides, herbicides, various glycol additives, lead, or… Dawn dish soap?
Have you encountered a fake West Coast Cure cartridge or other knock-off product? We'd love to hear from you in the comments below or in our forum!