REVIEW OVERVIEW

Parking / Accessibility

10

SUMMARY

Deep Roots Wendover is a dispensary and cultivation facility located in West Wendover, Nevada. Our review revealed madly overpriced products there. We did not rate the staff here since we did not go in after looking at the high prices.
Deep Roots Harvest is a Nevada cultivator and dispensary operator. In January 2020 they opened their second dispensary, Deep Roots Wendover in West Wendover, Nevada. We previously reviewed Deep Roots in Mesquite, NV, at the time finding ridiculously high concentrate prices with some decent flower deals.
Earlier we criticized Deep Roots Wendover as being a huge price gouge to people living in rural Nevada. We stopped by in October 2021 and found them much more reasonable, so we are updating our review.
Pros: 
The only dispensary in town
Prices have come down drastically!
Improved selection of cart brands
Cons:
Could still stand some improvement, but they are on the right track

Recommendations: West Wendover needs to approve at least one more dispensary in the area. Deep Roots did the same thing in Mesquite: only one in town, really high prices.
Here is our updated review in October 2021:
Compare our previous January 2020 video review of Deep Roots Wendover below, then keep reading on for the more detailed review:
Deep Roots Wendover has improved on price and selection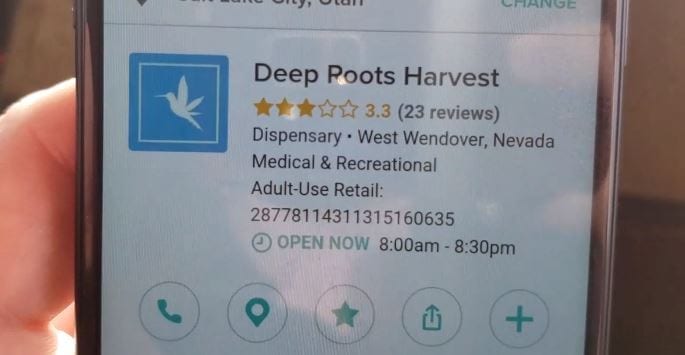 January 2020: Half gram carts starting at $55
The "cheaper" half gram THC vape cartridges are $55 and they had one for $80 made with live resin. That's without tax. Most of those $55 carts were also their house brand, with the same name.

October 2021: Half gram carts now start at $35
As you can see from the receipt in our updated video, prices are more reasonable, and with discounts and promotional deals, the prices are now more reasonable. We're guessing that the owners looked over the sales totals and customer feedback, perhaps even reviews like ours, and made adjustments.
Flower is decent quality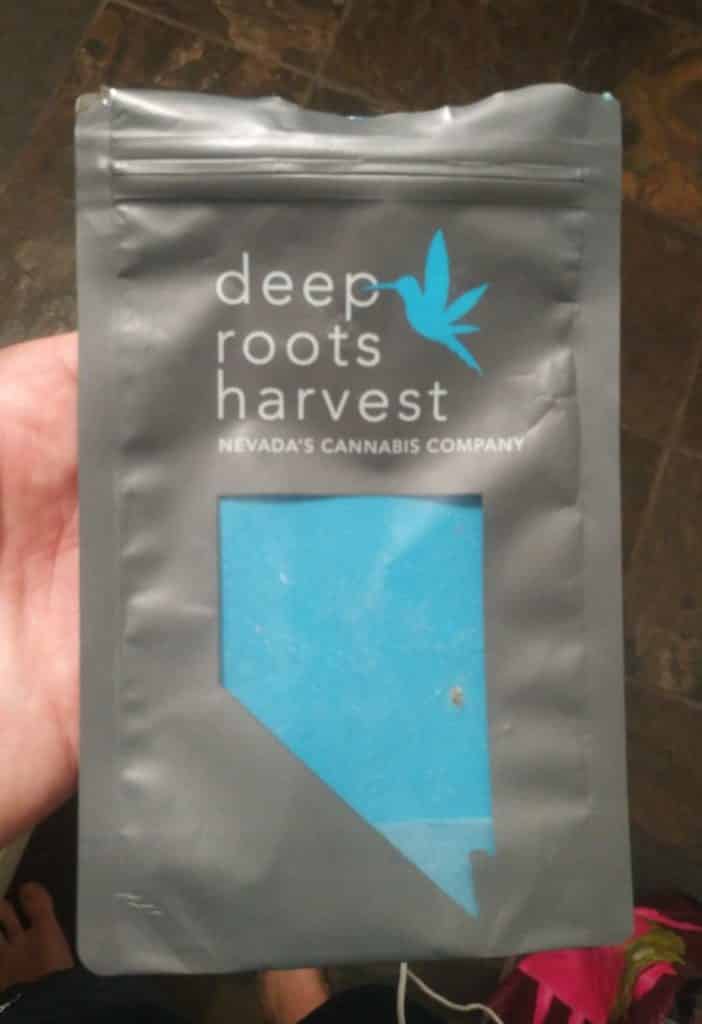 Having tried Deep Roots Harvest flower I can say it's good quality bud. I would not put it on the level of Cannabiotix or some of the best brands in Nevada, but it's still a good quality product and above average.
When visiting Deep Roots Harvest in Mesquite we also came across very high prices in January of 2020, but at least they had a house brand specialized on flower almost always going for $10 a gram.
The only dispensary in West Wendover, NV
There are some places off the Las Vegas strip that charge that much, but most people who know where to shop are avoiding those kinds of places. In West Wendover, Deep Roots is still your only option unless you drive and that's how much you'll pay.
West Wendover has only approved one dispensary and that's why it's the only option, unless you are willing to drive farther. That might change in the future, but it has been that same way in Mesquite for the past couple of years.
Not every remote dispensary is overpriced, but that often is the theme. It's a shame that rural residents are left with only a very expensive option, but it's still better than nothing.
Ely's Tsaa Nesunkwa Dispensary, 119.1 miles south offers much better pricing and selection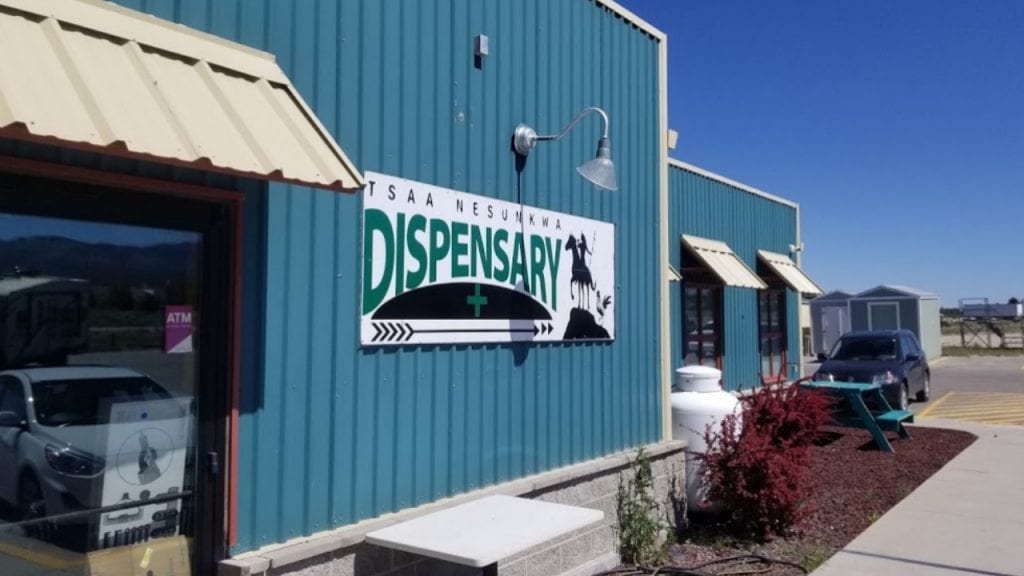 If you are heading south anyway from Wendover on the 93, or feel like checking out Ely general, skip Deep Roots and proceed directly to Tsaa Nesunkwa. There you will find way better prices, a wide variety of brands and you'll be supporting the local Native tribe.
Tsaa Nesunkwa has Cannavative cartridges, one of Nevada's best, for $40. You can get grams of MMG and Willie's Reserve flower for $15 a gram. Lucid Oils syringes are $35.
The only downside to Tsaa is they only take state medical cards to get medical tax taken off, a doctor's recommendation does not work. They do allow recreational purchases though and after you spend $300, you can get 10% off the next purchase.
Ely also has better food options than most of Wendover. For such a small town it has excellent restaurants, including Mr. Gino's in downtown. Check out our full review of Tsaa Nesunkwa.
If you are heading to or through Reno, wait if you can
Heading west to Reno through Wendover? Maybe get something small at Deep Roots, then wait until you get to Reno and check out The Dispensary in Mid Town Reno. They have the best selection in Reno and so far the best prices. They also carry one of our favorite cart brands, Roots.
Parking and access is easy at Deep Roots Harvest in Wendover
They got a big parking lot at this place and there's not a long walk to the door. Although we did not go in, this was clearly visible from the road.
They're open from 8 am to 8:30 pm, Mountain Time, not bad for the area
Considering West Wendover is a smaller town, those are not bad hours at all. In Las Vegas or Reno, we expect places to be open much later and some are even 24 hours, but Deep Roots does have adequate hours given the size of the town.
Concluding our updated Deep Roots Harvest Wendover review…
We find Deep Roots Wendover to have completely changed their tune in the intervening year and a half since our last review. We applaud them for taking a more sensible approach! We're pretty tough bargain shoppers around here, so any time a dispensary reforms their pricing policy and can please us, that shows a smart business decision. We'd still like to see a second dispo in Wendover though.
What are your thoughts on Deep Roots Harvest in Wendover? Comment below or in our forum! Have you already been there? Post your review below!