UPDATE: The Dr. Dabber Glass Games contest is now finished, view the finals here:
🚨 WINNERS ANNOUNCED! 🚨 The votes are in & the flames are out! See who takes home the cash prizes & bragging rights as our 2021 Glass Games Champions 🏆
1st Place – @durin_glass
2nd Place – @hendyglass
3rd Place – @ktscissorbaby
Thanks to all our competitors, see you next year! pic.twitter.com/O4yhEOsWv3

— Dr.Dabber (@DrDabber) July 1, 2021
We get too serious around here, so it's time to lighten up. Dr. Dabber has the prescription for your summer fun. Dr. Dabber is a dab rig manufacturer to whom we've given a favorable review or two around here. They have launched their first annual "Glass Games," which is a contest where glass artists can submit their custom attachment designs for the Dr. Dabber EVO Boost (we reviewed that here)
How is that for a unique event? Listen up, because it's for a limited time:
You can vote on submissions before MIDNIGHT June 29th, 2021
Go here to vote for your favorite glass design. But be advised, this contest has unleashed one of the most fiendish spectrums of imagination and creativity ever seen since the invention of glass. The designs range from the serious to the silly, the fantastic to the whimsical, the boringly practical to the outrageously styled. No matter who wins, it might be worth contacting some of these artists if you're in the market for custom glass.
High stakes contest to support your favorite artist
Dr. Dabber is not playing around with this promotion. The cash prizes are:
Yeah, it doesn't sound like such a casual content now, does it? At the same time, we can see where the cash prizes have to be worth the artist's time. Glass blowing is an intricate and difficult-to-learn craft.
So deliberate carefully, and vote with jurisprudence. Destiny is in your hands!
Do not be influenced by our favorites!
You guys go have your fun, DabConnection will not be participating in the voting due to conflict of interest. However, your humble author just cannot resist fawning over a couple entries here: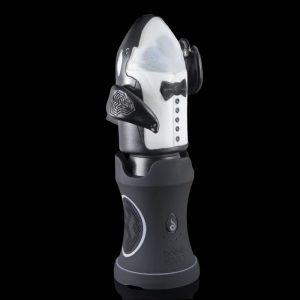 Chadd Lacy and Adrienne DiSalvo – Dr. Orca
While I don't know if this is an established franchise character, I would stream his show if he was one. These lines are sharp, the design is so neat. If James Bond was a killer whale, he'd look just like this.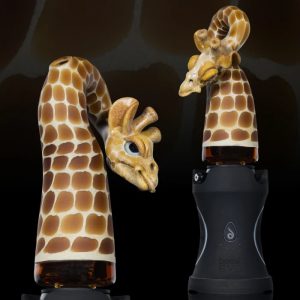 Matt Robertson – Blue Eyed Baby Bent Neck
There are Oscar-winning actors out there who do not have the facial range captured in this enigmatic giraffe's glare. Why the brooding scowl? Why the contorted neck? Is he skeptical about something? Did somebody just tell him a lame pun? The expression is halfway between the exasperation of being surrounded by idiots and the resignation of acceptance. Tell me your secrets, giraffe!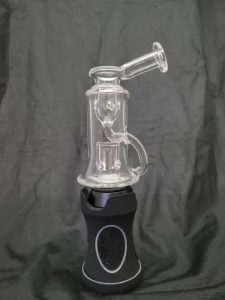 Thomas Pekar – In-Cylinder Kline
Just to show that style isn't the only factor, this bit of engineering has the purpose of improving airflow, and features a splash guard to protect the very enthusiastic dab-rig-dragger. Somebody hire this guy!
Readers, do you know of any other fun contests like this?
It's about time the cannabis community got a chance to express itself again. COVID-19 boogies stole all our fun. We can't even go to festivals or conventions right now, and here it's too hot to venture outside even if we did have them. Dump on us here in the comments or in our lonely, but sincere, forum.