We get it, cannabis can be expensive. We were all yelling for legalized marijuana going back as far as, well, since it was prohibited, and we always said we'd gladly pay taxes on it. Well, we got our wish! It's recreation-legal in about 1/3rd of the US, medically legal in about another 1/3rd, and by golly it is taxed to the harvest moon!
Since price can be a factor of concern to the common stoner, especially during the economic fallout of a global pandemic, we're going to round up the cheapest THC cartridges in each major legalized state. We're doing this both with dispensary research, and polling individual users.
California seems a logical place to start. It's in the top ten most expensive states to live in, while five of its major cities (San Diego, Oakland, San Francisco, Los Angeles, San Jose) are in the top ten most expensive US cities to live in. With all that expense on your wallet, it's only natural that you'd look to cut costs wherever you can, including your weed budget.
So, we find these THC cartridge brands to consistently be the most price-slashing budget brands in the state:
Papa's Herb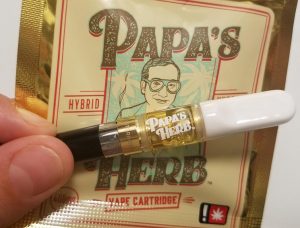 Price range: $15 / 0.5G – $25 / 1G distillate
Our review of Papa's Herb here
Behind the slightly geeky visage of the Papa mascot lies an unpretentious cart which packs in the value where it counts. We found Papa's Herb cartridges to be potent distillate with outstanding flavor. While the cart hardware is nothing to write home about, it lets you have decent hits. The cartridge is efficient and vapes all the oil to the last drop. Papa's Herb is a popular brand you won't have too hard a time finding, and with value like this, it's no wonder why!
Honeyleaf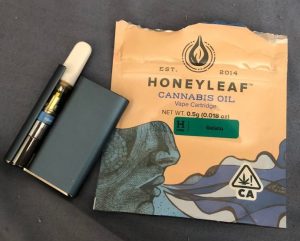 Price range: $30 / 0.5G live resin; $14.53 / 0.5G – $20.99 / 1G distillate
We have yet to review Honeyleaf (added to our TODO)
Not only is Honeyleaf one of the more budget-friendly brands we find, but they have a wide variety of products available including live resin as well as distillate. The cheaper prices on Honeyleaf may only be at certain dispensaries we're finding, but they're out there.
Dime Bag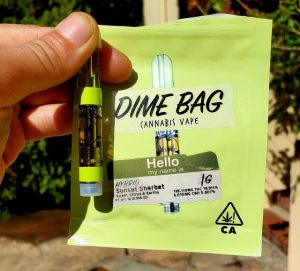 Price range: $30 / 1G distillate
Our review of Dime Bag here
Dime Bag is the last name in budget cartridges. While the price is very reasonable, the quality isn't going to be stellar on any front, between taste, potency, or hardware. Think of them as "cartridges if Dollar Tree sold them." For a bonus if you're into dabs, check out our review of Dime Bag live resin sugar, which had much higher marks in value while still keeping a budget-friendly price of $25 / 1G.
Woodstock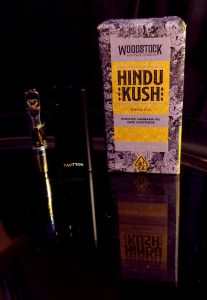 Price range: $16 / 0.5G distillate
Our review of Woodstock here
Despite its Boomer-era aesthetics and jazzy packaging, Woodstock is an unbelievably inexpensive cartridge that manages to have decent flavor and potency, and didn't even cheap out on the hardware build quality too much. Our reviewer got them for $13 each in April of 2021, which wasn't even a special promo. They may not always be easy to find, but at prices like these they're worth tracking down.
Fun Uncle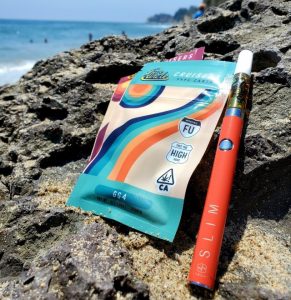 Price range: $18 / 1G distillate
Our review of Fun Uncle here
The average price we see for Fun Uncle is $30 / gram, but they are not unheard-of in Cali for $20 prices. The $18 / 1G might be a rare low, but it goes to show what a reasonably-priced brand it can be. Our reviewer got them for $16 in August of 2021. Fun Uncle, for yet another thrifty brand with a whimsical name, makes distillate cartridges with added terpenes. They've got excellent taste and potency packed into decent quality hardware. Our reviewer rated them among the best budget brands he'd tried, and our man in Cali doesn't throw that praise around lightly.
Old Pal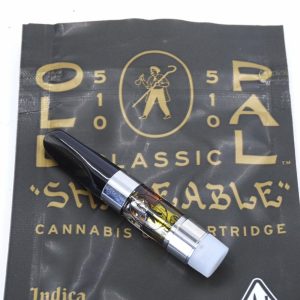 Price range: $17 / 0.5G – $8 / disposable pen – $32 1G distillate
Our review of Old Pal here
Old Pal is the poster child for no-frills vape brands that have decent quality for a budget price. It's well-established, not that hard to find, and is consistently the budget brand at most dispensaries. Not only does Old Pal impress us once we get it home, but we had to put Old Pal on our best cartridges lists for both California and Nevada! The fact that a brand can stand toe to toe with the top of the line while being one of the cheapest cartridges out there tells you all you need to know about Old Pal. Go try one, at least to say you have.
Budget California shoppers – how did we do?
Of course, the best deal you'll get is at a good dispensary which has special offers and promotions. Please feel free to share you best bargain-hunting experiences here in our comments, or in our luxury forum which has a special category, "My Dispensary Haul," just for posting your plunder!