REVIEW OVERVIEW

SUMMARY
Today I'm going to talk about AUXO Cenote and all it has to offer. The AUXO Cenote Smart Concentrate Vaporizer is listed on their site at the price point of $399.99.

Check out our video review of the AUXO Cenote here.
Pros:
Compact design
Easy quick start
Ergonomically designed
Very portable
Smooth pulls
All in one box stores everything and has room for your wax
10-year warranty
Cons:
Temp setting and starting are both one tap on the button, so it's a crap shot if you change the temp or start a sech
The app that you are to install on your phone is no longer on the app store. I was sent instructions to install an app for a web browser and then install the app inside that, but my phone would not take the app.
Poor wax delivery, as you have to scrape it off the tool, thus getting wax on the outside of the nail and on the rubber and the metal heating rod. Made a big mess and took about 20 min to  clean
Battery life is not great for more than 4 people, not a party rig.
Recommendations: [EDITOR's note:] Fix the button-tap issue for better user interface design. AUXO, PLEASE do not make users go through a hassle to sign up for an app.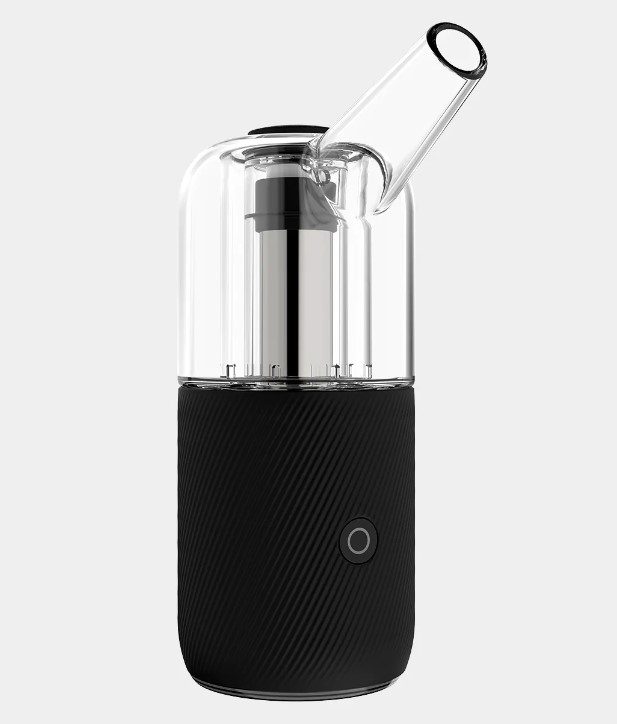 The box is full of parts
The first thing I note when opening up the box is that there are a lot of parts to it. I saw it had not only the charger cord but the adaptor. I opened the quick guide to review how to work this space-age rig. So I plug it in as instructed to charge for 90 Min. When I did this a green light show started to indicate it was charging.
Step 2 says to prep the device by removing the solid glass from the AUXO Cenote. It was removed smoothly, then I inserted the nail into the rubber ring as shown in the photo. I was not sure if the Nail was supposed to touch the bottom of the heating ring, but the rubber kept it from doing so. I  pressed on, next filling the water to the fill line. They have a sticker with that line; however, you have to remove it before you use it. A line or a mark on the glass would be helpful. Putting the glass back on was a cinch, and everything fit nicely.
Loading
Then I got to the loading bit, this is a messy task as you do not keep the rod in the nail while it's heated, so you have to use your finger to scrape it into the nail. Turning the Cenote on was simple, hold it for 3 seconds and it'll vibrate in your hand and light up. Step 6 is a little confusing as it shows the temp settings but not how to get them as the instruction just says one quick hit and gives it 28 seconds to heat up. While starting the heating process an array of red, orange, and yellow started to display as if it was on fire, very cool. When it was ready it turned a blue color and when you pull it changed to greens, reds, and purples. Very fun indeed.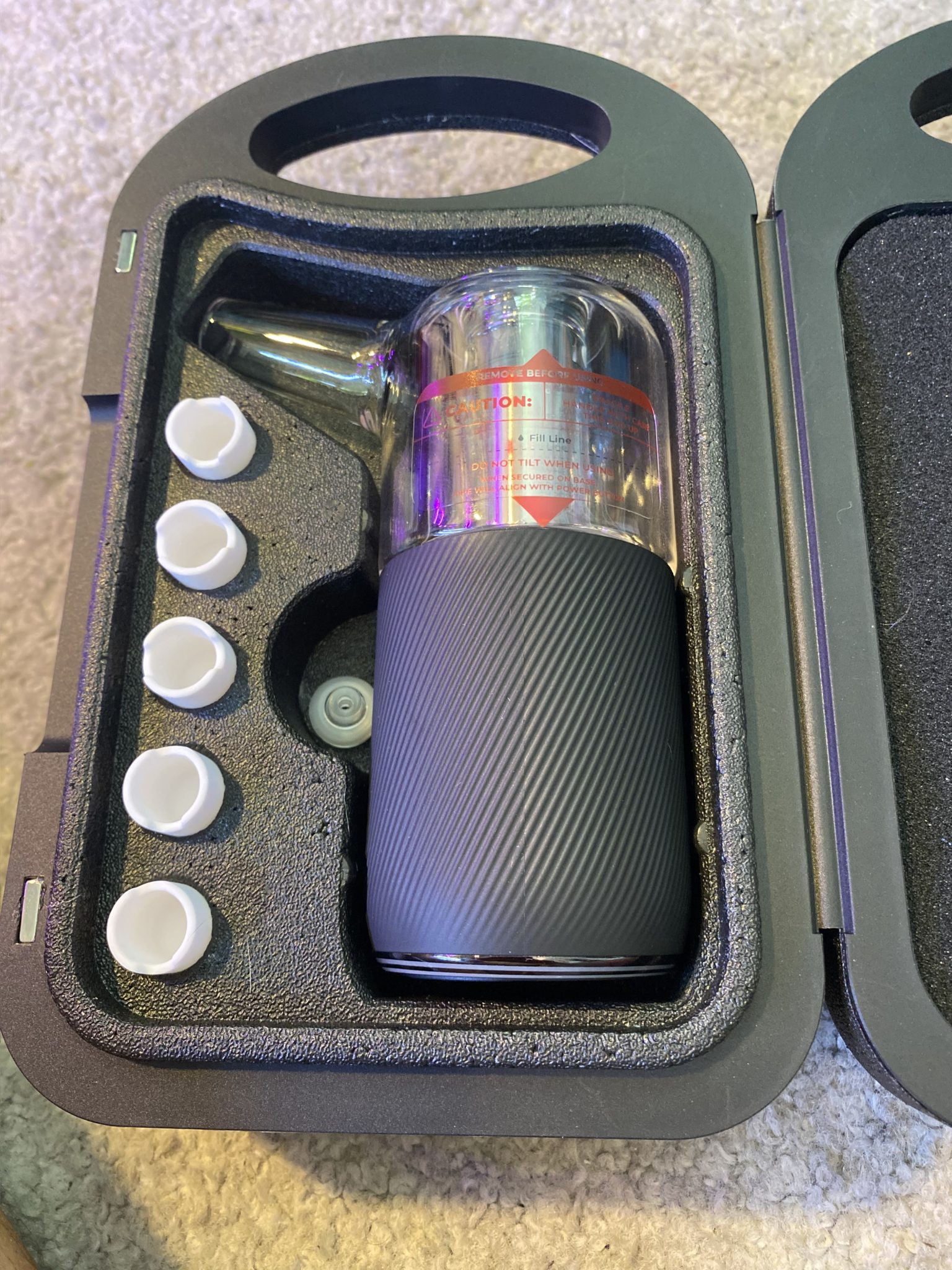 Battery lasts 4 sessions
After 4 sessions the battery was done. The device will stop working if it's too hot, and this is good, saves it from burning out. So I put the device back on the charger and cleaned the rest up for next time. After a few uses, the wax was all over the nail and the rubber bit inside and it would all stick to the glass when removed. It was a  pain getting it out of the glass, so I did not break it. Then as the wax was all over, I had to clean the nail, the rubber bit, and my hands. It was not a fun task and kinda disappointing as this $400 rig was going to replace my broken glass rig that is held together with duct tape.
But after a few uses and cleanings, it's a lot of trouble.  It's not for the daily user, more for the dad who just got into weed and thinks this will make his kids feel he's cool. This is something I'll pull out when we have guests, as it looks quite impressive. Regular use is not practical. It looks cool, however not good for groups over 4 as its battery will die and then you need to wait 2  hours for it to fully charge. Maybe make the battery charge off the base so you have more than one,  keeping the party going. 
This is great for portable dabbing and looking like the coolest person
I was so excited to review this fancy AUXO Cenote. Looking at the website and reading all of the features got me going. When it arrived, I went through the quick guide and found that to be mostly easy to understand. I'm still not clear on how to change the temp settings as it's a 50/50 shot whether you change the temp or start a session, as both are one press. So, I believe I tried all 3 temp settings.  
Its dazzling led light display is quite mesmerizing while it's heating up, very cool fire look of the lights as if something is burning. Fun that it turns blue to let you know it's ready to be pulled. Great to use in the dark with the fun light show.  
The hits were very flavorful and smooth. I think at one point I had it to the highest setting and that did make me cough, but that's what happens at higher settings. I found the battery lasted a good 5 sessions after about 2 hours. Then very abruptly the battery was dead. So, if you're on the go with this, make sure you have your car charger as you're only going to get 4 maybe 5 heat-ups. I understand things get hot, and that takes from the battery. Perhaps a quick-change battery, so you can have a few charged and ready for more friends to enjoy. Perfect for one or two people.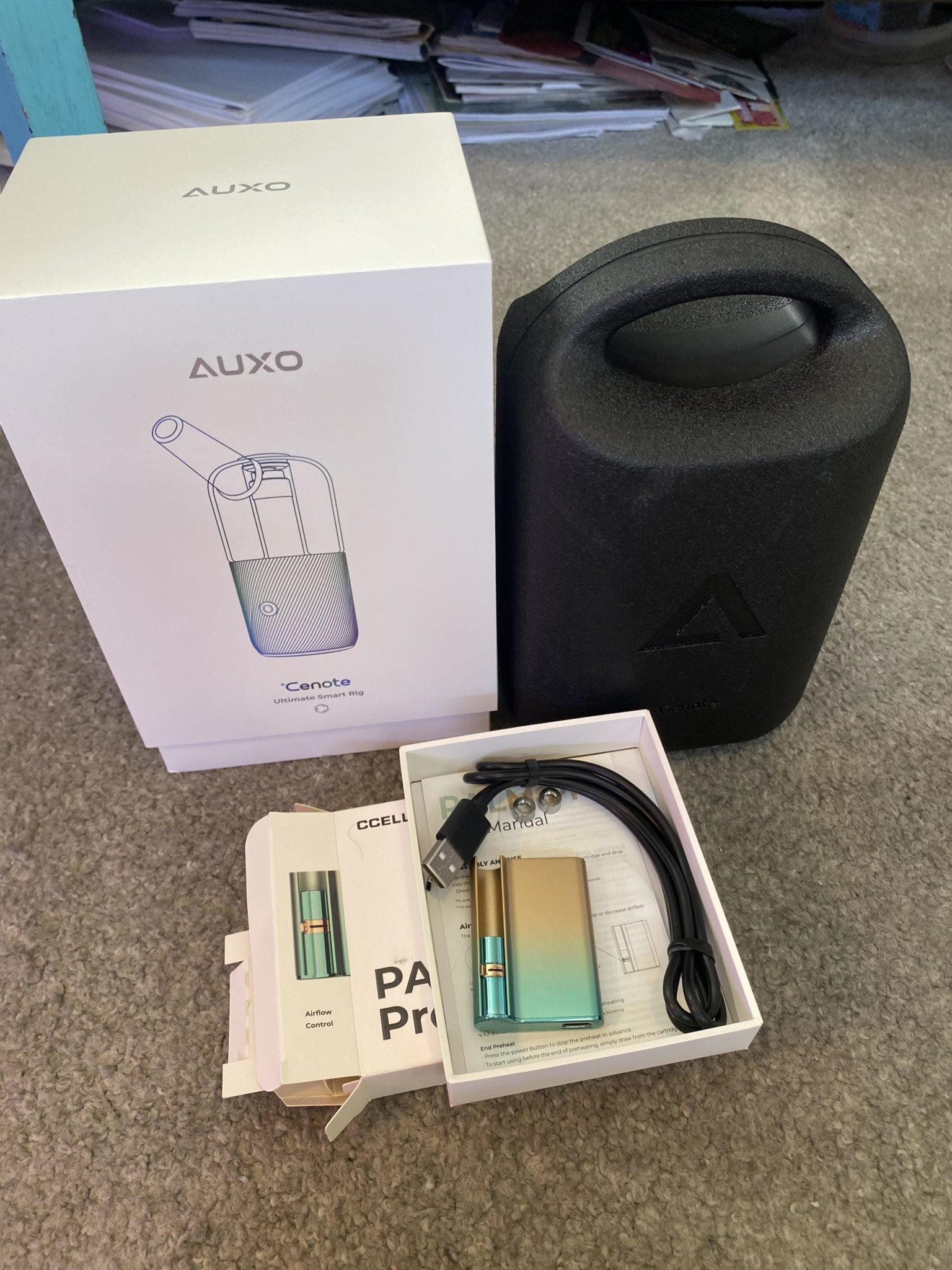 The use was FUN
Using this as its basic function is great. It looks cool and is fun to use with the lights. The pulls were smooth and plentiful when heated. I love the case and the extra nails and tools they give you. I'm going to add a toothpick for the electric nail, so I can. get the wax off more smoothly and try not to make such a mess when I take it apart. As for all the fancy light features, I could not make this work as I could not find the device in Bluetooth and 3 devices with the help of 5 people. Perhaps the app inside an app that I was instructed on was too glitchy or insecure for our apple products to work with it. Maybe clearer instructions for Bluetooth discovery. 
Value for the product, I'm not sure… 
If I had $400 in my pocket and was told to get a dab rig, this would not be what I choose. When I dab, I  just want to cleanly use my E-rod to run in my nail for taking a pull. It's cleaner and just a habit I have.  
I think that the use of this is great for the on-the-go. However, with its lights, you'll stand out and draw attention, so make sure you're out of sight.  
Its travel case is very high quality, the 5 nails make a nice piece too. I love the tweezers for changing the electric nail. I'm tempted to use it to get my wax off the rod, so I make less mess overall, but I think I'll just use a toothpick for future use as to not gum up the cool tweezers.  
I think that this product would be fun as something to show off, but as a practical rig for groups of over 3,  get out the glass rig and the heated nail so we can really have a session.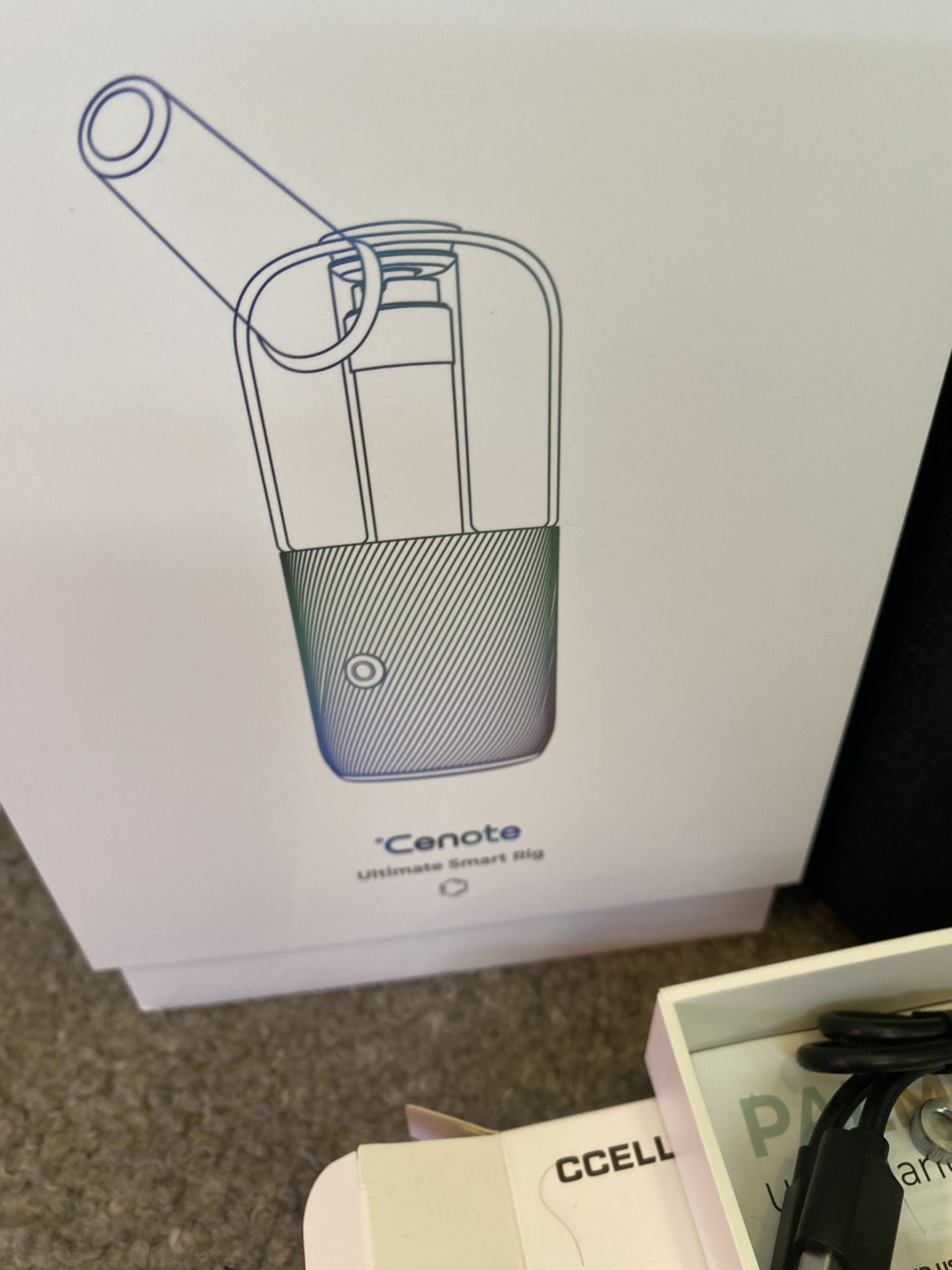 Will I be using AUXO Cenote again soon? 
I'll be keeping my cenote in its tidy little box unless I have A friend over and want to show off a little. It's fairly easy to use but is a pain to clean. I'd love to use the app if they get that working, and I'm really looking forward to more light shows.  
It's disappointing that it will not work while plugged in, but that may be some safety feature. I wish the battery would last longer too, we had the neighbors over and we barely each got a turn before the battery went dead.  
Everyone loved the lights and the show it puts on, but that may be at the expense of users. I also find that individually wrapped cotton swabs are unnecessary. The plastic waste is too much. Everyone I know has q-tips at home.  
Temp settings are hard to achieve too as "short press" and "one press" are basically the same. 50% of the time, I'd get it to move temps and the other 50% of the time I'd have a session start. I'd suggest this be changed to make it easier on stoners.  
I do love the fact that it has an overheating mode that will shut it down, as when you're high you may forget it's too hot. In my use, the only warning blink I received was that the device was out of battery and then it shut down. I never got to see the Nail error light, so I must have installed it right. It also has a nice way of showing the battery strength with a 3-tap on the power button. Takes a bit to understand the color changes, but that is not a big deal to me.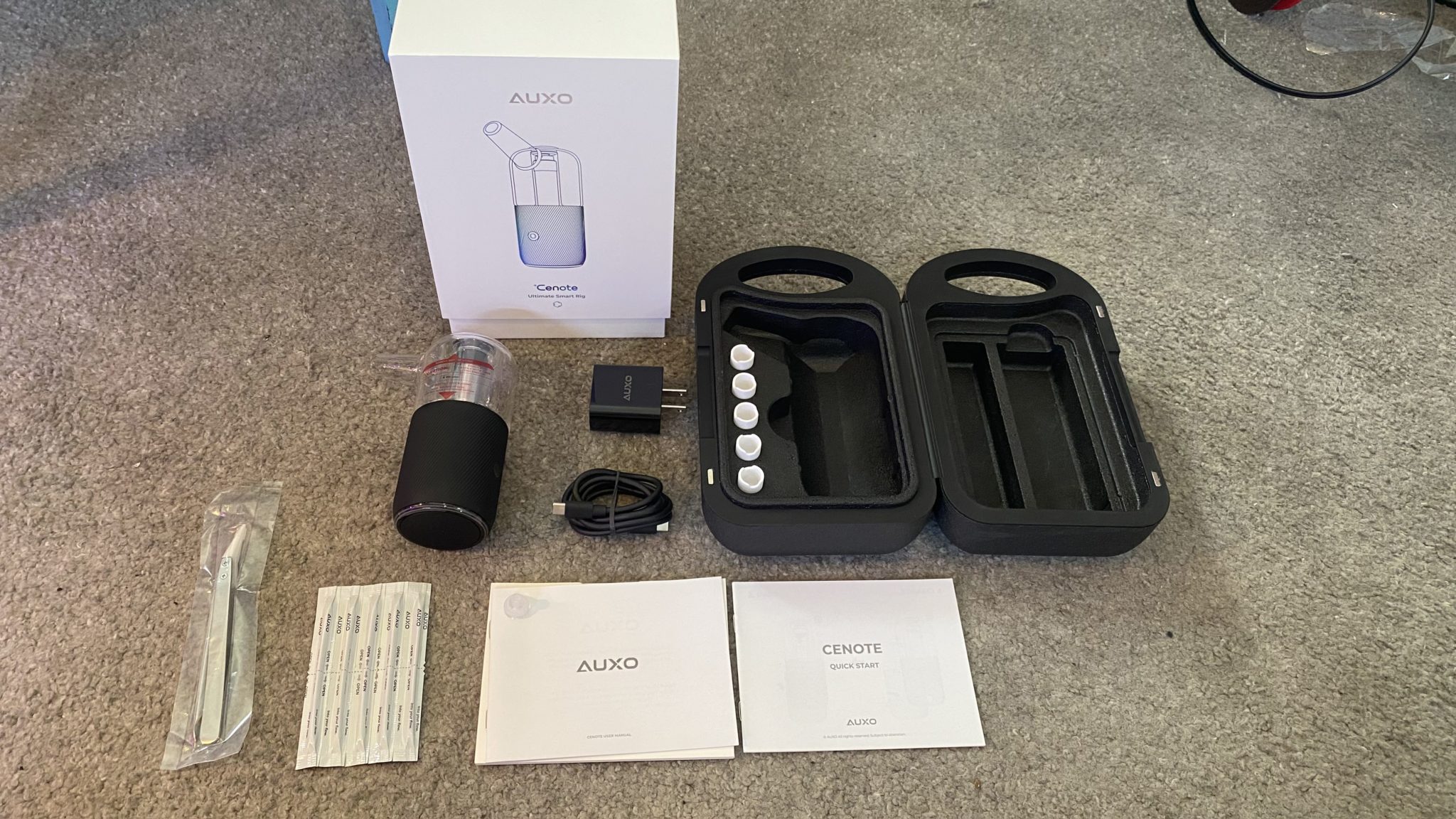 In the Box: 
Travel case made of soft rubber 

Cenote base 

Glass recycler 

5x ceramic nail 

Ceramic tipped tweezers 

Type C charging cable 

20W charging Adaptor 

Nozzle (mouthpiece) 

5x individually wrapped cotton swabs

(very unnecessary)

 Carb cap 

2x Silicone rod seat

(mine was missing one) 

Loading tool 

Quick start guide

(easy to use) 

User Manual 
Final Thoughts 
I think above all this is a cool idea. I love the travel case and the idea of on-the-go dabbing. But the battery is not going to last for too long. The Case has space for my wax, very nice. I'd like to suggest that maybe you provide a small bottle that holds just the right amount of water, as you need to dump it before putting it into the case.  
Get the app working. The app listed on the box was not to be found in the app store. When I  reached out about this, I was told the app had been pulled for some reason. They then provided some not-so-clear instructions to get a browser and then run the app through that. My phone's security did not like the app and would let me use it. So, I never got to use 'pro-mode' or check the battery or anything else the app does. We are talking about folks who are stoned and have short attention spans, too many instructions create room for errors.  
I'd give this product 4 stars out of 5. Fix the temp change mode and make the app simple and  I'll give 4.5 out of 5. Add the water bottle and remove the plastic-wrapped cotton swabs and 5  stars!
You can find out more about AUXO Cenote here.
Have you tried the AUXO Cenote? Let us know in the comments or on our forum.