REVIEW OVERVIEW

SUMMARY
The dry herb vape market in the US is saturated! I mention that it seems, every other dry herb vape review. Dry herb vapes are also not that hard to get right, so we're spoiled for choice. Thus, even a trusted name like Tronian can launch a dry herb vape and go almost unnoticed. The Tronian Milatron sells for $109.99 on their site, which puts it in the upper mid-range on the dry herb vape scale. With that said, it has a nice set of features and gets the job done.
See our combo video review of the Tronian Milatron and the Nutron cartridge battery here.
Pros:
Nice screen display
Exact temperature setting (no presets)
Timer setting
Large oven chamber
Fast heating
Quality build
Hand friendly
Cons:
Not much to stand out from the rest of this market
A tiny bit bulkier than some models
Recommendations: As thorough as the documentation is, I find no listed capacity of the oven.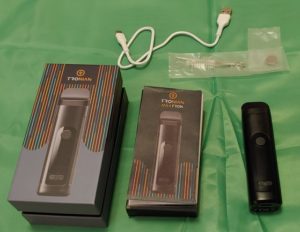 The Tronian Milatron is all you'd likely ask of a vaporizer
We've reviewed Tronian products before, but so far that's been three of their line of vape cartridge batteries. The Milatron is a newly launched vaporizer, but coming into the game this late has advantages where you can study the existing market and see what works and what doesn't. It is clear that Tronian did their homework!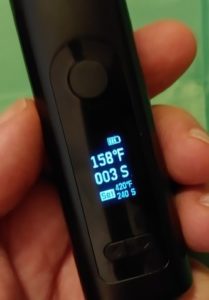 The distinguishing feature of the Milatron is its screen, a detailed read-out showing temperature, time, charge, and other stats. There's three buttons for control; a power button and two arrows for adjusting temperature and timer setting.

The other thing that impresses me is the exhaustive manual. Tronian is one of those companies marketing cannabis accessories without ever saying the word "cannabis," so the manual acts like this are for vaping essential oils. This includes a handy chart for vaping thyme, sage, chamomile, and even catnip! So if you take it into your head to vape your spice rack for whatever reason, hey, you're covered.
I forget to mention it in the video, but we always do a dry fire (pyrolysis) with a new vape, where you heat it up empty and let it run for a minute to disperse any potential residues left over from manufacturing. Standard for any electronic vape.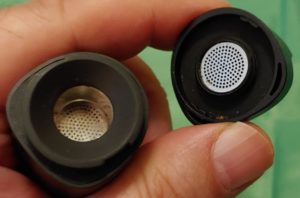 Features of the Milatron
Power on with the power button, pressed 5x for on/off. The arrow buttons can increment / decrement the target temperature (default) or the timer (whose mode is entered by holding the power button for a sec). If you hold the power button plus the "-" button, that toggles the temperature units between Fahrenheit and Celsius. Hold the power button and the "+" button to change the screen orientation, flipping it so it faces the mouthpiece.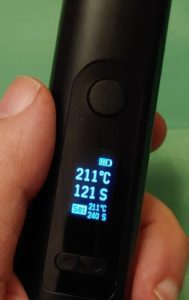 When you have the unit activated, it will start heating to the target temperature and buzz the haptic feedback when it's ready. Then the timer begins. Vape away and it will automatically shut off when the time limit is reached.
The Milatron comes with standard parts – a replacement screen, a cleaning brush, and poker tool, and a USB charge cable. Basic stuff for a vape. The top twists on and off, so that's a point in its favor for having a secure mouthpiece.
The Tronian Milatron is in the mid-range for dry herb vapes
Comparable dry herb vapes to the Milatron include:
As you can see, the Milatron is slightly less pricey than its competitors, but otherwise, it's tough to recommend any of these over the others (except for my beloved Vexil, still my favorite).
Don't get me wrong, the Milatron is good at what it does, and I'd give it at least a qualified recommendation. The Milatron has great airflow and flavor, and also claims to be more economical with its material (pointing to the exact temperature and timer controls as being less wasteful). It is attractively designed and feels solid in the hand, while also being palm-friendly.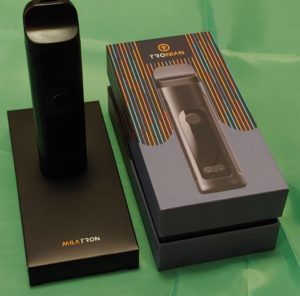 You might as well get a Milatron!
Since we're so spoiled for choice in the herbal vaporizer market, you could almost walk into any dispensary and go "eenie meenie miney moe." If you get the Milatron, I'm sure that you will be just as happy with it as with most of the dry herb vapes in its price range. It is one of the few with a full-screen read-out, as opposed to having to interpret the blinking colored LEDs on most models. It's also nice to have exact temperature control without presets. It's a solid and attractive piece.
Get the Tronian Milatron here. Readers, do we have to keep going until we have reviewed every dry herb vape ever made, and will we ever run out? Toss in your two cents here or in the forums – and have a Merry Christmas!