REVIEW OVERVIEW

SUMMARY
Constant readers may be familiar with the fact that we already reviewed the Zeus Arc GT vaporizer a while ago, and had good things to say about it. So why go over it again? Because that was the 2nd generation; this is the 3rd generation of the Zeus Arc dry herb vaporizer and lucky us, we get to review the complete Zeus Arc GTS Hub Kit.
This is a super-deluxe weed work station! No extravagance has been spared here, it even has gold-plated components. You get a grinder that doubles as a pod-filling system, a set of refillable pods, and the Zeus Arc itself, plus a generous selection of accessories, for a reasonable price just shy of $250.
Pros:
Quality build
Complete one-stop kit
Customizable and feature-packed
The only dry herb vape pod system you will ever need
Cons:
Why are the pods so tiny?
Why is the grinder so huge?
May be overkill for casual users
Recommendations: None off the top, but I have to wonder how broad the market for this product is.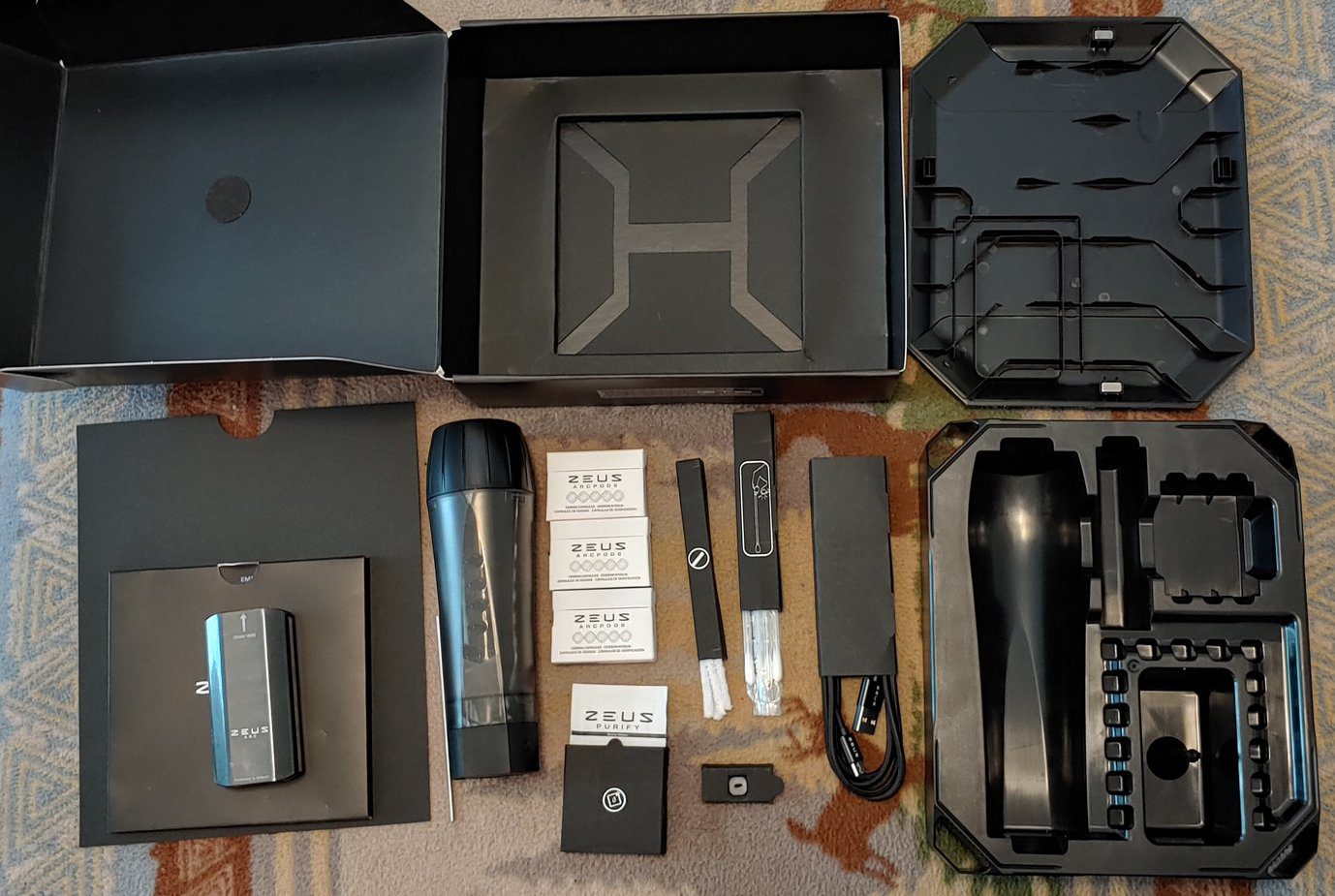 This is One Heavy Box!
The Zeus Arc GTS Hub Kit package is a hefty box loaded with accessories:
The Zeus Arc GTS dry herb vape (gold packing tool attached)
USB cable
glass spacer screen
pipe cleaners
Qtips
alcohol wipes
a poker tool
XTruder
15 ArcPods + lids
The Hub itself – doubles as a tray for storing and cleaning out pods
Complete documentation in four languages
This is a complete system designed to take in full flower plant matter and convert it into 15 pods plus a vaporizer to enjoy them with. Ideally, you keep the Hub Kit at home and use this workstation to fill pods, then take your charged-up vape + a pocketful of pods and skip out the door on your merry adventures.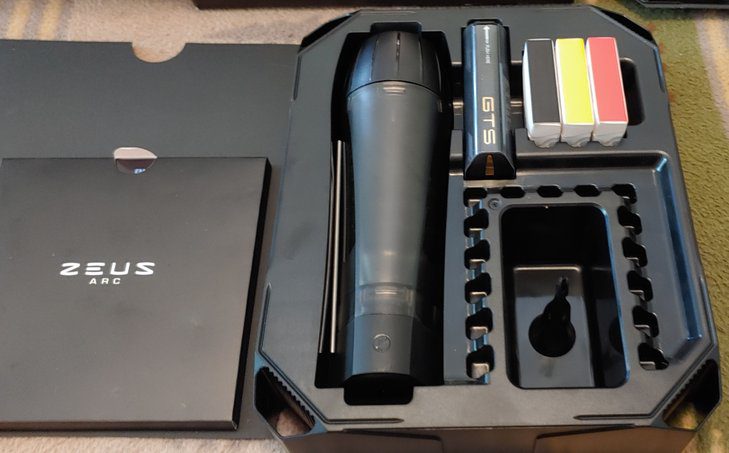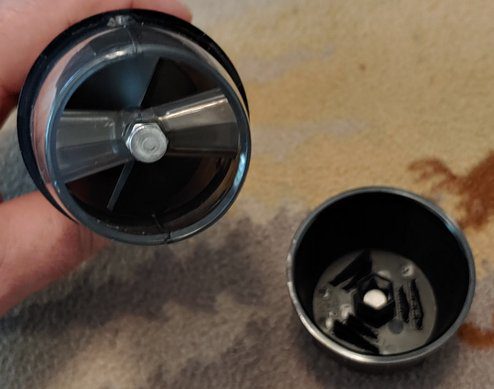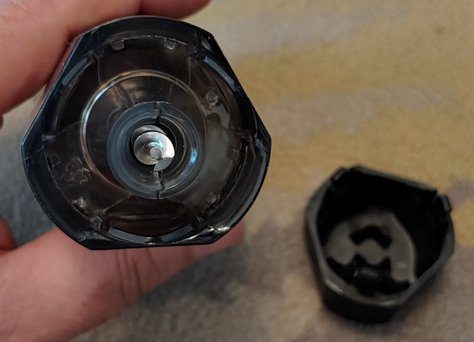 The XTruder System
This is a gigantic grinder / pod-packer in one. You load an empty pod sans lid in the bottom, load your herb in the top, and grind away. When the pod is filled, the bottom compartment automatically pops out. You can then switch pods and continue grinding, for as many pods as you want to fill.
See the XTruder tutorial video on TVape's own channel for a demo.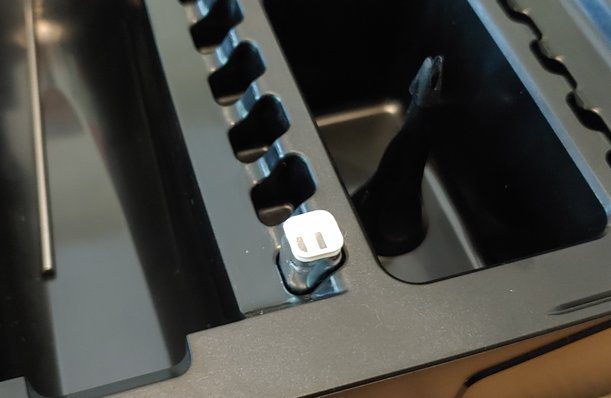 The tray itself is part of the system. You have slots to seat the filled pods, and a deep tray with a prong in the middle for cleaning your vaped herb out of the pods.
So, let's go over some advantages we have over other dry herb vapes here:
Pods are cleaner, extending the life of the vape
Pods allow for tightly controlled doses for medical / therapy use
Multiple pods let you switch out to use a different strain easily
I think that is probably the target market for the Zeus Arc GTS Hub Kit: Medical users. You'd want a specific set quantity per dosing capsule.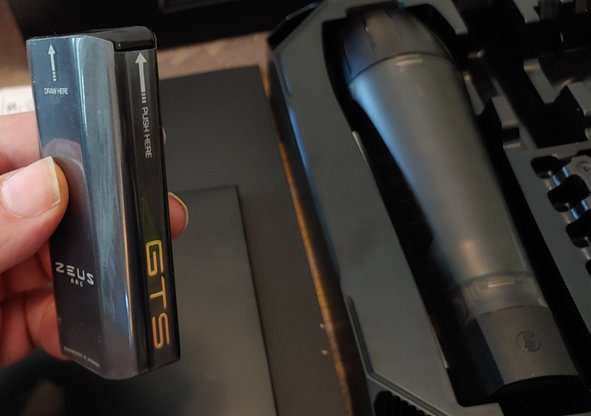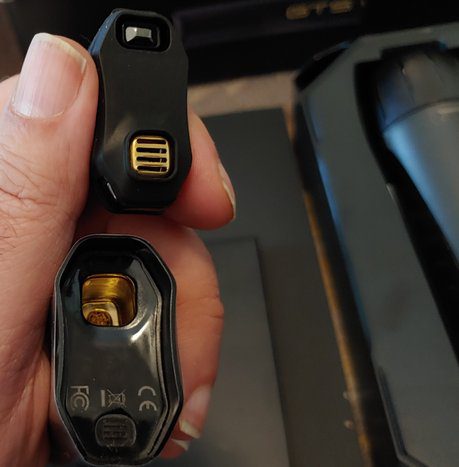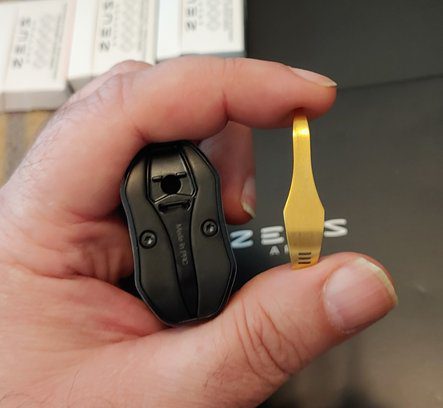 Don't Forget the Zeus Arc GTS Vaporizer
Even when we reviewed the Zeus Arc GT vaporizer a couple years back, we had next to no complaints. The Zeus Arc GTS carries over the same quality build and great vape experience with very little changes. The operation is very simple.
long-press to activate the unit
1x click to switch between 3 power levels
shake the unit twice to display charge level
draw on demand
auto-shutoff when sitting still for 30 seconds
If perhaps you feel constrained by this rigid system, you can still just load plain old weed into the vape oven without a pod and vape it anyway. Albeit, if you're going to do that, you're better off just getting a vape by itself. As I say every time, we are spoiled rotten for choice in the dry herb vape market.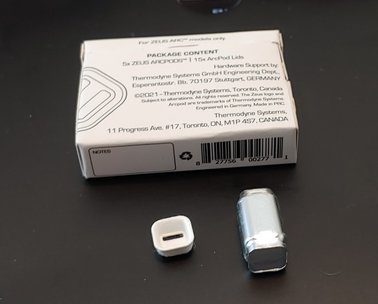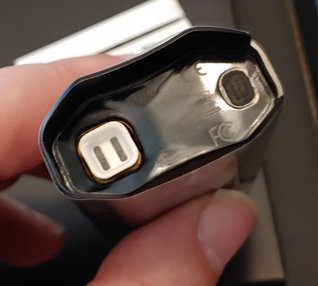 My Biggest Issue: The Tiny Pods
On the site, the specs say that these pods each hold 0.3 grams of material. I am skeptical of that claim, unless the XTruder packs these very tightly. Compare the oven chamber on the Boundless CFC Lite; it's 0.4 grams, and you can see where at least two ArcPods would fit in there.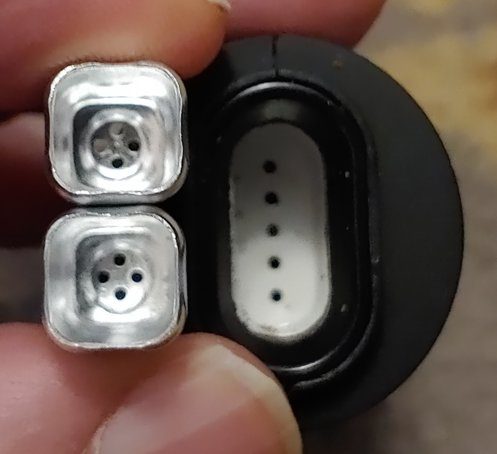 In any case, these pods look like 1-hitters. Which is fine for those who want that, but heavier users, recreational users, or simply people who like more than one puff between repacking rounds, will want a bigger capacity. Now that could be just me; we generally smoke our weight in ganja around here, so my tolerance is through the roof.
One other small issue I have is with the XTruder, which is huge and bulky, but also not transparent. So you load nugs in the top and screw extruded pods out the bottom, but what about material stuck in the middle? You can't really see into the mysterious bowels of the XTruder, so if you have weed left in there, it's anybody's guess.
The Zeus Arc GTS Hub Kit is Right For Devoted Pod Users
Grinding weed into 15 pods is a lot of commitment for vaping a total of (claimed volume) 6 grams of weed. You don't get this kit as your first vape. You get this kit when you want a system that works exactly like this and no other. So, "for people who like this sort of thing, this will be the sort of thing they like." It is ideal for those who want to ensure a consistent measured dose every time.
This system has certainly had some intense thought and design put into it, so I'll have to give them that much credit. For the price of $239, it's a ton of bang for the buck. Find the Zeus Arc GTS Hub Kit system here. Readers, tell us your pod preferences and Zeus stories here in the comments or in our secluded forum.