REVIEW OVERVIEW

SUMMARY
We're going to be trying out several products by Boundless, specifically their hardware. Boundless makes what you and I would call "cannabis vaporizers," but what they are currently referring to as "herbal aromatherapy devices." There's something back there about the randomly applied federal mail vape ban and its complete SNAFU of implementation – some vendors closed shop, some applied for the badly backlogged exception status, and some companies simply switched to saying, "hey, we only sell aromatherapy devices!" Who said anything about vapes?
So… we will be enjoying some therapeutic aromatherapy with our favorite herb.
View our video review and demo of the CFC Lite.
Pros:
Very affordable
Replaceable battery
Compact and discreet
Comfortable grip
Comprehensive manual
Cons:
Decent airflow but not the tops
Mouthpiece gets very hot
Recommendations: Extended mouthpiece / accessories to guard against overheating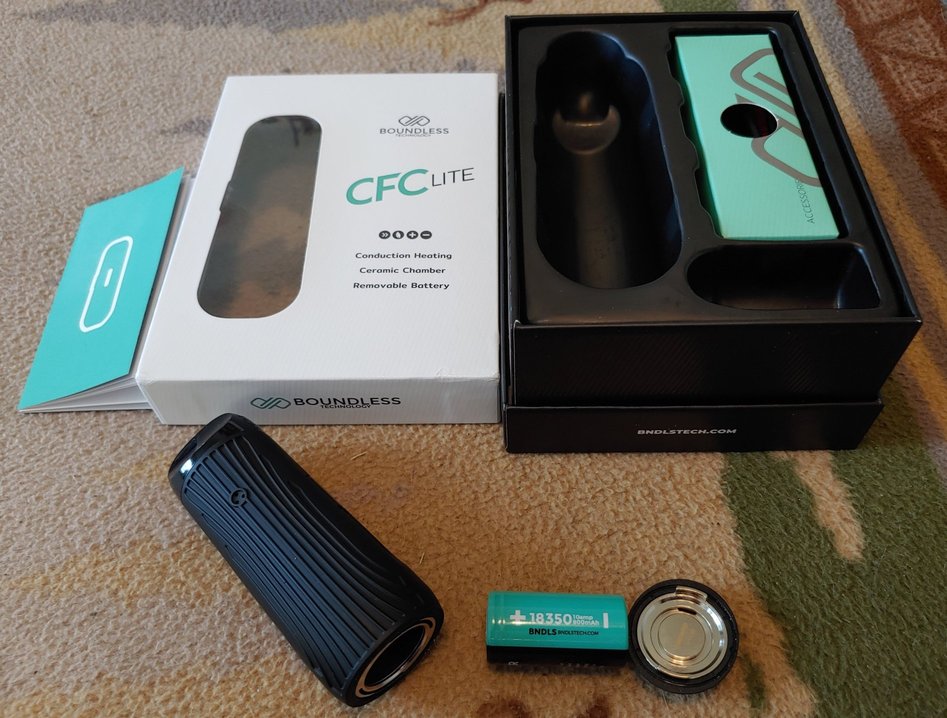 The Boundless CFC Lite is a Minimalist Vaporizer
When it comes to stand-alone dry herb vapes, this is among the most compact designs we've ever seen. We've seen smaller cartridge batteries, but not a smaller vaporizer. The Boundless CFC Lite has an efficient, minimalist design, weighing a little over 9 ounces. But maybe it has a few kinks to work out before calling it a perfect design.
Unpacking to First Hit:
First you unscrew the bottom lid to access the battery chamber and insert the provided battery, positive side inward. Secure the cap on the bottom and pop off the mouthpiece at the top, revealing a small ceramic chamber. As the instructions recommend, pack this chamber with 0.4 grams of your finely ground herb.
Then it takes 5 clicks of the button to turn it on. The LED will blink while it is heating up and go steady when it's at full temperature, along with a haptic vibration. Pressing and holding the button for a second switches to cycle through the temperature settings. The temps are:
blue:

385°F

green:

403°F

red:

421°F
After that, it's in "inhale on demand" mode. There is no auto-off time-out that I can find, so leaving the unit turned on and loaded is not advised. The middle setting provides the best heat balance that I've tried for vaping dry herb.
The unit is padded with a rubber lined grip coating, very easy to handle. The Boundless CFC Lite has many strong points.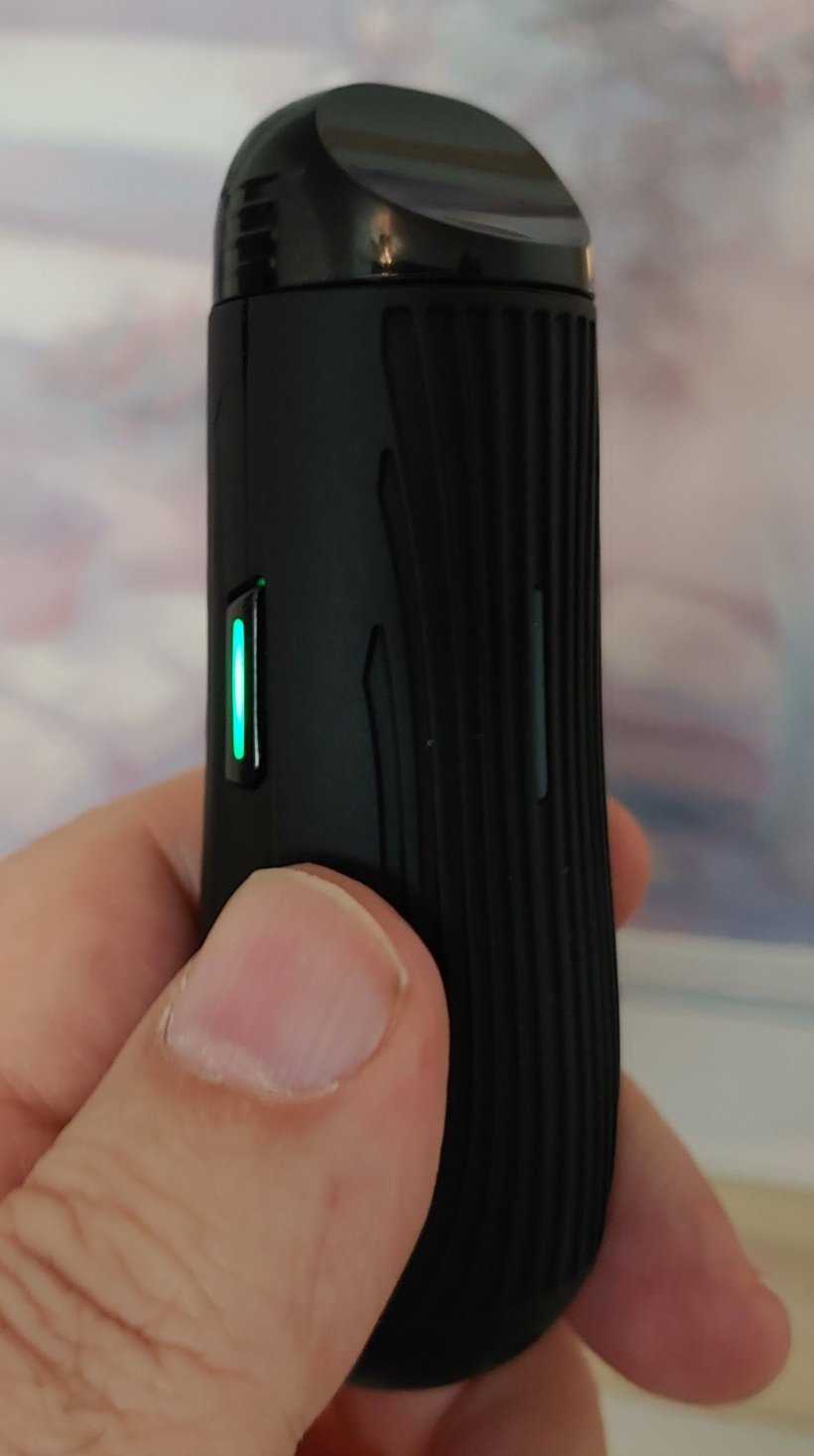 The Mouthpiece is the Only Issue
The mouthpiece to the CFC Lite is a blunt bit of plastic with passable, but restricted, airflow. The chief issue here is that it heats up. Since the heating element + herb chamber is right there at the top, it stands to reason that some heat would transfer to the mouthpiece. This doesn't quite get you into "hot lips" territory, but at high settings for too long it starts getting uncomfortable.
With that said, this unit is almost a sneak-a-toke, designed for short sessions where heating up won't be a major issue. But it would still get some mileage out of improvements to the mouthpiece.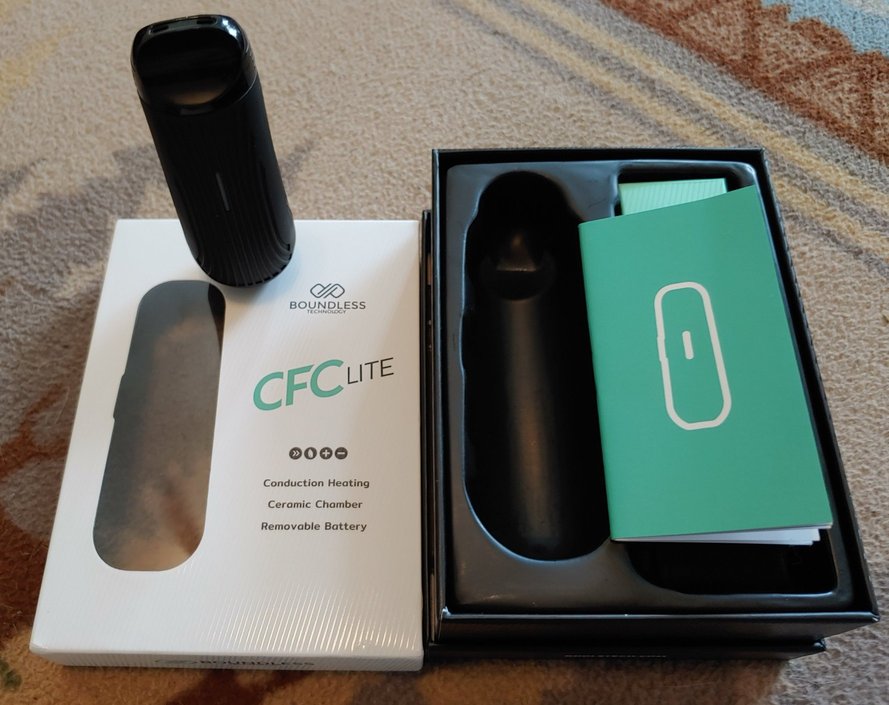 An Economical No-Frills Vape
The CFC Lite currently sells on the site for a mere $64.99. This casts the rest of this review in a new light, because that is the cheapest dry herb vape I have seen yet and possibly the cheapest anywhere. So if you're a budget-conscious vaper, this is the unit for you!
On the whole, I'm moderately impressed. There are more expensive cartridge batteries out there, and the CFC Lite does its job without much fuss. The replaceable battery makes this even more of a bargain; when the battery gives out, you can just buy a replacement battery and keep the unit for further service. The mouthpiece issue is certainly an easy enough fix, but even there the CFC Lite is still enjoyable.
Readers, what are your thoughts on the CFC Lite and Boundless – ahem – aromatherapy devices? Share your vibes in the comments below or in our vape-clouded forum.