REVIEW OVERVIEW

SUMMARY
Today we will take a look at Wild Orchard Co., specifically at their Delta 9 The Weekender Pack. Includes an 8 pack of each of their best-selling gummies, peach rings, watermelon apple rings, and taffy. Wild Orchard Co. products are made and manufactured in the USA and use ISO-Certified Lab facilities that are Current Good Manufacturing Practices certified. 
Pros:
Tastes Amazing
Easy to accurately dose
Convenient and easy to order
Cons:
I just wish they had higher THC available, but I understand why
Recommendations: None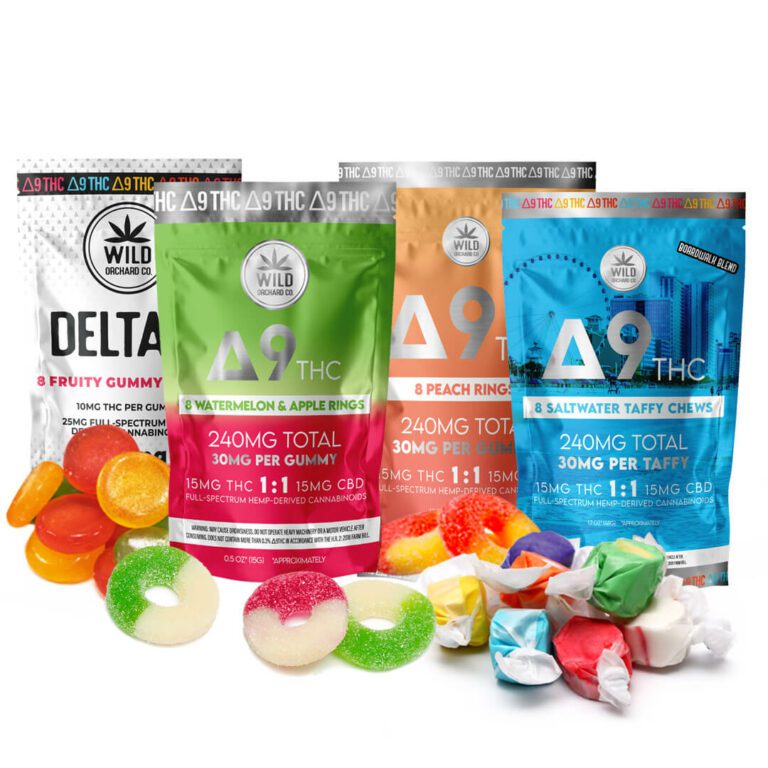 Some of the best Delta 9 THC Edibles out there!
These are some of the best Delta 9 THC edibles that I have had outside of a medical dispensary, hands down.  The peach rings taste amazing and so do the apple and watermelon CBD/THC rings, and the taffy tastes just like the stuff I remember getting from vacations to Daytona Beach as a kid.

Relaxing effects last for hours
I found that eating a few of each kind helps me feel relaxed for a few hours, and the flavor is amazing too.  I can't recommend these edibles enough. The edibles contain <.3% Δ9.
Lab tests of all edibles:
Who would enjoy this?
I think anyone who enjoys cannabis would like this Wild Orchard Weekend Package!  They taste awesome and have great effects.  The peach rings taste just like any candy from the store, and so do the taffies and other gummies! The retail price of this 4-bag pack is $79.96.

Editor's Note: Standard edible disclaimer.
Penguin Pete here, where I like to interject that edibles need to be approached cautiously. Keep in mind that everyone is different; some people might metabolize THC at different rates. Other variables affecting edibles' potency include co-effects with other substances, your body mass index, age, tolerance, whether or not you've donated blood recently, and so on.
While we Dab Connection staff reviewers have sky-high tolerance, YMMV. But generally I notice that 30MG D9THC is a bit on the potent end for edibles, going by the average range of edible products we see. So one is fine, but be careful taking 3 of them like you would 10MG delta 8 gummies, y'know? Enjoy safely!
We now return you to the conclusion of Richie's review.
Concluding this review
Wild Orchard Co. Delta 9 The Weekender Pack tastes great. It's easy to dose it accurately and easy to order.
You can find out more about Wild Orchard Co. products here.
Have you tried Wild Orchard Co. Delta 9 The Weekender Pack? Let us know in the comments or on our forum.