REVIEW OVERVIEW

SUMMARY
Today we will take a look at the Waxmaid Quick Hit Silicone Dugout. Waxmaid is known for its smoking rigs and accessories built primarily out of silicone and glass. Waxmaid currently offers flower pipes, water pipes, reclaim/ash catchers, nectar collectors, grinders, and other dabbing accessories. Currently, the Waxmaid Quick Hit Silicone Dugout runs for $17.99 but the full retail price is $24.99 on their website. We will detail our experience objectively as always in our non-affiliate reviews. For this review, we will try the Waxmaid Quick Hit Silicone Dugout and see if it's worth the purchase.
Pros:
Compact and discreet size
Strong titanium build
Ceramic mouthpiece
Won't break easily
Lightweight and waterproof
Cons:
Recommendations: It would be great if the cleaning brush was included inside the kit along with the one-hitter, instead of separate from the kit.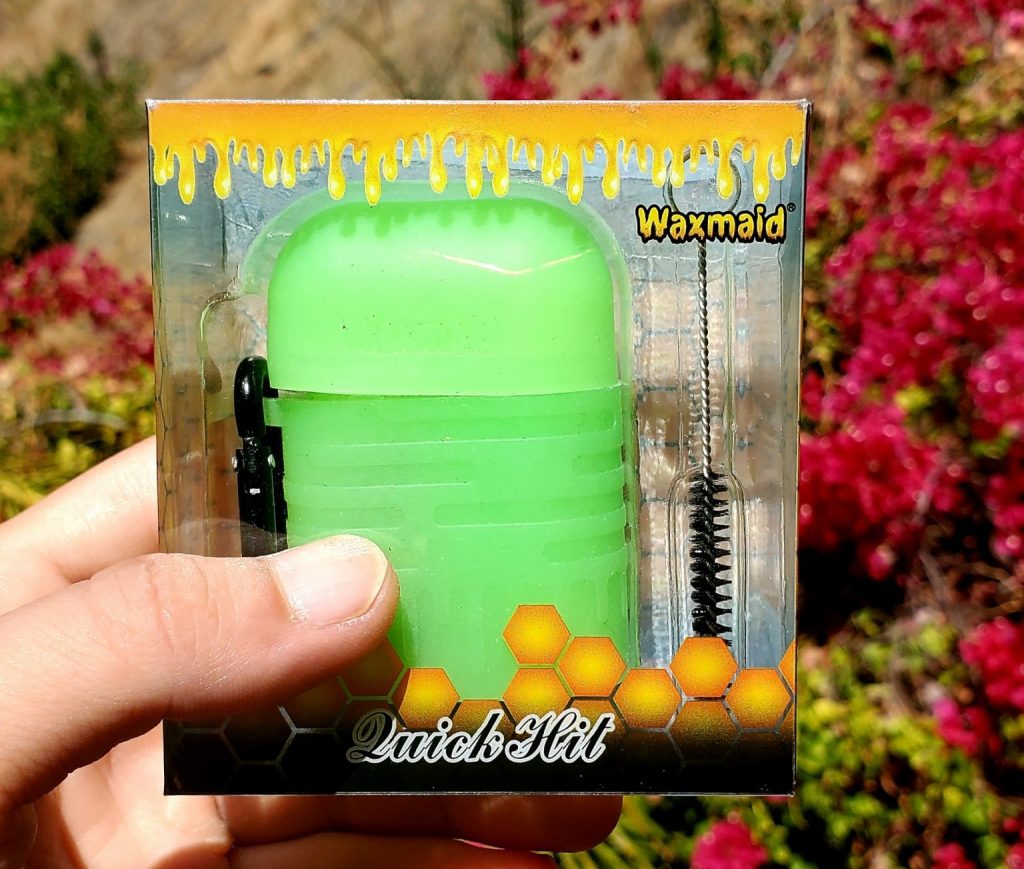 Pocket-sized silicone dugout
The Waxmaid Quick Hit Silicone Dugout is a waterproof pocket-sized one-hitter silicone dugout designed to look like an airpod kit. Inside the kit, the cartridge-looking one-hitter has a smooth ceramic mouthpiece with a strong titanium build. So you don't have to worry about breaking it or dropping it, like other glass one-hitter pipes. The silicone dugout also has a small nifty compartment to hold your ground herb in a compact glow in the dark green container that might be useful when stumbling in the dark and looking for your keys. (Although a glow in the dark green wouldn't be discreet in a movie theater.)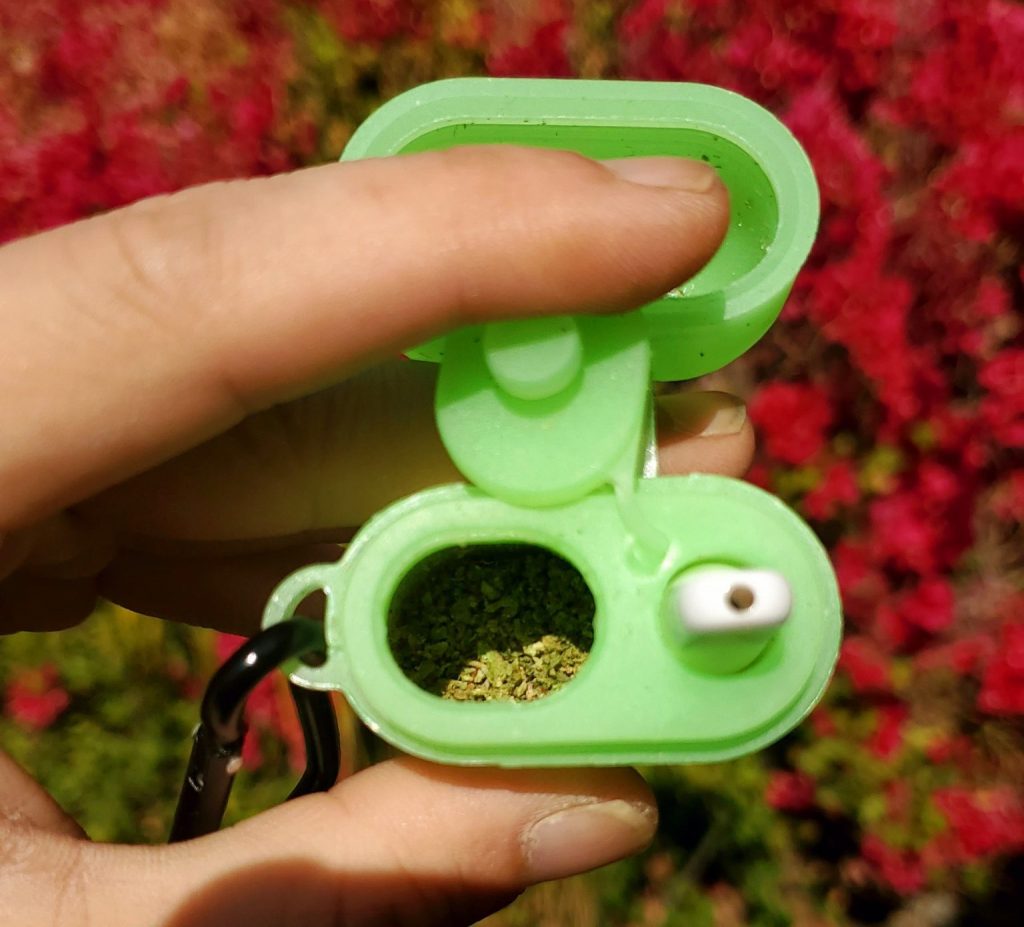 Small and lightweight
In addition, they include a thin flexible nylon cleaning brush with thick bristles for quick removal of smoked herbs. Furthermore, you can carry around with an actual 510 threaded cartridge along with some ground herbs. The herb tasted surprisingly smooth with this one-hitter and the ground herb burned evenly throughout the titanium bowl.
Compared to other one-hitter dugouts, it's definitely smaller and more lightweight than, say, the Inhalco wooden one-hitter dugout. However, the Inhalco wooden one-hitter dugout had a sturdier yet slightly bulkier build than the Waxmaid dugout. This silicone dugout is more conveniently sized as it's especially perfect to take to the beach, camping, or hiking outdoors since it's very portable, lightweight, and waterproof.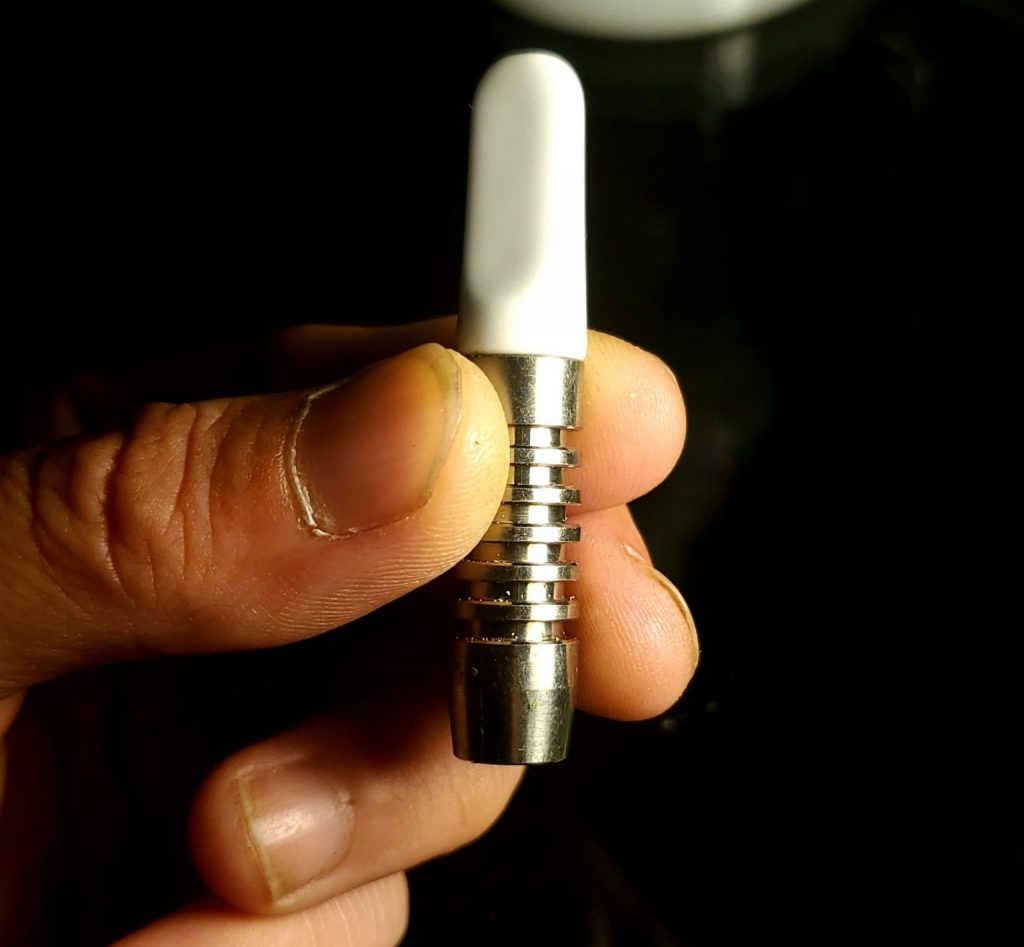 Concluding our review
In conclusion, we would recommend this travel-friendly accessory as a solid yet inexpensive summer gift for the discreet user who occasionally enjoys smoking herbs. Its one-hitter that is compact and discreet, has a strong titanium build and a smooth ceramic mouthpiece. Additionally, it is also available in rasta, red and black, and pink and creme. The Waxmaid Quick Hit Silicone Dugout is currently available for $17.99 here.
Have you tried this interesting Waxmaid Dugout? Let us know what you think in the comments or on our forum.