REVIEW OVERVIEW

SUMMARY
Edible cookies are always a dangerous game for me. Mostly because chocolate chip cookies are my all-time favorite thing to eat, and it takes a lot of restraint not to just gobble the whole edible.
You can check out our video review of these TRE House cookies here.
Pros:
Super potent
No, really, very potent
Tastes great
Great value
Cons:
Recommendations: None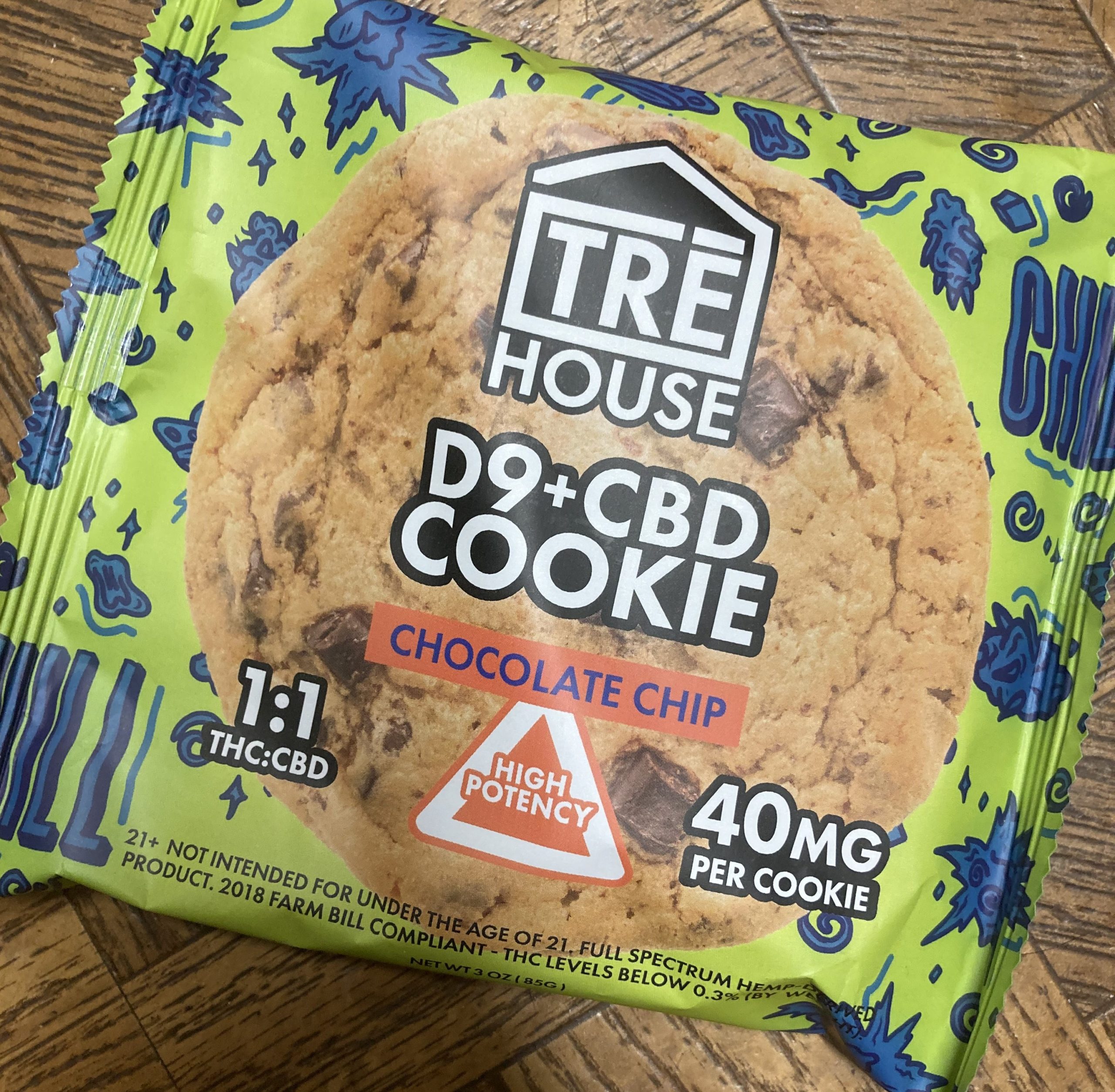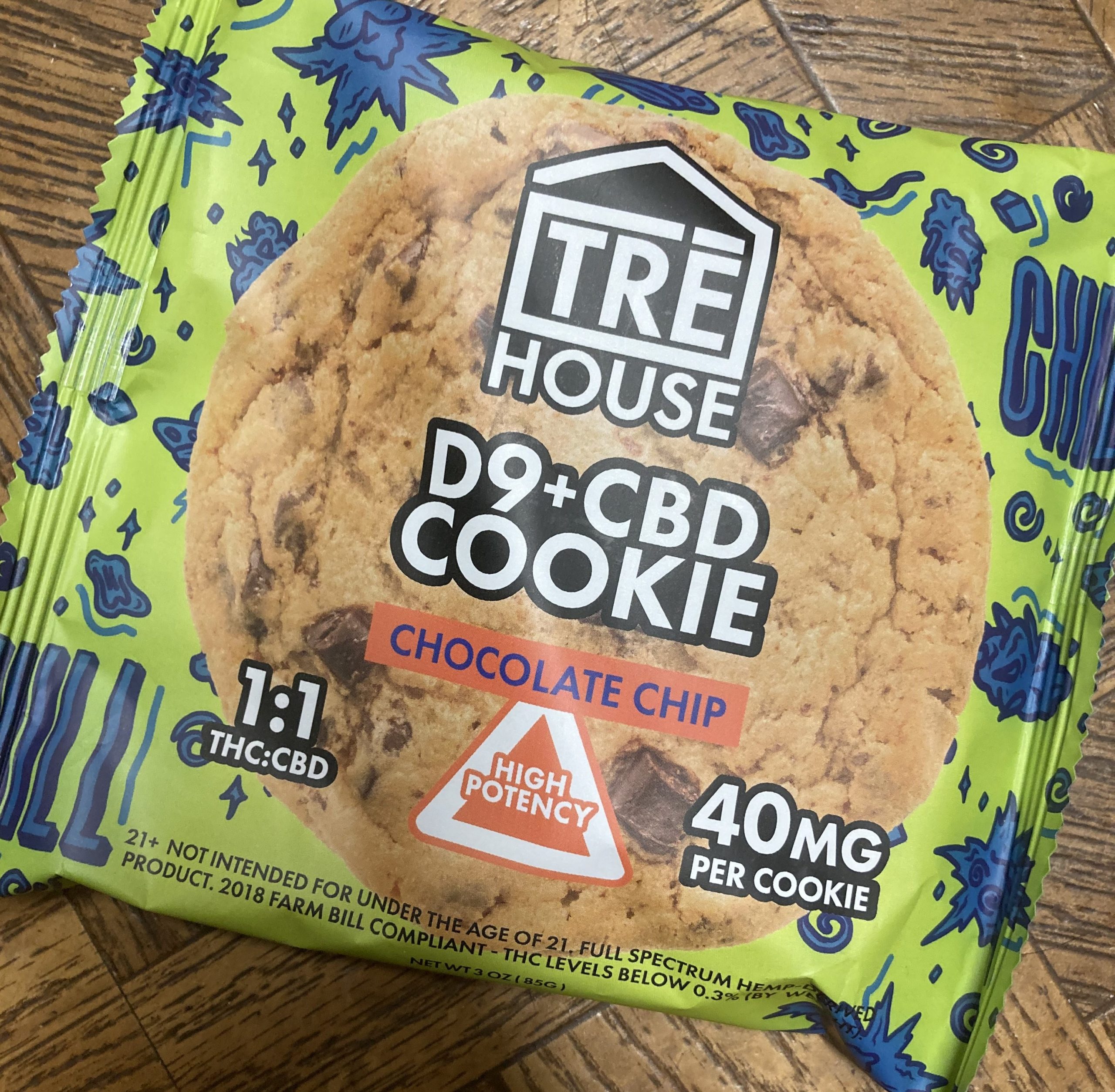 Great value 
For this review, Ethereal Gold Dispensary sent me a Tre House D9 + CBD Cookie. Luckily, I was able to restrain myself so I didn't end up buzzing into the stratosphere. I started off with a quarter than an hour later I ate another quarter and boy oh boy did I feel it! This is a great-tasting cookie, and it's definitely high in potency. Also, it's only $9.99 at Ethereal Gold Dispensary, which is a great value.  And, we've got 10s across the board! Let's do a deeper dive into this review.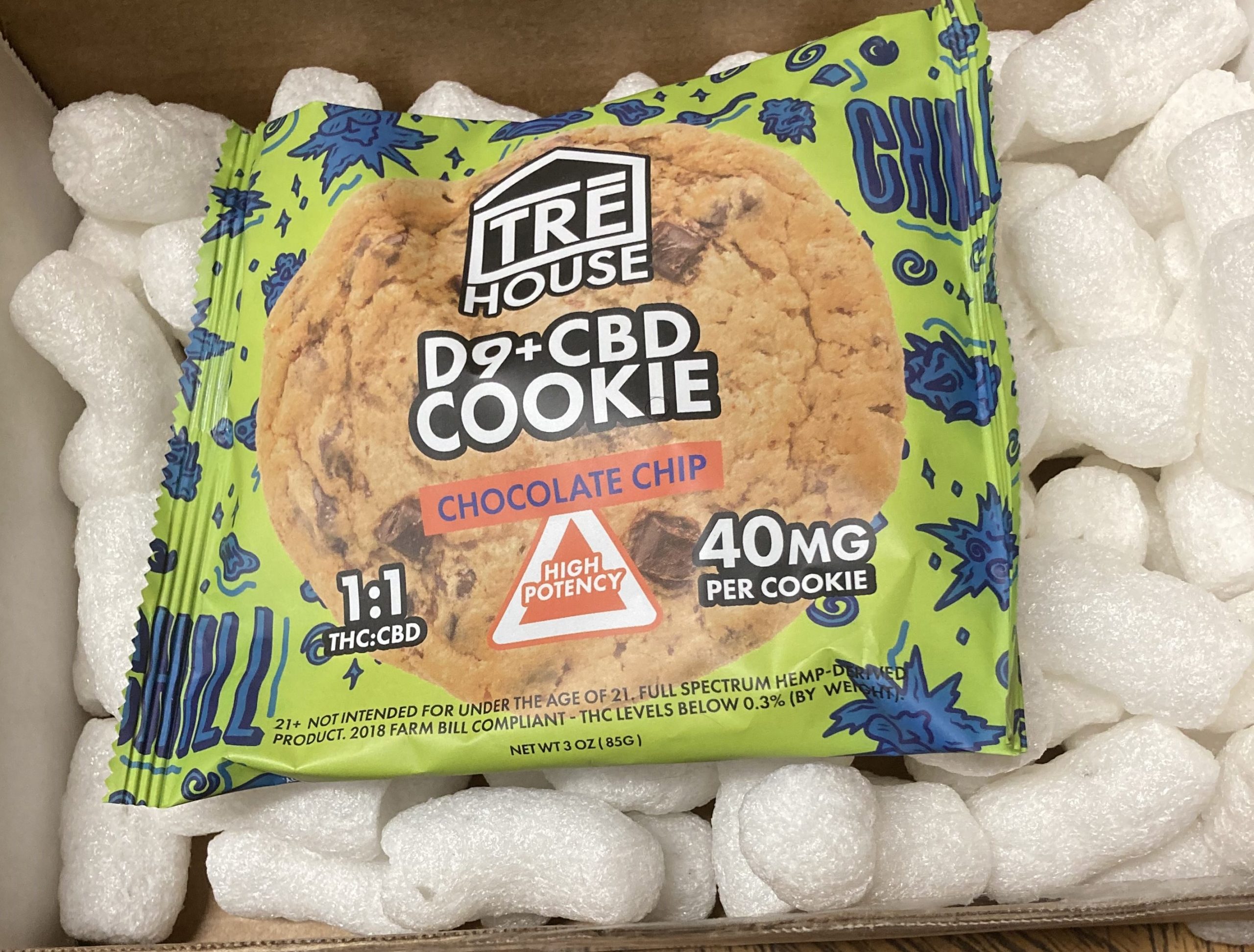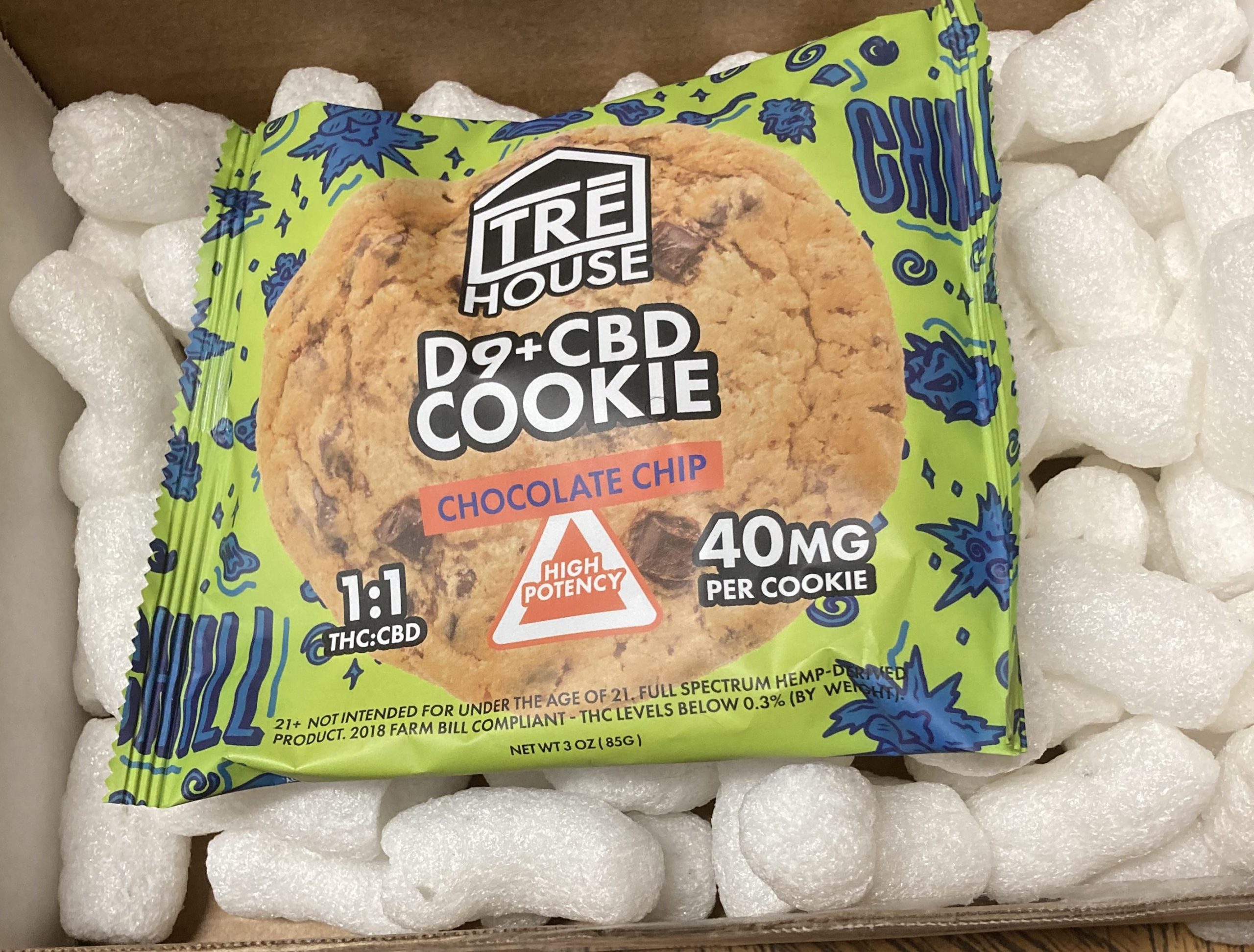 The packaging is cool and complete with warnings and nutrition facts
The packaging is a cool and trendy design. It's memorable, and the back is packed with warning information and all of the nutrition facts you'll need. 
The dosage is in bold letters on the front of the package, so you'll know right away what you're getting into.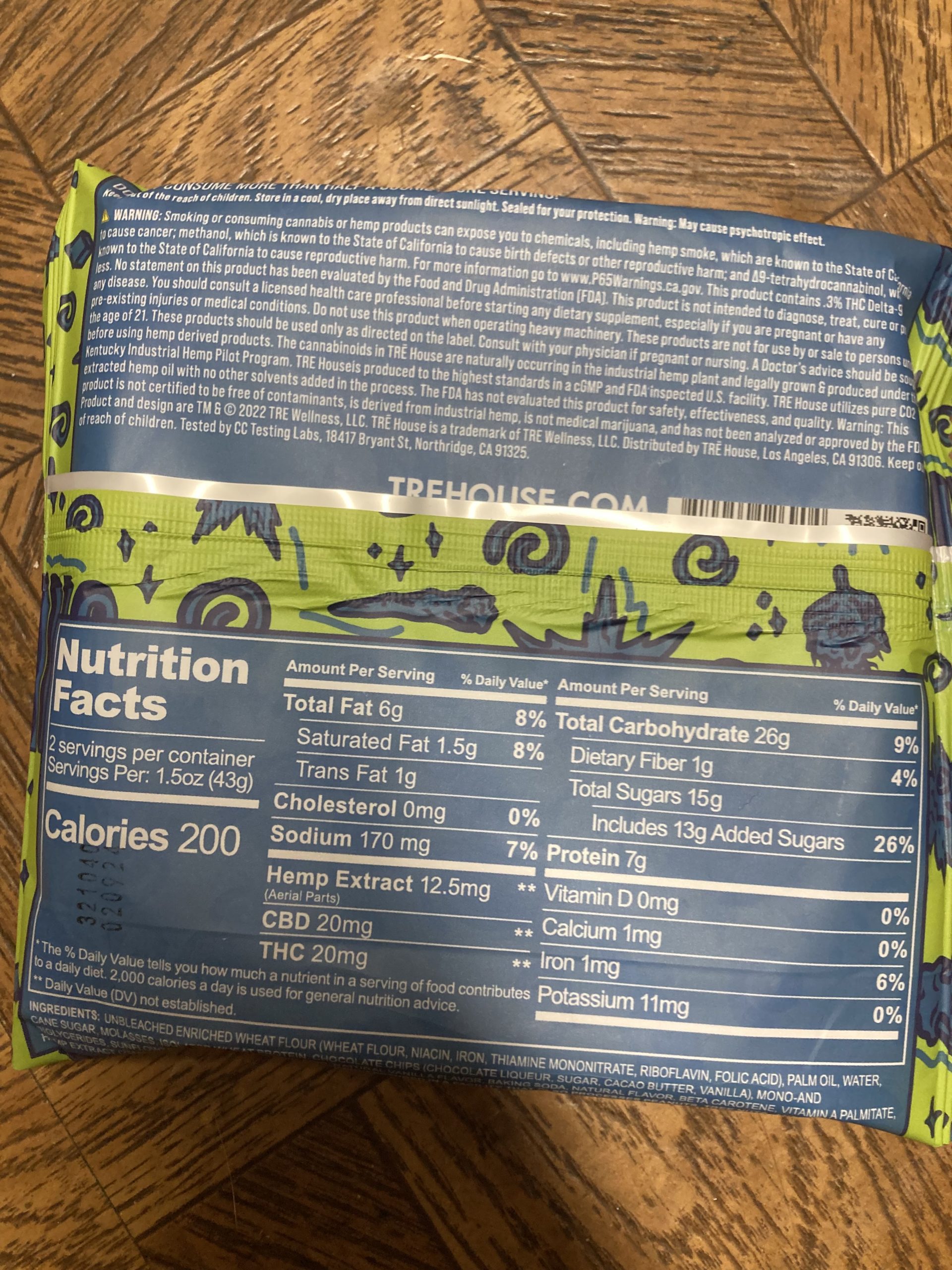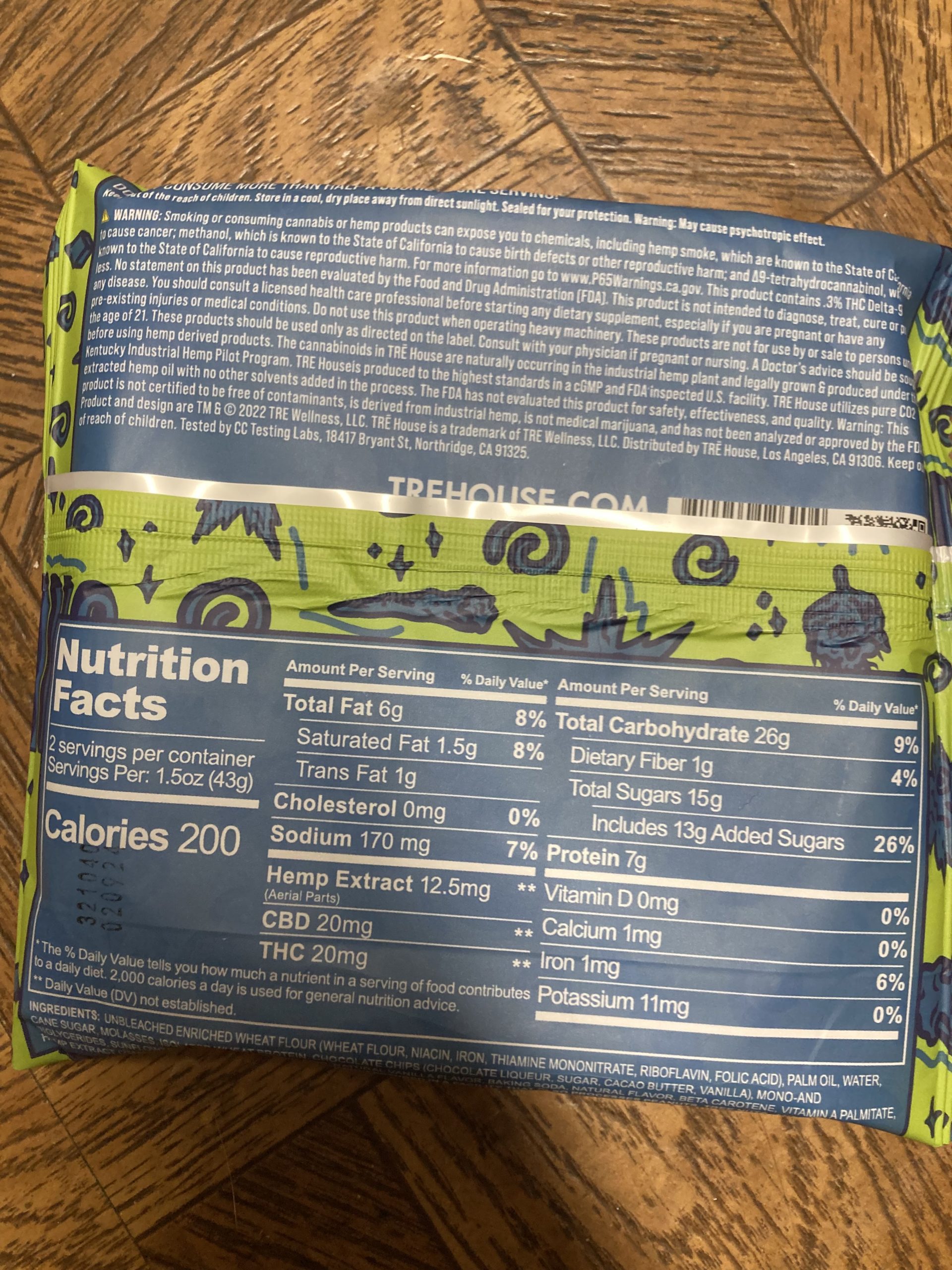 The cookie tastes good; almost too good
I'm pretty sure Cookie Monster is my spirit animal because I very aggressively love chocolate chip cookies.
TRE House needs to drop its cookie recipe because this edible D9 + CBD Cookie was A1. It had a hint of a weed taste, but not too much to deter me from enjoying it. It was super hard to just start off with a quarter of the cookie, but I'm glad I did because these are POTENT.


High potency, and a nice stoned experience packed with euphoria
Make sure you eat this with caution and don't eat the whole thing. This cookie is packed with 40mg of a 1:1 ratio of Delta 9 and CBD.  I dosed myself with 10mg at first by eating just a quarter of the cookie. I definitely started to feel it after the quarter, and I probably could have stuck with just that, but this is a review after all. After an hour passed, and I started to feel that dosage, I took another 10mg. 
Half of the cookie is definitely enough for me. It should be enough for anyone. TRE House backs up this sentiment with a warning on the back that says, "DO NOT CONSUME MORE THAN HALF A COOKIE IN ONE SERVING!" 
I felt very euphoric and giggly high after 20mg. It took the rest of the evening and sleeping it off for it to wear off, so make sure you don't have intensive plans when you take it. 
You can find out more about Ethereal Gold products here.
If you tried TRE House Delta-9 cookies let us know in our forum.