I had no idea what I was looking at when I opened the package from Harney and Sons. I thought I was receiving some CBD seltzer drinks. My son's comment when I told him was, "Yuck." I've only tried something like that once in the past and it was disgusting, so I wasn't chomping at the bit for this package. I truly didn't know what I was looking at first glance, but it was classy, beautiful, and inviting. It turned out to be a decorative tin set from Harney and Sons Fine Teas – The Hemp Division.
I am dedicated to natural health, as a published author on the topic. Medicinal teas can have a great impact on health. I had just quit coffee, again. My son was feeling a bit ill. We dove into the beautiful tins and started trying the teas.
I chose the CALM tin first for the tumeric and ginger. I brewed it with highly alkaline water and sweetened it with stevia. The shape and the material of the tea bags were very appealing to me. They are porous and well-made. The tea is potent. I felt like it packed a punch for the symptoms I was fighting, and the full-blown sickness my son was in. We both liked the tumeric ginger and felt some immediate relief from the worst symptoms like sore throat and nasal infections.
We have been working our way through the collection for days now. The Chamomile Mint is our favorite, the Chocolate Coconut is a bit grassy tasting. The Cinnamon Spice is really powerful. It will pair with juice or nut milk to make a spicy and nourishing delight.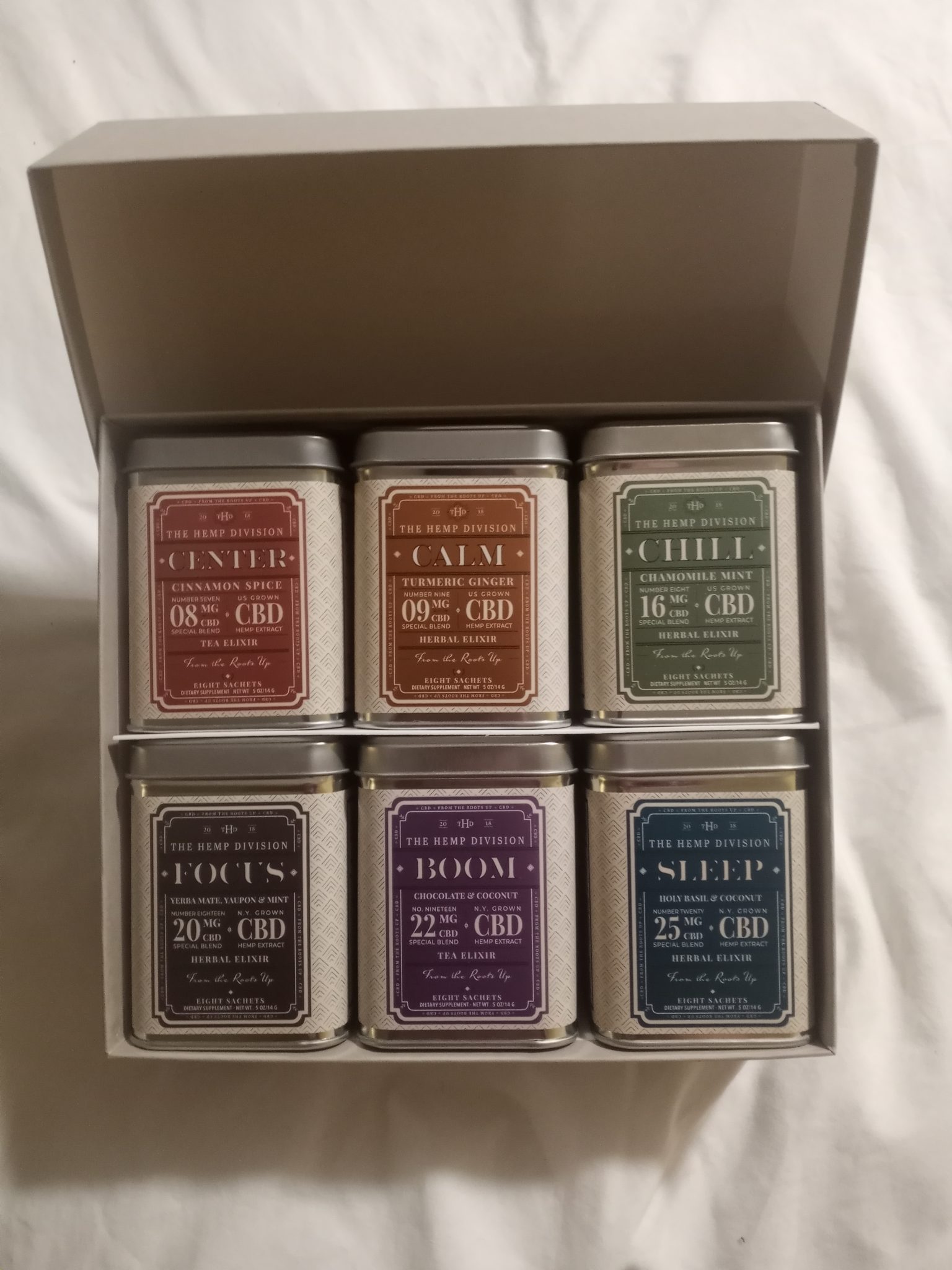 Interesting ingredients 
Each tin is labeled with numbers pertaining to its
CBD
content. They mean absolutely nothing to me. I've been trying and reviewing CBD products for years without understanding them. So I am probably the average consumer just talking about their experience. If the products make me feel better and I enjoy consuming them, that's what determines whether the consumer will spend more money on these products.
The ingredients for each blend interest me very much. The ingredients for the Cinnamon Spice reads Ingredients: Black tea, orange peel, natural cinnamon flavor, cinnamon, cloves, and CBD Hemp Extract.
These are powerful ingredients. Clove has a lot of wonderful healing qualities. Have a toothache? Lay a clove between the gums and the affected tooth as a natural pain reliever.
One winter, while living on an amazing organic farm, we had a bumper crop of basil. By spring I had gallons of glass jugs full of dried basil. Broke, with no money for spendy store-bought tea, I brewed up some basil tea. OMG. I was hooked. I love love love the taste of basil tea. And I was thrilled to find the SLEEP tin contained basil and coconut, two natural ingredients with a plethora of health-positive effects on the body. I have been sleeping well and my skin is more hydrated.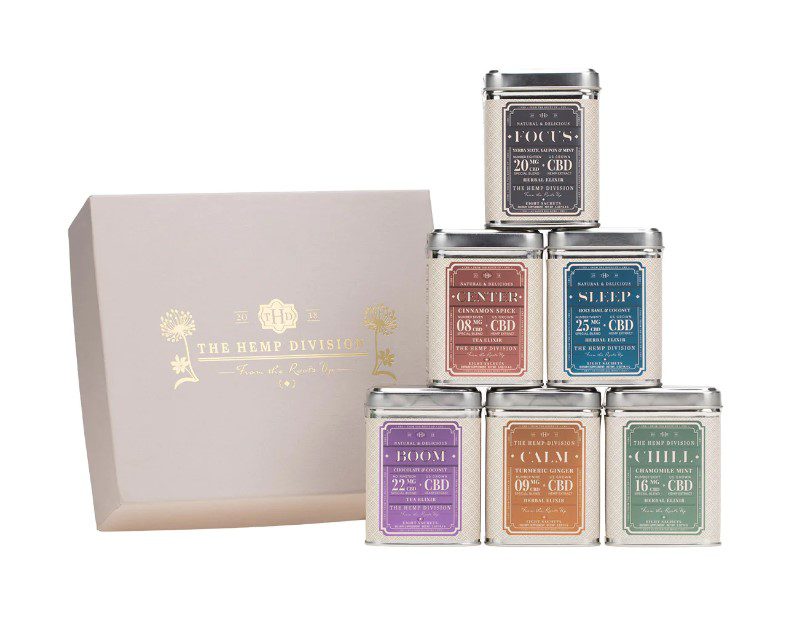 6 Tin collection
The collection contained tins labeled:
Calm

Sleep

Chill

Boom

Center

Focus
I like that. Affirmations are proven tools. The tins are lovely, soft colors and make a beautiful addition to my house. I will use them for sweeteners or spices when the teas are gone. I appreciate marketing containers that have a use and are artful. This collection would make a really great gift for any occasion too.
Good value
As for value, I thought the prices were competitive for high-quality, medicinal teas. As a health elixir, the teas are effective, and I love the decorative containers. This collection is a hit in my house. Thanks, Harney and Sons. Thanks, Hemp Division.