REVIEW OVERVIEW

SUMMARY
IMPORTANT UPDATE: THCO (and its isomers) are now banned by the DEA. Unlike the majority of cannabinoids, THCO does not naturally occur in the cannabis plant. Furthermore, THCO is an acetate, and acetates have been shown to be harmful when vaped. We at DabConnection do not recommend products containing THCO.
I got the opportunity to try a two-pack of Sugar Extrax disposables from Delta Extrax. The ones I received are both Sativa in Candy Land and Acai Berry Gelato flavor. These strains are perfect for those afternoon pick-me-ups or if you're looking for something smooth to get your day started. Also, the disposable devices are draw-activated so all you need to do is open the box, take a hit, and enjoy.
Pros:
Great taste
Sleek design
USB-C charging
2g carts
Cons:
Both Sativa (would have preferred a mix)
No temperature control
Oil began to leak  a bit (caused slight clogging) when in extreme heat (over 100 degrees) for an extended time
Recommendations: Some improvements to the hardware would be great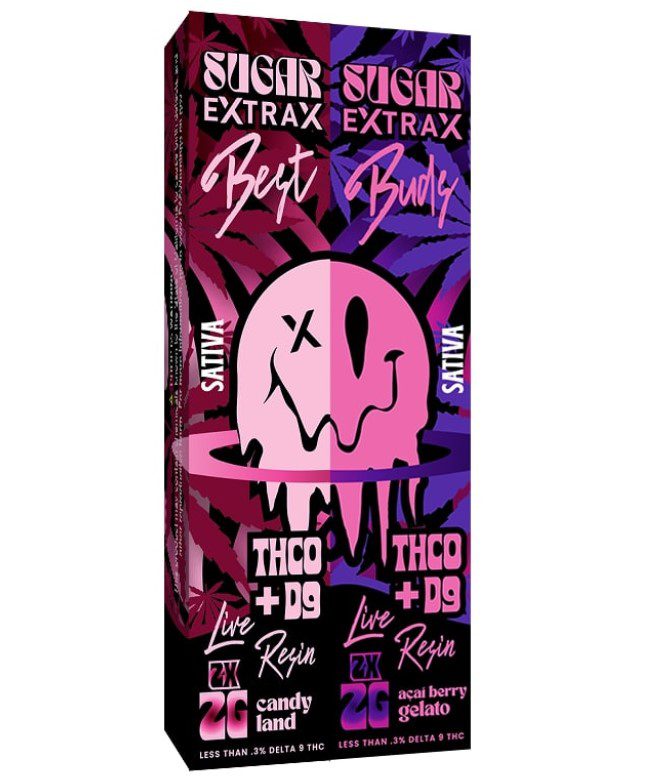 Amazing flavor
The first and one of my favorite things about both of these is the flavor. The Acai Berry Gelato taste kinda like rainbow sherbet to me, and candy land has more of a blow pop or bubble gum thing going on. Both are great and can provide nice smooth hits or will continue pulling until you get a hit that is making you cough your way into space.
Great Price
Now please keep in mind these are two-gram cartridges when I say that for $59.99 this price is not only incredible but probably unbeatable. If you go into a brick-and-mortar dispensary here in Los Angeles, there is pretty much no chance you will be walking out with 4g worth of vape cartridges for anywhere close to that price. Usually, I see the low-end single-gram cartridges selling for around $20 and the high-end for up to $80, or possibly more in touristy areas which always have the highest prices. I admittedly try to stay away from those. Regardless the Sugar Extrax pack is under $60 for a quality product. It mixes Live Resin THCO and Delta 9 THC to make such a nice product.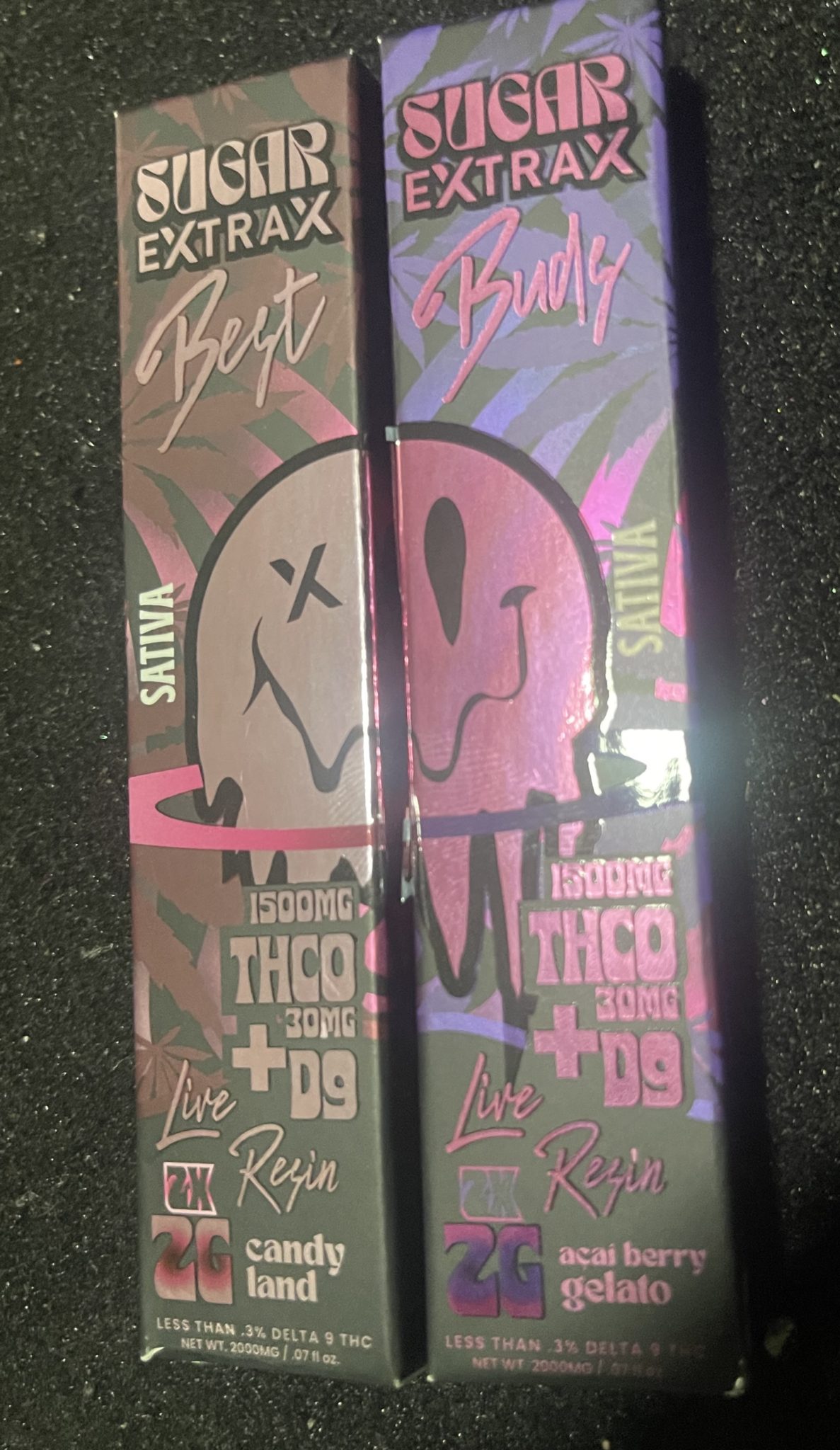 Battery indicator
It charges via USB-C and it has an indicator light that tells you if the battery is low. Honestly, I don't think I have seen this specific feature before and I think it's great. That is generally my biggest complaint about any vape battery disposable or not, is that I will sometimes forget to charge it because there is no indication I should, only to have it die on me when I'm out somewhere without the ability to charge it.
4 grams of delight
I am not a huge fan of Sativas because they feel like they can either not address or heighten my anxiety at times, but I didn't experience that at all with these. Both of these give me more of a floaty head high. Where it feels like I'm in space but simultaneously very ok with it. However, I will admit to balancing the Sativa with a different hybrid cartridge. I will also admit, I do wish the effects lasted a bit longer I think because I feel like pretty quickly I can feel the return to normal. But luckily, this is a 2-pack of 2-gram cartridges so I won't be running out any time soon.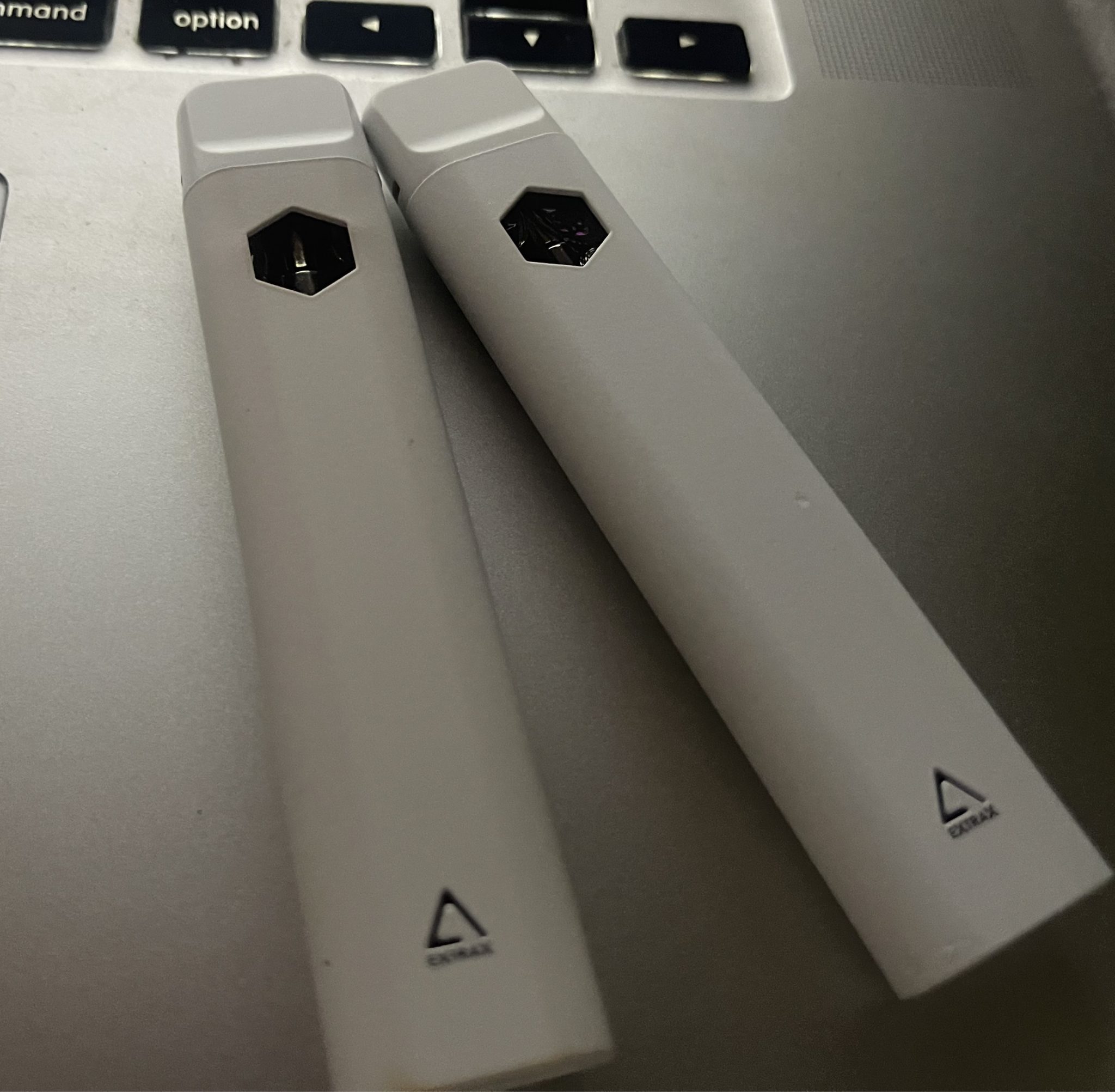 Concluding this review 
I don't think there's really anything I would want different about these that wouldn't be addressed by just getting a different strain of either a Hybrid or Indica. This is overall a great product that provides a fun head high and is an incredible value at just under $60 for two 2G cartridges. I definitely recommend this to anyone looking to pick up some more cartridges. And I can't wait to try more products from Delta Extrax. 
You can find out more about these disposables here.
Have you tried the Candyland X Acai Berry Sugar Extrax Disposables? Let us know in the comments or on our forum.