What can you say about what appears to be a cloister of nuns growing cannabis and selling CBD tinctures? You'd have to say that they put a lot of imagination into their image and, in a crowded California industry, managed to stand out! Yet nuns growing pot is sort of a modernization of an older concept: for centuries, the monks and nuns of the Catholic church in Europe shaped wine culture. Now we have the next step: marijuana cultivated at a convent! Sort of…
Website: sistersofthevalley.org
Phone: +1 (209) 500-6008
Address: 3144 G Street Ste 125-205 Merced, CA. 95340
Email: support@sistersofcbd.com
Sisters of the Valley is a cloister of cannabis cultivators
The sisterhood takes a wee bit of explaining, so their video for the New York Times is a good starting point:
Right away, you know that this is no ordinary cultivator! They talk about being "called by the plant" and using Pagan-type agricultural methods. Sister Kate, the Abbess of Sisters of the Valley, comes right out saying that she's not religious and believes religion is harmful – while wearing a habit and sitting in a convent. The group identifies, not as catholic nuns, but as "activist nuns" for Mother Earth.
So we have activism going on in several layers at once. They're advocates for the healing properties of CBD and plant-based medicine. Then they're reclaiming the concept of a cloistered, spiritual convent from the Catholics and Anglicans. They also make a point about the impoverished area where they are located and the need for their influence on the community. It's a lot to unpack.
Upon first encountering Sisters of the Valley, years of cynicism and Poe's Law might lead you to think "They've got to be putting us on!" But really, at the end of the day, they're a business like any other, just one with a heavy dollop of philosophy at the front of their corporate agenda. Compare Ben and Jerry's Ice Cream or Dr. Bronner's Soap. They grow on you (pun intended).

Sisters of the Valley offer CBD oils, tinctures, and more
In the first place, Sisters of the Valley direct retails CBD products, which they ship to anywhere in the world:
Oil
Salve
Capsules
Tinctures
Tea
In addition, they also sell a few side products with an herbal medicine bent, such as sage bundles and sweetgrass braids. A typical product guarantee from them is "Hand-made by the Sisters of the Valley in cooperation with earth and sun." They're still not putting you on. They also sell "mushroom coffee."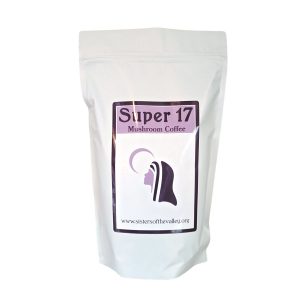 Mushroom Coffee
While the name immediately leads you to expect psychedelic mushrooms, this is in fact a non-psychoactive blend that does not even contain coffee beans, but a rich organic herbal mixture. It can be brewed like any hot drink and has caffeine from the tea, but otherwise isn't specifically a psychoactive drug.
The Sisters of the Valley are worldwide
Thanks to their unique company practices and their fascinating culture, Sisters of the Valley has been written up in publications such as Newsweek, UK Mirror, Wired, The Telegraph, and of course the aforementioned New York Times. Along with retailing directly from their website, they also have retail locations in the UK, India, and LA, California.
Readers, send us your energy!
So who out there has tried Sisters of the Valley products? Maybe we should try a review of their products sometime? Meditate on the spiritual call of the plant here in the comments or in our own cloistered forum.