REVIEW OVERVIEW

Design and Build Quality

6

SUMMARY

KandyPens' Oura turns out to not be worth the cost.
Today we look at the KandyPens Oura a portable dab rig. We'll detail our experience objectively as always in our non-affiliate reviews. The Kandypens Oura runs $349 currently. This price is more expensive than the Focus V Carta or the Pulsar RoK, and well in range of a Puffco Peak that goes for $379. We write this review having had extensive experience with a variety of eRigs. Let's see if it delivers.
Pros:
Elegant aesthetic design

Solid base
Interchangeable buckets make for easy cleaning
Hits well once you get it working
Cons:
The sensor-tap controls are extremely frustrating

Glass is extremely fragile
Glass doesn't seat right in the base
The coil doesn't screw in securely
Temperature settings include a useless 1090F which is too easy to select accidentally
KandyPens Oura a bulky base and fragile glass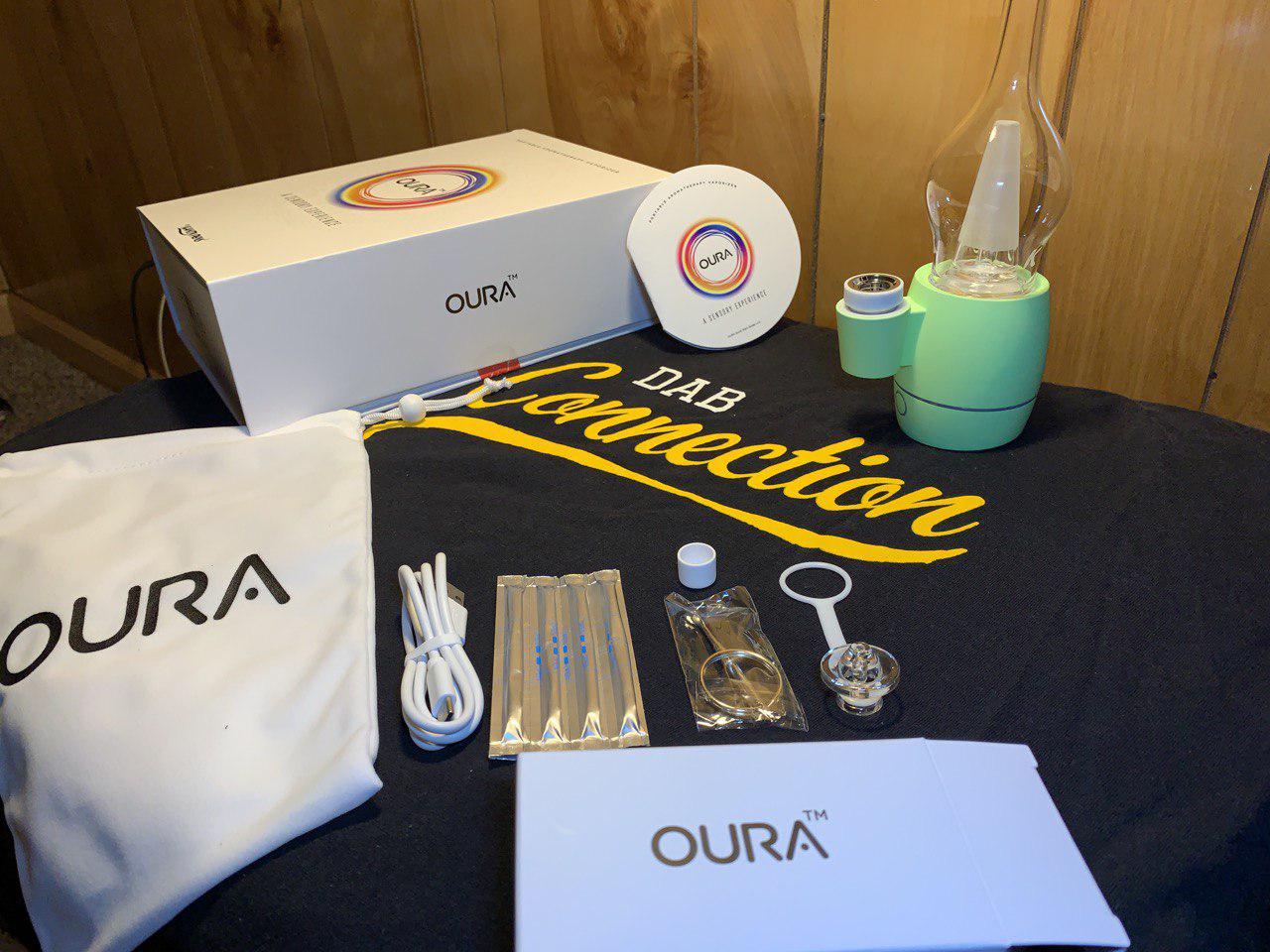 The package comes with the rig in 6 pieces. There's the device itself, a glass mouthpiece, carb cap, a coil, and two interchangeable buckets. As pictured here, it also comes with a standard array of accessories.
Once the rig is assembled, it's down to two main pieces, the main body of the rig housing the battery and the glass mouthpiece. The battery unit is bulky and solid, weighing heavily in the hand, but the glass was thin and fragile. Spoiler alert: The glass would prove to be an issue.
The glass does not fit snug onto the unit, but if it breaks they do warranty it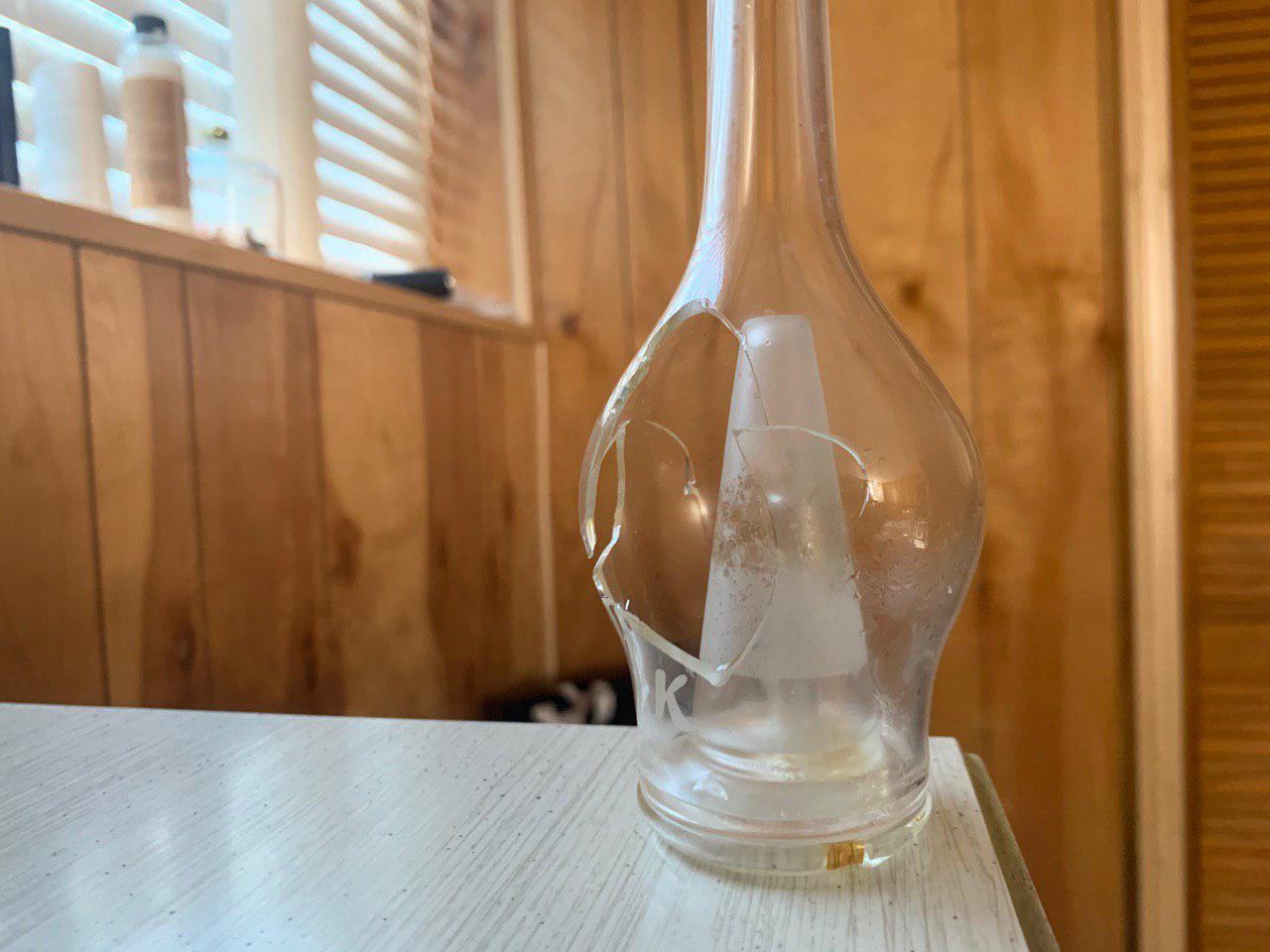 Fitting glass to eRigs is a common point of contention in the dabber's experience. This tends to make or break the experience, so to speak. Our hopes were shattered with the glass as the mouthpiece did not fit securely in place despite our best efforts.
While it lasted, the mouthpiece was a unique design and had some terrific airflow. For what it's worth, the carb cap seems sturdy enough.
For the record, Kandypens' warranty "includes all parts (atomizer, base, and glass)," as listed in the "What is our Lifetime Warranty?" section. They even include a lifetime warranty on atomizers. We are not sure if this is a truly free warranty as in the past KandyPens offered this type of warranty on wax pens, but shipping costs were as high as some other company's regular atomizers.
Airflow great, coil made for further frustration

Along with the glass issue, the coil has to be carefully screwed in or it leaks air. Whereas the Pulsar RoK has a simple silicon collar, the Kandypen Oura's coil collar is metal and silicon and is difficult to set properly. Once assembled right, it does deliver a great hit, but it takes some fiddling.
Then the sensor options are a headache too

The device takes 5 taps to turn on, 3 taps for temperature settings, and 2 taps to activate session mode. There is no button, at least not in the conventional sense. Instead, it has what Kandypens bills as a "smart touch" power sensor, which works by taps, as one would use a touchscreen phone. The temperatures listed are:
The problem with the smart touch sensor is that it often misreads a tap. Picture having concentrates loaded in the rig when you're trying to activate it, but instead accidentally burn the concentrate at 1090F. Or trying to change the temperature and then it reads two taps instead of three and shuts down, cooling off the dab, which then has to be reheated with more taps while trying to hit the right temperature in sequence.
Who dabs at 1090F anyway? Well, you will, after you accidentally tap it the wrong way.
Now how do you shut it off? Well, it turns out it also has a 4-minute auto-shutoff feature which is a great thing. So that is zero taps. Or leave it still in your hand for four minutes thinking you can still use it. Because if you accidentally let it shut off you're going to have to tap your way through the menu again.
Coil and buckets have an interesting idea, questionable execution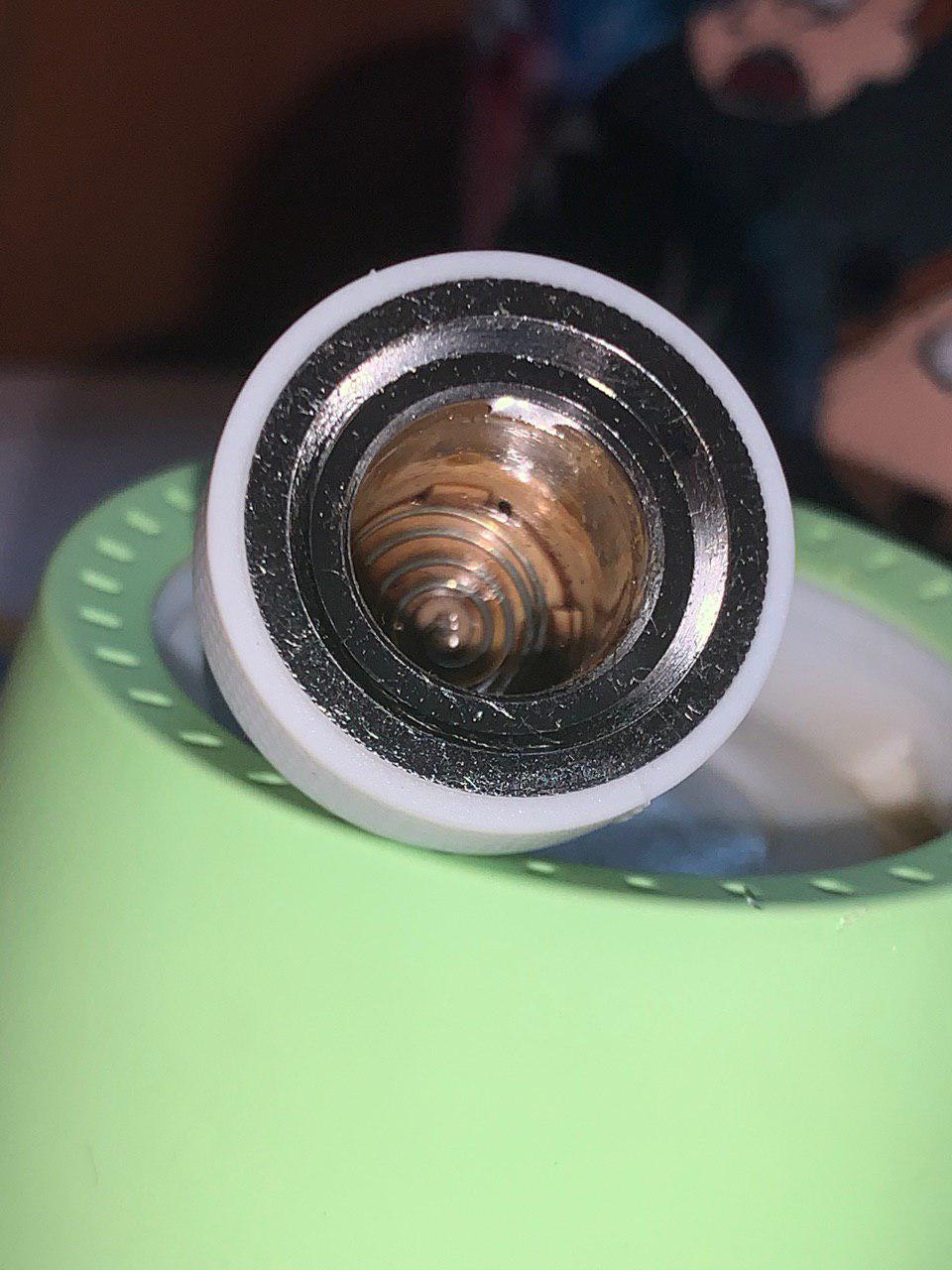 The atomizer has a handmade nichrome coil which is what makes this device unique, having interchangeable buckets. This makes for easy cleaning which is very convenient. We didn't try the ceramic bucket but the quartz is nice and clean which is great for flavor.
But the way it's set up, if some concentrates end up by the airflow opening, then they could end up leaking out on the side onto the nichrome coil. This could cause the device to be ruined at the worst, and at best leads to burnt oil.
Apart from that, the unique coil is actually a great idea with the quartz bucket making for an amazing flavorful experience when it's all working.
Final summation: Puffco Peak and Pulsar RoK are better choices

Between the various structural issues and the complex tapping mechanics, we barely got any use out of this eRig before the glass disaster happened. Which brings us to point out, by the way, that if you're going to introduce a tap sensor and make it so hard that frustrated users will be slapping it more forcefully in hopes of making the taps register firmly, it's best not to have that going on just under a wobbling, fragile piece of glass.
The Kandypen OURA seems like it could benefit more from extended user testing and a return to the design phase. It's a mix of interesting innovations and with some faulty design choices.
Overall experience on the KandyPens Oura… not as good as the Puffco Peak
Despite the recent Puffco lawsuit, the Peak in our opinion is better than the Oura, as is the Focus V Carta. The Pulsar RoK is also better than the Oura, but not as good as the Peak or Carta. Pulsar and the Carta are coming in with much lower prices, while the Peak is definitely worth the $20 to $25 more after taxes over the Oura.
This expensive device does come with a warranty. But in summation, it's too expensive for such an inconvenient session and was disappointing. I was excited expecting all good things from it but it was a struggle compared to the other eRigs out there.
If you would get a KandyPens Oura you can do so at King's Pipe.
Have you tried any KandyPens' Oura eRig before? Post your review below! Questions or comments? Post below or in our forums!