In this review, we have the TribeTokes disposable Delta 8 THC vape. Having tried TribeTokes vape starter kit, here we try their half-gram Indica disposable. Providing smooth and relaxing effects, yet light hits, this disposable gives an overall nice, light, and convenient experience.
Pros:
Compact and convenient disposable
Smooth and clean hits
Good flavor/strain
Cons:
Delivers light hits
Not rechargeable
Recommendation: Advance their hardware to make it deliver thicker and stronger hits, and also make these disposables rechargeable.
Check out our video review below, and read about our experience with TribeTokes disposable.
TribeTokes Disposable Delta 8 Vape – (Indica) Northern Lights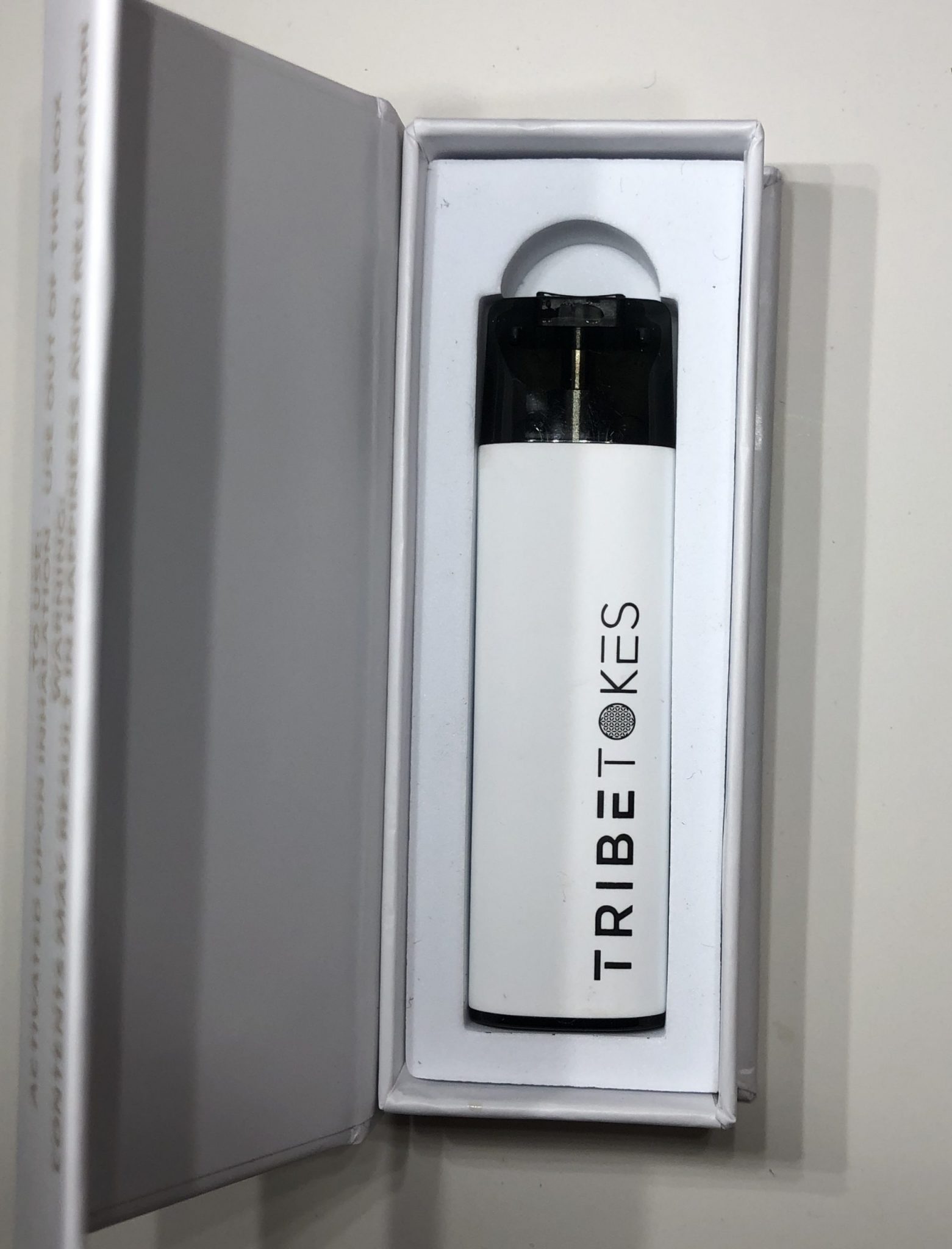 TribeTokes currently have three different strains for their disposables, Northern Lights, Birthday Cake, and NYC Diesel. The strain that we have here, Northern Lights, delivers quite smooth hits and a nice taste. Furthermore, this disposable delivers more of an herb-like taste to it. Not flavor dense, rater slight but very smooth and enjoyable.
TribeTokes Disposable provides great oil quality and fair strength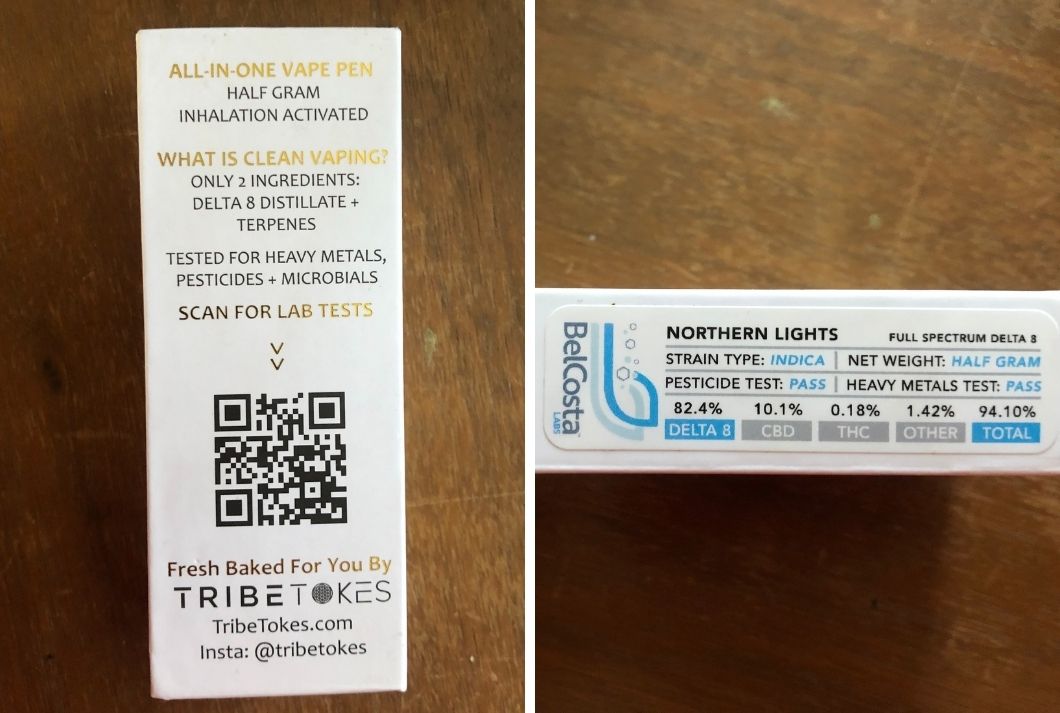 TribeTokes disposables deliver nice and clean oil quality. A bit difficult to see through the disposable, but you can tell that the oil is thick and efficient. Not the strongest Delta 8, but fair potency and slight effects. 
Furthermore, this particular strain, Northern Lights, contains 82.4% Delta 8 THC. Not the strongest oil quality or the most effective, but rather very smooth and mellow. They also provide lab results, as you can see shown above on their packaging. You can also view more about their lab results on their official website here.
Compact and portable disposable, but hardware delivers light hits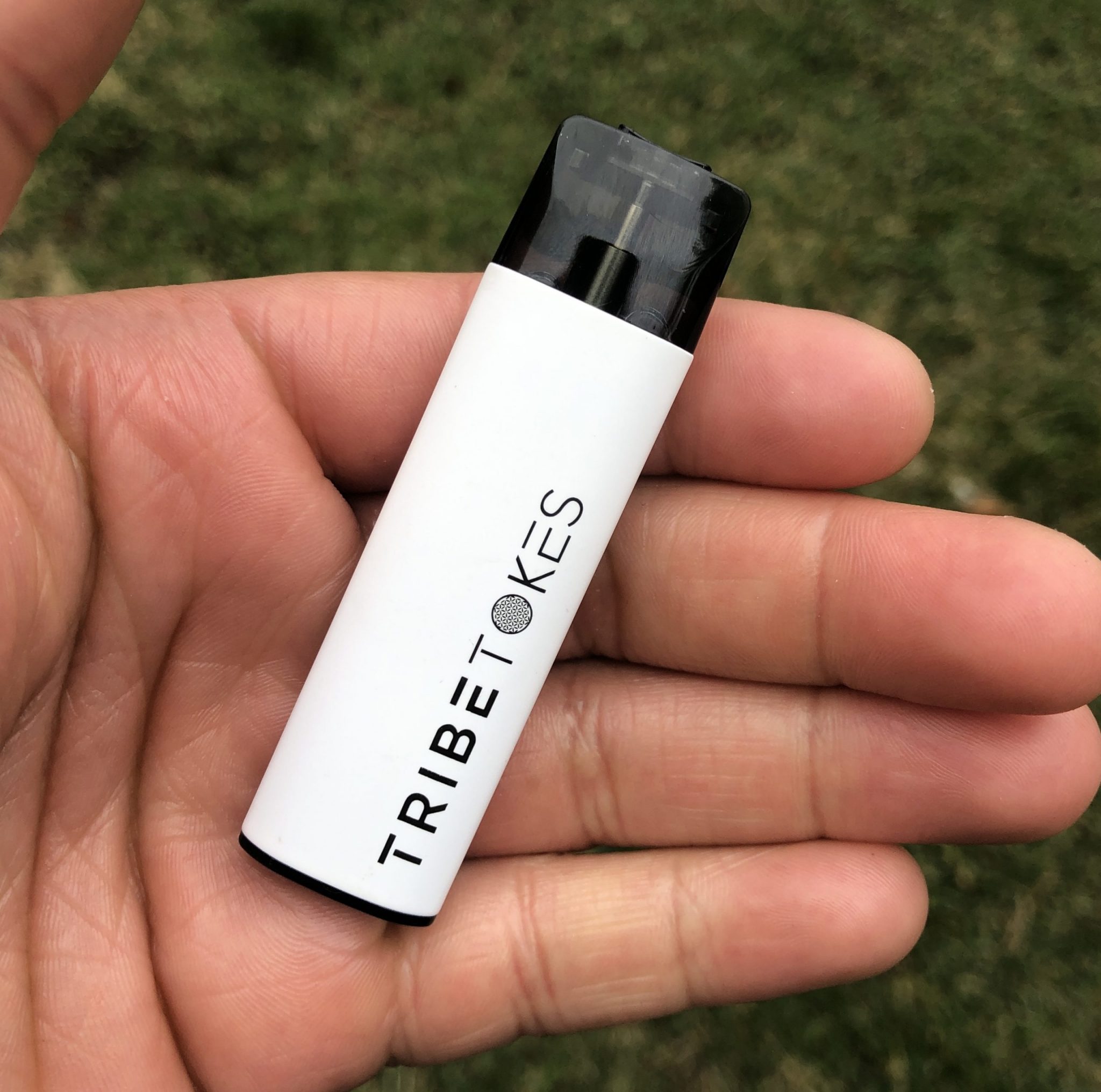 Taking a look at the disposable itself, it is a very small and portable device. Fits great in your palms, and can be discrete as well. The design of this disposable vape is great, again very convenient.
But the only thing is that this disposable delivers pretty light hits. You may get some good hits, but only after inhaling for a long period of time. Even then, the quality of hits isn't as potent. The good thing is, it doesn't clog up at all.
Disposable ran out of battery before finishing
Unfortunately, the disposable did die on me before all the oil was finished in my experience. Perhaps this may not happen in everyone's experience. But it would be much nicer if they allow a port to charge the vape disposable. After halfway, it kind of felt like I was starting to get light hits. But with just a little bit of oil left, it completely died.
Value: Great for beginner users and good for its convenience
TribeTokes disposable may be a great vape for those who enjoy light hits or want something convenient to vape. Being easy to use, and providing smooth and relaxing hits, this disposable is also great for those starting with Delta 8. The price for these D8 disposables is $50. With many products in the market, TribeTokes also provide a wide variety of Delta 8 and CBD products. Moreover, if you prefer something that delivers thicker and stronger hits, this disposable may not be the right product for you.
Concluding TribeTokes disposable Delta 8 vape
Overall, This compact and discreet disposable is great for its convenience and efficiency. Providing smooth hits, these deliver a light experience. The only thing is that the hardware that they use. The disposable didn't deliver that potent hits and didn't last me the full experience for me. Rather, they deliver thin and light hits. Otherwise, the oil quality is good. You can learn more on TribeTokes Disposable vape here.
What are your thoughts on TribeTokes disposables? Want to share your experience with Delta 8 THC? Post below in the comments or in our forum!