Let me save you time. CBDistillery The Entourage Effect Kit is a ten!!! But read on anyway. I am an artist and a musician so when this beautifully creative package showed up I was wowed. Who wouldn't enjoy digging into this artful box?
I received The Entourage Effect Kit – a box full of art, amazing CBD vape oil products, and beautifully designed information cards. I have kept the box on my desk for three weeks as I enjoy the visual so much. So ten out of ten on the marketing front. It isn't just pretty though, the information was profound.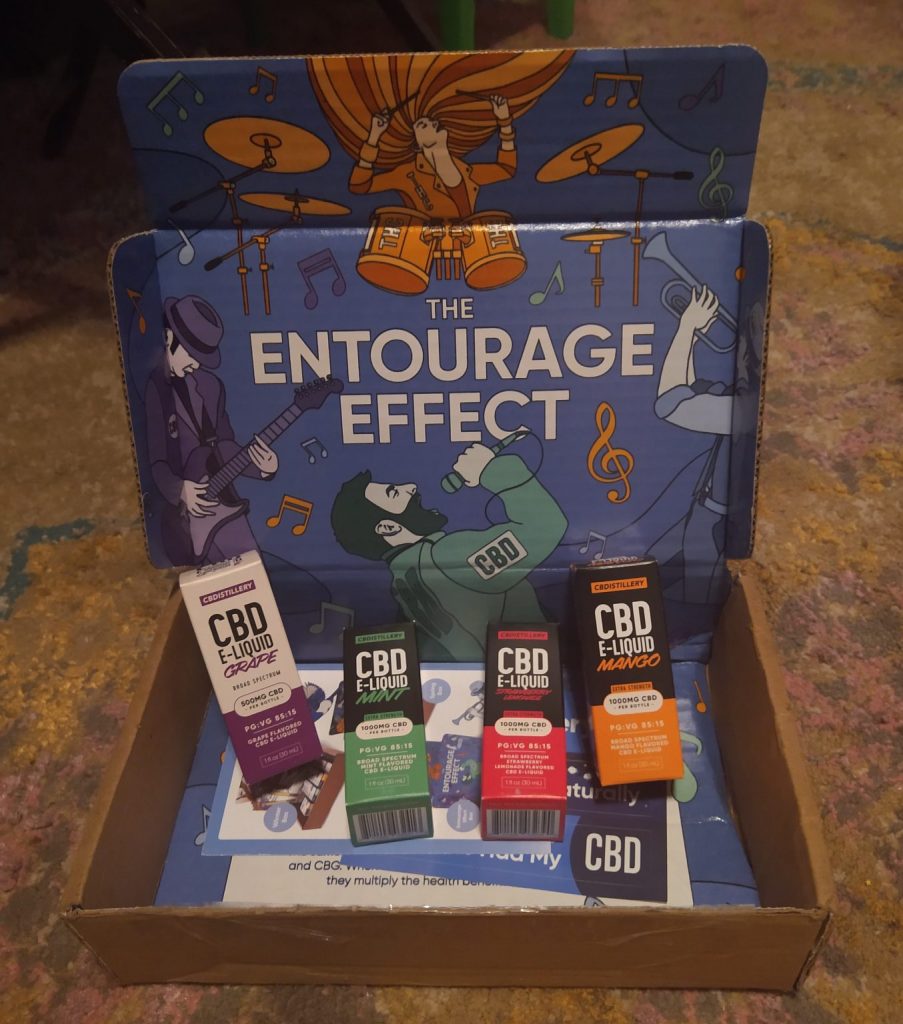 Different cannabinoids, CBD, CBN, CBG, THC work better together
The Entourage Effect is CBDistillery's way of teaching us about how the different
cannabinoids
,
CBD
, CBN, CBG,
THC
work better together than individually. This is soooo important!
I believe in
Eden-type farming
instead of mono-cropping in rows or separate fields because we don't know why nature put these plants together. We believe there is a synergy between them that we can't measure. Just as a tomato is more powerful if you eat it whole than swallowing a drug that was made from one ingredient of the tomato. CBDistillery convinced me they really know what they are doing.
I don't rate one product against another as far as effectiveness. I do so many things to impact my health that I can't definitively say what is working. I believe CBD products are helping me, so it comes down to how I want to consume them and their flavor.
I have gravitated to CBD vape because it is an important tool in taming my oral fixation issues. I beat a deadly case of bulimia. I am still an addict by nature, so I have to put something in my mouth that isn't going to harm me but satisfy my addiction. CBD vape works great for me.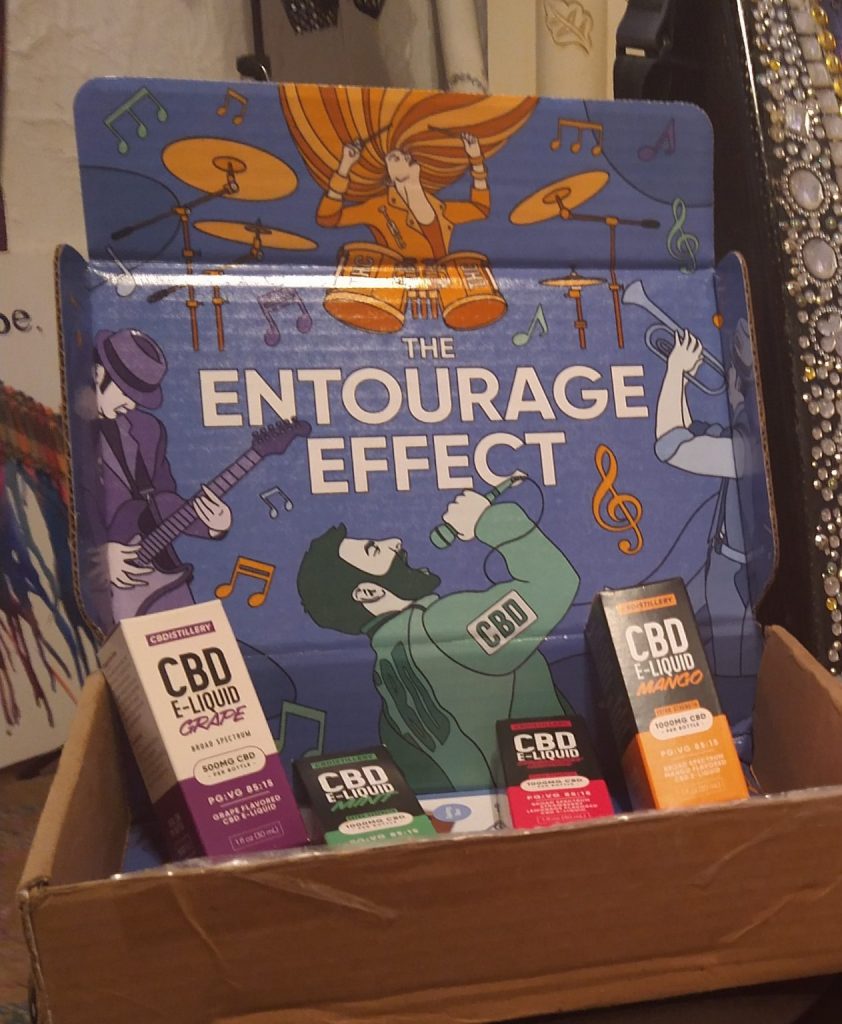 Not easy to decide which flavor is the best
So flavor… That is the fascinating thing about this CBDistillery package. I received four generous bottles of CBD vape oil: Mango, Grape, Mint, and Strawberry.
My son and I debated for two weeks which one was the best flavor. Funny. We both loved the Mango. The strawberry not so much. The mint had a cool after-effect. Liked the grape. A few days later – now we're all team grape. A few days later – I think I like the strawberry best. Then we got creative and started mixing the flavors. Very fun!
My son's only criticism was that they should send empty cartridges with this kit because we started out adding them to cartridges we had that already had other products in them.
As far as value this kit was the most bang for the buck I have ever received. There is a shit-ton of products that delightfully feels like it will never run out.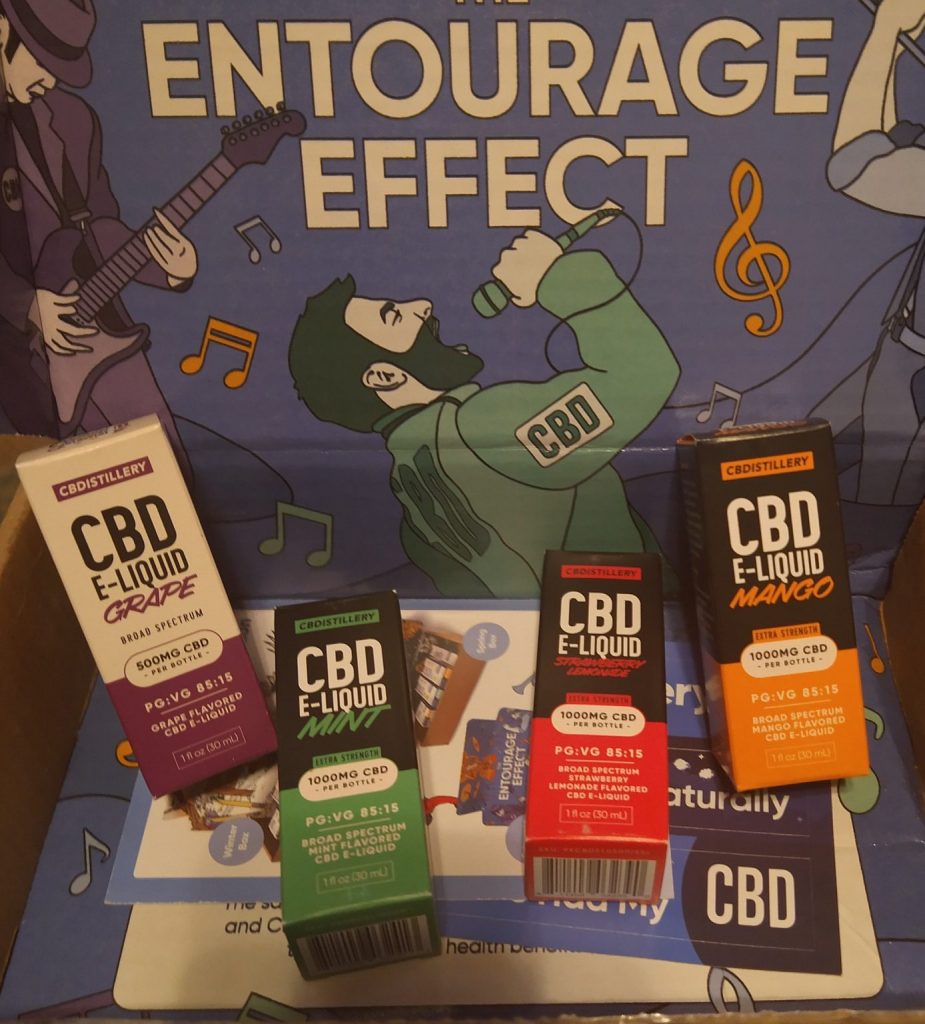 Concluding the review
Two thumbs way way up CBDistillery!!!! I love everything about this package and oh yeah, the Design Inspiration contest is such a smart, creative way to engage your customers. You guys rock! You can find out more about their products
here
.
Have you tried something from The Entourage Effect Kit by CBDistillery? Let us know what you think in the comments or on
our forum
.