In this review, we give an honest account of our experience with CBDistillery Terpsolate. Unlike THC, CBD is a non-psychoactive compound of marijuana. CBD affects each person differently, so assess your individual needs before choosing an appropriate product.
All CBDistillery products are grown under natural sunlight, outdoors with organic practices, and are made from Non-GMO, Pesticide Free, Industrial Hemp.
1 Gram CBD / CBDistillery Terpsolate
Ingredients: Anhydrous hemp oil, terpenoids
"99% Cannabidiol Isolate derived from stalks, seeds and stems of the highest quality industrial hemp in the world"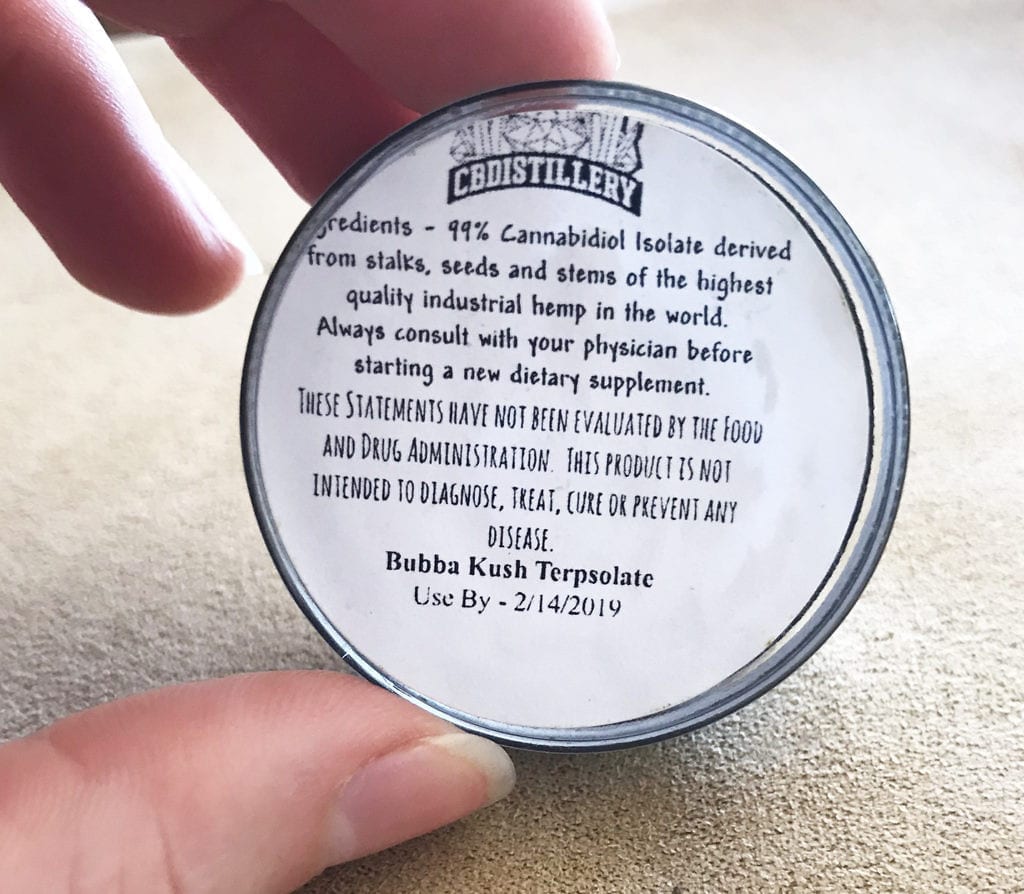 CBDistillery Terpsolate is a blend of 99+% pure solvent free CBD isolate and strain specific terpenes. These fragrant hemp-derived terpenes give the CBDistillery flavor we tried, Bubba Kush an intense forest smell and (bitter) lemon flavor. Think Pinesol and you're on the right tracks. However, after reviewing many different accounts of CBDistillery Terpsolate, several people also recorded a distinct cherry flavor. So, this supports the claim that everyone experiences CBD differently.
Whether you like lemon or cherry flavors is a different matter. The flavor represents the quality terpenes used in this CBD product, and that's a good thing. CBDistillery isolate comes in powder and slab versions, they are the same product in different forms. We got the powder version of CBDistillery Terpsolate. I felt better just by looking at the beautiful, clean, white dust, it's different to anything I've seen. it.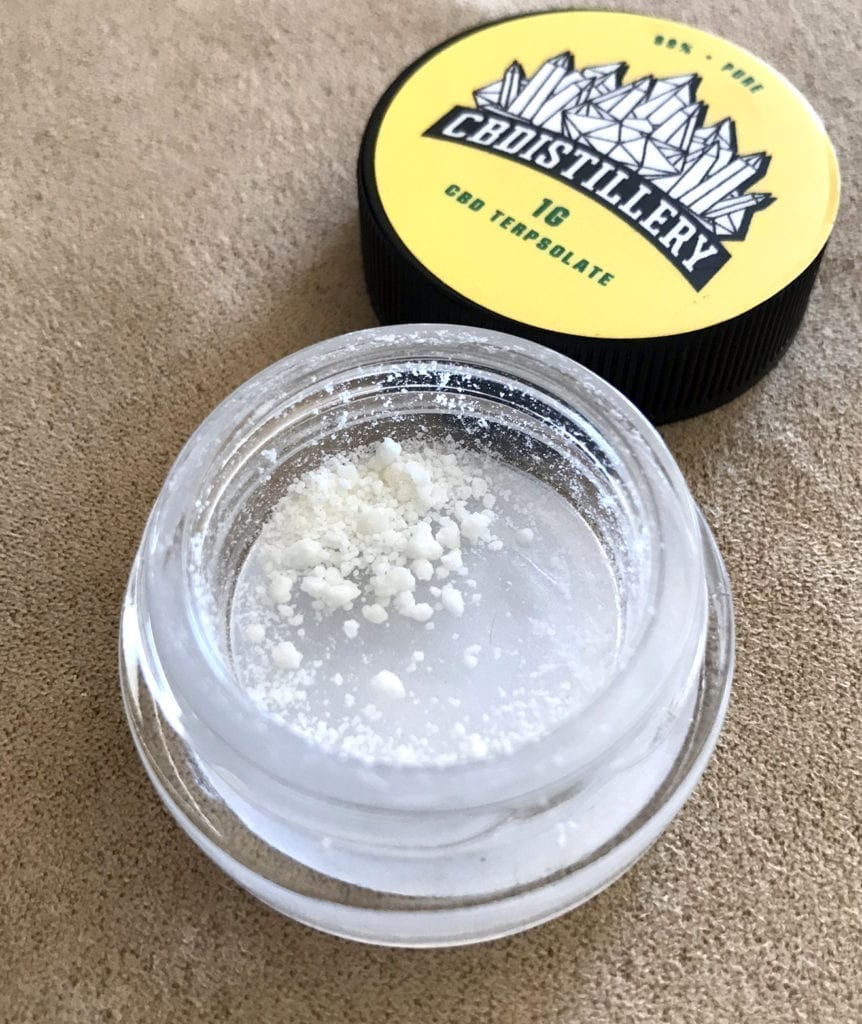 How Did We Take It?
As CBDistillery Terpsolate is already activated, it can be taken orally under the tongue, and by dabbing. When taking CBD isolate under the tongue, substances diffuse into the blood through tissues, this is a fast and easy method of ingestion.
Myself and another team member tried the CBDistillery Terpsolate for the review, both in the form of a dab, as well as under the tongue. We each had a different experience, but a similar result in the end.
Results of The CBDistillery Terpsolate Review
When taken as a low-temp dab, CBDistillery Terpsolate gave us whispy clouds and a lot of flavor. I didn't feel much of anything at first, but my CBD test partner felt an immediate sense of relaxation. He said it felt like a mellow heady high – uplifted but not stoned, describing it as "anxiety melting away."
A while later we took a dose under the tongue, and yet again my partner reported an almost immediate relaxing effect. Thinking initially that I felt nothing, I slowly realized that I was melting further and further into my chair. I was not stoned, but extremely relaxed and suddenly craving a snooze. This lasted for an hour or so, but the feeling went away much quicker than a regular THC dab.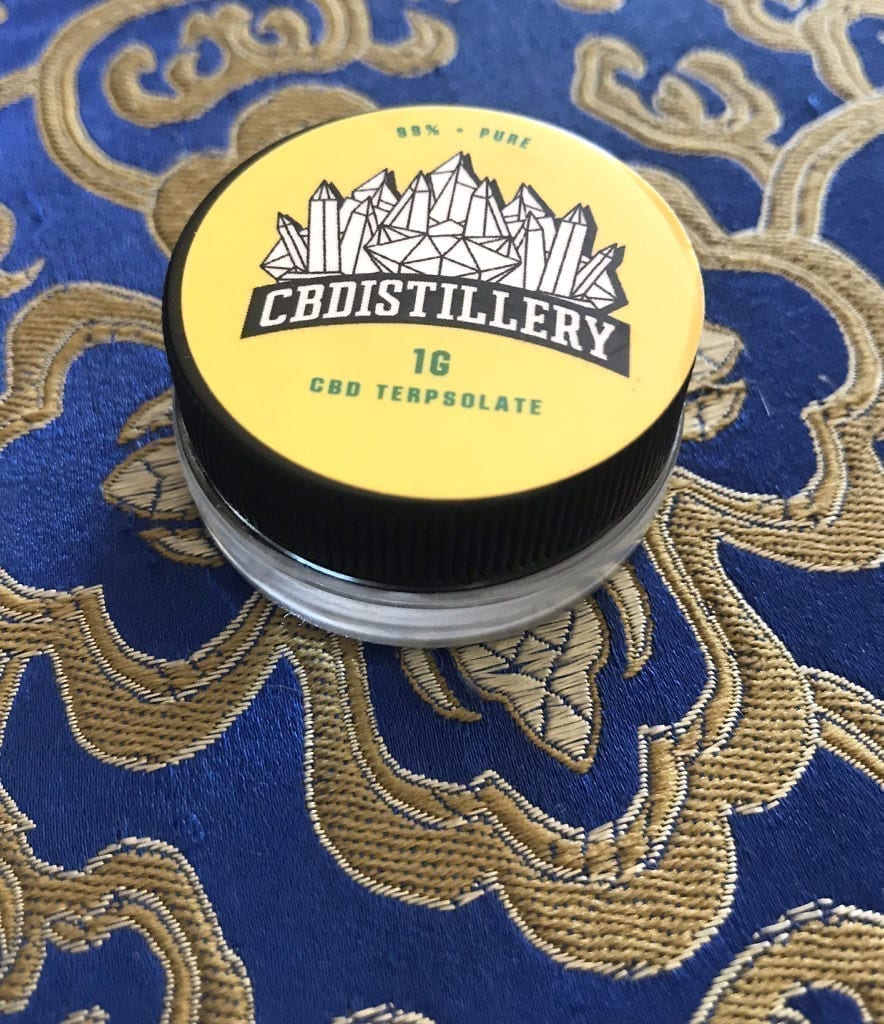 Final Thoughts on CBDistillery Terpsolate
People absorb and metabolize substances extremely differently. So, though the effect of CBDistillery Terpsolate was almost the same – the rate at which we experienced it varied. Some people have mentioned a feeling of alertness, which neither me or my partner experienced. I actually felt a little spaced out at first, but this didn't last too long.
Overall it was a good experience. It was a nice change to feel both mental and physical relaxation, without being super high or completely couch-locked. However, at $55 (sale price) for 1 gram of CBD, the expense could get high, especially for someone like me that dabs daily.
But, if you're looking for alternative pain relief, general relaxation, or to help with anxiety, CBDistillery Terpsolate is a winner.
If you'd like to try some Terpsolate, see their full collection at TheCBDistillery.com.