Today we will be examining the online presence of Cravemeds. Not only does this entity lay claim to the black market cart brand Crave, but they've earned a special spotlight in the world of the cannabis black market altogether. This will be fun.
To start with, Crave carts have been found with GREEN oil!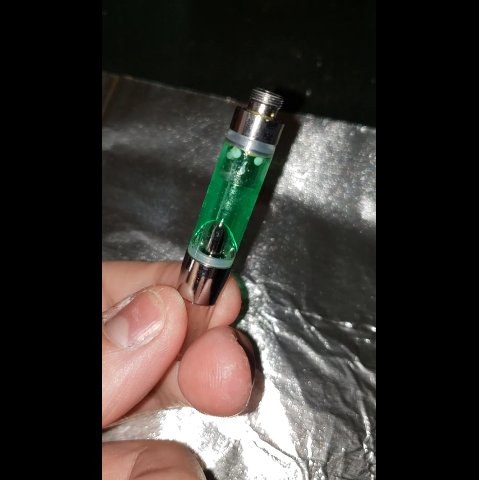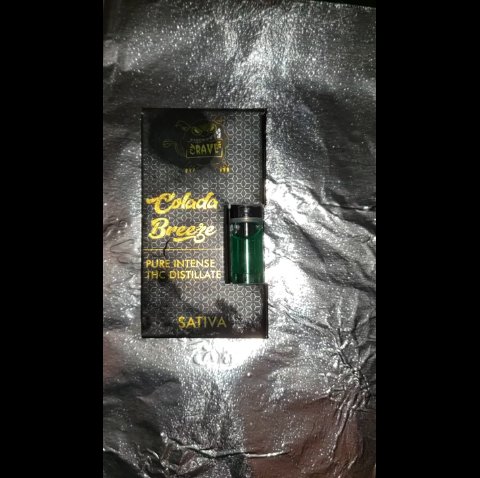 Yes, we mean literally "green." It's tough to say what that even is. Most oil or puree from any known vegetable matter wouldn't give off this shade of… Kryptonite? The closest color comparison we can think of is apple flavor Jolly Rancher.
Which may be tasty to eat, but you wouldn't want to melt them into your lungs. Check over the range of cannabis extracts, distillates, and terpenes, in all their forms. You will find no liquid that came from a pot plant in this shade of green.
This Crave cartridge was found and reported five months ago, long after the vaping injury lung illness crisis had already made national news headlines. You have to wonder, what kind of idiot would sell oil like this and expect people to believe that it's untampered cannabis?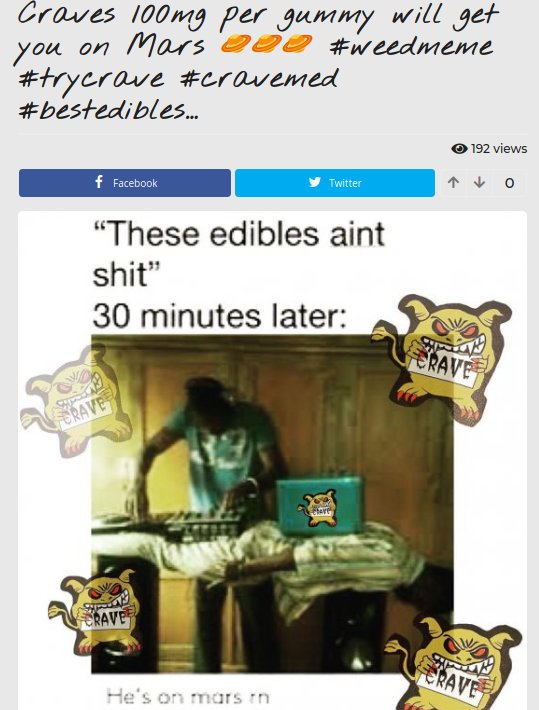 Oh. THAT kind of idiot.
Meet Cravemeds!
The above ad comes from this website, "420 problems." There's more where that came from. Since the site's sole content seems to be focused around Crave marketing, we'll assume that website is maintained by the same outfit.
To get to the point, the Cravemeds Instagram seems to be the most stable web address for this operation. There we see the Crave cartridge brand in its modern packaging: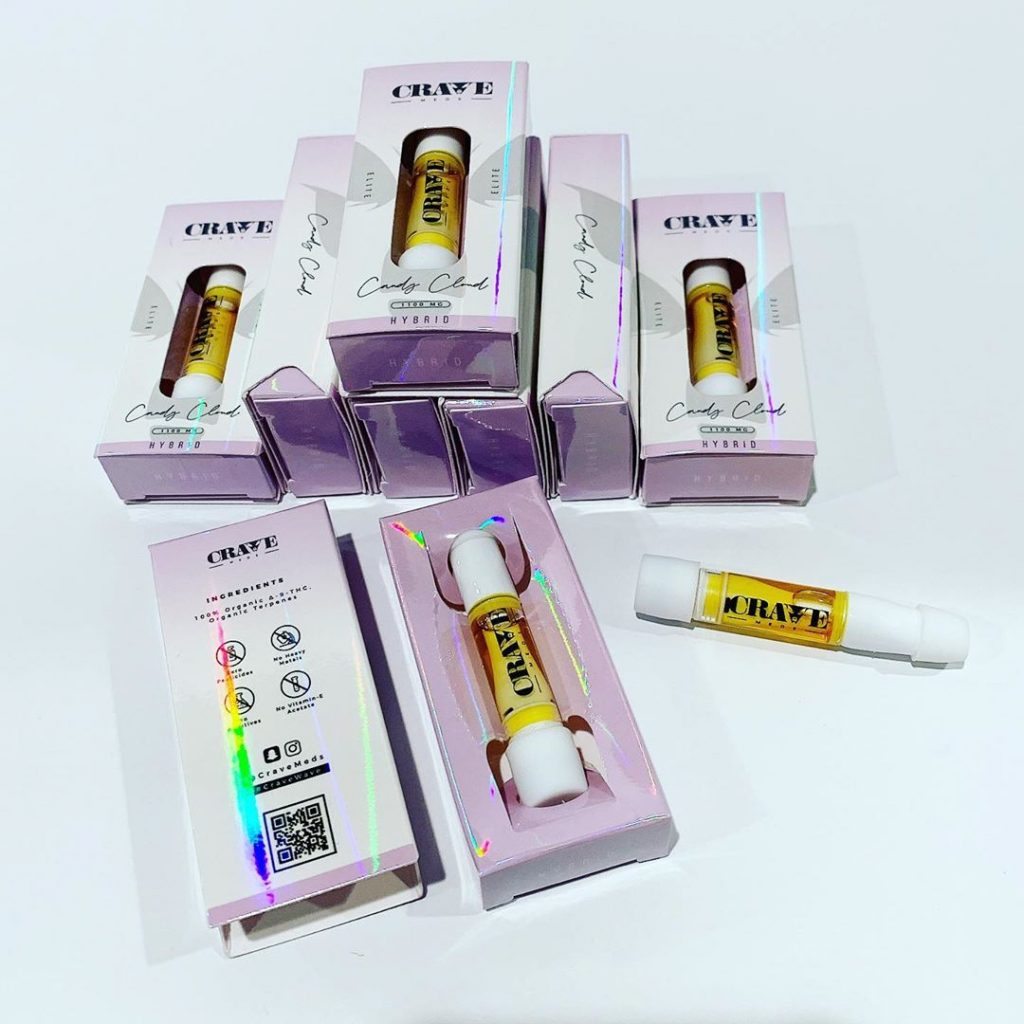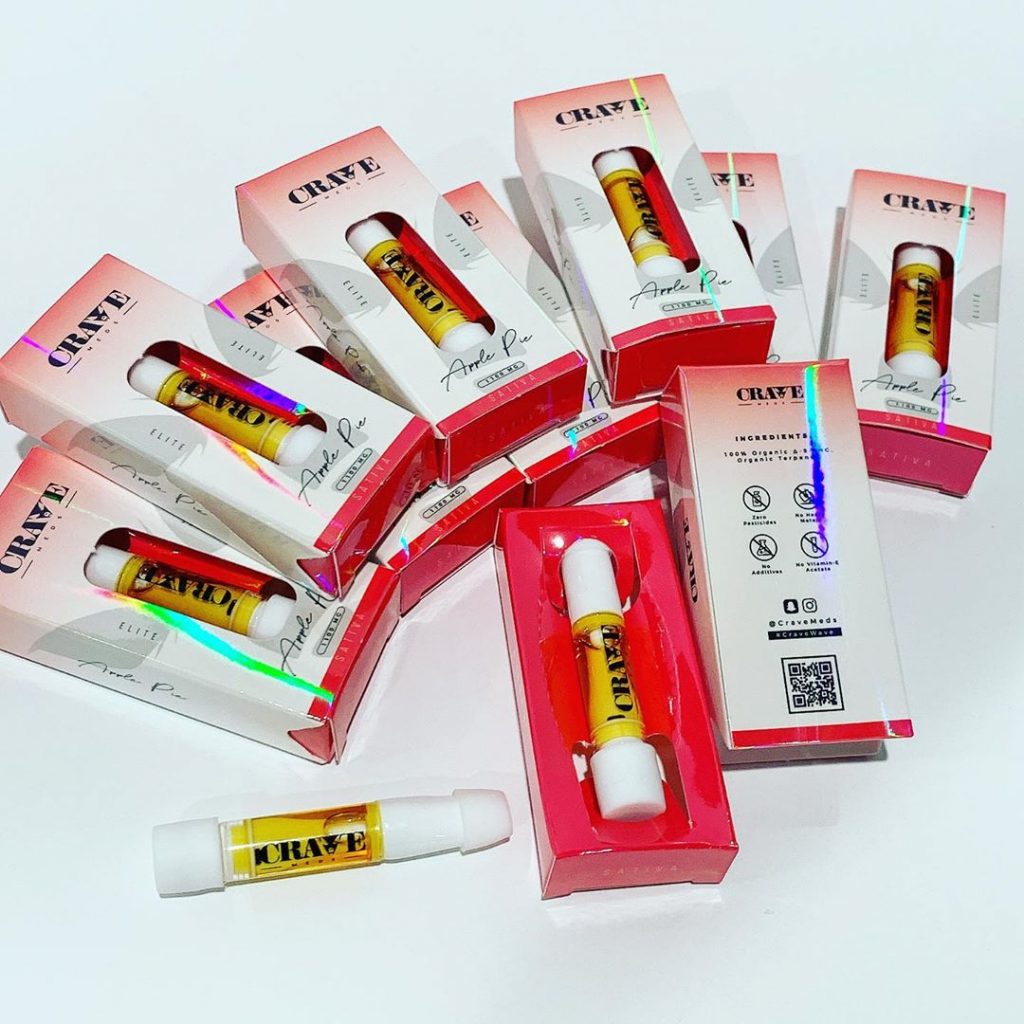 We also see the previous Crave cart packaging design: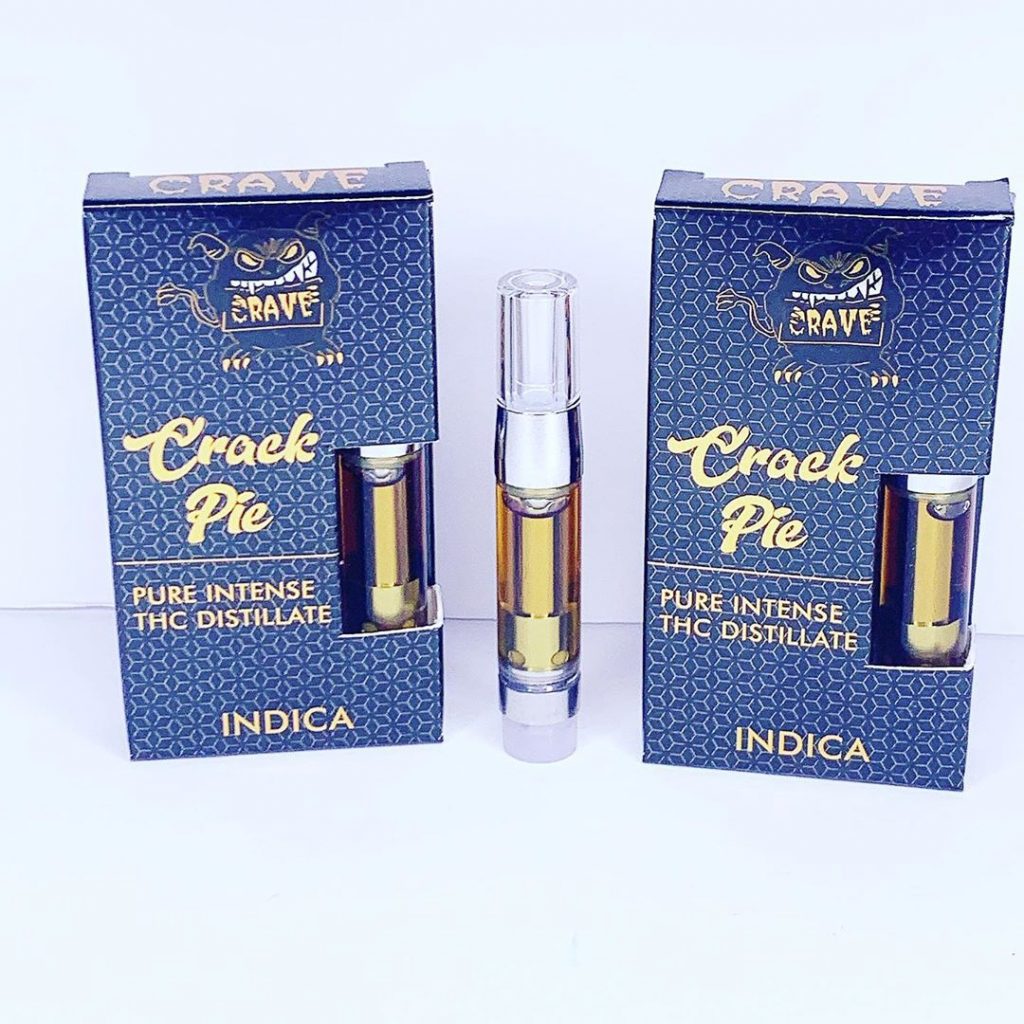 We also get several shots of carefully cropped lab test pages from who knows where, but certainly showing text that labs don't typically put there.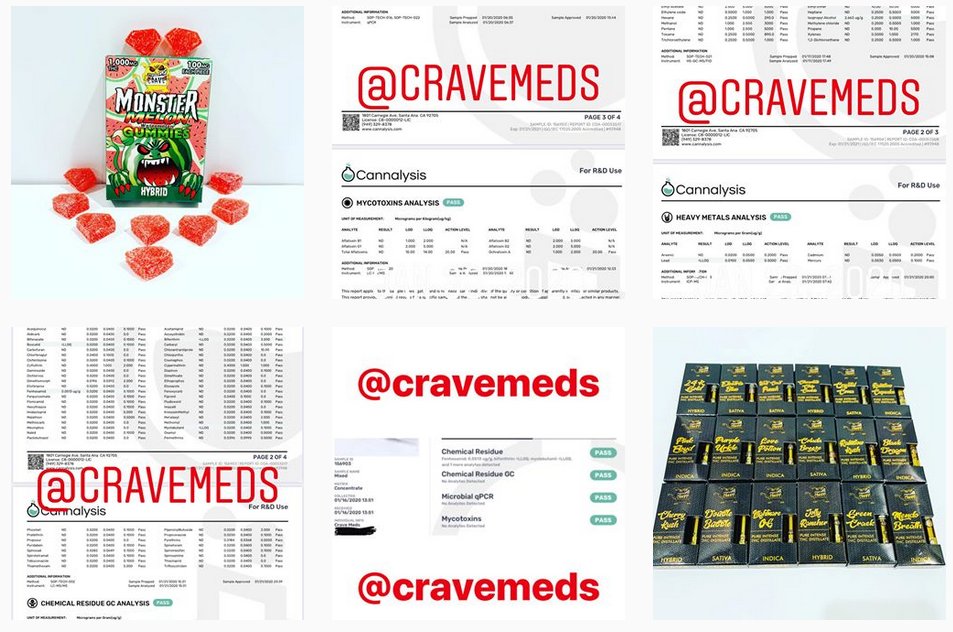 This is on par with the strategy for the registered domain "cravemeds.com," which is literally nothing but a site redirect to the ever-popular QA test result page for BelCosta Labs. Which, as we tirelessly point out, contains the text "* For quality assurance purposes. Not a California compliance certificate." Hence meaning precisely nothing for product safety. Review our lab test sheet post for why.
The Crave brand apparently puts out extracts and edibles too, all of it in loony day-glo cartoon packaging which is blatantly out of compliance with California cannabis product packaging laws.
> "Cannot be attractive to children—This includes using cartoons, images popularly used to advertise to children, imitating candy labeling, and using the words "candy," "candies" or a variation, such as "kandy" or "kandeez" anywhere on the label."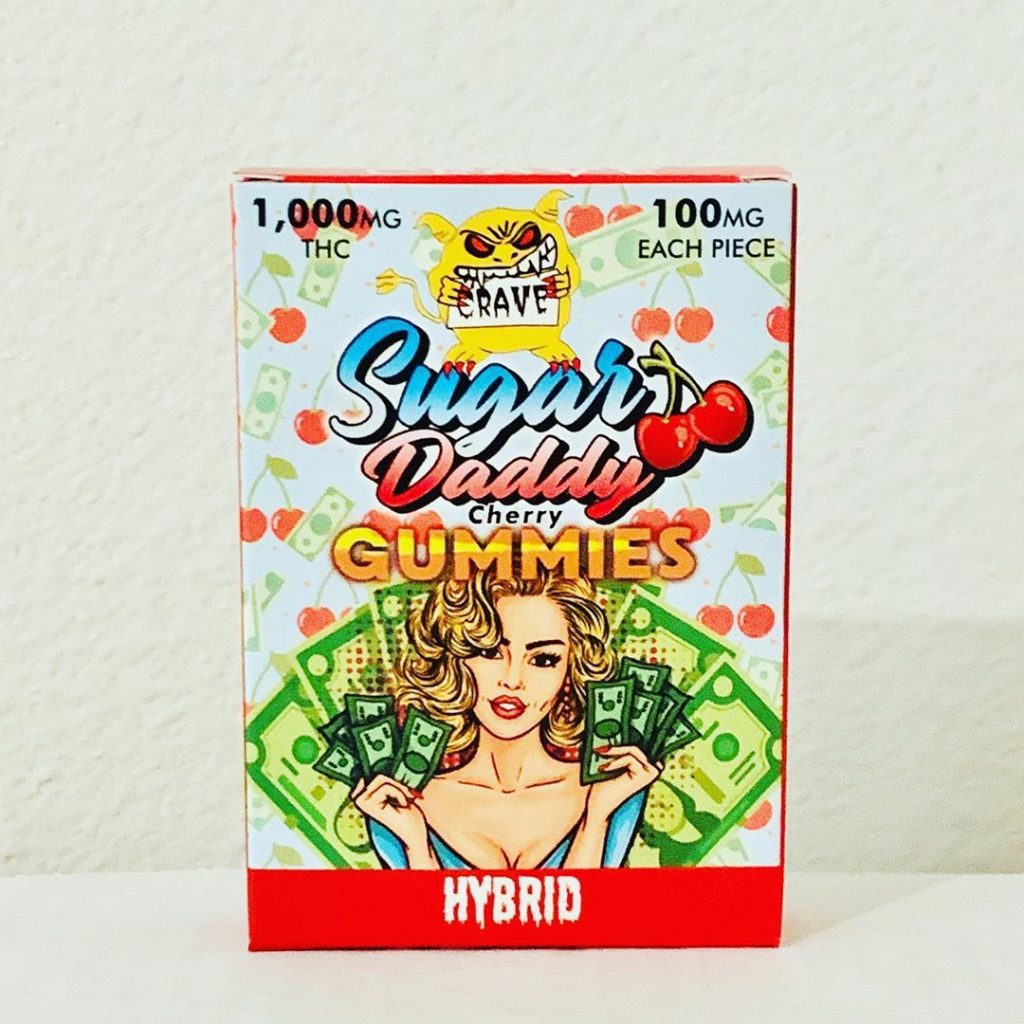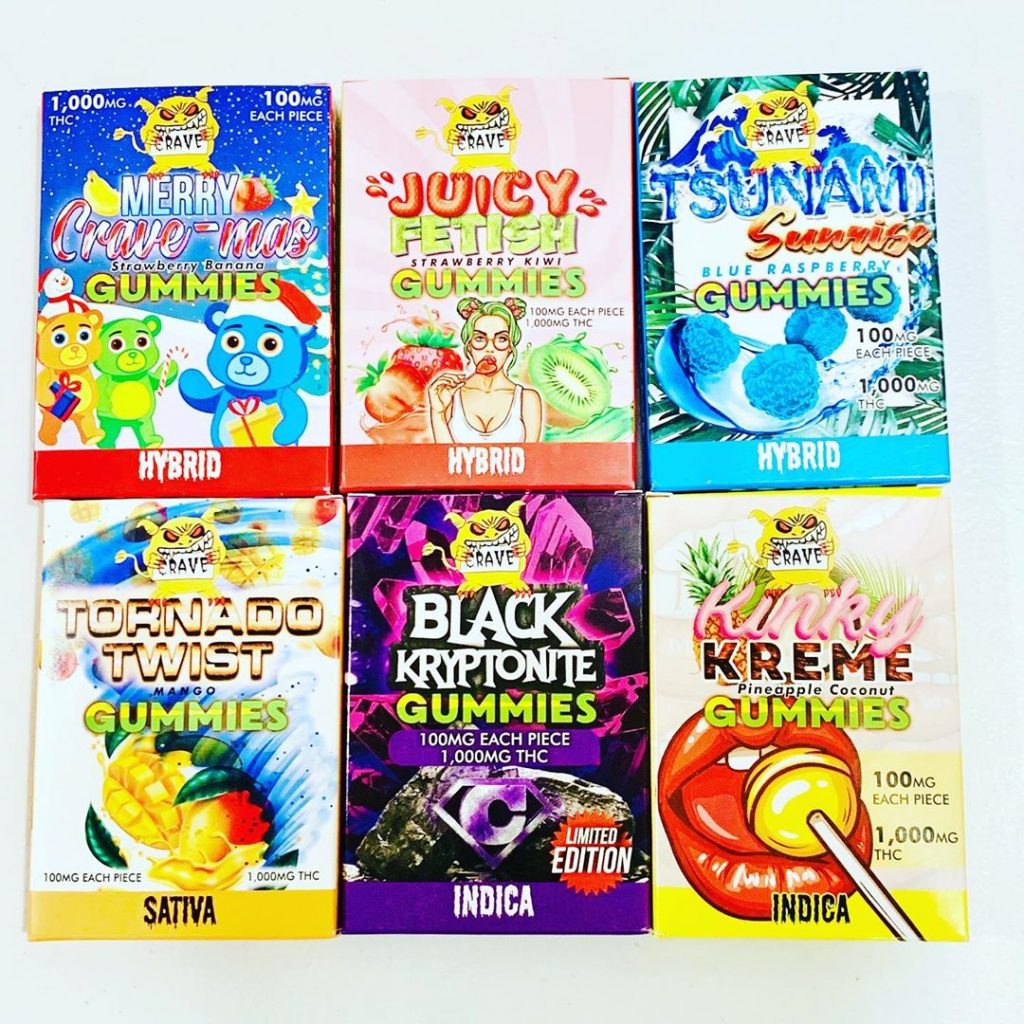 The Cravemeds Facebook also promotes other fake brands
Cravemeds actually went to the trouble of establishing a commercial Facebook account, just to show a gallery of fake and frequently ripped-off brands as if they were marketing those before coming up with their own brand.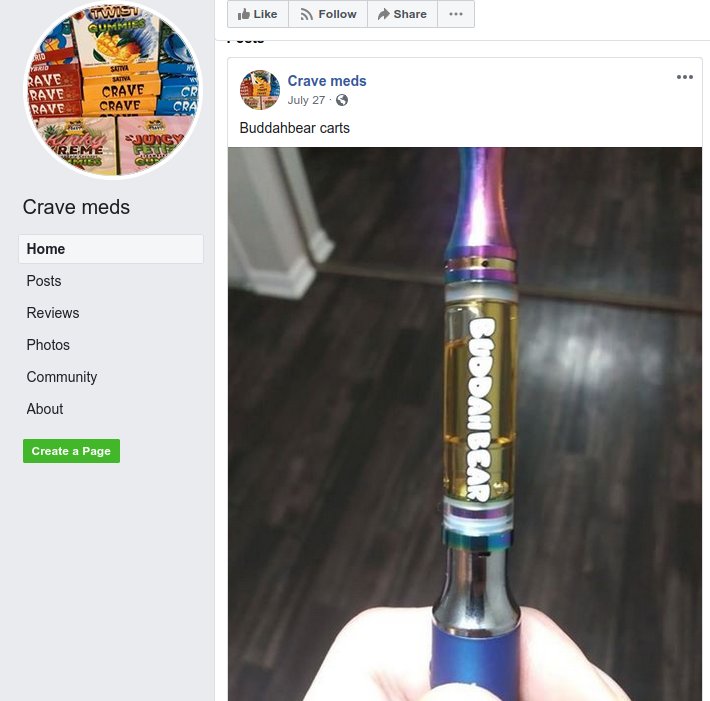 Buddah Bear, an old one we haven't heard from in awhile.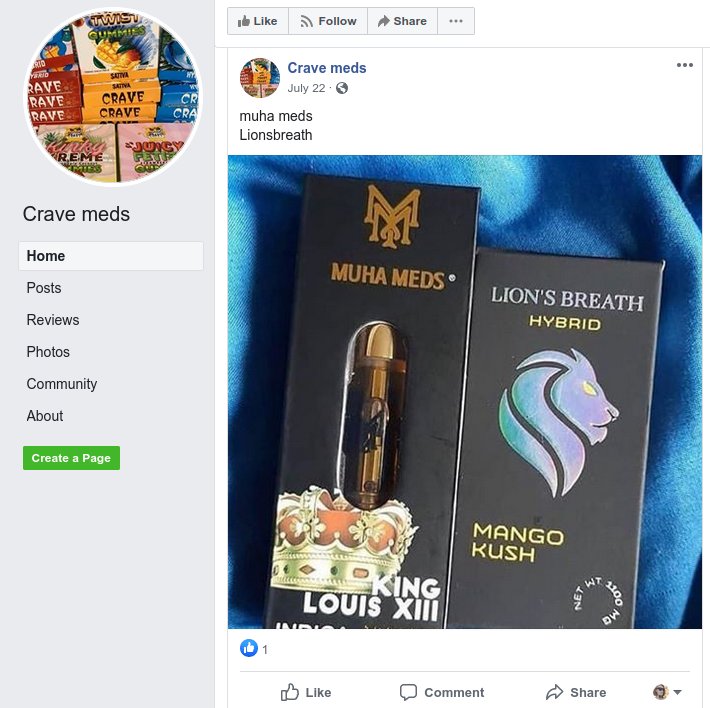 Muha Meds and Lion's Breath, two out of the Three Stooges! Do I hear a triple?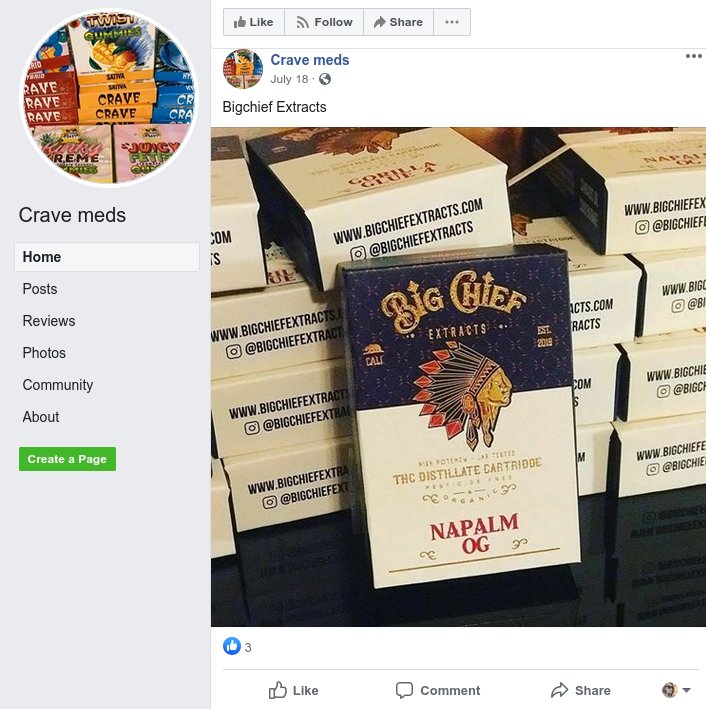 Big Chief! We have the Three Stooges of black market brands together!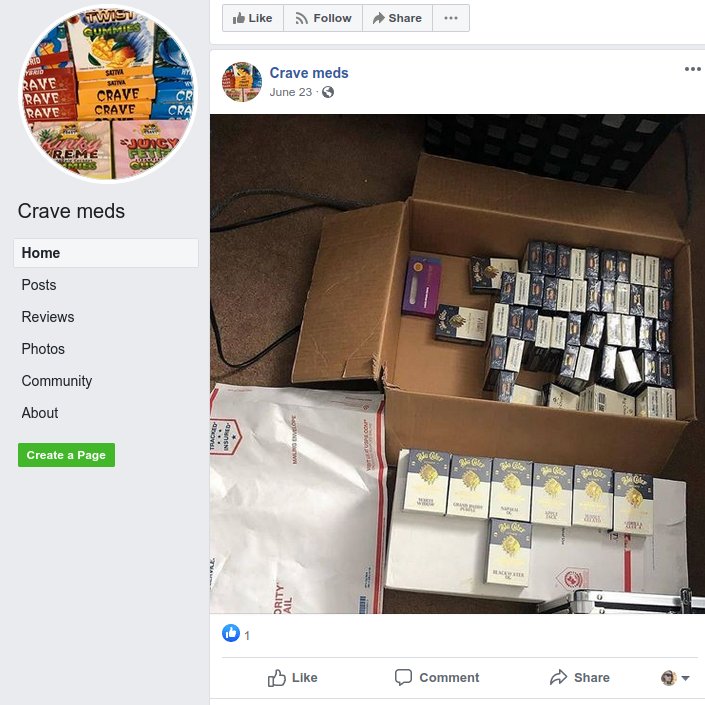 Just in case there was any doubt in your mind that Cravemeds shipped black market cartridges, they went to the trouble of showing half-packed boxes and a priority shipping label.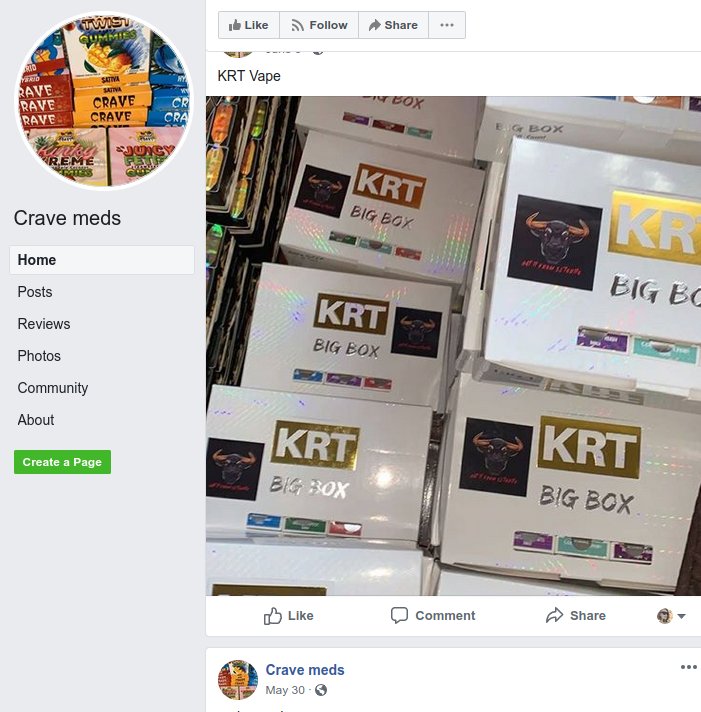 Hey, KRTs, we just covered them back here! Apparently KRT carts also come in white box bulk packaging along with the "big black box" we found. See, that's when you know you have a true boof oil operation, when you learn new things about other black market brands through them.
We certainly find third parties distributing Cravemeds products!
This would imply that the only thing the Cravemeds brand is producing is Crave branded packaging for third parties to fill. This is another one of those black market operations that saturates every social media channel you can name.
Here's one distributor showing bulk orders of both KRTs and Craves:
#cravemeds #krtvapes #carts #wax #thcoil #thrax #shatter #badder #moonrocks #edibles #weedporn #distillate #extracts #vapelife #vapepenContact #krtvapes #muhameds #lionsbreathcarts #stiiizy #vapecrave
Snapchat::J_hyke19
WhatsApp/text::+14052619679
Wickr::jayrich
We do mail 🤑 pic.twitter.com/QlTLZiYKYc

— Dreammarketmarijuana (@Dreammarketmar1) February 8, 2020
A different distributor shows only KRTs, but has the #Cravemeds hashtag first:
#cravemeds #krtvapes #carts #wax #thcoil #thrax #shatter #badder #moonrocks #edibles #distillate #extracts #vapelife #vapepenContact #krtvapes #muhameds #lionsbreathcarts #stiiizy #vapecrave
Snapchat::J_hyke19
WhatsApp/text::+14052619679
Wickr::jayrich
We do mail 🤑 pic.twitter.com/HPCnAAoFGq

— freakydays (@Freakydays123) February 12, 2020
Cravemeds reviewer doesn't know better than to review Danks
Their Instagram channel takes the time to thank "Jimmy Jam the DaB MaN," who reviewed a package of their products once. In the interest of fair and balanced reporting, we'll include that post right here:
I had to snicker when he says "They're from California so this is some quality oil!" He does indicate that Cravemeds sent him the package to review, so this was free product. Still a nice little package, we have to admit.

We'll just point out that this same reviewer thinks so highly of Dank vapes that he lines them up in the banner over his channel. Does this give you a reference point for his standards? Yes, he reviews them individually.
Final summation of Cravemeds
Cravemeds is clearly a large operation which is 100% below-the-counter black market. They are definitely flashing a lot of flower, which tells you that their shatter / crumble and other concentrates have got to have at least some quality standard.
But by being black market, they're completely cutting all the safety standards and quality control that we normally have in place. As we always point out, it's hard to trust a company that has to practice deceit in order to stay operating.
We have so far seen them:
Shipping product in the mail, which is illegal everywhere in the US.
Posting a QA test as if it were a California COA, which is deceptive.
Advocating numerous fake brands we've already covered.
Flagrantly violating packaging standards – what happens when a kid gets into those gummies?
No license, registration, or even a clue as to where they are or who owns the operation, hence no possibility to take responsibility for their product.
Who knows, maybe that green cartridge was a one-off fluke. Maybe they're producing great product usually. If so, that's a matter of pure luck and it takes enduring faith to be their customer. Some of you might have that faith; we don't.
Readers, you can chime in about Crave in the comments here or in our forum.