Bloom One is an established, licensed, THC vape cartridge brand in California. We're even reviewed a Bloom One disposable pen before. While we didn't exactly give it a rave review, it's still a shame to see any legit company get targeted by counterfeiters.
Bloom One empties spotted on DHGate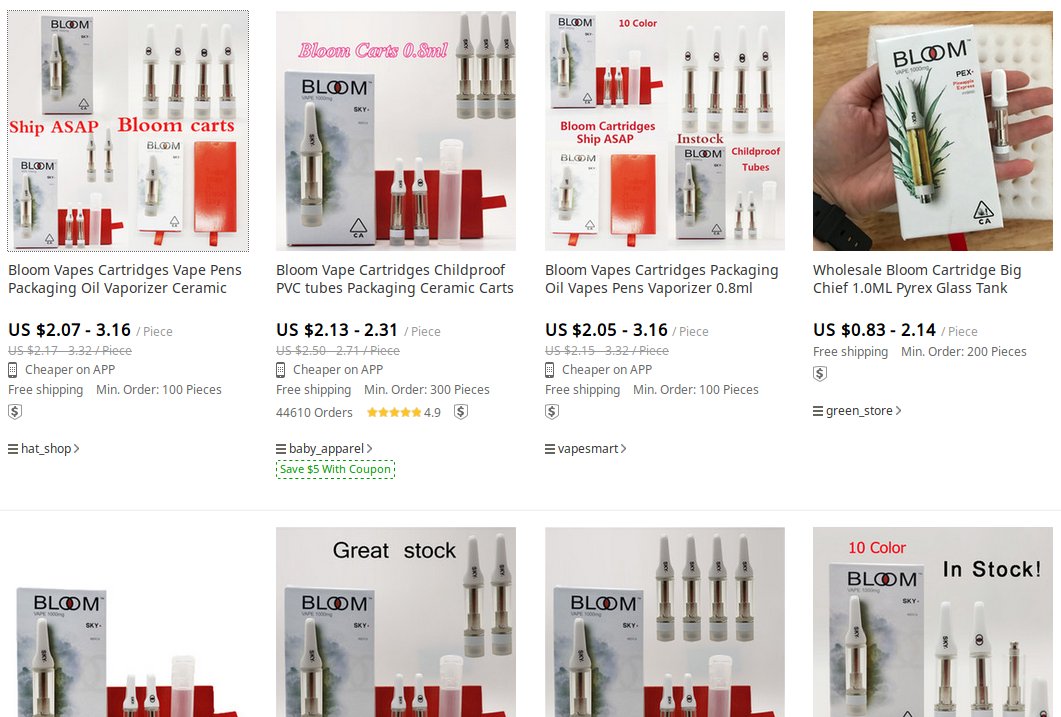 We don't find any at the other usual suspects for counterfeit cart packaging, but they're all over DHGate. Which means individual plugs will start selling them soon enough, if they haven't already.
Reach out to Bloom, they respond
The important thing to know when you're dealing with a known, licensed brand is that you can contact the company and they'll usually be able to help you figure out what's real and what's fake. Such was the case when this Redditor became suspicious of a cart with inconsistent packaging from what they were accustomed to.
Bloom One responded explaining what was going on: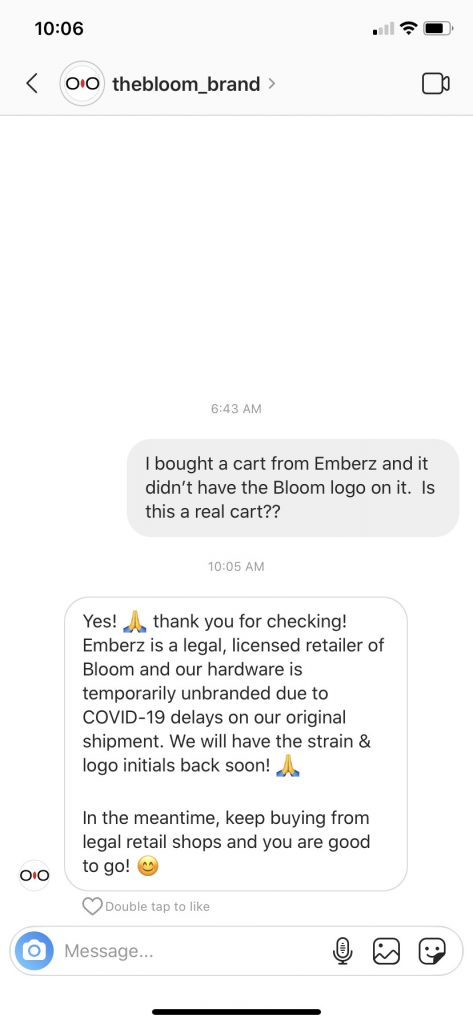 So that's a thing to know for any California company in general right now. If Bloom is having problems getting their package orders filled due to the COVID-19 pandemic, there might be similar problems with other vape cart brands out there.
On a side note, this is another good reason to stick to licensed brands. You actually get customer service!
Other possible Bloom counterfeits spotted in the wild
About two weeks ago as of this writing, a Redditor asked about this specimen. With the sticker and all, this looks like a photo of a legit package, but comments point out there's no UID number and the lab test barcode is misplaced. In addition, the website given for the manufacturers, Greenfield Organix, is dead now and whois says gofourthst.com never even existed.
Nevertheless, we know Greenfield Organix existed because in the summer of 2018, they did a recall. So… it could be that Greenfield Organix has gone out of business and left Bloom brand to fend for itself?
Sketchy websites are probably selling knockoffs. Case in point: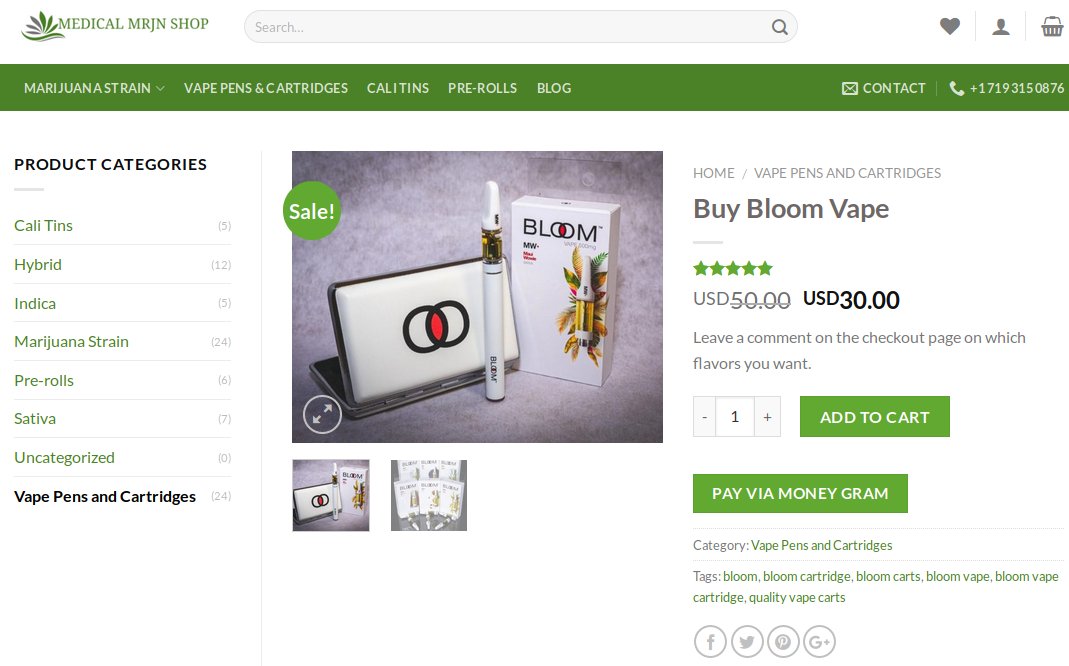 Now what makes us say this site's sketchy? Well, check out the rest of their stock: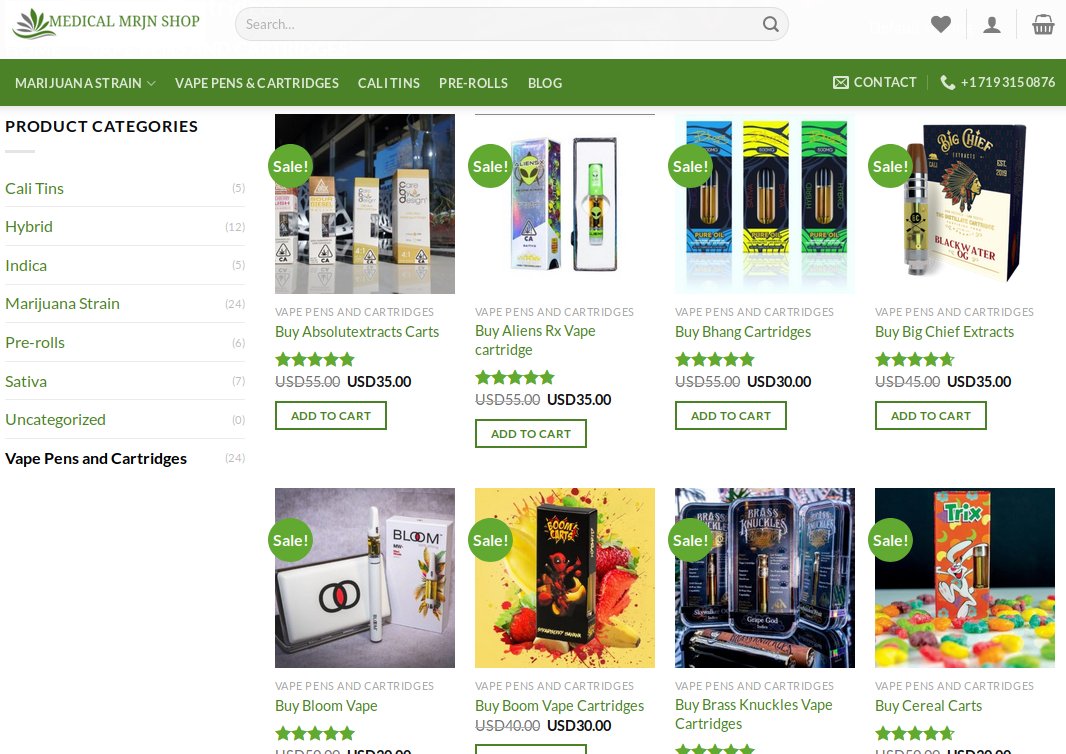 Hmmm, Big Chief and Brass Knuckles are already frequent counterfeited brands, but the kicker is the infamous Marvel/DC Boom carts and the Trix Cereal carts! If they're selling 100% fake brands like this, chances are none of them are legit.
How about this site? They only sell Blooms starting at $260 for a lot of ten (so $26 each). Explore the rest of their inventory and they're selling Danks. Whenever you see any vendor selling Danks, they should be automatically disqualified. You don't want anybody that stupid messing with your lungs.
Bloom counterfeits are curiously missing from social media just yet
This is an interesting time for this particular wave of counterfeits, because they apparently haven't saturated social media yet. With fake and street brands, we find hundreds of twitter and Instagram dealers. Hardly any activity on those channels for Bloom, except for of course Bloom's own official accounts.
The presence of a licensed brand owner who is active on social media themselves could have a chilling effect on counterfeiters. The black market sellers see a legit company out to defend their product, so they back off from fully competing. We had to work harder to tease the fakes out of the system, which goes to show that you're always better off with a registered, regulated brand.
Note the difference between this and a black market brand which is then swamped by fakes to the point that there's no recovery. (Sorry to be preaching again, but we take our "teaching moments" where we can here).
Bonus Star Wars reference…
On Bloom One's site, we see this unique testimonial quote, so we just had to meme that for you…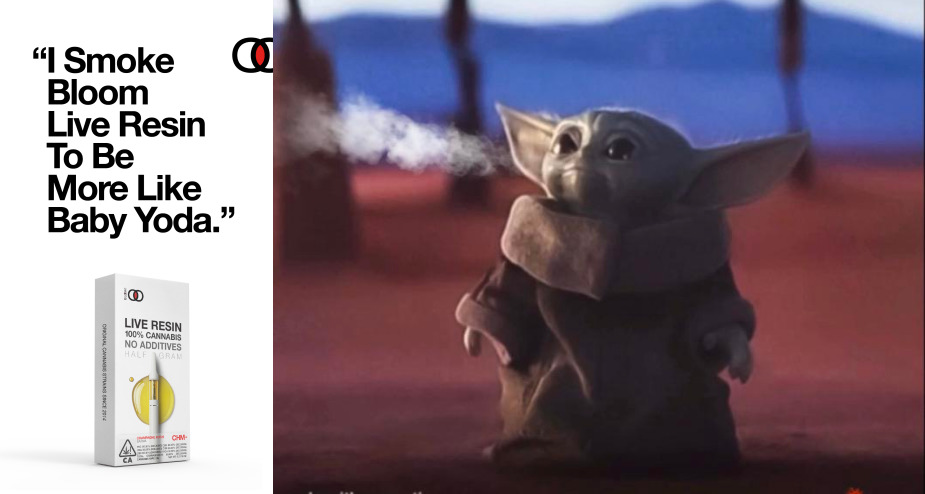 We just don't pass up Baby Yoda that easily around here.
Readers, have you encountered fake Bloom Ones in the wild?
We're all ears in the comments below or in our handy dandy forum. And of course, we offer our assistance to the registered owners of the Bloom One brand, to help boost the signal for anything they're doing to stamp out counterfeits!