REVIEW OVERVIEW

SUMMARY
Get ready for a micro-review of a micro-battery. The CCELL Rizo is a super-compact micro-battery that might have been a contender if the market wasn't spoiled for choice already. However, given that CCELL does not sell hardware direct, but only rebranded to third parties, the end consumer price is almost certain to make other options more attractive. The prices I've seen on the Rizo run $29.99-$39.99, a price point where it gets creamed by other batteries. Even at that, it's not a total loss, but just not much to recommend it over other models.
See our video review of the CCELL Rizo battery here.
Pros:
Super compact and discrete
Super simple operation
Produces vapor
Looks OK
Cons:
The rounded bottom prevents setting the cart down right-side-up
Only 2 temp settings
Button-less operation means you must rely on draw-on-demand
Another socket-and-nut system
Haptic feedback on every draw can't be shut off – lip buzz!
Not worth the price range
CCELL can do better!
Recommendations: There has to be a way to shut off that haptic buzz on every draw. Replace it with a light, or have a way to switch the haptics off.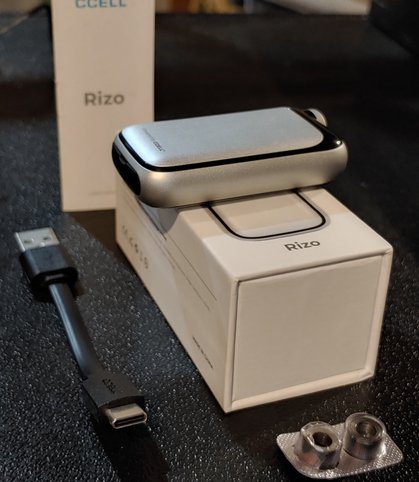 It Takes 5 Minutes Max to Describe the CCELL Rizo
I will have to hand it this much: the CCELL Rizo is without doubt the simplest vape battery I have ever seen. It is really devoted to the minimalist experience. Here's the whole scoop:
First, you take this TINY USB charging cable…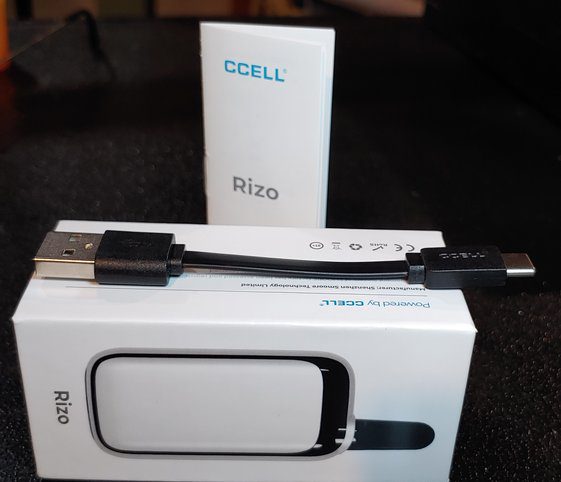 Wow, normally I don't focus on the cable, but this looks like the shortest USB cable they even make. You peel back the rubber lid on the bottom and plug it in for the charge.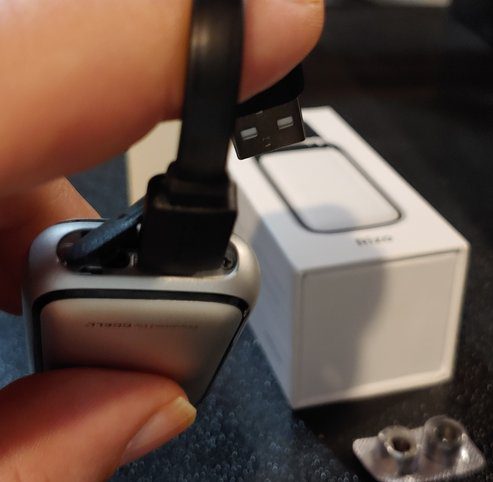 There is haptic feedback and one LED on top. The LED will strobe when charging and go solid when charged. Now, because this is a socket cart battery, you get out one of the cartridge nuts from the blister-sealed pack:

And you thread it onto the bottom of a 510 standard cartridge. We're showing it to you step by step because this review is just that thrilling and breath-taking: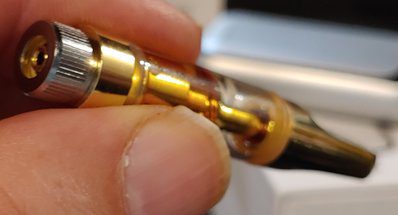 One more feature to show you is the temperature control. There are no buttons on the Rizo, a fact which may impress you until you learn that it has a switch instead, a TINY one hidden under the rubber lid on the bottom. It's right next to the USB connection, you can't miss it. You have TWO whole, entire temperature settings, L (2.8V) and H (3.3V).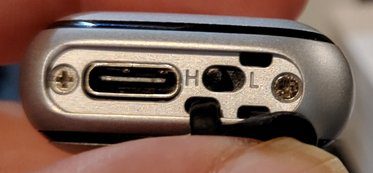 There you go. Enjoy! It's draw-on-demand, so just keep sucking on that clogged-up cart until it clears. You know you're doing it!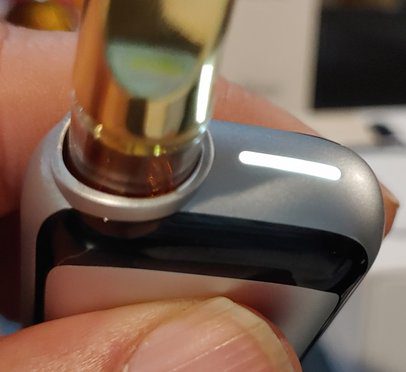 About that temperature switch, I didn't get much action on the "L" setting and frankly, the "H" setting produces vapor good enough but is also nothing to write home about.
Annoying Things About the CCELL Rizo
First off, the lack of a flat surface on the bottom makes it so you can't set the battery down with the cart right-side-up.
The temperature selection is vague and limited. I don't know when 4 temperature settings became too much to ask. The switch on the bottom is super tiny and hard to access.
The haptic feedback kicks on every time you draw. Hope your lips aren't ticklish, because they're getting buzzed with every puff. What is the purpose of this? "Oh, I can't tell if I'm inhaling – wait, my lips are vibrating! Aha, so I AM inhaling!"
With no button to fire up the heating element, you're stuck with draw-on-demand. Which, if your cartridges get clogged up, becomes harder to activate.
There Are Just So Many Batteries Out There
Just in the CCELL line alone, we have the Silo and the Palm. Both of those are palm-sized cartridge batteries with more features and also go for a budget price. Now add to that the brand which I consider the King of Compact, Doteco, with the MGear4 and TIK10, both with an MSRP under $20 and actually managed to pack in 4 temperature settings, a button, a flat side to set it down, and more.
CCELL staff writes to inform me that in fact, the Silo and Palm are their old models and the Rizo is supposed to be their improvement. Just passing that along. Perhaps they did lots of focus market polling and this is the design that popped out of their algorithms, but I still see what batteries other users like and they seem to prefer what I prefer.
So by comparison, in my experience the CCELL Rizo is just under-performing, especially at prices I've seen, $39.95 at VPM and at VapeFuse, and as low as "from $29.99" at Hamilton Devices.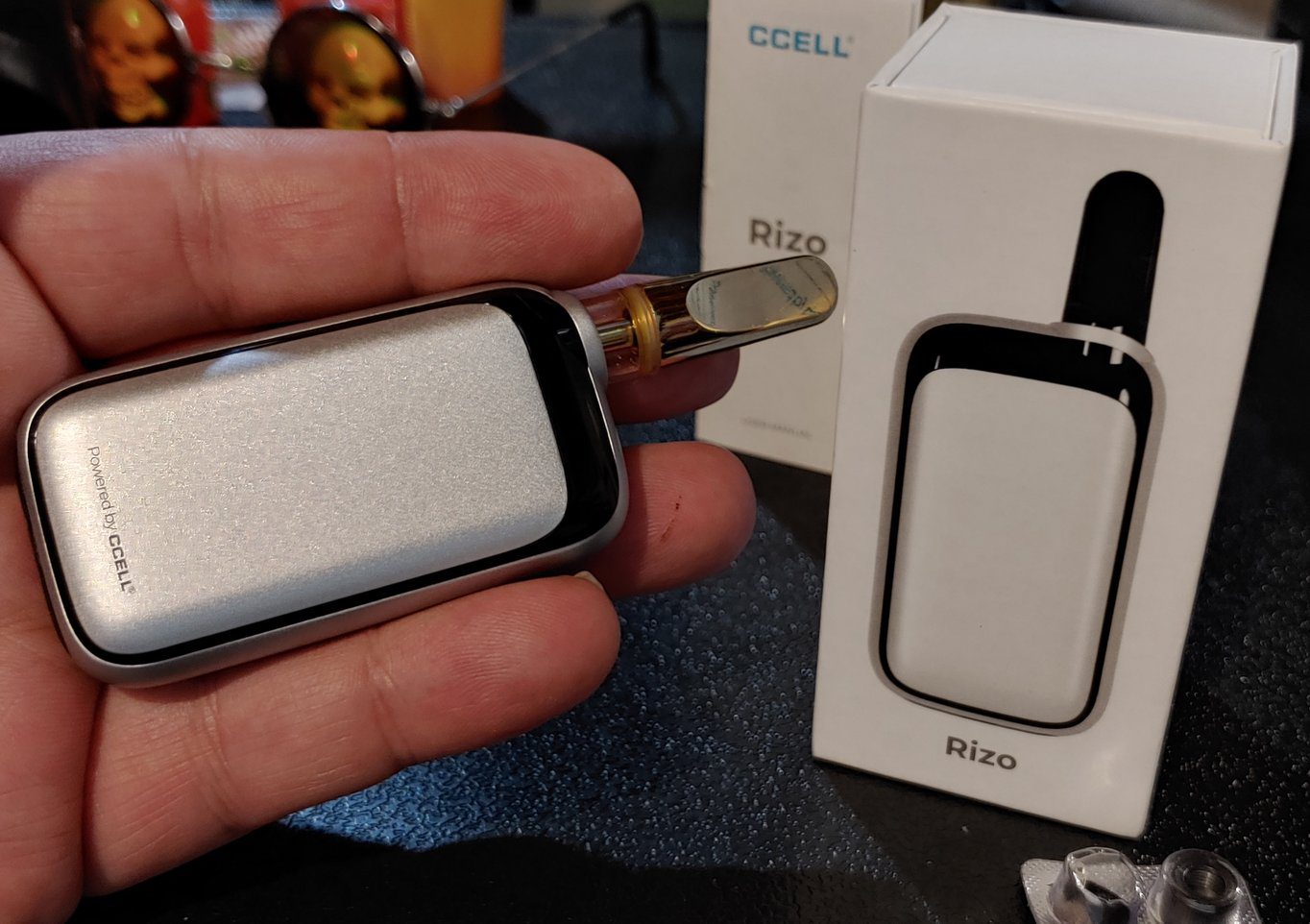 The CCELL Rizo Does What It's Intended To, I Guess
It looks nice enough and its micro-size makes it compact. The extreme simplicity flattens the learning curve. The airflow is just average but produces vapor. If there were no other batteries in its range, the CCELL Rizo would start looking better. That's about everything nice to say about it that I can think of. The Rizo is a decent battery overall, albeit with some misguided features, but the market is just flooded with batteries right now so it's hard to see where it fills a niche.
I could still mildly recommend this as a backup battery or if you're really desperate and find it at the cheapest possible price. For something this tiny and minimalist, they could just about hand them out in Happy Meals.
Readers, how no-frills is too no-frills for you? Why do you need such tiny batteries? Do any of you like your lips buzzed while you vape? Tune in for these and other mysteries explained in the comments below or in our hotboxed forum.