REVIEW OVERVIEW

SUMMARY
While the rest of the cannabis accessory market is crammed with competitors, the eRig section could use some expansion. I can think of maybe a dozen true eRig devices, which would be an electronic method of dabbing cannabis concentrates. So it's always an exciting day here when we get to review a new eRig.
We take our quality assessment very seriously on eRigs since they're typically a pricey item. And I'm pleased to report that the DabLamp is a contender for anybody's top eRigs list!
See our full video unboxing + review of the DabLamp here.
Pros:
Fantastic cloudy hits!
FAST operation
Easy to use
Relatively low-maintenance
Induction heating preserves the flavor
Heavy duty battery
Charges with an adapter, not USB
Looks pretty cool
Affordable price
Cons:
The business end gets incredibly hot – is the 800F range really necessary?
Recommendations: The heating coil works almost too well; later models might want to back it down a notch. Maybe there should be a temperature indicator somewhere near the coil, like thermal paint, so you know when it's cooled down.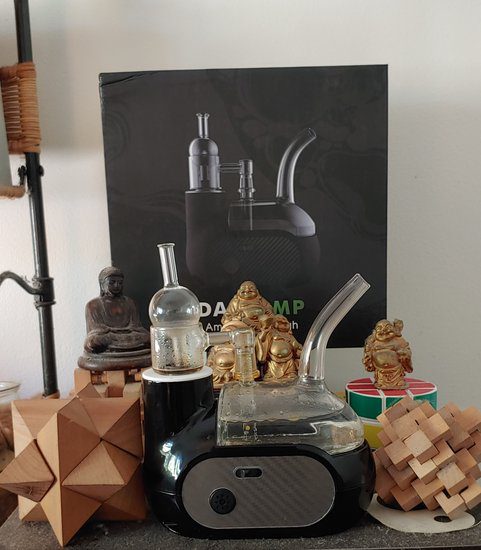 DabLamp is a Cloud-Chaser's Dream Rig
I can speak for one fact: Some of the best hits of my life have come off the DabLamp. It takes less than a minute to heat up and delivers the thickest, cloudiest puffs that preserve the full flavor of the concentrate. We have a Golden Buddha award contender here!
The features of the DabLamp include:
Heavy-duty 4200mAh battery – takes a few hours to charge up
Induction heating – great taste, great effects, great clouds
Two use modes – 3-temp smart heating and a manual heat-on-demand
Safety cut-off to prevent overheating
Audio feedback instead of haptic
The full kit comes with:
Battery unit
Wall plug-in charger
Glass water reservoir
Glass nail
Glass cup-cap bubble topper
Titanium bucket
Quartz bucket insert
SIC bucket insert
Dab tool
Assembly involves very carefully sliding the glass water reservoir onto the battery unit. Follow the instructions and see our video for a demonstration. It fits tight, but is very secure once attached.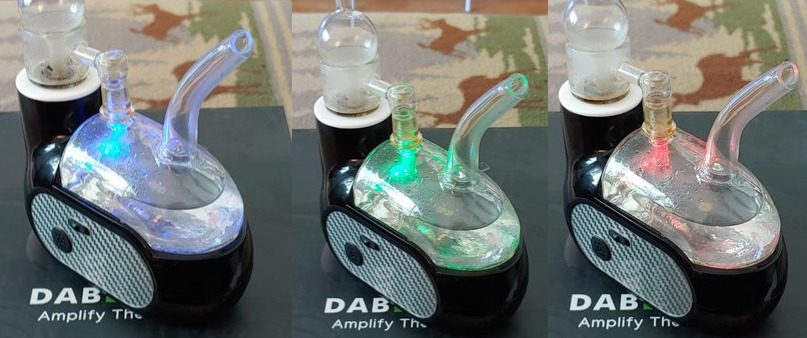 You can switch between two heating modes, a manual heat-on-demand setting (range 650F-800F), and a smart-heating mode with three adjustable temperature ranges: blue (450F-500F), green (550F-650F), and red (650F-710F). All of these are accessible with one button, plus a simple on-off switch for the unit.
The DabLamp comes with extensive safety warnings, and I suggest you heed them. Don't goof around with this device, as the nail socket's outside is blistering hot to the touch, even after being shut off.
I'm Sold on Induction Heating Already
The DabLamp's founding principle is induction-coil heating, with a design so simple that I wonder why we never saw this before. There's a metal coil around the inside of the socket and the nail fits right in there. This is the closest you can come to old-fashioned dabbing without actually burning hydrocarbons. In fact, I could argue that the induction coil actually heats more evenly, since it encircles the nail, while a blowtorch would be going all around one side or another.
From a cold start, the DabLamp takes less than a minute even to reach its highest temperature range. You get a nice big puff off it in 60 seconds or less. It heats the concentrates evenly and very thoroughly; vaporizing the concentrate efficiently without wasting a drop. The performance here is top notch.
I will say though that the heating element works perhaps a little too well? It seems excessive for temperatures to reach 800F degrees. I guess that's intended for self-cleaning mode. Typical dabbing ranges I've seen run around 500F to 600F. With that being said, that's a small nitpick. I can see where you would appreciate being able to melt that shatter right now, this instant. You can always fire up the higher temp when getting the extract runny and then switch to a lower temp when you're ready to inhale.
The DabLamp Blows Away the Dr Dabber Switch on Price!
When you look at induction-heated eRigs, the market gets far narrower. The Dr. Dabber Switch has, up till now, been one of our reigning champion eRigs and also the only(?) induction-heated eRig that I can think of. The Dr. Dabber Switch runs $374 today, and has consistently stayed in the $300-$400 price range.
The DabLamp is a mere $229 currently, marked down from its standard price of $249. That is a considerable savings, and you can make a couple further comparisons.
DabLamp has a smaller form factor that the Dr Dabber Switch. The Switch is notorious for sticking out like a sore thumb, being a tabletop rig all the way. While there is no such thing I've found as a truly portable eRig (who is trying to take dabs while jogging around anyway?), the DabLamp has a more compact build. True to its name, the DabLamp does kind of have a genie's lamp shape. I know aesthetics count for little in the dab rig market, but hey, the DabLamp looks cool, especially lit up.
DabLamp's battery is heavy-duty. I do know that there were some complaints – even from our own reviewers – about the Switch's battery life. The DabLamp packs 4200mAh of power, and plugs in with an adapter instead of charging over USB. I'll be using the DabLamp steadily for a while just to get some idea of its longevity, but smart money says now that the DabLamp is going to come out ahead in this race.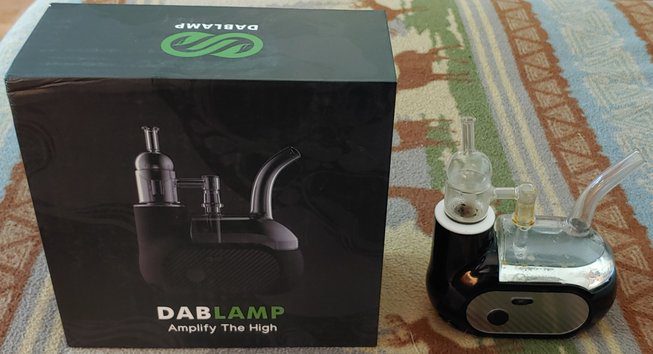 The DabLamp is Worth Checking Out
Between the affordable price tag, induction heating, and all its perks, the DabLamp is going to be my go-to eRig for a while. Did I even mention how tasty the dabs are with this rig? The lower temperatures are great at preserving the flavor profile of terpenes, while the higher temperatures will definitely activate every cannabinoid in the hardest wax.
So I'll give the DabLamp a high recommendation for anyone dabbing cannabis concentrates. It's a worthy contender in the tight eRig market. Find the DabLamp here.
Readers, share your experiences with the DabLamp and dabbing in general here in the comments or on our hot and sticky forum.