Plug Play Vape Review : Possibly The Strongest THC Oil Pen Out There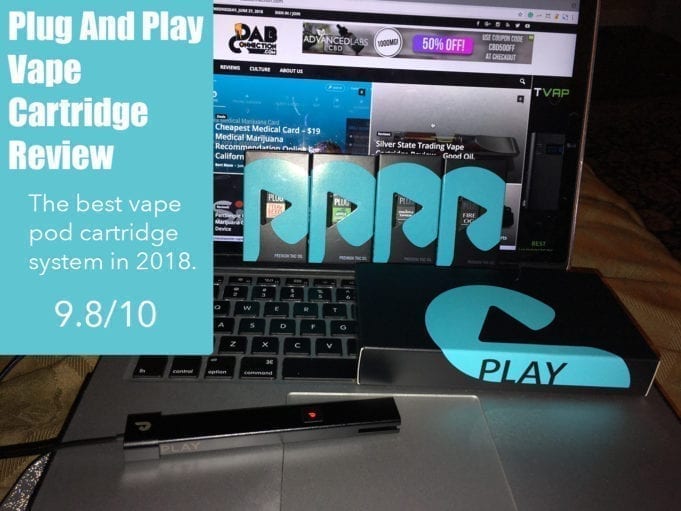 REVIEW OVERVIEW

Design and Build Quality

9.5

SUMMARY

Plug and Play vape cartridges are not your typical prefilled cartridge or pod. Its filled with premium THC oil tested at 70-80% inside of a pod system built with a ceramic heating device. These vape cartridges hit harder than other vape cartridges reporting higher THC amounts such as Stiiizy. Stiiizy pods report 85% THC on average.
Plug Play vape cartridges are only available around the Los Angeles area. This is not your typical vape pod cartridge system. Plug Play pods contain premium THC oil. It only takes one puff to experience an instant head change. The pod design provides a superb vaping experience backed with a lot of strength. Doing this Plug Play vape review was a consistently strong dabbing experience. Vaping is very smooth, and the pods are capable of emitting big vape clouds.
Update: March 8, 2018: Plug and Play has relabeled their brand to Plug Play vape
UPDATE 12/30/19: Plug Play now uses CannVerify on their products. See this post for updates on packaging and a demo shot of the CannVerify process.
Recently, Plug Play made our best cartridges California list!
UPDATE 9/11/2019: DISCLAIMER: In light of more recent news, it has become apparent that black market cartridges, counterfeit cartridges, and fake brands of cartridges have become more widespread than we had ever realized. We urge readers to apply their own discretion, and caution that at no point should readers assume that a review of a cartridge on our site is a guarantee of its safety. We advise readers to always verify their cartridges as coming from a legitimate source.
Design and build quality of Plug Play vape cartridges are brilliant!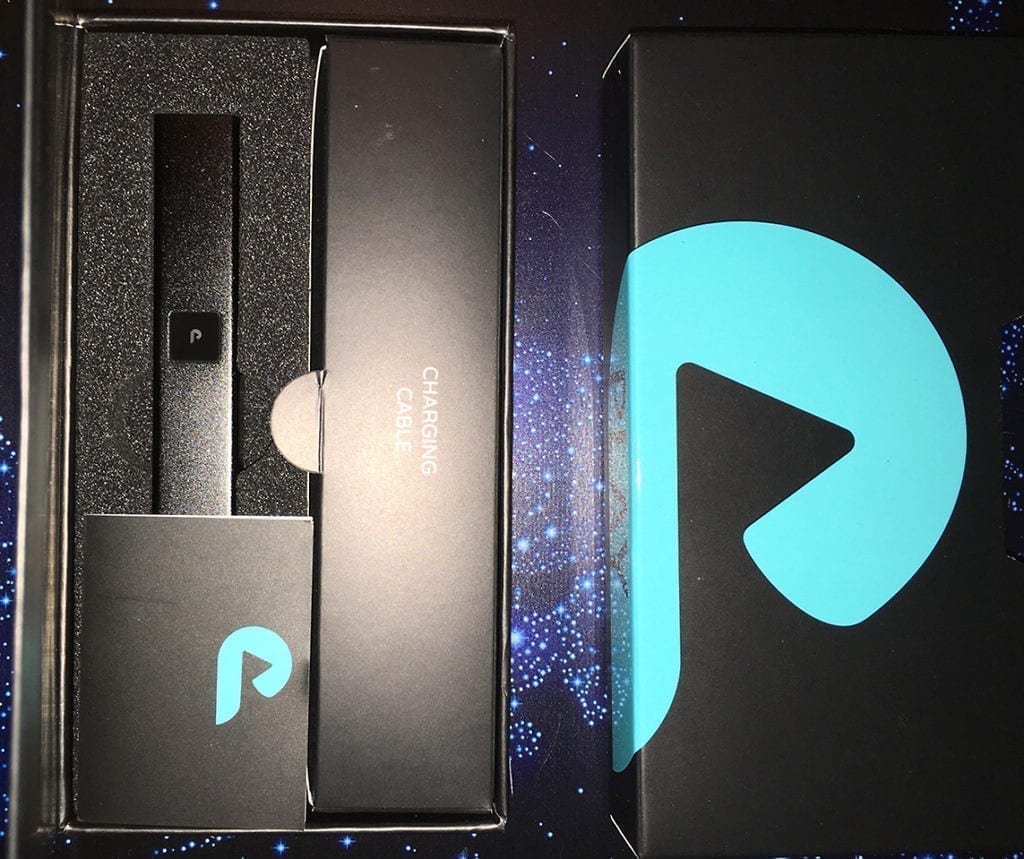 These are ceramic heating based pods that make all the difference! Vaping performance is incredible! It feels closer to a dab rig more so than any other vape cartridge that I've tried. The ceramic heating gives a clean potent hit for each vape. The design of this vape pen conceals its THC oil pods for discreteness. Plug Play vape pods are very durable and resistant to breaking from drops because its made from plastic. No glass to crack.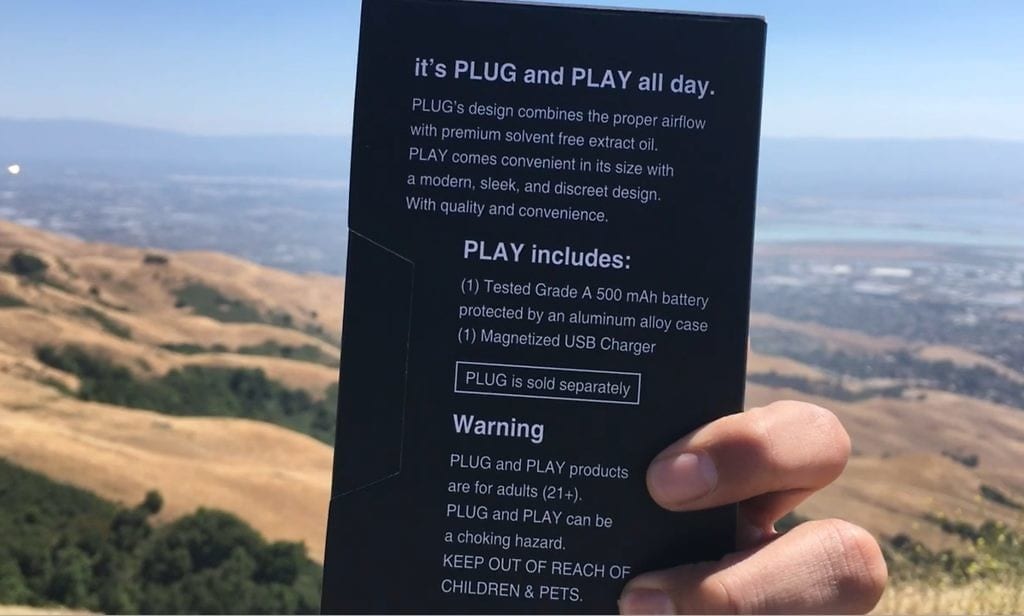 There were some minor design flaws in our eyes that kept this vape pen from being 100% perfect. They are taking the Apple approach and trying to lock its customers into having to buy their charging cable if it's lost.
The Plug Play vape cable originally was not a standard micro-USB charging cable. Update 7/24/2018: Charger is now standard micro-USB. It used to have pins that magnetically snap onto the vape pen. The battery fully charges within an hour and lasts a couple of days of heavy use which is the benefit of the cable. Most of us probably would have preferred to see USB-C (aka Thunderbolt) being used here, which is the new standard on Android devices, and charges faster than standard USB 3.0.
In our Kandypens Prism review, we found the lighting charging port to be a nice bonus. It's nice to be able to find a cable cheap and easy, even if it is not for your phone type.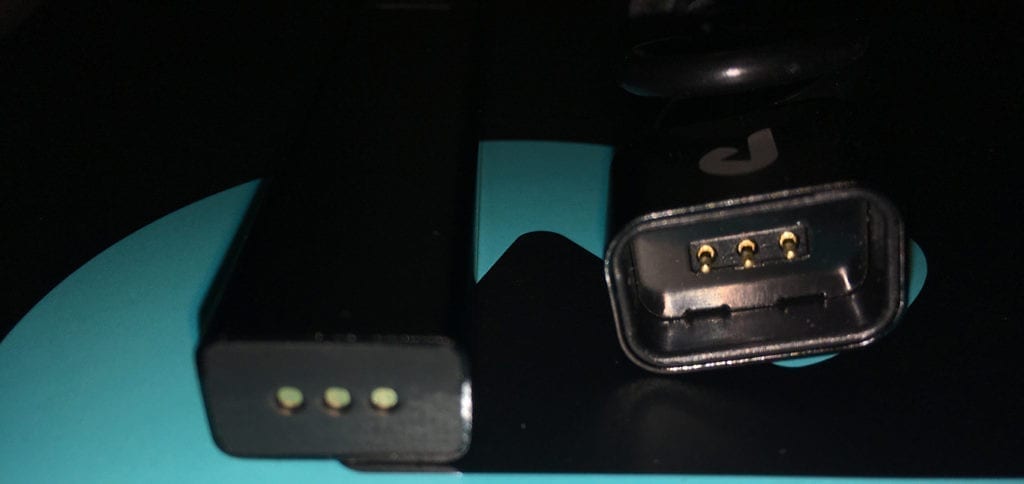 Updated 7/2018 – Plug and play made the switch to a micro USB charging connection.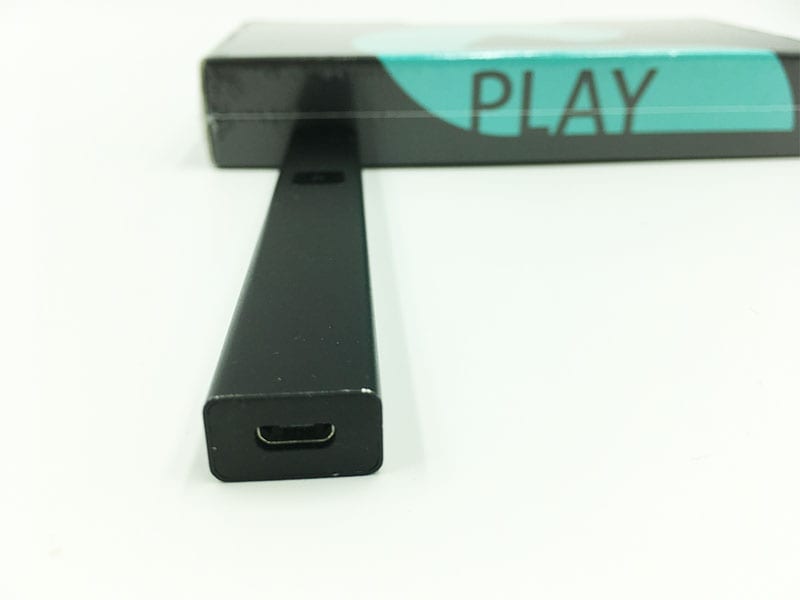 Premium THC oil is outstanding and stronger than most.
The Plug Play vape pod packaging claims it pods are filled with grade A cannabis solventless extract. The THC oil is so thick that it does not move. The color of the THC oil is a beautiful gold transparent. This premium THC oil will set the standards for those lucky enough to try it. Those who are after THC strength are going to enjoy the many potent vape cartridge options available.
The strength of Plug Play THC oil is the strongest I have tried so far.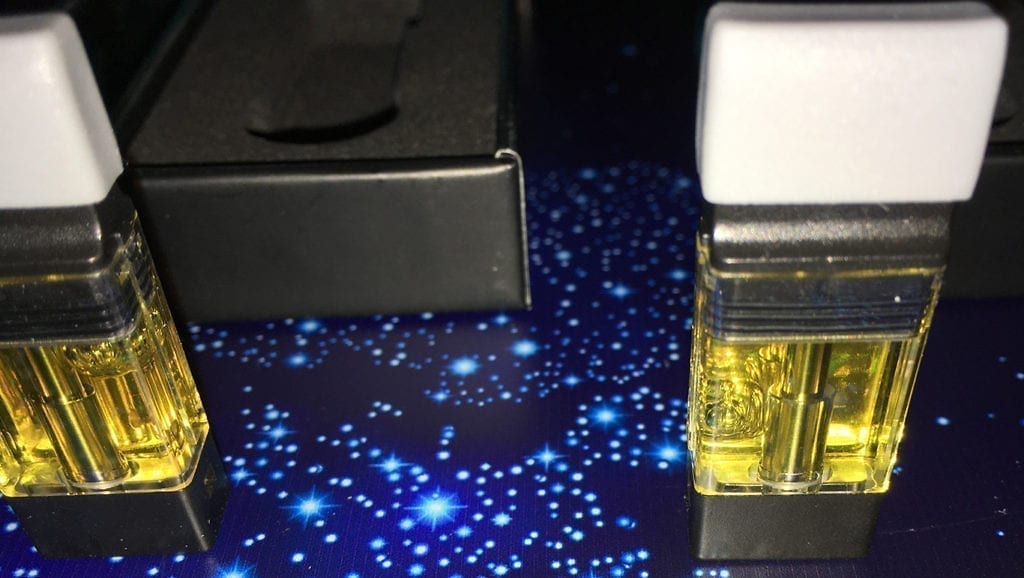 I underestimated the strength of the Plug Play vape cartridges. The packaging states these pods average from seventy to eighty percent of THC content. What surprised me was these vape pod cartridges felt more powerful than others I've tried that reported higher THC amounts. These felt stronger than Stiiizy pods that claim they are 85% THC. Limonene and other parts play an effect here as well.
I was lucky enough to try four different strains from Plug Play, and they all had consistently high strength. What I liked about Plug Play vape cartridges is not having to chase after the THC. After two good hits, I could get the full desired effects from the THC oil.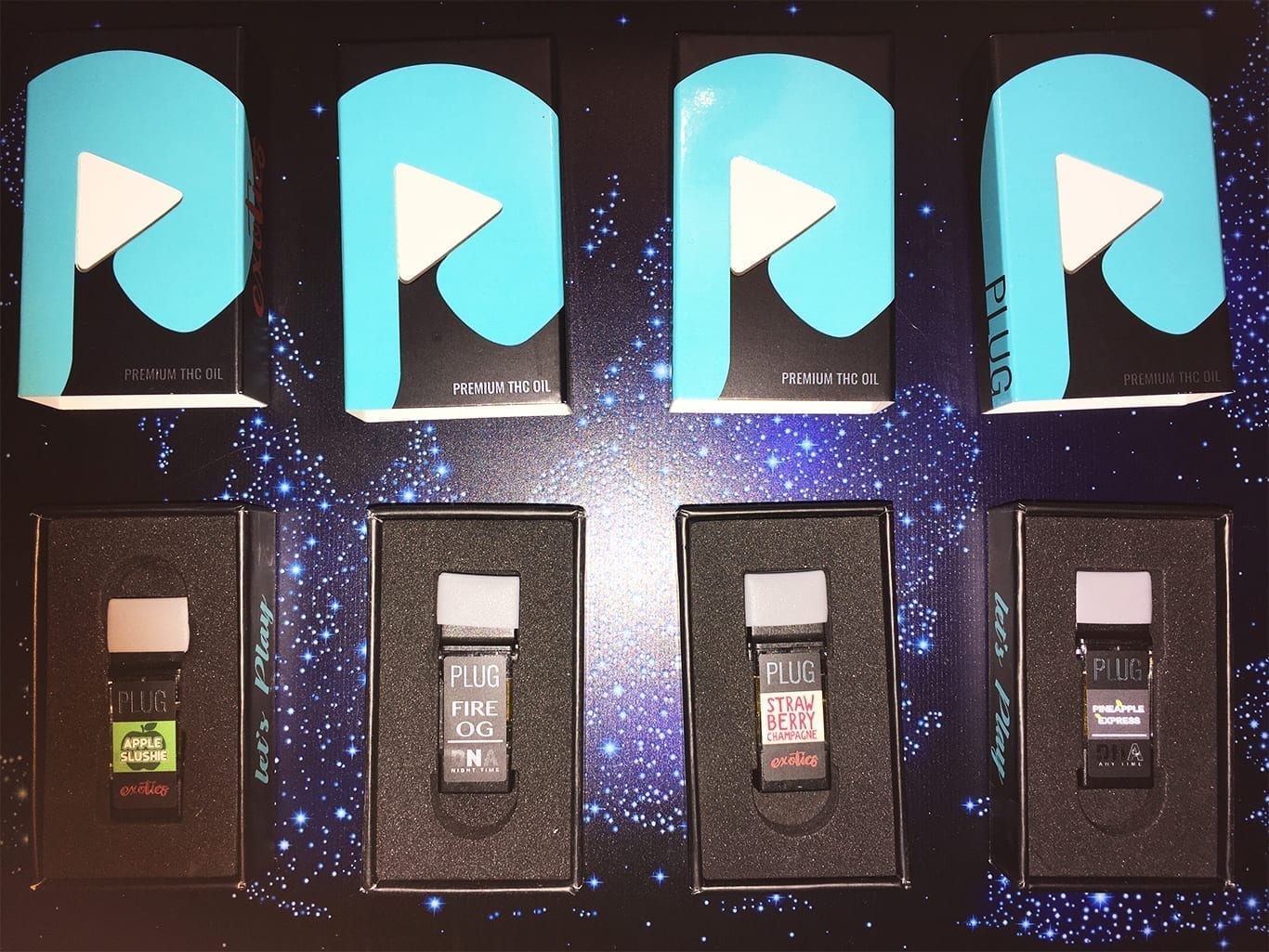 I was the biggest Stiiizy vape pen fan for the longest because of the THC oil strength proclaimed at 85% on average. When I first had Stiiizy last year, I remember the strength being out of this world. After being a loyal Stiiizy vape pen user, I notice the strength felt like it was getting weaker. Then pops up online an independent lab test on Stiiizy from Instagram user datdude41510 which revealed a lower percent of THC found, only 68% of THC was detected in the lab test for the Stiiizy Hardcore OG strain.
I have refilled Stiiizy pods and found that Stiiizy overall is a pesticide-free and good quality oil, but the strength really comes from the hardware and not the oil itself. Stiiizy has found its hardware match with Plug Play vape pods.
Plug Play cartridges have some delicious tasting recipes.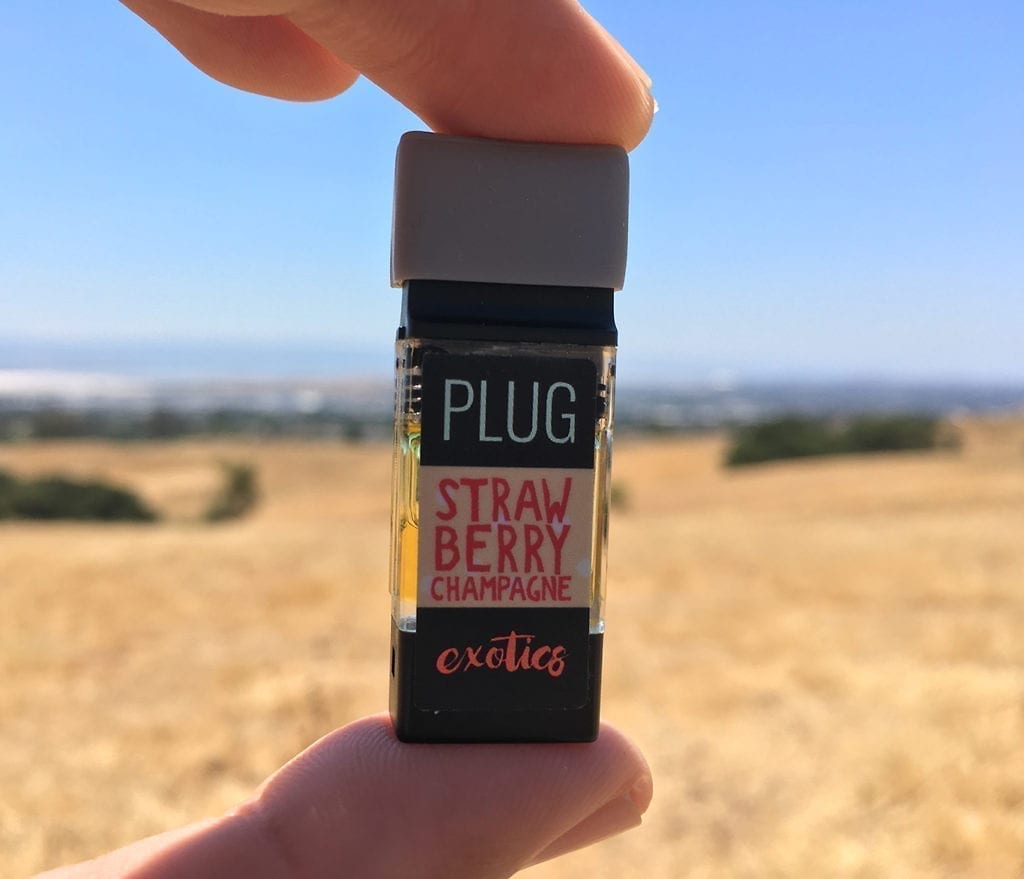 Plug Play created the perfect blend of clean and potent THC oil with just the right amount of added terpenes. The terpenes are just a hint making it not overwhelming at all and leaving more room for potency. Plug Play vape cartridges are outstanding with Fire OG being my favorite among the four I tried. My second favorite was the Pineapple with a very refreshing hint taste of pineapples. The Apple Slushie reminded me of a green apple jolly rancher. The Strawberry Campagne vape cart was also very nice.  I found myself wanting more of as I came close to running out. I would buy all of these vape cartridge flavors again.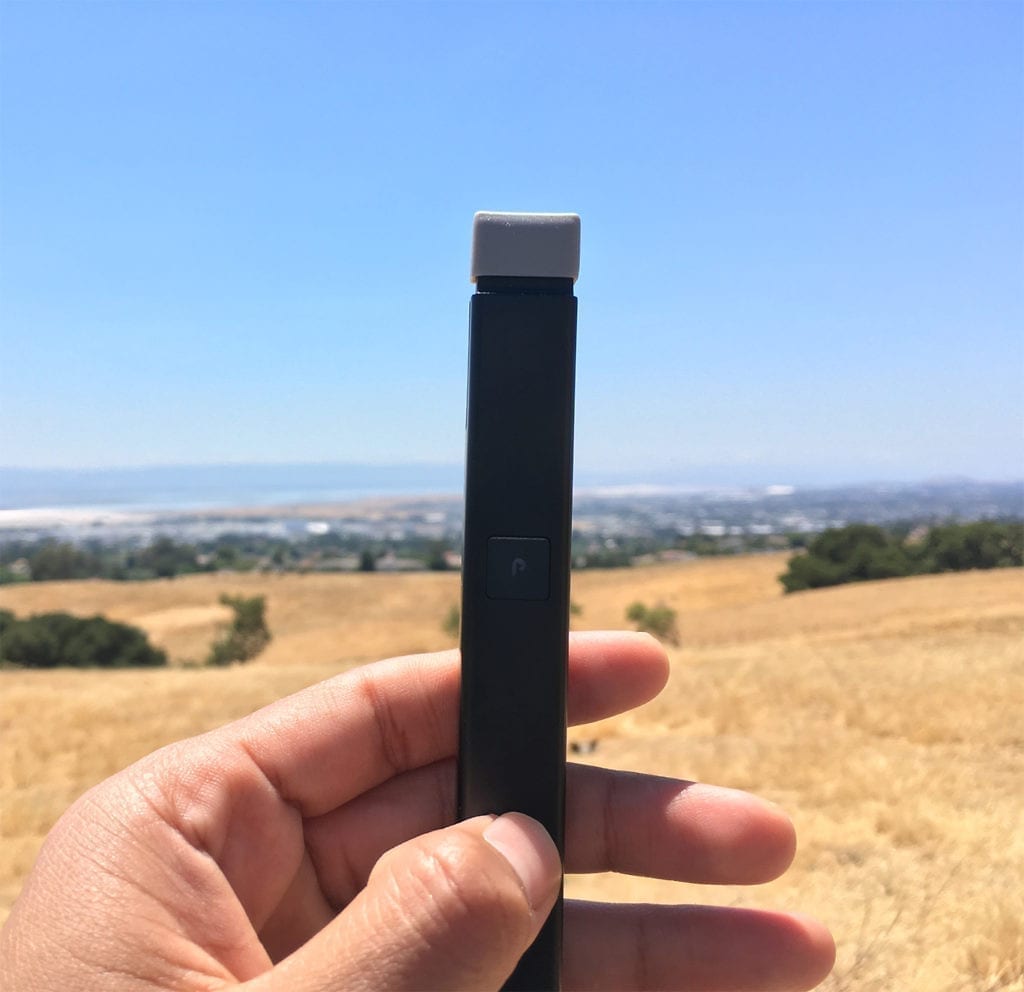 Efficiently is on another level for prefilled cartridges and pods.


There are no other vape cartridges or pods out there right now like Plug Play. The ceramic heating coils create smooth and potent hits similar to a dab rig. There is no burn on the throat from the vape from vaping Plug Play pods. It only takes one hit to feel a rush of THC transition you into being very high. The best example would be equivalent to smoking an entire joint of very high-quality indoor cannabis. The amount of time this vape cartridge system saves pays for itself. It just keeps getting better and better the improvement of vaping technology and ceramic heating coils were just the next logical step forward.
The number of puffs seem like a lot when you don't need many.
The best thing about Plug Play is you do not need as much to feel medicated. I have a high tolerance and found myself needing only two full rips for a good quality session. Each puff will give a very strong effect so much that it's almost unbelievable that it is coming from such a small device. A puff from Plug Play vape cartridges has much better airflow than other pods and cartridges I tried. It also had an excellent consistency for each puff without clogging like Stiiizy pods.
The Plug Play pods and vape pens are worth every cent!
This vaping brand offers the most convenience for vaping strong cannabis extract. The "Play" vape pen battery costs $20.00. The prefilled THC oil vape cartridges are called "Plug" and cost $55 on average for a full gram. We recommend this vaping set up for those who want an easy and the most efficient way to vape cannabis extract. The prefilled vape cartridges will keep you coming back for more! Let us know about your experience with this great vaping brand.
My number one recommendation before trying out Plug Play was the Stiiizy vape pen and their pods. I had spent well over a half a grand on Stiiizy pods as it became my number one go-to for my every day vaping use. There always felt like something was missing from Stiiizy pods and I found that with Plug Play. It is yet to see if this will be an exclusive oil pen form factor or if we will see it come out with other oil types. Thanks for checking out our Plug Play vape review. See our Reviews page for more vape cart reviews.
Did you try the Plug Play? Questions? Comment below!