REVIEW OVERVIEW

SUMMARY
I may look younger than I am, but my joints tell a different story. My knees and back definitely are not how they used to be. I must pick up things like Epsom salts and take long baths to ease my sore bones. Well, today's review actually did me a huge solid and made for a much-needed relaxing night. Let's talk about Plain Jane CBD Self-Care Bundle. 
You can check out our video review of the Plain Jane CBD Self-Care Bundle here.
Pros:
Smells GREAT
Great value
Solid effects
Cons:
No directions or suggested use of containers
Recommendations: Some instruction manuals would be great.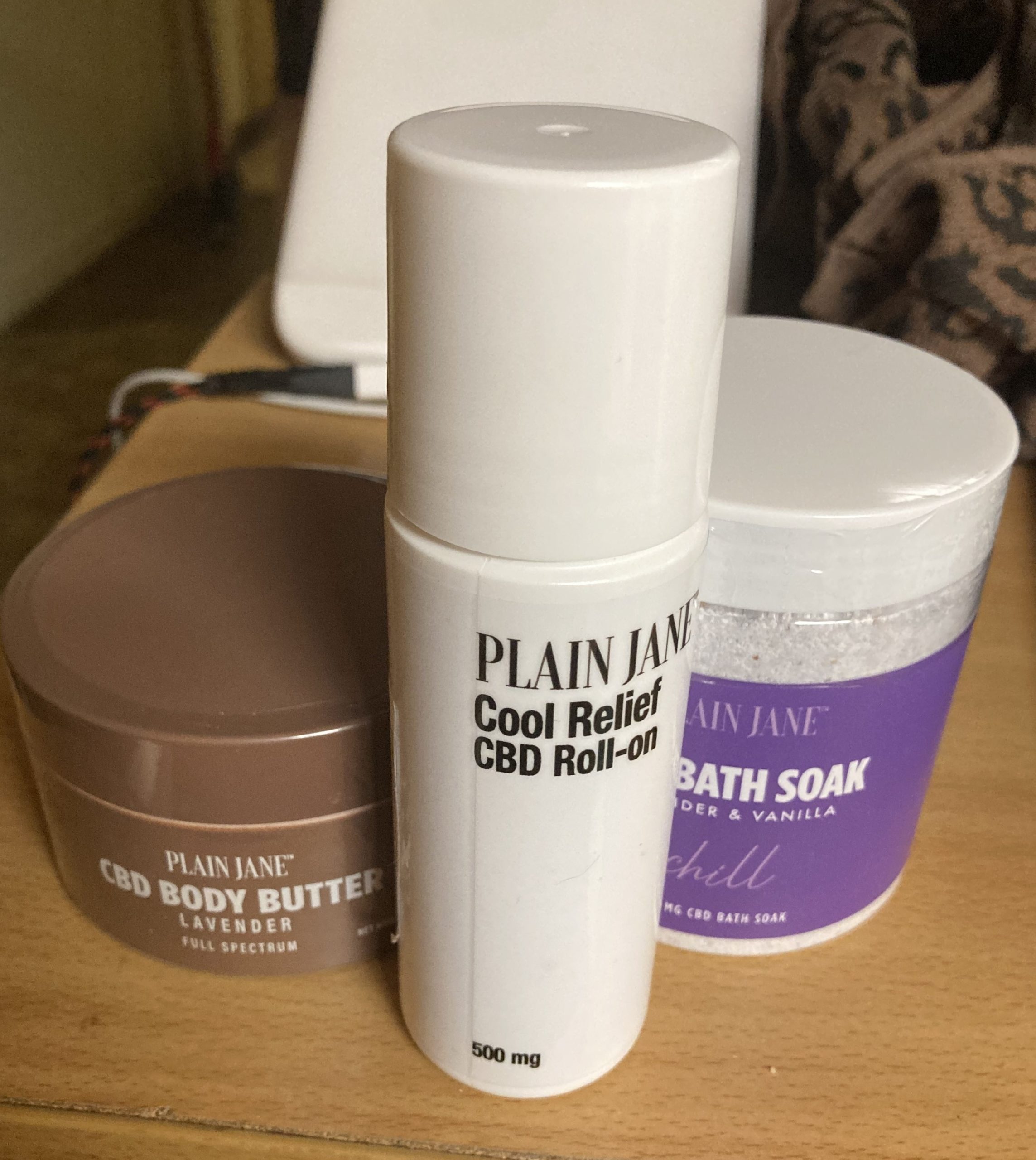 Perfect for my aches and pains
Plain Jane sent me a CBD care package perfect for my aches and pains: a cold roll-on stick, full spectrum CBD Body Butter, and a CBD bath soak! Relaxation and stress relief were plenty! Let's get into the details of my Plain Jane CBD self-care bundle:
First of all, Plain Jane must know my taste because they sent me the care package with the lavender and vanilla bath soak, as well as the lavender body butter.
Lavender instantly melts stress away for me. If I could I'd live smack dab in the middle of a lavender field.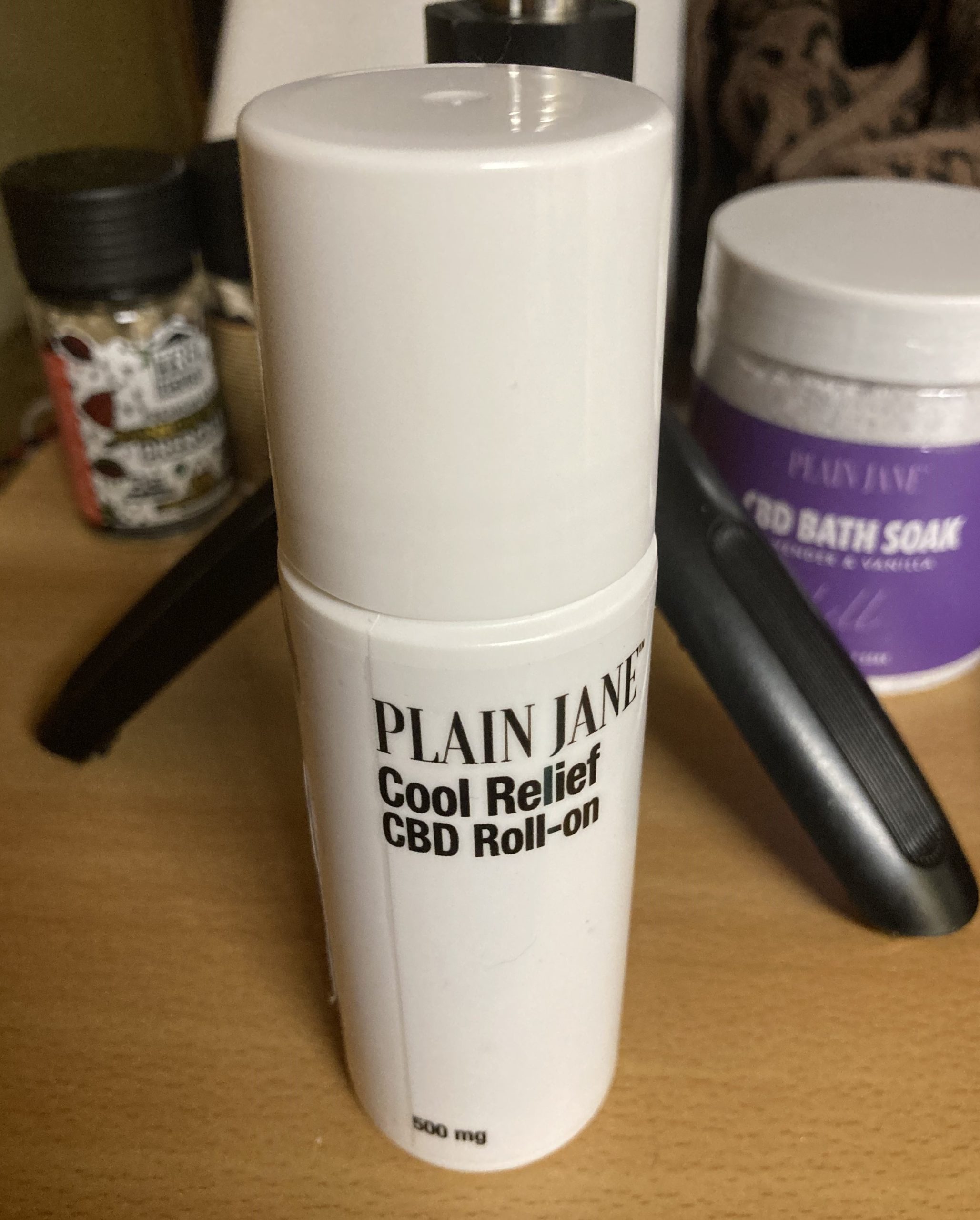 CBD Cool Relief Roll-On
The first thing I tried was the CBD Cool Relief Roll-On. It reminded me of a big version of that old-school made-for-TV migraine relief stick, Head On. I actually had a migraine brewing, so this was the perfect time to test it out. I rubbed it on my forehead and the cooling sensation numbed the pain..for a little bit. After 15 minutes the migraine came back, so I put some more on. It's a very quick fix for any aches and pains you may have, but it's a natural remedy if you don't want to take any pills or use any IcyHot.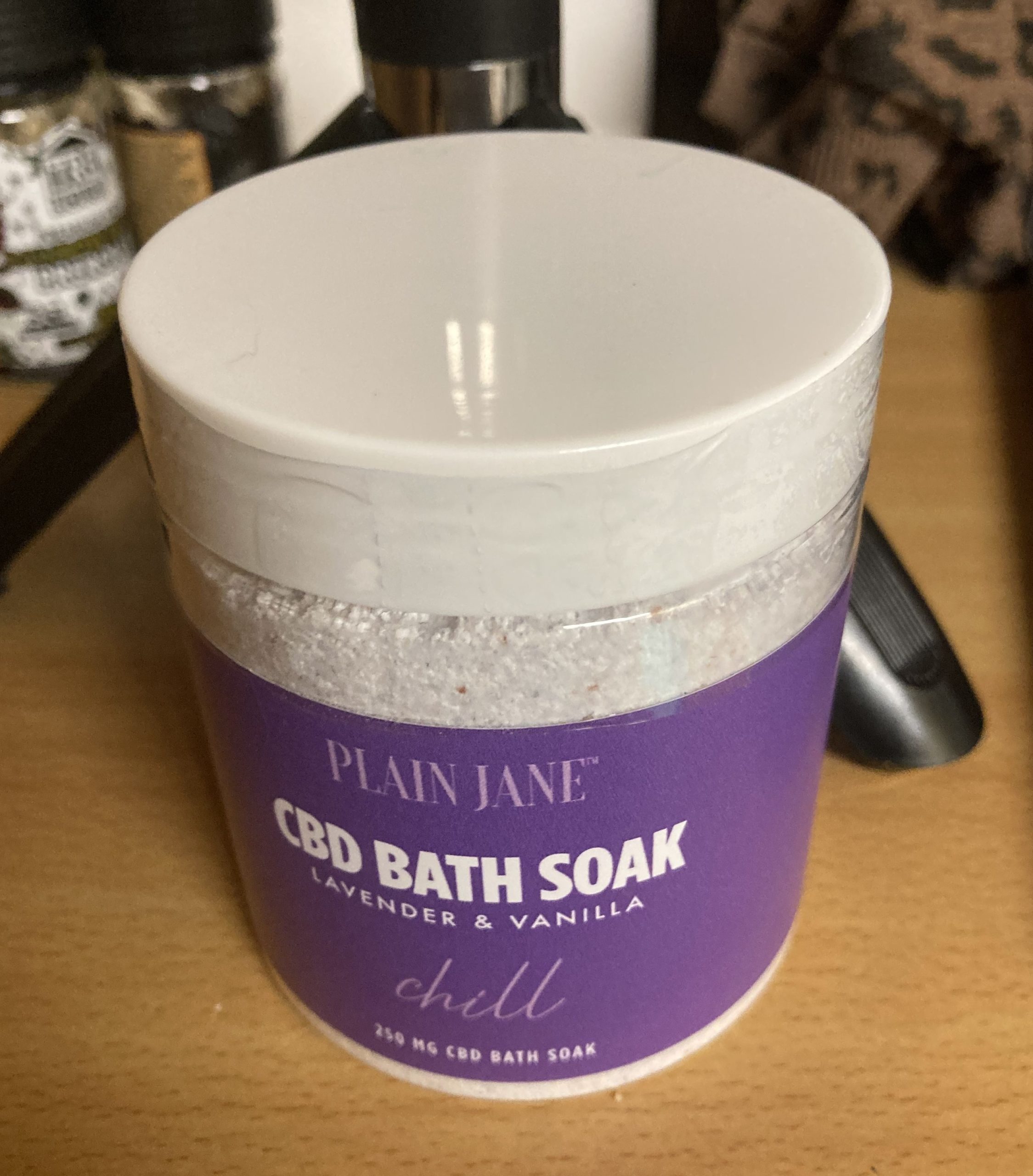 Relaxing bath
Next, I decided to take a relaxing bath. I filled up my bathtub with some hot water and put a few tablespoons of the bath soak in the tub. There isn't a suggested measurement on the container, so I just eyeballed what would make for a good soak. The whole container has 250mg of CBD, so I made sure I put in a good amount so I could feel the effects. 
The smell was completely heavenly and my bathroom had the lovely aroma of lavender and vanilla. The smell alone made me forget about some of my troubles.
I got in and soaked in all the CBD glory. Within 30 minutes my muscles felt a lot more relaxed. I could tell the CBD was definitely soaking in and taking away some of those pesky aches and pains. 
I stayed in for about an hour so I could avoid turning into a California raisin. Also I felt extremely relaxed the rest of the night, and using the Plain Jane body butter definitely helped as well.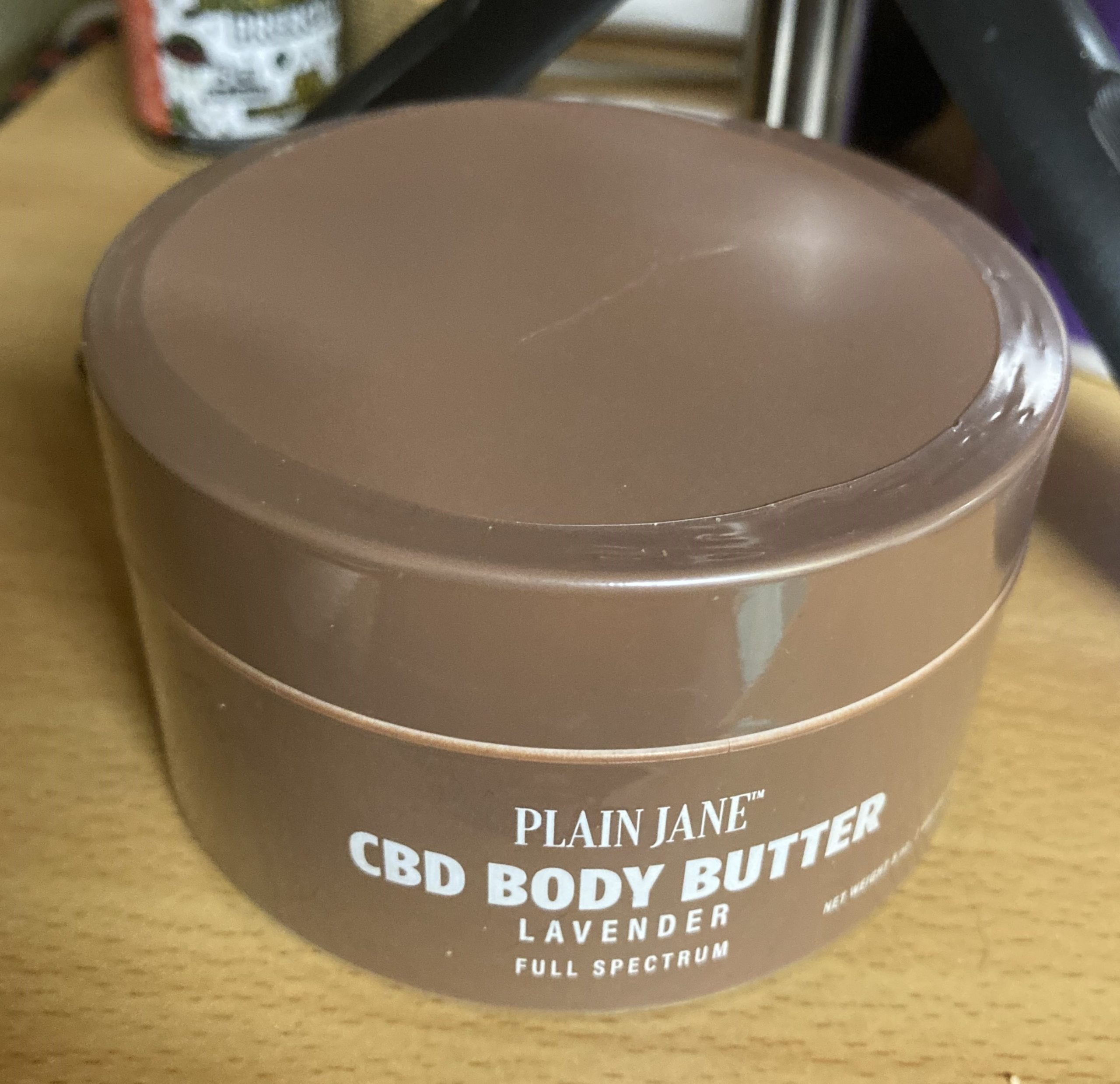 Body butter
Speaking of the body butter….I put it in as soon as I got out of the bathtub. The whole 5 oz jar contained 400 mg of full-spectrum CBD, so it was very potent. It was also lavender scented and smelled amazing. I spread it evenly all over and it definitely gave my already relaxed muscles another boost of pain alleviation.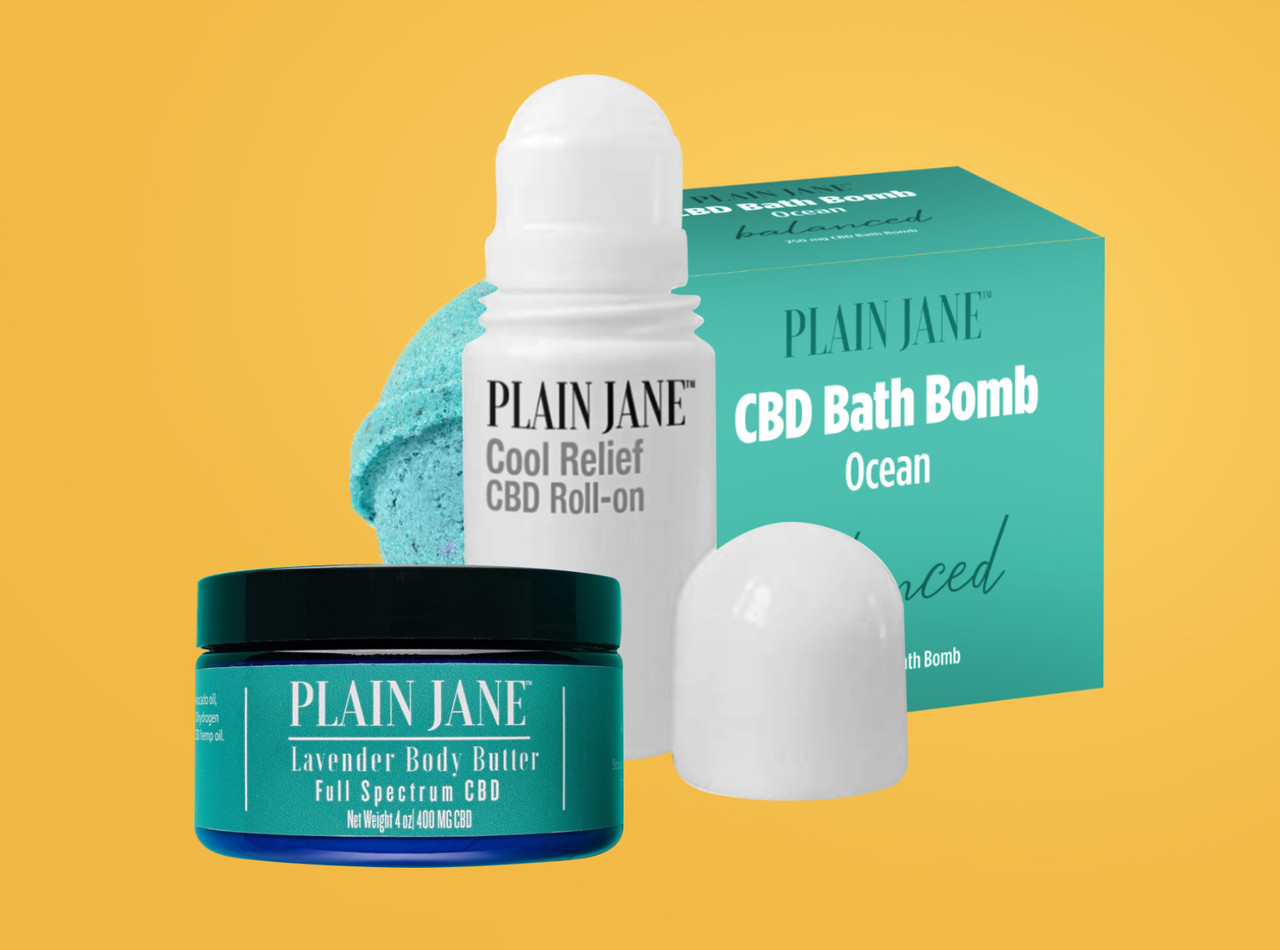 Concluding this review
I'd definitely purchase this self-care bundle. You can get the whole thing for $44.99 on the Plain Jane website, which isn't that pricey when you consider you're getting three good-sized products.
You can find out more about Plain Jane products here.
Have you tried this self-care bundle? Please let us know in the comments or on our forum.