REVIEW OVERVIEW

SUMMARY

Pharma CBD Delta 8 cartridges deliver
Pharma CBD provides a wide variety of quality CBD and Delta 8 THC products. Having tried their Delta 8 gummies, here we test out the Pharma CBD D8 cartridge. Providing fairly smooth hits and good taste, this cartridge overall gives a nice and light experience.
Pros:
Smooth hits
Good taste
Light, yet nice effects
Cons:
Recommendations: Perhaps upgrade the hardware to a CCELL cartridge, otherwise nothing really. 
Pharma CBD D8 cartridge delivers nice and smooth hits, also fair effects
First trying this out, I didn't expect it to be strong at all. Seeing that it's CBD/D8 infused, just like the Relax delta 8 cartridge, I assumed that it'd deliver a very mild high. After taking a few hits, these carts give a mellow and relaxing high. Very fair effects for it being infused with CBD.
Furthermore, these cartridges are actually 96% Delta 8 THC. Being much stronger than the Trifecta CBD and Delta 8 cartridges, these carts contain much more D8 than CBD. Below, you can see their lab results.
Lab results/cannabinoid profile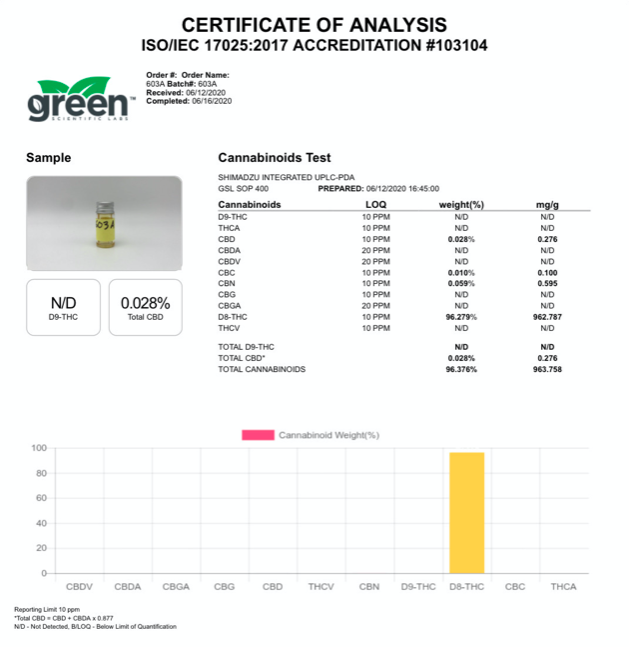 Oil quality- Smooth and clean hits, fair hardware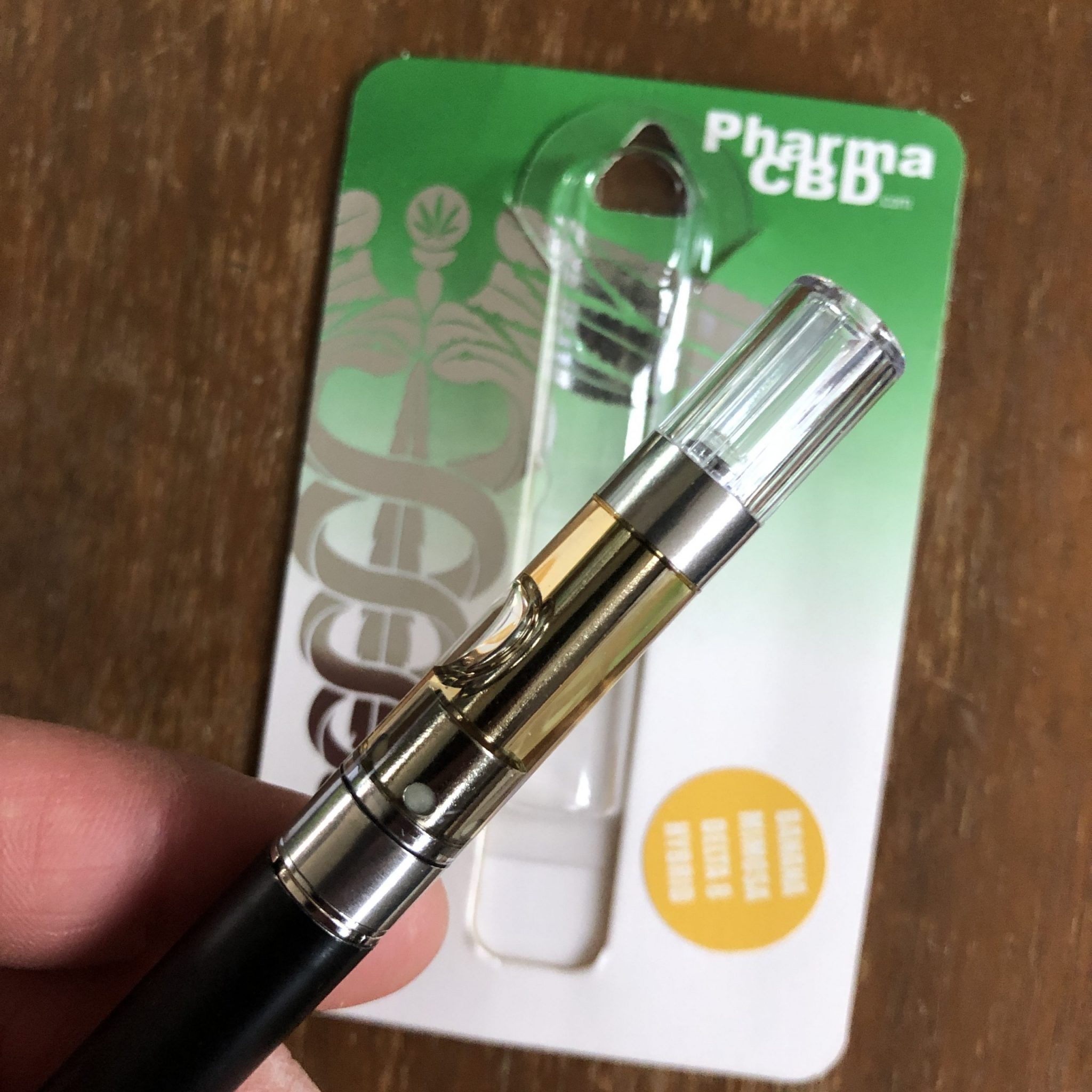 What I enjoy about these cartridges are the smooth hits they deliver. Unlike other Delta 8 cartridges that are made with BDT (botanically derived terpenes) that hit harsh, these deliver smooth hits. Doesn't taste artificial nor does it have any heavy metal taste to it. As for the hardware itself, it delivers fair hits with the right battery.
Pharma CBD D8 Banana Mimosa – Light and sweet taste, not harsh one bit
This particular strain, Banana Mimosa, delivers a nice, sweet taste. Mild in flavor and not as sweet, but very smooth. It does give a hint of banana flavor, but again not a flavor-dense cartridge. This is great for those who enjoy vaping or wanting to get started with Delta 8 THC cartridges. Not the most effective nor potent, but the taste is nice. Overall, a fairly enjoyable experience.
Good value for a CBD and Delta 8 infused cartridge
The original price for Pharma CBD D8 cartridges is $40, but they're currently on sale for $30. Not bad for a full gram cartridge. The only thing is, these cartridges deliver a smoother and light experience. There is plenty of other D8 cartridges in this price range. Ones that may be more effective or ones that provide different tastes. But at this price, $30 is a fair deal. If you're curious to know about other Delta 8 brands and cartridges that are in this price range, if not more inexpensive, check out our best Delta 8 list.
Alternative terpene-infused D8 cartridges
Currently, there are many Delta 8 brands and products in the market that are each suited better for different users. For instance, the Trifecta cartridge is mainly CBD and provides a much lighter experience and effects. Better for those who prefer lesser effects than what Delta 8 and Delta 9 THC provide. Additionally, there are plenty of other brands that will provide a stronger experience, like Delta 8 hemp or 3Chi Delta 8 cartridges.
Concluding the Pharma CBD D8 cartridge review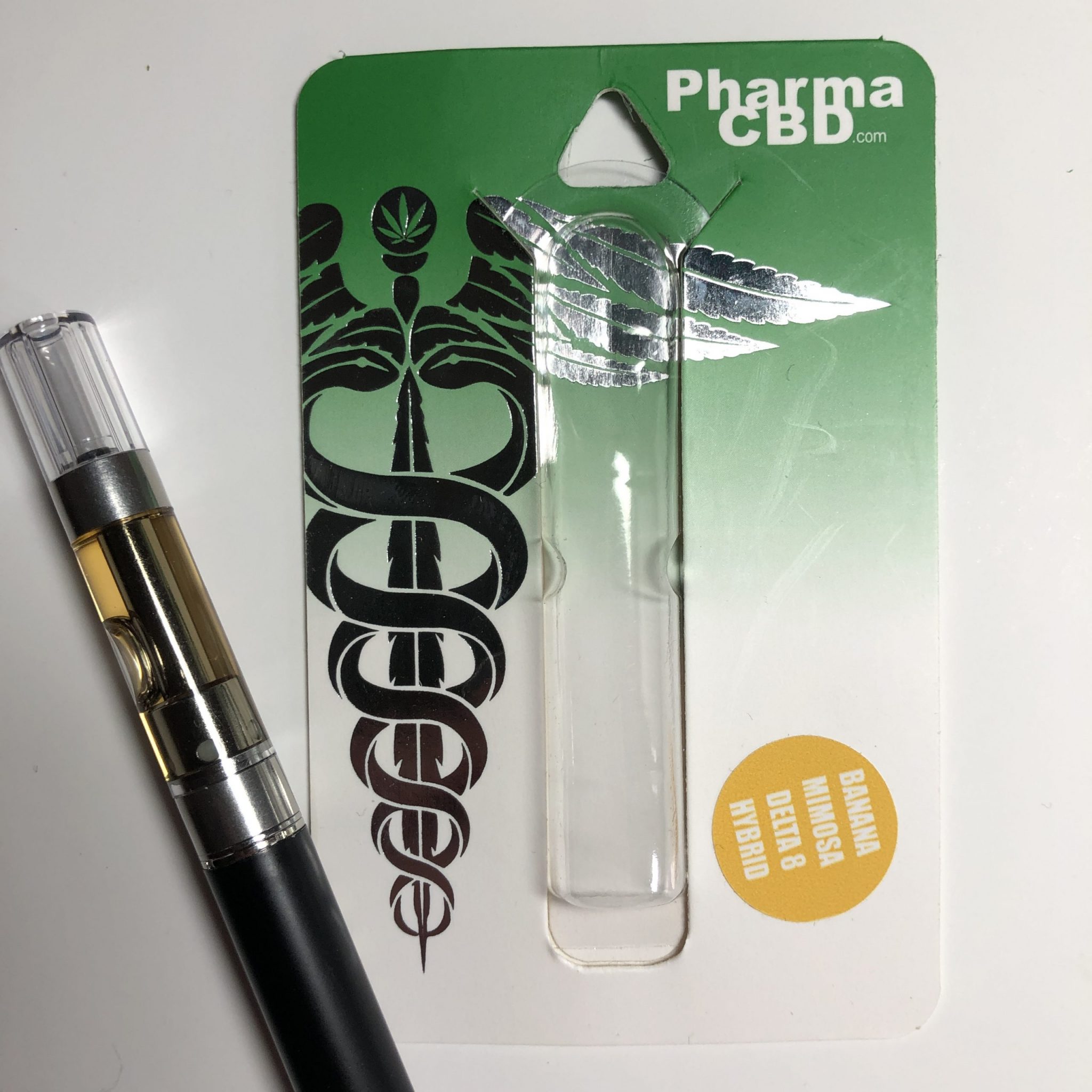 Overall, the Pharma CBD D8 cartridge provides a nice and mild experience. Pretty smooth hits and light effects. You won't get nearly the same effects as a high-quality THC cartridge, but you may feel a much lighter and more relaxing experience. This may be great for someone who enjoys vaping and wants something stronger than simply a CBD cartridge. You can learn more and purchase this cartridge on their website here.