REVIEW OVERVIEW

SUMMARY

The Old Pal cartridge turned out to be excellent quality even though it is priced lower than much of the others.
Old Pal has a variety of products available for smoking and vaping. They sell flower and strain specific or blended vape cartridges. Like their aesthetics suggests, Old Pal makes their vape cartridges with simplicity in mind. They fill their cartridges with premium quality oil from sourced greenhouse flower.
They are inexpensive, but that doesn't mean that they are cheap in quality. Old Pal is a California native, their farmers growing their flower in Humboldt county. Their products are widely available all throughout California and Nevada at really low prices. Due to the overall great value and product from Old Pal, they made our best THC carts list for California and Nevada.
For this review, we cover both the Old Pal's Cosmic Indica cartridge from California and the Blue Dream Sativa cartridge from Nevada.
Pros:
Premium quality oil
Really good flavor
Very smooth hits
One of the cheapest brands on the market
No fillers or artificial flavoring of any kind
Cons:
Only available in California
It's a little difficult to find information about the oil online
Licensing Information:
Recommendations: A glass cartridge body would be nice, but at this price maybe it's unfeasible.
Check out our video review of Old Pal below, then keep reading on for the in-depth review.
Old Pal vape cartridges are surprisingly very good quality
For the price I paid, I didn't expect much when it came to the quality of the cartridge. Surprisingly, the cartridge was a very good quality. The chamber that contained the THC oil was made of sturdy plastic and the mouthpiece was a pretty solid plastic mouthpiece. The oil within the cartridge has a mild but very delicious flavor. For this Old Pal Vapes cartridge review, I tested the Old Pal Cosmic Indica cartridge, which they fill with their blended oil.
The cartridges have a simple and sturdy design
The body of the Old Pal cartridge that I tried had a solid design. The chamber was thick and strong, the mouthpiece was a firm and black see-through mouthpiece. Both the chamber and outhpiece were plastic and the chamber had the Old Pal logo on it. It also had the California cannabis warning sticker on it and that kind of threw the whole aesthetic out the window.
Old Pal oil seemed to be a really good quality
The oil in the Old Pal Cosmic Indica cartridge was a very nice clear brown color. It has a good thickness to it and it isn't runny. I couldn't find too much information about the oil online so I couldn't say whether or not these cartridges were distilled or purified in any way. Either way the oil seemed very good to me in both color and smell.
Potency limited the amount of puffs needed to get high, which made Older Pal cartridges last a good while
The cartridge I bought was a half gram and it was filled nearly to the top. The cartridge burns probably just as fast as an average CCELL, but the potency got me high with minimal hits. Not having to vape often to keep my high going helped extend the oil within the cartridge. This cartridge will probably last me for a couple of weeks.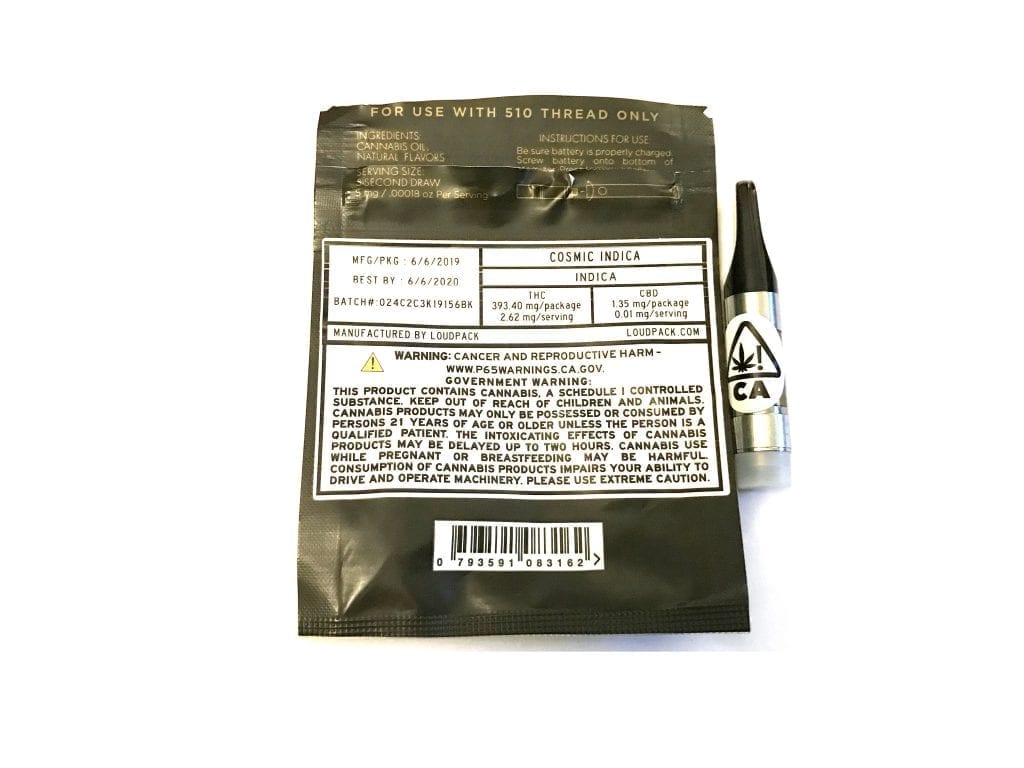 Old Pal nails the flavor of the oil in their high quality blended Indica cartridges
Old Pal's Cosmic Indica cartridge is a blend of oils, giving Old Pal's non brand specific oil a very unique flavor profile. It starts with a mild musty and almost spicy flavor. Beneath that is a zesty piney taste that lingers for a few minutes after you've finished vaping. This Old Pal cartridge was very flavorful but not overwhelming.
The Cosmic Indica cartridge had a surprising and potent high that lasted for several hours
This cartridge has one of the best highs I have ever felt. It only takes two or three puffs to start getting the effects The high steadily grows from there and ends up being very heavy. Old Pal's high quality oil really offers a pure and enjoyable high that lasts for several hours.
Overall the Old Pal cart is a really amazing experience at a great price
Retailers sell the cartridges for as low as 15 dollars, and possibly as high as 25 dollars in some places. These prices are all before taxes and fees but they are still real good prices. However, the Old Pal cartridge was super potent and the high was excellent.
In California you are more likely to find it for $15 and in Nevada at Tsaa Nesunkwa, it was $25, plus tax of course. Carts are generally more expensive in Nevada than California. However, at both prices in both states, they are stellar.
Even if you pay $25 a cart in California for an Old Pal, it's worth it.
Concluding our Old Pal cartridge review…
The Cosmic Indica Cartridge was excellent overall. Both the flavor and potency of this cartridge are some of the best on the market. The flavor was not overpowering and the potency was some of the best I have experienced in cartridges. At 15 dollars on Eaze.com, the Cosmic Indica cartridge by Old Pal are a great deal all around.
You can visit the Old Pal website to see all of their products. They keep it simple over at old pal and it shows in their products.
Have you tried Old Pal carts? Leave your review below! Question or comment? Post below or in our forum!