REVIEW OVERVIEW

SUMMARY
Here at Dab Connection, our review products come in through a queue process of sorts, and our coordinator distributes products assigned to our reviewers from there. It's a great system, but often the fickle finger of fate determines what you get this way. In my case, even though we've reviewed our share of Lookah products, I've never gotten a look at Lookah myself until now. I'm pretty impressed with the Lookah Mini Unicorn, which is priced at $89.99. Now, this is billed as an eRig, for dabbing any old wax. In practice, it functions more like a wax pen. But let's take this a step at a time.
My first look video for the Lookah Unicorn Mini here.
My second-pass look video for the Lookah Unicorn Mini here.
Pros
The last word in "compact" and "discreet"
Smallest eRig ever
Easy to use
Sleek design
Unbeatable price
Cons
Temp setting only available in 3 grades of voltage
Coils can get gunked up with sticky wax
Not for heavy-duty use
Recommendations: I honestly can't say for sure, because this design is targeting at doing one thing and it does it well. So I'll say the Lookah Unicorn Mini is perfect for its niche as a compact, economical, quick-hitter dab rig on the go.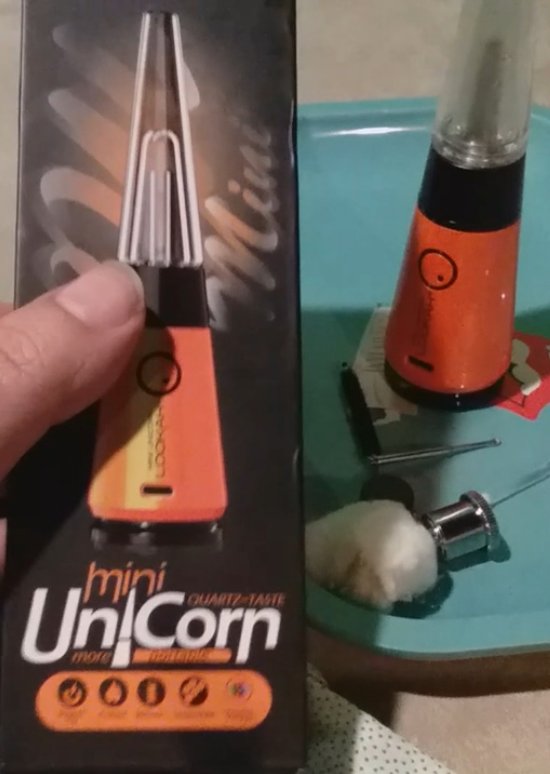 The eRig That Hits Like a Wax Pen
Of the eRigs and other dab devices we've reviewed on this site over the years, nothing is quite like the Lookah Unicorn Mini. It has the cone design popularized since the Puffco Peak and The Dip, but now we've turned the dabbing nail into a wax-pen thread-in coil and moved it directly under the water bubbler, then shrank it down considerably. This produces a unit weighing nary a pound or two in the hand, about the size and shape of a carrot, a comparison I'm prone to make given that mine is orange.
The Unicorn Mini comes with its own dab tool tucked away in the base: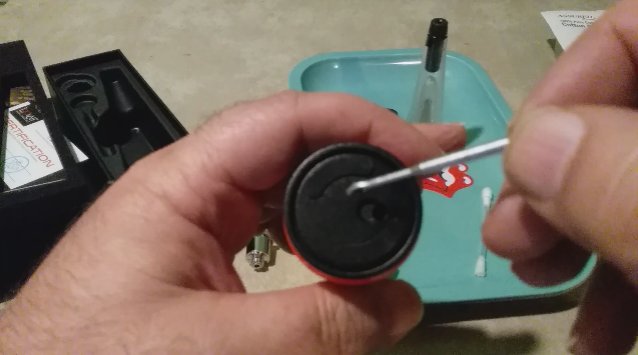 As far as aesthetics go, Lookah is a hands-down winner. After all these years of giant, heavy tabletop rigs, with even the lightest units having brick-like dimensions, we truly have a "pocket dab." Even if it isn't a heavy-duty rig, I respect what it's trying to do.
Operation is dead-simple:
5x on/off
2x rotate temperature (green 3.5V, blue 3.7V, high 3.9V)
hold to draw
The bubbler is held on the battery base magnetically; removing it reveals the coil where you put your material. The attachment is pretty secure, considering I've knocked it over a few times and it didn't separate.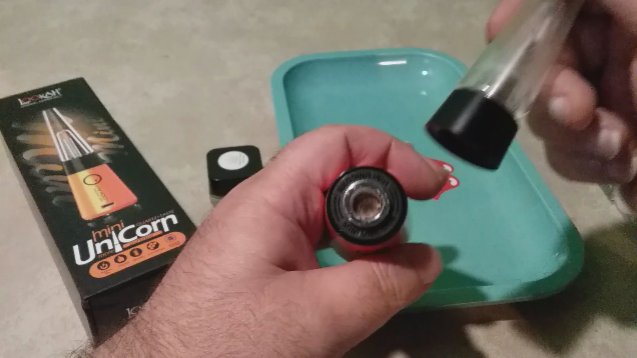 To use it, you dribble a few teaspoons of water into the bubbler, charge the unit (it does not come with a charging cable, but it's standard USB-C), place your dab in the coil bucket, reattach the bubbler, adjust the temp, hold the button to draw, and puff out a nice big cloud.
The 3-voltage temperature setting is more the kind of method you'd expect to find on an oilpen or vape cartridge battery, so using it for dabs is a bold move. If you go by exact temperature settings on your concentrate, you might be a little lost here. But even at the lowest setting, I had no problem getting clouds and I'm kind of starting to suspect that eRigs, across the industry, run too hot. The Lookah Unicorn Mini stays cool as a cucumber in your hand.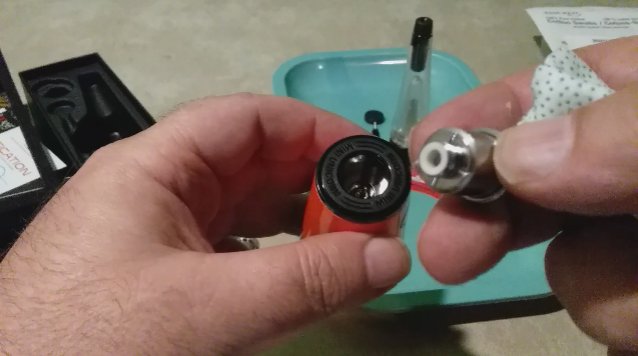 Coil Cleaning May Be a Concern
I remember with other wax pens, they recommend not even trying to clean the coil but just letting it burn off excess concentrate residue. We all know how this story ends. The Lookah Unicorn Mini has a coil design that adds a ceramic dab surface over the coil. In my second video, you can see that this surface does not return to pristine. However, the unit comes with a replacement coil, and Lookah sells more coils in a pack for about $10/each. Honestly, at that rate, you can likely get a few months' use out of a coil with cleaning before you have to replace it.
Here's an example of use after 1 gram of THCA diamonds: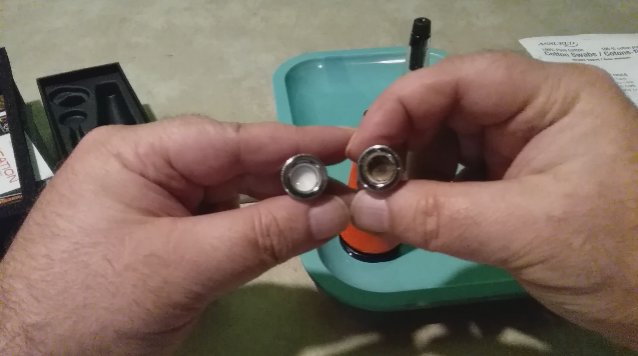 You can see the discoloration there, and diamonds vape pretty clean as it is.
With that all said, for $89.99 and such a compact unit, this is the best I'd expect.
Another Innovative Lookah Design!
I have to award Lookah points for innovation. The Unicorn Mini is not just a cute design, but a design that makes sense. A design makes sense to me if I can see the "why" behind every decision. The Unicorn Mini is another step in bringing cannabis concentrate dabbing to the masses, so I can't fault them for it even though a power user like me is left wanting more. It is excellent for diamonds and crumble. I presume it's good for wax too, at least if you keep it cleaned up. Maybe this is just my subjective experience, but it seems like the Lookah Unicorn Mini squeezed a few extra puffs out of a diamond dab compared to my glass rig and torch hitting the same quantity.
The Lookah Unicorn Mini is the most compact way to dab loose concentrate that we've seen, without resorting to a dab straw. Needless to say, it also beats the pants off the competition in the price department. With eRigs running from the $150-$400 price range, The Unicorn Mini makes a nice budget dabber for the casual user.
Find the Lookah Unicorn Mini here. Readers, is this the limit to the smallest portable dab rig, or can we go smaller? Sound off in the comments or in our kush forum.