REVIEW OVERVIEW

SUMMARY
This week we will take a look at some Bushido OG flower from Fleur. Fleur's take on the Bushido OG is a Sativa Dominant Hybrid with the promise to Uplift right on the front of the package. I was excited to open this one up because the packaging was pleasant and the buds inside looked delicious. Let's see if it lived up to my expectations.
Pros:
No pesticides, fungicides, or synthetic fertilizers
Very fresh and well cured (packaged same month as consumption)
Easy to open, easy to handle
Medium-sized hairy nugs
Fast and heady high
Cons:
Smelled better than it tasted
1g is not enough
Recommendations: None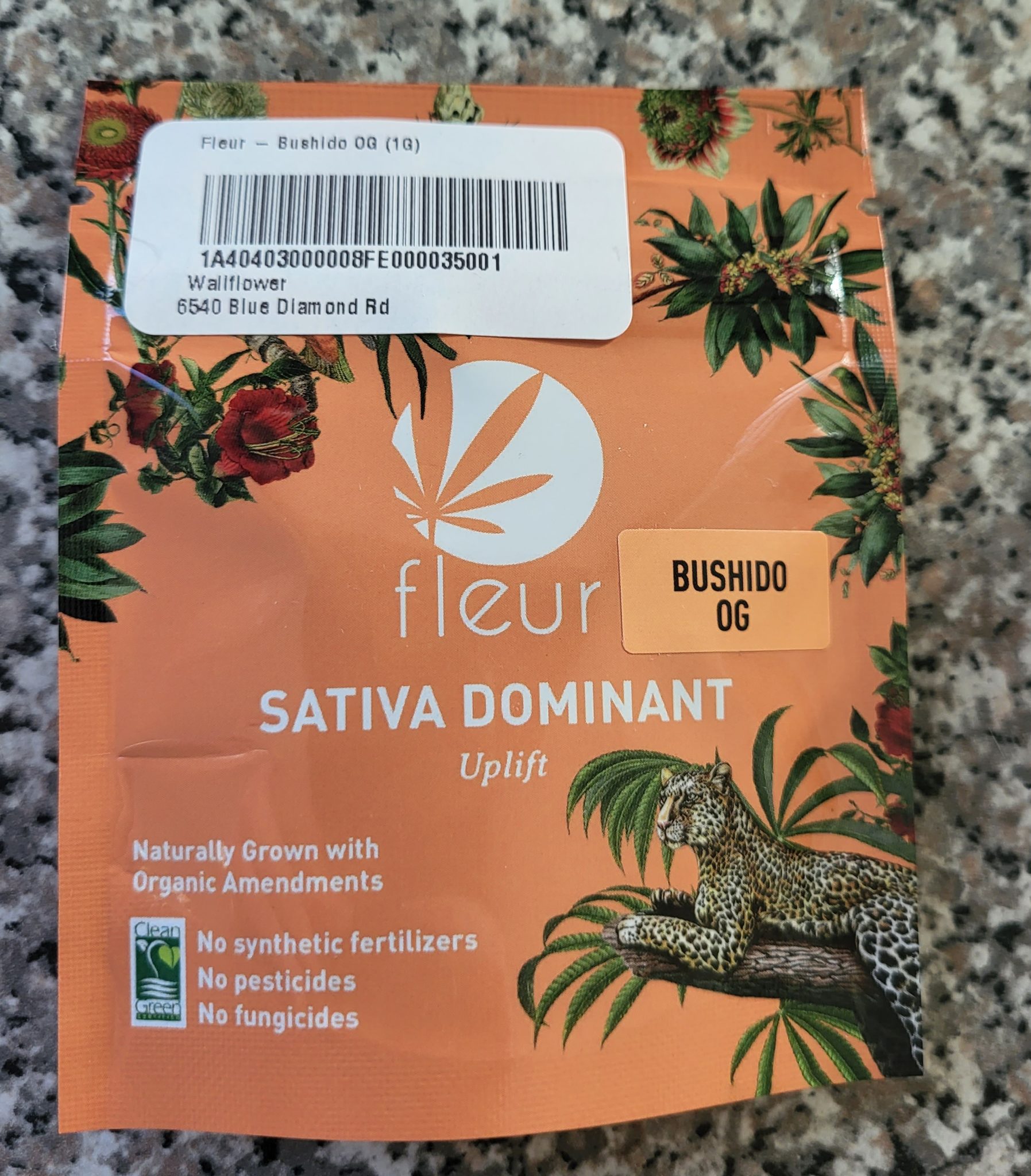 Eye-catching packaging
This was my first time trying any products from Fleur and I was not disappointed. The packaging was colorful and stylish while still being easy to open and reseal. I like that Fleur puts it right on the front that there are no synthetic fertilizers, pesticides, or fungicides involved in their growing and cultivation process. I care about the experience more, but it is nice to know I'm not micro-dosing poisons every time I spark up, flower already does enough damage to my lungs.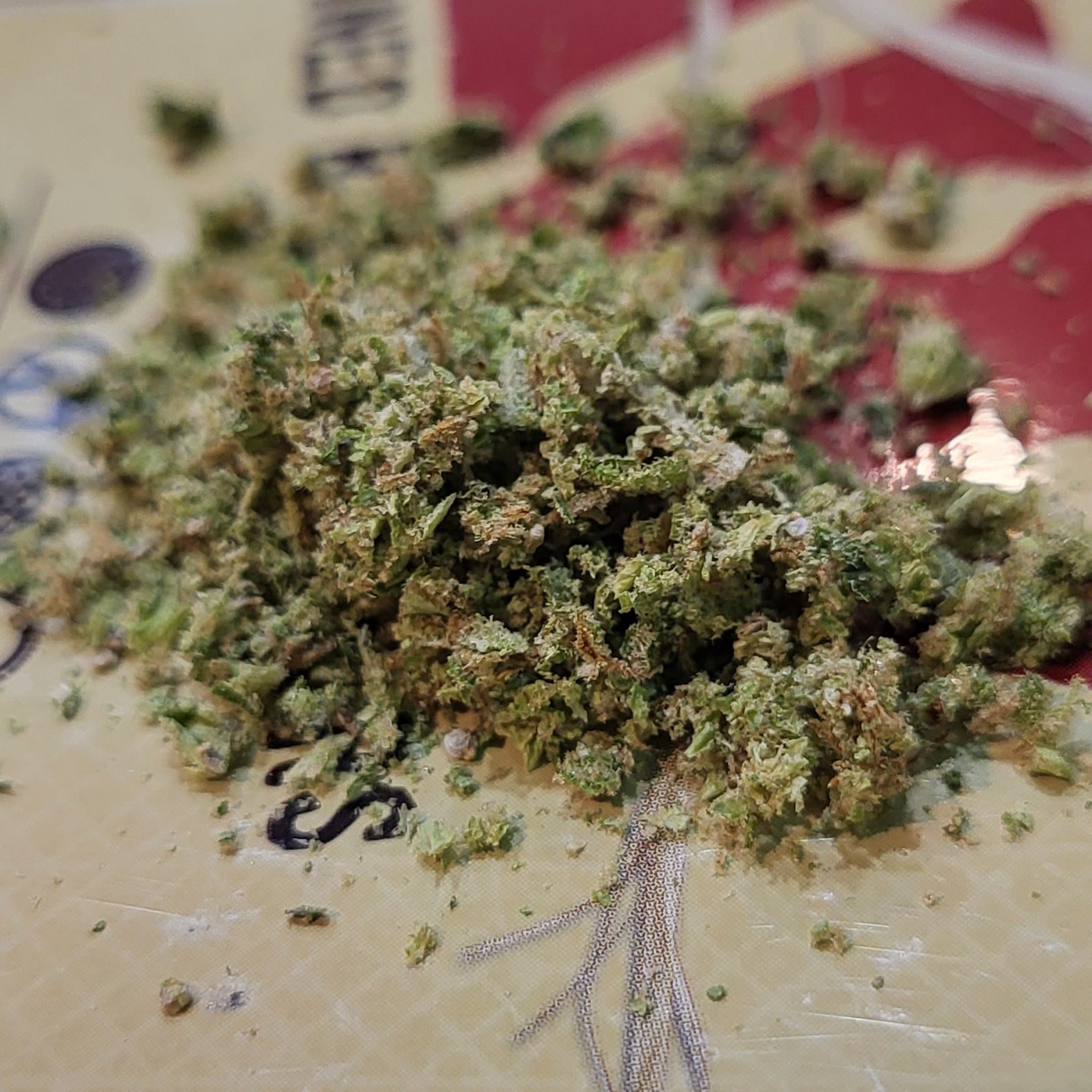 Fresh, well-cured flower
I can not exaggerate my excitement upon opening this flower. As soon as the seal broke, my immediate area was flooded with a sweet piney scent that had me prepared to dig in. When I took a look a the buds I was surprised at just how perfect the cure was. Most of us know how annoying it can be getting some puny or brittle old nugs from a dispensary, but this Bushido OG was packaged mere weeks before consumption. The buds were a good size, covered in little orange hairs and so, so fluffy without being over-moist. I couldn't wait to grind some up and smoke.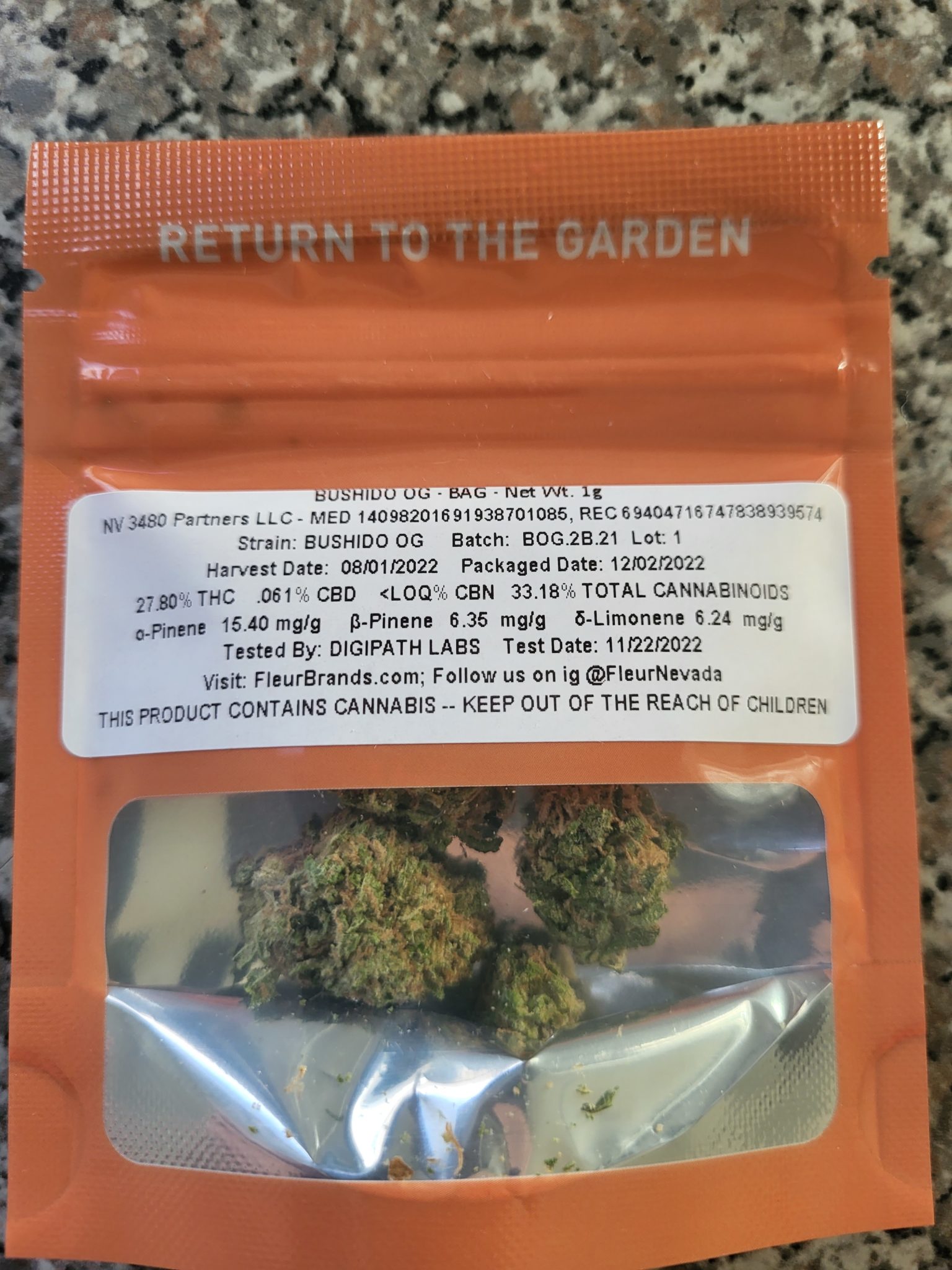 A surprising taste
The Fleur Bushido OG ground up very nicely. The trichomes came out to play and everything looked delectable, then I lit up. The taste was markedly different than the aroma. I was expecting something light and piney with some of the fruity floral notes I was picking up earlier, instead, I got a pine bark and cut grass kind of taste that threw me off. It's not the skunkiest strain ever, but the disparity between scent and taste may be off-putting to some.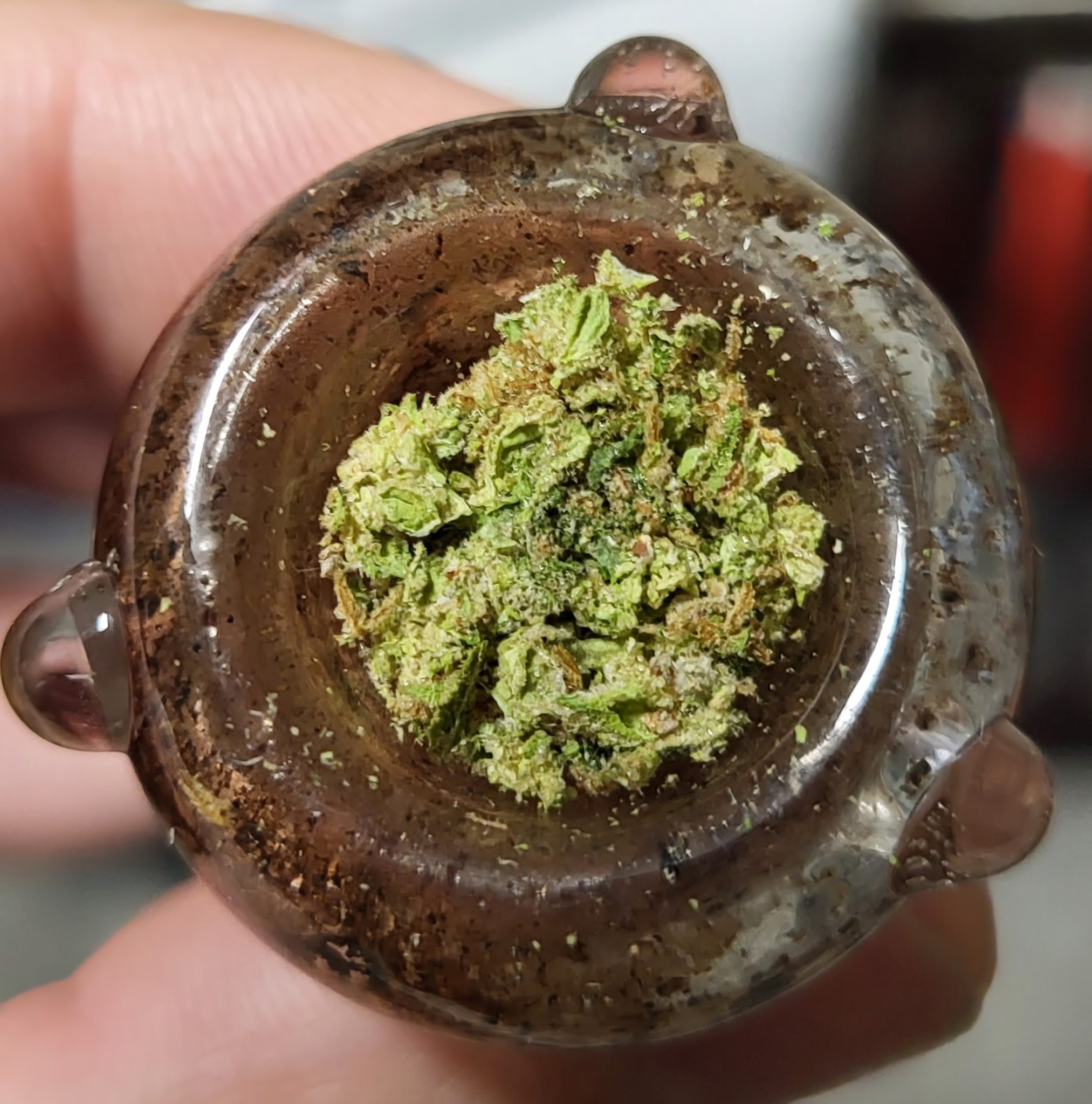 Fast and heady high
After I got over the taste I realized I was pretty baked. I felt like I smoked a heavy hitter that only posed as a fresh and light strain. The terpene profile with a-pinene at 15.4 and the THC at a respectable 27.8 should have hinted at that, but I was distracted by the packaging. Now it got me high quickly, but did it uplift me? The answer is a resounding YES. I was creative and energized. Could I watch a movie and sit on my ass? Yes, but I would recommend this strain for when you want to be social, and creative, or get chores done without being miserable. This is a Sativa-dominant hybrid that delivers a punch but provides you with the energy and mood to handle it.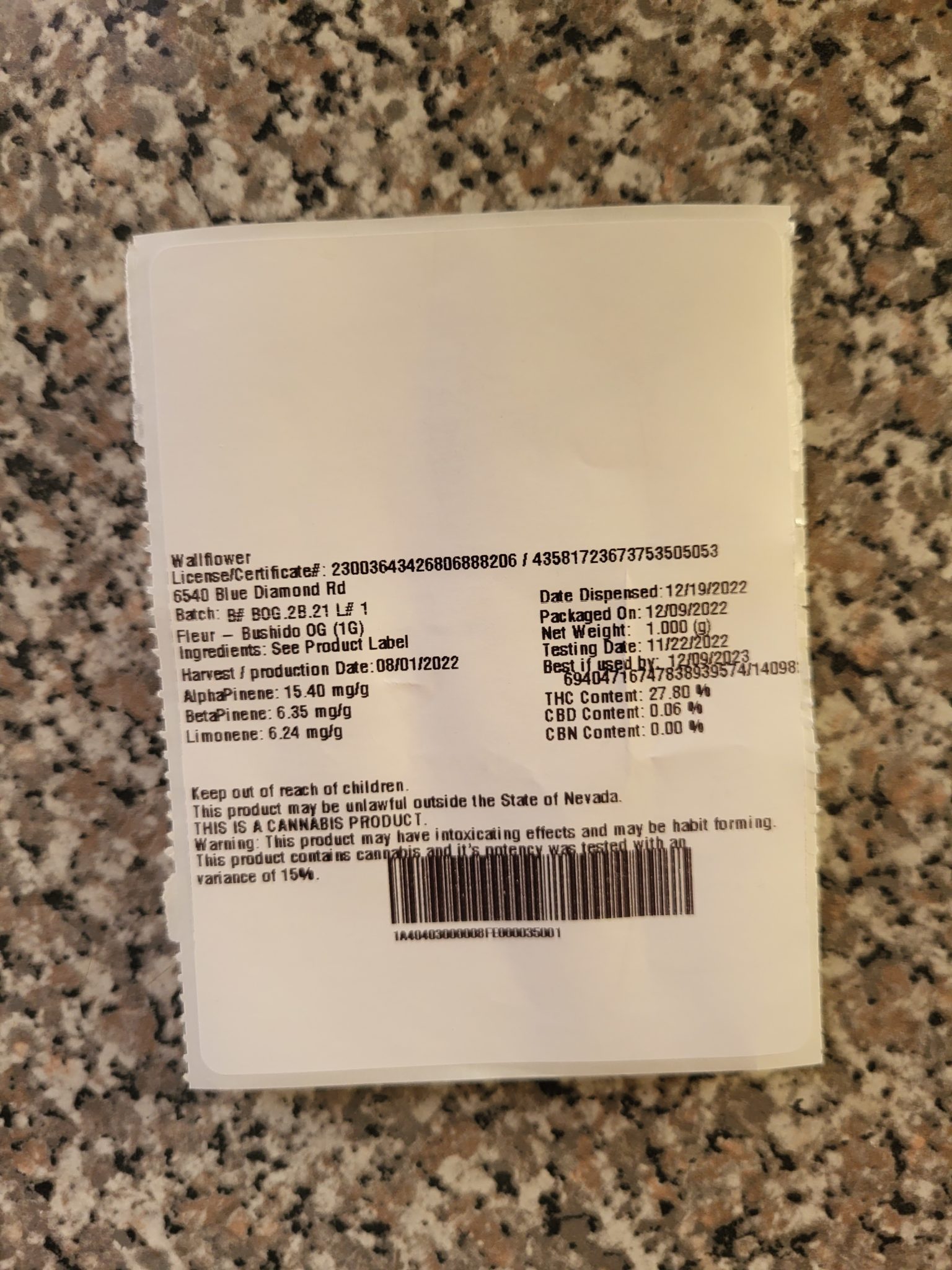 A well-cured Sativa-dominant hybrid that delivers
My only complaint beyond the surprise ACV taste is that 1g is not enough. I went through this quickly and went right back out and got a 1/8 just because. This will be my new get-shit-done strain when I don't have any green crack around. At $10 a gram and $35 an 1/8, it's reasonably priced and the product you get is superior to the of the older poorly cured bargain brands, so it's worth it. If you're able to, go pick some up and tell me what you think!
You can find out more about Fleur products here.
Have you tried Fleur Flower? Let us know in the comments or on our forum