If DabConnection has established itself in no other regard, it has made a name for itself in reporting on the fake vape cartridge epidemic. We have investigated dozens upon dozens of these bogus brands and it seems we haven't scratched the surface.
On top of that, we have also uncovered the phenomenon of fake vape cart websites. These sites advertise brands both real and fake indiscriminately, but they will all insist on payment in cryptocurrency or other shady, non-refundable tender, and then rip you off by shipping nothing.
So what about batteries? Are there fakes of those? Well of course there are!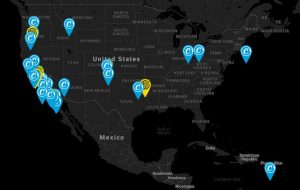 The Only Official Cookies Website is Cookies.CO
Cookies seems to be one of the brands that is permanently cursed with counterfeit ripoffs. For the longest time, we could barely find the original company behind all the knock-offs. But we did eventually discover that there is an original company. The website is Cookies.co, and this is the official Cookies Twitter, and here is the official Cookies Facebook, and there is even an official Cookies LinkedIn.
The Cookies brand is named after the cannabis strain Girl Scout Cookies. It was founded by hip hop artist Berner and a cannabis cultivator who goes by the name "Jigga." They were founded in California, but as the store locator map on their site shows, they've expanded across the US in the legalized states and have even dropped anchor in Tel Aviv, of all places. Note that Lemonnade is a subsidiary brand, and Cookies partners with G Pen (Grenco Science) for their hardware.
Cookies does not release their products to third-party retailers. The only way to ensure that a Cookies cannabis product is real is to buy it from a Cookies dispensary. Likewise, G Pen is the retail site for Cookies-branded hardware, including batteries.
So you can guarantee that if you bought anything with the Cookies logo on it at a gas station, convenience store, underground sesh, or corner plug, then it is boof.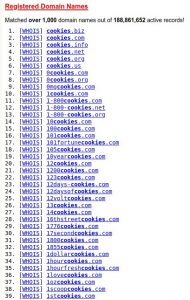 The Case of the Counterfeit Cookies
First off, a quick domain search turns up over 1000 domains with "cookies" in the name, at least some of them trying to imitate the Cookies cannabis brand. Then if you go searching for something like "buy Cookies battery," you will again find countless knock-offs. These seem to be divided between scam sites, legit sites with questionable retailers, and wholesale suppliers to street plugs.
CookiesOfficial-dot-com is a fake site.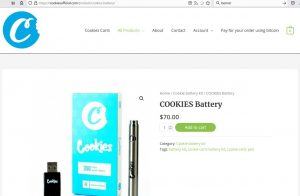 MarketPlaceVape-dot-com seems to be another bunk offering.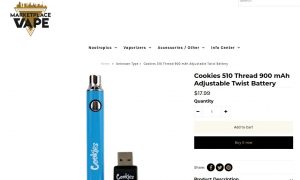 Gypsy Vapes appears to be a legit site with many legit offerings, and then they throw this at us.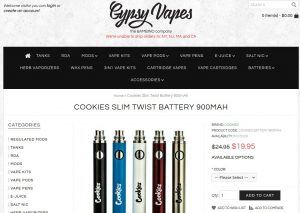 And of course, no DabConnection fake product write-up is complete without a visit to DHGate: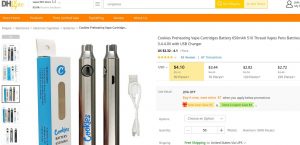 Then we have the legion of fake cart packaging and hardware suppliers. Your present author doesn't remember seeing "Global Sources" before, off the top, so we might have to add that one to the list. Interesting that the title uses the typical spammer trick of cramming other brand names in, just indiscriminately trying to get a search hit for "Backwoods," another famously faked brand.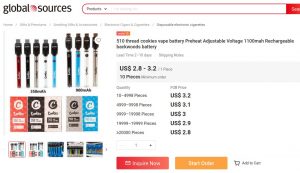 And of course, our old favorite "Made in China" site has Cookies hardware.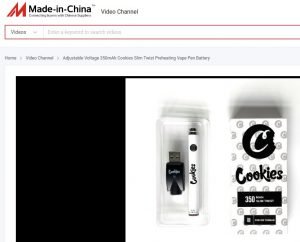 We could go on with these all year.
Users Report Fake Cookies Gear From All Over
We have our usual Reddit reports:
And we have the incident which prompted this post, one of our operatives in Utah, of all places, spotted Cookies-branded batteries for sale at a gas station. If Utah counts as a viable vape market, we can assume that fake Cookies hardware can be found across the continental US at this point.
What would be the danger of counterfeit hardware? For starters, vapes can explode (warning: graphic photos). This vape took out a 17-year-old's face. This vape exploded and killed a Texas man by slicing his artery. This vape exploded, leaving its Florida user dead with a torn-up face and burns to the body. Both of those last two cases were confirmed to involve home-hacked modifications to the hardware.
These are just a few of the vape and e-cigarette explosions that happen every year. About two thousand reported between 2015-2017 there. We're pretty sure, just as with the vaping-lung epidemic, that black market hardware could play a part in at least some of these incidents.
Readers, you know the drill! Continue vigilantly spotting fakes and reporting them, and let's all keep the vape community mutually safe! Drop us a line here in the comments or in our forum.